Healthy Snacks for Kids – Excitement is mounting here about our impending French sojourn. The little badgers' minds are filled with thoughts of beaches and ice cream, my husband is looking forward to the barbecues and bières françaises and I'm picturing leisurely cafés au lait and pains aux raisins on sunny terraces. (Mine is the least realistic). Before these modest dreams can become reality, we have the matter of a long drive to survive. My children are 9 and nearly 6 now, which undoubtedly makes this an easier proposition that when they were 6 and nearly 3, but a lengthy stretch in the car can cause familial strain whatever the age.
My own children are best entertained on a road trip by a carousel of entertainment – audio books, interminable games of I Spy and blessed DVD respite – but it seems imperative a rolling buffet is at their disposal. I always keep a plentiful supply of breadsticks, crackers, fruit and raisins to hand, with a few more enticing treats for the purposes of bribery.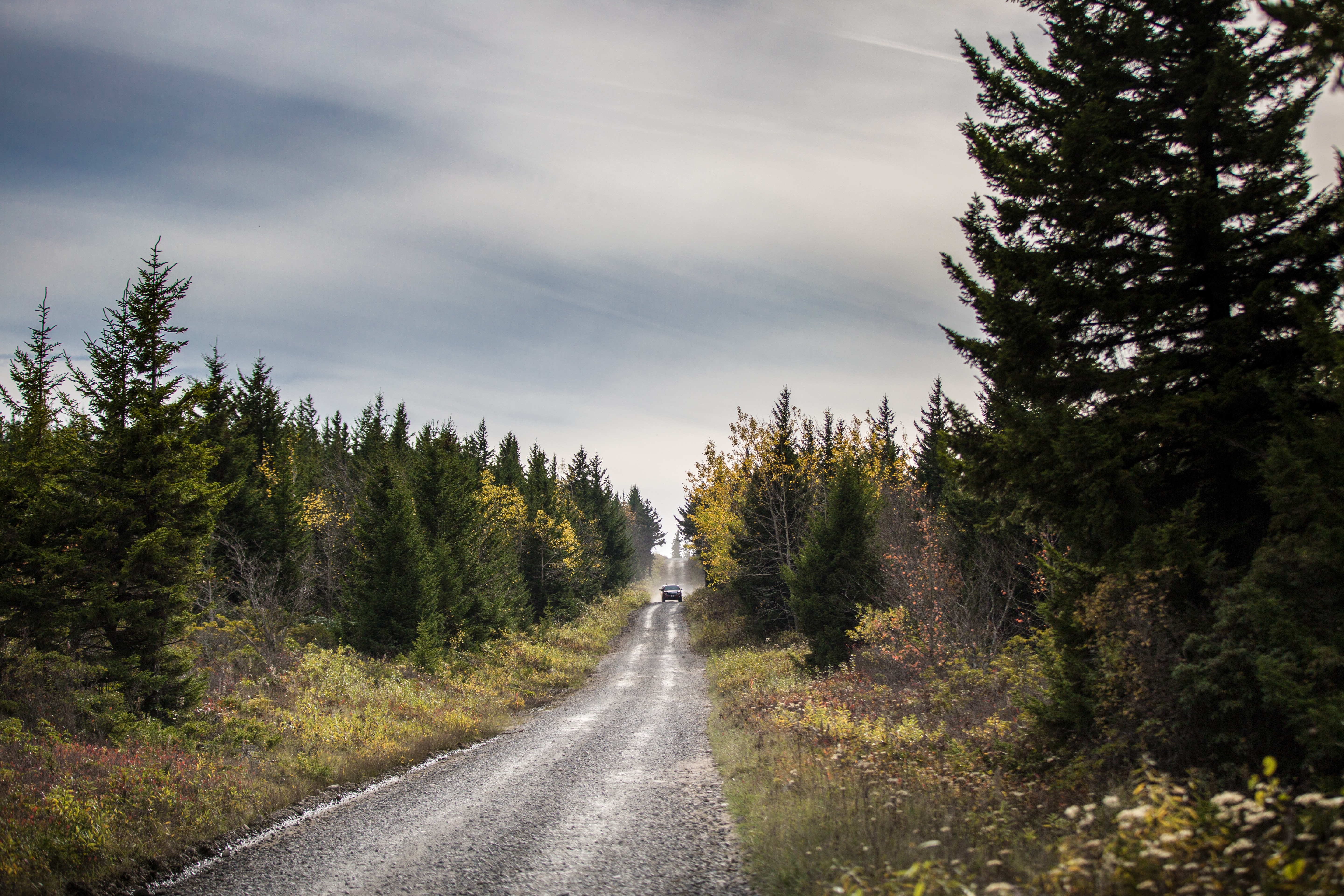 The recipe I'm sharing here is something I'll be taking for the journey. It's a total treat, but it's actually a pretty healthy snack for kids and has proved very popular with everyone I've presented it to. It is one of my repertoire of super quick and easy recipes for browning bananas, which is now embarrassingly broad, hinting (quite accurately) at some rather lax household management.
The Brownie Recipe – Healthy Snacks for Kids
This 'brownie' recipe is my new favourite and came about quite by accident as I attempted a banana loaf. I can't tell you how pleased I am with my culinary failure though – my biggest girl, who doesn't even like bananas, says this is the nicest thing I've ever made and it works warm with ice cream for pudding; or cooled as a handy snack.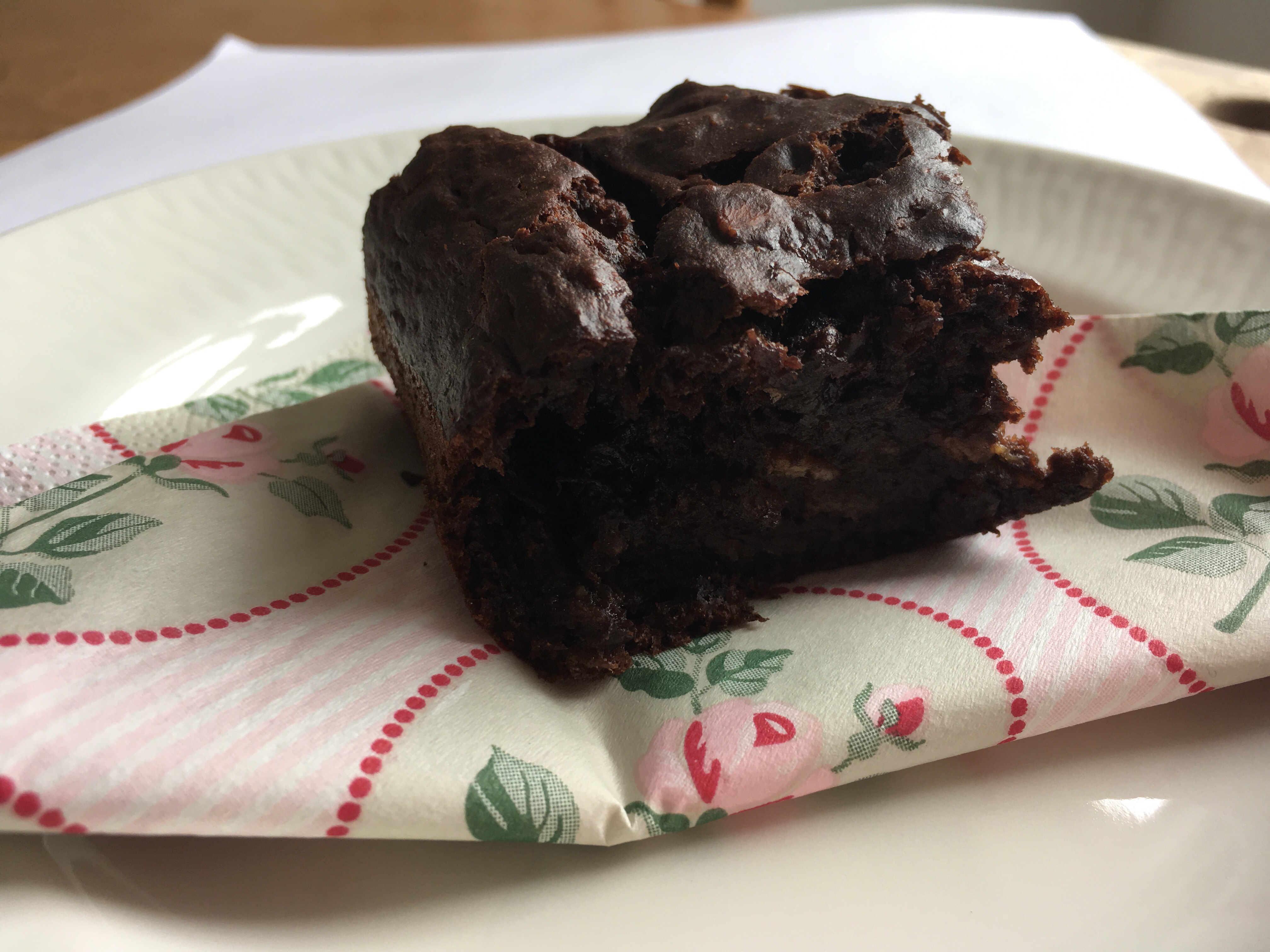 Having aimed for a loaf first time, I cooked this in a 2lb loaf tin, but being structurally unsound it sank somewhat as it cooled. I have stuck with this method, but if this, for you, would feel like baking defeat, then you could cook it in a square tin – do start to check it after 25 mins cooking. This is damp and squidgy, but that's what you're aiming for. If you want to portion it for lunchboxes or picnics, it will be much easier to neatly cut when fully cold.
Ingredients
4 small, very ripe bananas
1 large egg
75 ml vegetable oil (this could be replaced with coconut oil or melted butter)
60 g honey (you could replace this with brown sugar/maple syrup, or leave it out altogether)
1 tsp of vanilla extract
110 g plain flour/spelt
40g cocoa powder/cacao
1/2 tsp baking powder
1/2 tsp bicarbonate of soda
1 tsp ground cinnamon
50g porridge oats
50 g dark chocolate, cut into chunks (optional)
(approx 2 tbsp. plain yoghurt if your mix seems too stiff)
Instructions
Preheat the oven to 180°C and prepare your tin. Grease the sides well and line the base with baking paper.
Mash the bananas thoroughly in a large bowl and mix in the egg, vegetable oil, honey and vanilla extract. Mix until it looks fairly homogenous.
Add the dry ingredients into the bowl and mix until well combined. Depending on the size and ripeness of your bananas you might find that batter is a bit stiff – it shouldn't be runny, but it should be of a consistency that will flow to fill the tin rather than maintaining its shape. If it is quite stiff, then a couple of tablespoons of plain yoghurt – or milk – will loosen it.
Bake in the oven for approx 35-45 mins until it is risen and the top feels firm to the touch.
Allow to cool in the tin for 20 mins or so and then carefully remove to a baking rack. if you've cooked it in a loaf tin, it will spread as it cools. It is lovely eaten warm, rather than hot as a teatime pudding treat.
I would recommend storing this healthy snack for kids  in the fridge, as the high moisture content means it will go mouldy quite quickly, which really would be a shame when it's so delicious. I sincerely hope you enjoy!
This guest post was written by  Suzi from Raising Badgers.
Suzi is a mum of two, primary teacher, lover of sunny days, la belle France, nice nails and chocolate digestives – shares other healthy recipes and a peep behind the magic curtain of mumlife at www.raisingbadgers.com.
Find her at;
If you have enjoyed reading this, why not take a look at a few other articles!
Flying with Twin Toddlers – How to Survive
Surviving a Flight with Twins Under 2
Surviving the Airport with Twins
Flying With A Baby
Also, join us on Facebook for daily updates!
GO ON, PIN IT!