If you are reading this, then you must be a camping fan, or you are at least tempted to give it a try. I think if it's the first time you are are trying something new with kids, it can be daunting, so make sure you choose one of these UK child friendly campsites as they have been recommended by other parents.  If you have fallen into this article by mistake, and camping is never going to be on your radar, then maybe you might consider giving glamping a go instead?
Camping with kids is a good way to get away on a budget and explore the outdoors. There are so many child friendly campsites across the UK and you can choose one as big or as small as you like.
Some are just literally a field with a few pitches, whilst others might have a park for the kids and even a swimming pool. The really big campsites have entertainment too. You have to work out what you are looking for and do some searching, although I have tried to help out a little below by asking some fellow bloggers to give you some family campsite suggestions.
Castle Ward, Northern Ireland
By Allan from It's Sometimes Sunny in Bangor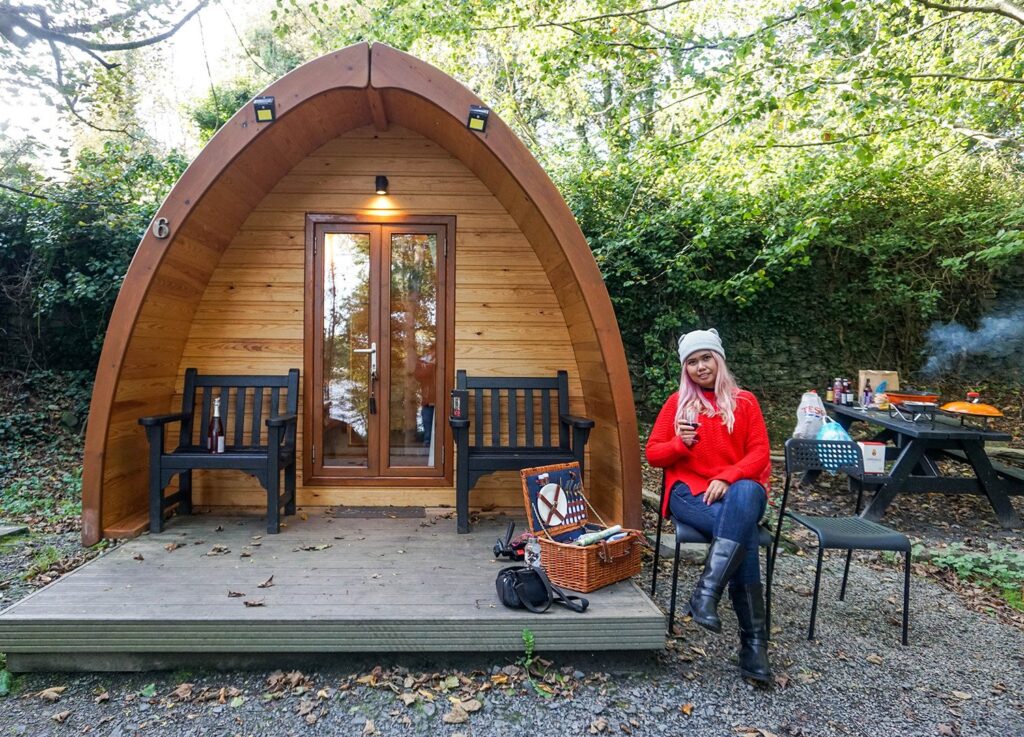 County Down in Northern Ireland is the setting for many of the country's campsites and caravan parks with the backdrop of the Mourne Mountains, Forest Parks and lots of sheep. It is definitely the most scenic when it comes to nature and there are just so many activities and hikes and trails to explore. This included Castle Ward, a National Trust Property with an old Manor House and a Medieval Castle that is now foremost famous as the setting of Winterfell in the Game of Thrones Franchise.
So connecting is the Castle Ward Caravan Park and Castle Ward Glamping Pods where they are set in a forested area on the banks of Strangford Lough. And while this would be likely the priciest camping in the region, the on-site facilities are all high-spec and the site is small, secure and well maintained by the National Trust. The site includes pitches for both tents and caravans each with water and electricity. Then the usual campsite facilities like a reception and small shop, shower rooms and washing facilities, a kitchen and laundry room.
Otherwise the kids' activities are best found at Castle Ward itself with Game of Thrones inspired archery and bike rides as well as nature trails and tours of the old buildings. There's more than enough to explore through a weekend.
Hillend Campsite, Llangennith Beach, Gower, South Wales, UK
By Ben Holbrook from Driftwood Journals
For families looking for a true escape to the coast, it doesn't get much better than Hillend Campsite. Situated in the cosy coastal village of Llangennith on South Wales' glorious Gower peninsula – Britain's first designated 'Area of Outstanding Natural Beauty' – this sprawling 14-acre, 275-pitch campsite sits just 200m from the beach.
But this isn't just any old beach, this 3-mile stretch of butterscotch sands frequently features in "World's Most Beautiful" lists. Take your little ones for adventures in the undulating sand dunes or wiggle into a wetsuit and hit the famous waves for a surf lesson with the Welsh Surfing Federation (you can also buy/rent all the gear you need at the legendary PJ's Surf Shop in the village).
Pick wild strawberries and blackberries on your walk along the moors to the Worm's Head tidal island, where you can enjoy an ice-cream or two while searching the waters below for dancing seals and dolphins.
Back at the campsite, the 'family-only' field makes for the perfect basecamp, while the modern shower facilities are among the best in the UK. The icing on the cake however is the ever popular 'Eddy's Bistro', which makes mealtimes a breeze with plenty of options for all ages. Oh, and don't miss the (family-friendly) King's Head pub in the village!
Beech Croft Farm, Peak District
By Jenny from Peak District Kids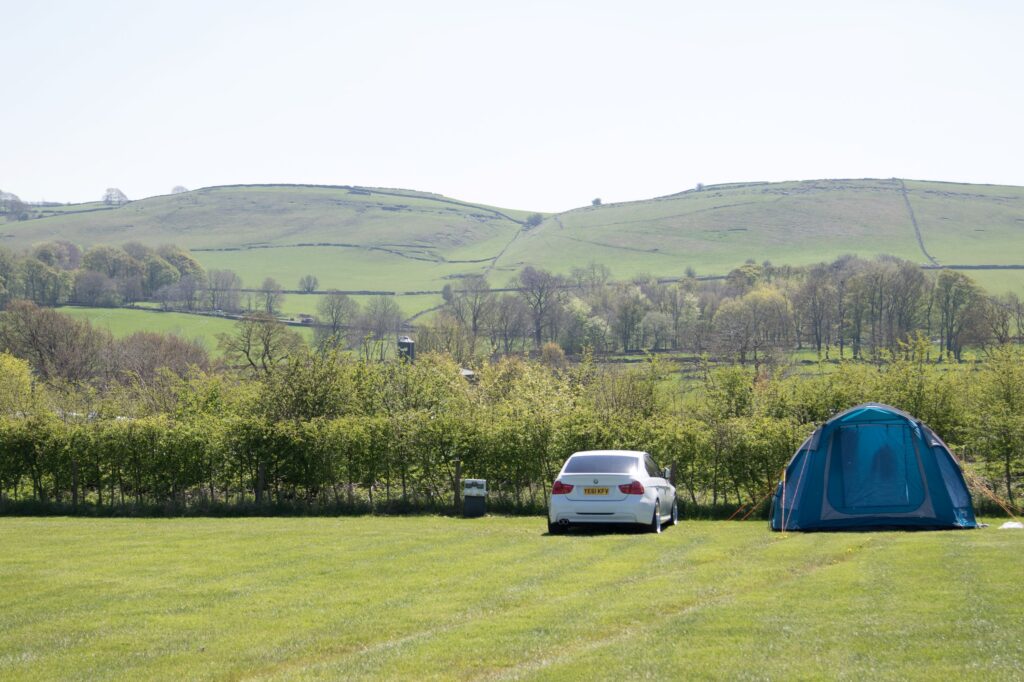 Just outside Buxton, Beech Croft campsite in Taddington is one of the best family campsites in the Peak District. There are two fantastic children's play areas. One play area is for under 6s, and then a separate one for the over 7s with a ball games area, zip wire and climbing frame. There's also a separate exercise field for four-legged family members.
There are 30 hard-standing caravan pitches, which all include 16 amp electric hook ups, water tap and TV socket providing a digital signal. For visitors with tents, there are three camping areas where you can choose where to pitch. There are 10 amp electric hookups available which can be used by purchasing a prepayment card.
The campsite offers excellent facilities including toilet and shower block with underfloor heating, and there is a shop on site offering basic provisions that also sells Calor and Camping Gaz.
Beech Croft campsite is well situated for a bike ride on the Monsal Trail as well as some stunning walks in the area (Lathkill Dale is nearby and very beautiful). Or perhaps head in to Buxton to visit Poole's Cavern and the stunning Victorian gardens at Buxton Pavillion. But also, as it's such a central location, it's a short drive to Chatsworth House, the Heights of Abraham in Matlock, and even Alton Towers.
: Beech Croft campsite under the photo
Durdle Door Holiday Park, Jurassic Coast
By Mal from Raw Mal Roams https://rawmalroams.com/
Durdle Door Holiday Park is located in the south-western part of England, on the beautiful stretch of the coast called Jurassic Coast, which is a UNESCO recognised site. Jurassic Coast is famous for its soaring white cliffs and pristine beaches. The campsite is situated a 15 minutes' walk from the most recognisable point of interest – a natural limestone arch on Durdle Door beach and a picturesque village of Lulworth where you can take a boat trip along the coast. The area is also excellent for hiking with many scenic walk along the coast suitable for families.
Durdle Door Holiday Park offers a range of accommodation from premium pitches, camping pods to holiday homes. There is a bar, restaurant on-site as well as a convenience store. For those that camp, there is a dishwashing station but if you prefer this can be arranged for you for a small fee. There is also a well-kept shower block and toilets in different sections of the campsite. Additional items such as travel cot, high chair, ironing board and hair drier can be rented from Reception.
For the little ones, there is a brand new children's adventure playground features a football area, zipline, swing, and obstacle course all nestled in the woods.
Haven Golden Sands, Mablethorpe, Lincolnshire
As you'd imagine from such a well known holiday resort company as Haven, this site has a vast array of amenities and activities on offer. It really caters for families, with things such as an Adventure Village, heated indoor and outdoor pools, food and drink venues, 2 fishing lakes and an evening entertainment venue.
There is a variety of accommodation options from self catering chalets/static caravans, to touring pitch options too. But undoubtedly the best thing about this site is its position; within walking distance to the vast expanse of sand that is Mablethorpe beach.
The campsite is situated to the north of Mablethorpe town centre, with all its quintessentially English seaside offerings: amusements, fudge, rock and fish and chips. There is also a quirky way to get from the beach adjacent to the campsite into the town, by using the land train. This is such a fun method of transport for all ages (but of course, especially children).
The land train starts out from near the Seal Sanctuary, which itself provides a great day out, offering a chance to get up close to these loveable sea mammals. They also offer experiences such as being a keeper for the day, something that could make a great alternative birthday present. The train passes by beautiful beach huts on its way into town. Just south of the town centre there is a park with a boating lake, perfect for a change of activity from the beach.
If you're looking for a more basic and budget campsite, but still want to enjoy all the offerings of Mablethorpe, a good alternative is the Shamrock RV Park, located to the south of the town.Either way, it's a great place for a traditional family staycation.
Hollands Wood Campsite, Brockenhurst
By Krix from Travel Hacker Girl
Camping at Hollands Wood Campsite in Brockenhurst makes a great holiday for outdoor-loving families. The site is really big, giving plenty of space for all guests. Thanks to the size, you can generally just turn up without a booking. Everyone can choose their own spot, as there are no allocated places. The staff is always nice and helpful. Children love cycling around the site on their bikes. The New Forest is best explored by bikes. The campsite can help you arrange bike rental if you don't have your own.
There is a huge field next to the campsite, where wild horses like to roam free. However, you can also often find them walking through the campsite, which the children especially enjoy. Another fun thing to do for families is having a picnic on the riverbank next to the campsite. The Lymington River is very shallow here, making it a safe place for children to splash around. There are also several rope swings in the area.
There is no shortage of activities in the New Forest. Local stables offer horse riding lessons and tours, where children and complete beginners are also welcome. Brockenhurst has lots of family-friendly pubs and cafes to feed the hungry mouths after a long day of adventures.
WOWO, East Sussex
By Kirsty from Navigating Baby
WOWO is, for us, what family camping is all about as it is back to nature, wholesome family fun, kids running wild and sitting around campfires.   WOWO is in East Sussex so really accessible from London and there are direct trains to East Grinstead and then you can switch to the Bluebell Railway and arrive at Sheffield Park via steam train or just get a taxi from East Grinstead.
This campsite is billed as a family campsite and it is perfect for families as the kids can have so much freedom.  There is an amazing
forest to explore and even a shallow creek to paddle in.  We have been to WOWO twice with group bookings for families from our children's school and it has been so much fun despite it having rained both times.
WOWO welcomes groups and individual campers.  If you aren't a seasoned camper WOWO offers Shepherds Huts and kitted out Yurts to hire.  You can even get a bit of pampering in as they have a beauty yurt where you can book massages and facials and have a hot tub that you can book to.
For the kids apart from just being outside and running free, the site offers educational and super cute workshops. Last year our older boys did a survival workshop and the younger girls did a fairy walk in the woods and a perfume making workshop. If all that weren't enough to make this a great family campsite WOWO also has local food vans come on a Friday night so you don't even have to cook.
You can arrive and order a pizza or fish and chips.  If you want a super ritzy campsite this won't be for you as it is a little bit back to basics,
but the showers are clean and so are the toilets and we love it.
Wild Duck Holiday Park, Norfolk
By Mandi from Big Family, Little Adventures
Wild Duck Holiday Park is located in a lovely little village called Belton in Norfolk, only a few miles from the golden beaches of Gorleston, Hopton and Great Yarmouth. It is a Haven site so you have the benefit of cheaper holiday accommodation as you are camping, but the park passes are included within the price, giving you full access to all of the facilities and entertainment, and dogs are welcome too, which is great for us as we never leave Bree behind!
Wild Duck has both indoor and outdoor heated pools, a fish and chip shop, sitting duck restaurant, all weather  multi sports court and is set within woodlands, so perfect for a tranquil break away from the hustle and bustle of busy lives, and if you want to explore the area further, you can hire bikes to get around the forest area.
The entertainment program includes everything you would expect from a Haven site, with regular appearances from Rory the Tiger and Bradley Bear, singers, bands, magicians, and a full list of activities throughout the day to keep the children entertained if that is what they enjoy, although you do need to accompany them.
As well as the seaside resorts close by you are only a short trip away from the stunning Norfolk Broads, with amazing sunsets and an abundance of wildlife, there really is something for everyone at The Wild Duck.
Apple Camping – Pembrokeshire 
If you have ever stayed in a luxury Holiday cottage In Pembrokeshire, you will know first hand how stunning this region of Wales can be. Pembrokeshire is a stunning area in the south of Wales that has many stunning beaches, countryside walks, and thriving towns. 
Apple Camping is a campsite that appeals to kids because it is a unique glamping experience. If you are looking for the perfect place that will get your kids excited about camping this year – look no further. 
Apple Camping will put you up in a number of unique themed glamping pods. There are aeroplanes, pac man, and UFO pods for the family to enjoy. These stunning glamping pods are like nothing you'll ever see anywhere else and will bring your child's imagination to life this year. 
This campsite has four acres of land in the setting of an idyllic Welsh village. On site there are many amazing facilities to enjoy such as a barbecue, kitchens, modern showers and a laundry area. 
If you choose to stay inside the 'crashed' aircraft you will see that the original bar and other features are still inside. In this property you'll even be able to play flight simulator games on the XBox! 
The nearest beach to this campsite is only 10 minutes away, and the area is surrounded by classic British countryside. You'll be able to spend your time in this campsite feeling like you've entered a whole new world… and if you stay in the UFO, you might just do! 
Do you love camping with your family? Could you recommend a campsite that families will love too? If you do, then why not pop me and email and tell me all about it. Maybe we could include yours too! Email me anna@twinsandtravels.com
If you have found this useful or are considering a family camping, or glamping trip, then why not read a few of these…
Go On, Pin It!