Bluestone with a toddler – it is the easiest holiday you will have! Bluestone is a family friendly resort set in the beautiful Pembrokeshire National Park with an abundance of activities both indoors and out for the whole family, perfect for a family staycation. Bluestone with under 5's is just as much fun for parents and grandparents to enjoy too as it is the kids. We were invited to Bluestone in Wales for the start of their Christmasland experience at the beginning of November with the three girls (4, 4, and 1) and my parents so we couldn't wait to get in the festive spirit!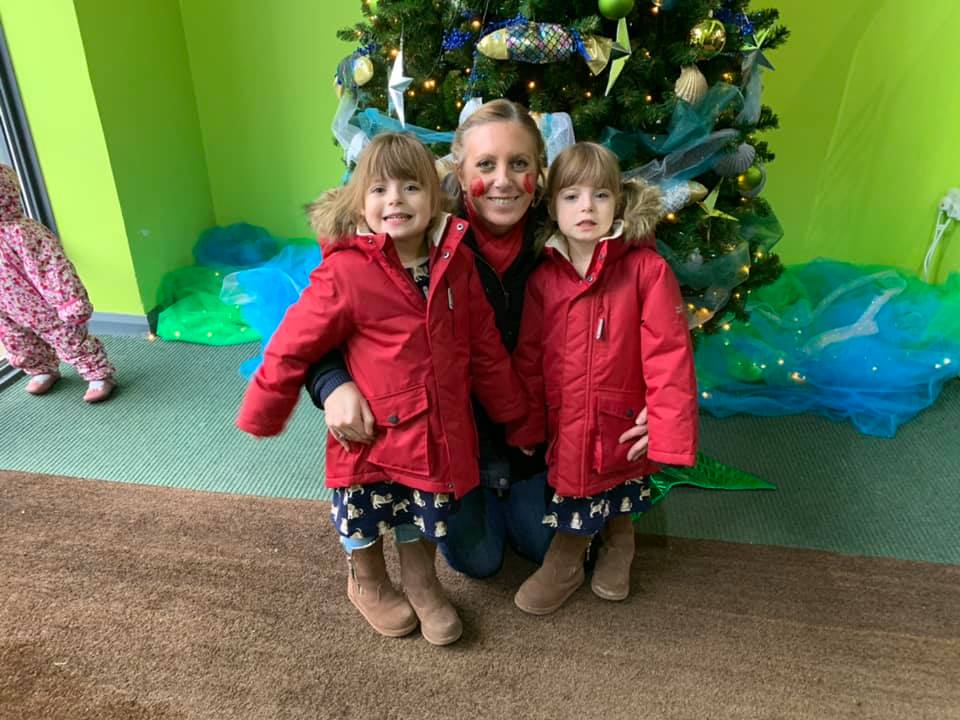 ** We were offered a 4 night stay at Bluestone in exchange for this honest review.
We were travelling from Essex, but went via Bath on the way there. Something I can recommend doing to break up the journey and an opportunity to explore Bath. We spent 3 nights at Hoseasons Bath Mill Retreat. Direct, the journey was 5 hours – long, but worth it. I packed lots of snacks and activities for the girls to do in the car – they are really enjoying our road trips!
We arrived at Bluestone just before 3. We got through the check in fairly quickly and parked up. We had just enough time to get out and have a wonder before we could get in our accommodation at 4.30. Depending on where you are staying, check-in times differ but you can use the facilities all day. This is the same on check out day. Despite having to be out by 10 (which we always struggle with 10!), you can stick around. If you can get an earlier check in time, I would recommend it in the winter months because unpacking the car in the dark was a little challenging.
Bluestone has a no car policy. You are allowed to drive to your accommodation to unpack, but then have to return it to the car park for the week. I think this adds great value to Bluestone as it keeps the children safe.
However, one thing you do need to be aware of are the golf buggies. If you are going to spend any money over the week, one thing I would highly recommend you booking is a golf buggy. You can drive these all over the resort and there are designated car parks to park in. I think we would have really struggled with out one especially as it was so cold and wet, you want to get from A-B quickly. It is also extremely hilly so pushing a buggy around would kill me!!
What is Christmasland at Bluestone Wales?
There is something special about starting off the Christmas season with a holiday. I love it as it gets everyone feeling happy and excited. Bluestone totally go to town and really know how to do Christmas in style – they call it Christmasland which is a whole festive program where everywhere is decorated with giant Christmas trees, glitter, real elves and festive tunes and this is the one time where you shouldn't leave that favourite Christmas jumper behind! Christmasland is wonderful at Bluestone with under 5's.
We only booked onto a few festive treats 'Kingdom of the Elves' which was free and defiantly worth doing. You are set a task to save Christmas. It is fun, and an interactive experience that will have the children bouncing with excitement. You get to play in different zones and make a few small crafts before having a party and watching a message from Santa. We also went to the Christmas dinner show but there is so much more that you can book on to and do as well as this including meeting Santa in Santa's Workshop, The Little Merelf Christmasland Spectacular Show, join in with a festive family workshop to create a fancy sweet treat Gingerbread House or make their own Christmas wreath and if all of this doesn't get you in the festive spirit, then I don't know what will.
Activities when Visiting Bluestone with a Toddler – for Under 5's
There are so many activities to do at Bluestone with under 5's  you really are spoilt for choice. There are five main areas to choose from and they are all amazing and so much fun for little people. The Serendome, Blue Lagoon, and The Activity Centre which are all fairly close to one another and then a short drive in your buggy away is the Village and the Wellness Spa. There really is something for everyone to enjoy and nowhere is far from a hot coffee or a glass of wine. In fact, you can even have a glass of wine whilst the kids run around the soft play. Now if that doesn't get your Bluestone vote, then nothing will!!
Some of the activities at Bluestone are free, whilst others you have to pay for. In fact, there are so many activities around the resort for children of all ages and far too many to mention here so it is defiantly worth checking out the website. Once you have booked your stay, all you have to do is log in and get planning so that once you arrive, you can enjoy everything and not worry what you are missing out on. I would highly advise you do this as once you are at Bluestone, many activities get fully booked so you don't want to miss out. However, there is also an app which makes your stay easier too, so make sure you download this.
The Serendome at Bluestone Wales
Bluestone opened The Serendome in July. It is one huge umbrella coving a massive play area and holds a large number of 'free' activities.The Serendome is just amazing at Bluestone with under 5's. It was perfect for us on the wet, rainy days to have this indoor, outdoor play space for children. You do not need to book to go to the Serendome.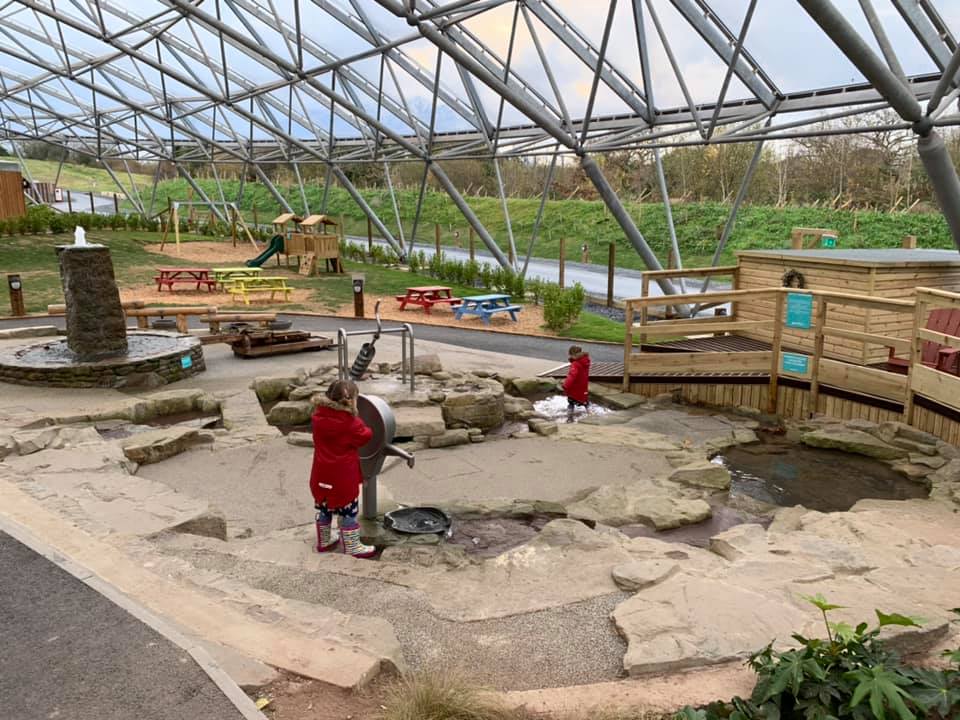 The Serendome is perfect for children under 5's with so many of the play areas aimed at them. There's a wonderful water play area with streams, shallow ponds, damns and water collectors so make sure your children wear their wellies and waterproofs so they can have a good old splash about.
Then the sand area boasts a huge climbing castle that they can climb on and dig around. Right next to that, an outdoor restaurant area and a coffee shack – perfect to grab a hot chocolate whilst the little ones are running about having fun. .
But there's more, there's also a few soft play type zones with foam bricks and large construction type toys, a toddler play area with swings and slides and a massive low/high ropes structure for the older kids which is bookable.
In the centre of the Serendome there is a theatre. We were lucky enough to see one of their free Christmas shows by chance and was really impressed with how professional the entertainments team were. There are free and paid for shows so check out the activities listing when you are there!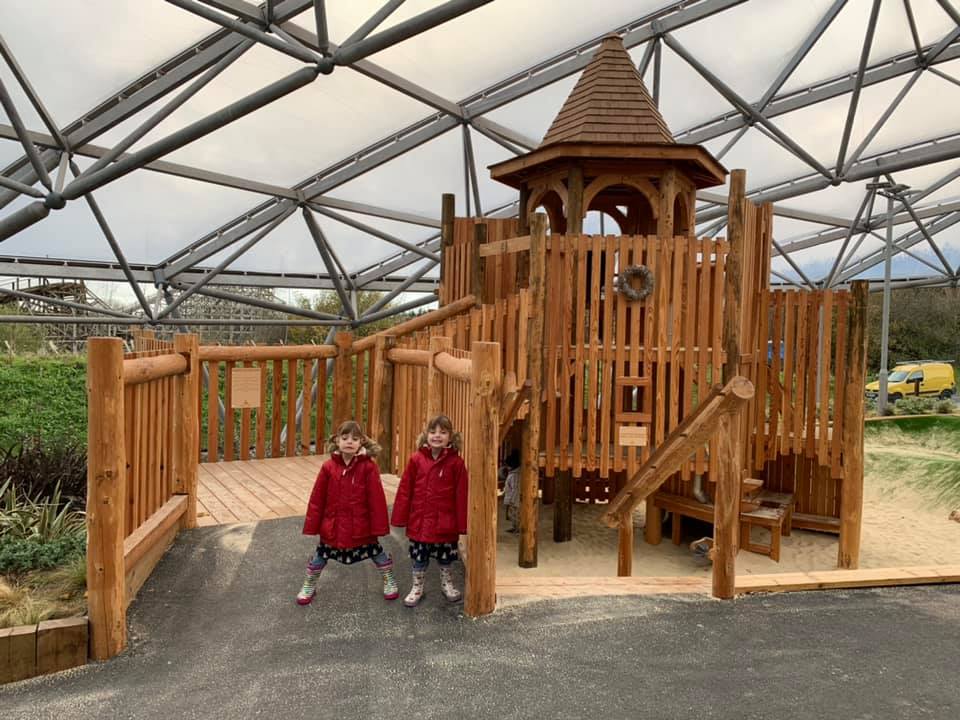 Blue Lagoon at Bluestone
One of the big benefits to staying at Bluestone with under 5's is that you have unlimited free access to the Blue Lagoon water park. This was one of the girl's favourite parts about staying somewhere like Bluestone as they LOVE the water. The Blue Lagoon has a great mix of toys, fountains, wave machines, and a lazy river to keep them entertained for a few hours. The designated play areas for toddlers and babies are perfect for this age group.
For swimming with under 5's, I can highly recommend the Konfidence swimwear range. The girls have their flotation jackets and we wouldn't swim without them. And a top tip for you… You will need a £1 for the lockers but then use this pound to pay for the human dryer. We used this every time. The children dry quickly and it makes for getting the children dressed so much quicker and they don't stand about whinging they're cold!
Activity Centre at Bluestone Wales
The activity centre is home to the indoor play zone with a baby area, a bouncy castle, amusements and comes complete with coffee and wine. What more do you needs at Bluestone with under 5's. This is a great place for letting little ones run off steam whilst you actually relax with a drink – if that is possible. It's actually not with a one year old! There is also a small crazy golf area here which was great fun and really empty. .
Entertainment at Bluestone Wales
The entertainment team at Bluestone is fabulous. So professional and hilarious. They will have both children and adults joining in with the antics in no time. There are a good few shows and events to choose from and I'd say something to suit everyone's tastes. As we visited at the start of their Christmas Themed programme, everything funnily enough was festive and suitable for under 5's. Some shows were free, whilst others were paid for and in various locations around the resort.
If you are looking to do something a little different one evening, then why not book onto the Dinner Show which takes place in the Wildwood café, located in the activity centre. We paid to do this on our last night and can recommend going. The dinner show is an interactive mix of dinner and theatre. You dip in and out of the show, and in and out of courses. The children could all go up to the front so there was no sitting around getting bored – just indigestion maybe – but it was worth it! It started at 5 and was finished by 7. Perfect for under 5's bedtime!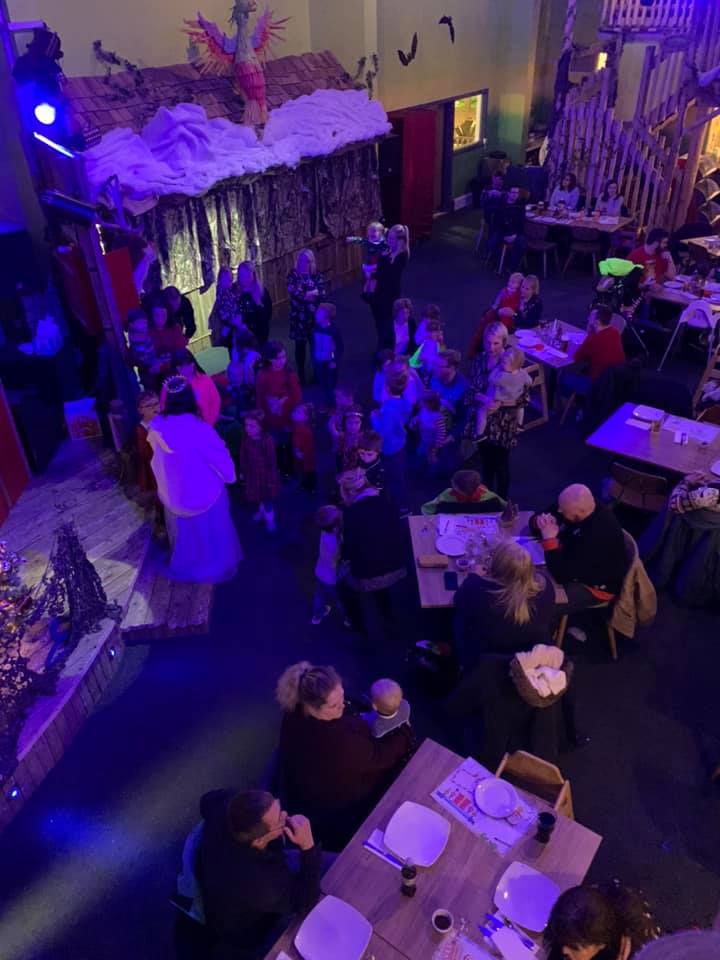 The Village at Bluestone Wales
The village has everything you need as a family. A shop, pub and a park. The shop is reasonably priced and has all the basics but I am not sure it would satisfy your full family shopping list for the week.  Also not that you cannot do an online shop and get it delivered to the resort so make sure you plan this into your journey.
However, if you don't feel the urge to cook every night then Bluestone boasts 5 restaurants and a chip shop. We ate in the village one evening and chose the Farmhouse Grill which I must say I was a little disappointed at.  The food and was very average. My mum and I had the ribs and they were overcooked and dry so choose wisely! However, they were very accommodating with the girls when they requested ham, egg and chips which wasn't on the menu and theirs disappeared fairly quickly!
Other option included The Knights Tafarn for a traditional country pub, Oak Tree for Italian inspired food, Ty Coffi for coffee and sweet treats or The Wildwood Café at the Adventure Centre which is good for light bites and drinks throughout the day.
Accommodation options for Bluestone with a Toddler
We were booked to stay in Dinas, a 4 bedroom lodge all on one level and it was huge. Plenty of space for 8 people and as there were only 6 of us, it meant that there was even more. We decided on the 4 bedroom so that Matilda, the baby, had her own room and quite frankly I hate sleeping with my children on holiday!
You enter the property into a small clockroom with space for shoes and hooks to hang your coats. It was nice to have somewhere to have them stored as visiting in the winter means a lot of extra clothes are needed. You then proceed into the kitchen area.
The living space is open plan with the kitchen closest to the front door and the dining area ahead of that with a table to seat 8 and a side unit.
To the left of Dinas you have 2 bedrooms (a double and a twin), and a bathroom with a shower.
To the right of Dinas, a large living room with leather sofas and a TV, another two bedrooms (a double and a twin), and a bathroom with a bath.
I liked the layout of the bedrooms as Matilda was poorly most of the week and so she didn't wake everyone else up from her crying (other than me that is!!). The bedrooms were well equipped with wardrobes and storage so that you could actually unpack – something I have to so on holiday!
The accommodation was very clean and tidy on arrival and whilst the bedrooms were carpeted, it would have been nice to have had a rug in the living area to have made it a little more homely. It was a big space and a little echoey. The kitchen had everything we needed including a microwave and dishwasher but if you have a baby, you wouldn't fit a large steriliser in it so make sure you either have a smaller one or bring an alternative. (My article on 'How to Sterilize a Baby Bottle on Holiday' might be a useful read?)
How to book your Bluestone Wales Holiday
Prices at Bluestone vary from week to week but you you can find lots more information on their website with details about HOW TO BOOK.
Bluestone or Centre Parcs?
I am often asked how Bluestone compares to Centre Parcs. Up until now, I haven't been able to answer, but now I can. For children under 5, I would choose BLUESTONE. EVERY .TIME. As you can see from the above, there is so much for small children even if you decide to stay on the resort all week and there will be no one getting bored!
Things to do near Bluestone Wales
Despite there being heaps to do on the Bluestone resort, we still love getting out exploring the local area when we are on holiday. There are plenty of things to do in Pembrokeshire. For all my like minded readers, here are a few suggestions of places you may like to visit;
Castell Henlly
Castell Henlly is the only Iron Age Fort in Britain that has been reconstructed on original foundations from over 2000 years ago. The Fort itself can be found after a beautiful 10 min woodland walk alongside a river from the car park and visitor centre. If you are lucky enough, you will also spot the pigs and sheep which belong to the fort.
Once you reach the Hillfort , you will find four roundhouses and a granary which you can actively enter and explore. Each roundhouse is set up to demonstrate how it would have been like 2000 years ago. At certain times there are guides on site at certain times to help bring the place alive and tell stories about what they think life was like all those years ago.
Saundersfoot
Whenever we visit Bluestone, we always make time to head to beautiful sunny Saundersfoot. There's so much to see and do there, from the quaint little shops to the stunning beach. It's a beautiful and sunny place (most of the time) and we love spending the entire day on the beach, munching on chips and chasing the waves.
Children never get bored of the sand and sea, from digging to paddling about, it's just the most relaxing place to be. We also love picking up trinkets and gifts from the local shops for family members, and we can't leave without trying out the different flavours of ice cream from the local parlour – yum! There's always a smile on our face as we head back to our lodge after a day at Saundersfoot. It's pure bliss, and the memories will last a lifetime.
Folly Farm
Just a short 10-minute drive from Bluestone is Folly Farm – don't be fooled by the name though, Folly Farm is much more than just a farm, it's also an adventure park, funfair and zoo! The park is split into different sections, where you can enjoy a whole range of different activities for all ages. Visit the Jolly Barn to meet the farm animals, learn about life on the farm and even enjoy a tractor ride. Keep an eye on the daily timetable to see when you can hold certain animals or even learn to milk a goat too.
If it's bigger and wilder animals you're looking for, then the zoo area at Folly Farm is for you. Home to over 50 species including the only giraffes in Wales, the zoo has large and modern enclosures to ensure the best environment for the animals, and also great animal spotting opportunities for you! Monkeys, lions, penguins and even the critically endangered Eastern black rhino are just some of the animals at Folly Farm.
And if that wasn't enough to keep you entertained, Folly Farm is also home to a fantastic indoor funfair, huge soft play, outdoor adventure play and so much more. There really is something for everyone at Folly Farm!
If you have enjoyed reading our Bluestone post, you might also find some of our packing tips useful or how to do a road trip with a baby or maybe you'd like to head up to North Wales for a longer stay. We can recommend Away Resorts Barmouth Bay.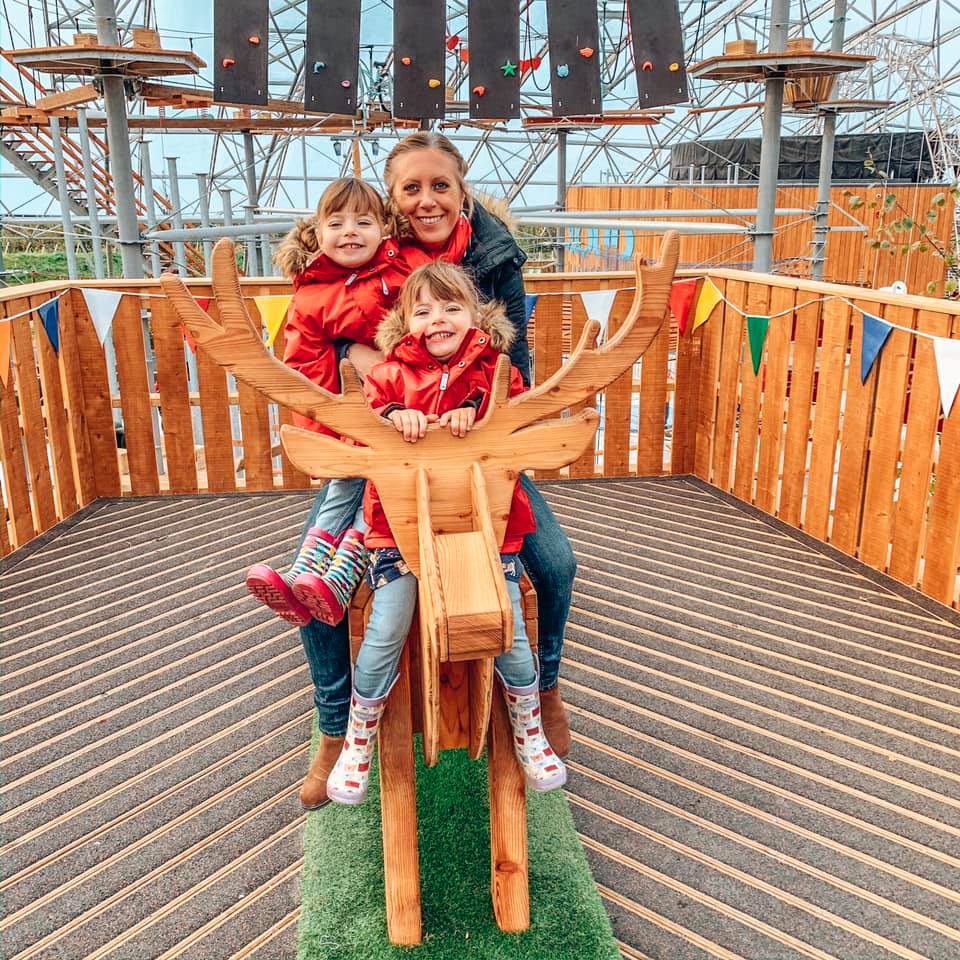 GO ON, PIN IT!