One of our favourite things to do in the Peak District has always been Chatsworth House Gardens – it is so family friendly. We started visiting before we had the girls and now the children love it as much as we do! During our most recent trip to Derbyshire whilst staying at Knockerdown Holiday Cottages in Ashbourne, (March 2022) we took the girls to Chatsworth's farm and gardens which they loved. We didn't visit the main house on this occasion ut have enjoyed a number of exhibitions in the past.

Where is Chatsworth House, Gardens and Farm?
The Chatsworth Estate is the most beautiful Stately Home. It is situated in the heart of the Peak District National Park near Rowsley in the Derbyshire Dales district. The estate has been handed down through 16 generations and is home of the Cavendish family. It is a family home, a working farmyard and a living landscape. The house, many of its contents and 737 hectares of the surrounding landscape are leased to a registered charity, the Chatsworth House Trust, established in 1981. The 12th generations of the Cavendish family, the Duke and Duchess of Devonshire to live at Chatsworth and work with the charity and others to welcome visitors. Chatsworth is not part of the National Trust or English Heritage, so standard admission prices apply.
Chatsworth Farm and Playground
Chatsworth Farm has been a favourite day out for children since 1973 and even though we had visited Chatsworth House a number of times, it was our first time to Chatsworth farmyard to meet the farm animals and on first impressions, we were pleasantly surprised and had a really lovely morning.
The farm was extremely clean and tidy. A great size for children with plenty of hands-on animal experiences for them to enjoy, along with a huge adventure playground and a craft barn.
On arrival, there is a blackboard by the entrance. On the blackboard you will find the timings with all of all the interactive experiences and talks throughout the day so don't miss that. The girl's favourite part of the day was the animal handling. They got to hold the new born chicks and guinea pigs. Seeing the piglets and the kid goats was a highlight for them too. You could watch the cow milking demonstration and then have a go at milking a pretend one – always fun! And zooming about on the ride on tractors was a hit with the younger ones.
The girl could have played for hours in the playground – it was huge with an amazing sandpit. One of the best days out for toddlers and young children.
Chatsworth Estate Farm is home to a number of friendly animals and rare breeds including Suffolk Punch horses, Shire horses, Albion cattle, Gloucestershire Old Spot pigs, Bagot goats and Cream Legbar chickens, with British Landrace pigs and Eriskay ponies.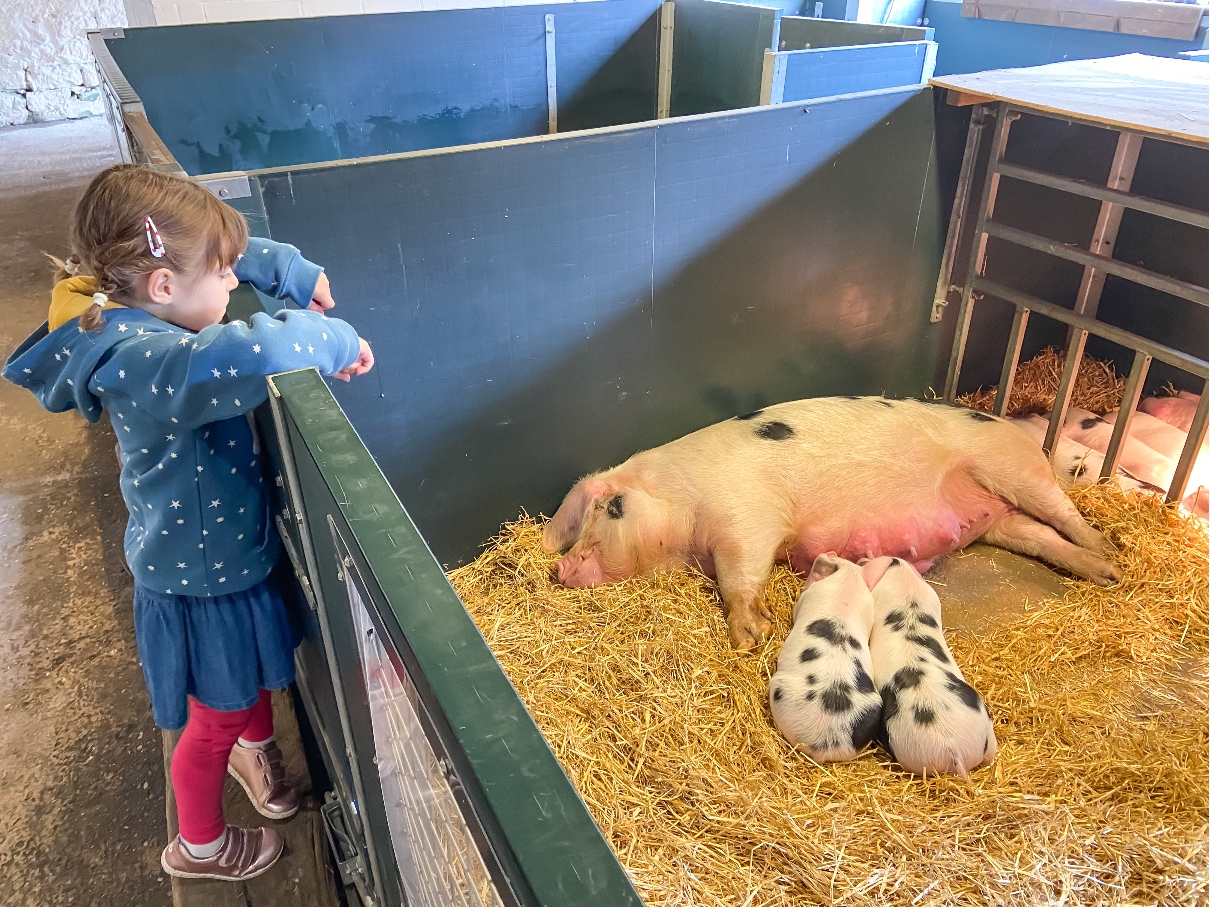 How much does it cost to visit Chatsworth Farm?
If you are visiting the Peak District with kids, you can visit Chatsworth Farm without visiting Chatsworth House and Gardens. If you are only planning on visiting the farmyard and playground there is a cost of £7 each or £26 for a family of 5 which I think is extremely reasonable. The woodland playground has a zip wire, climbing frame area, slides, water and sand play.
Chatsworth House Gardens
Having spent a few hours visiting the farm in the morning, another lovely things to do in Derbyshire, with or without kids is visit Chatsworth House Gardens – they are simply stunning and perfect for the whole family with children of all ages. We did exactly this and walked over for a picnic and an ice cream.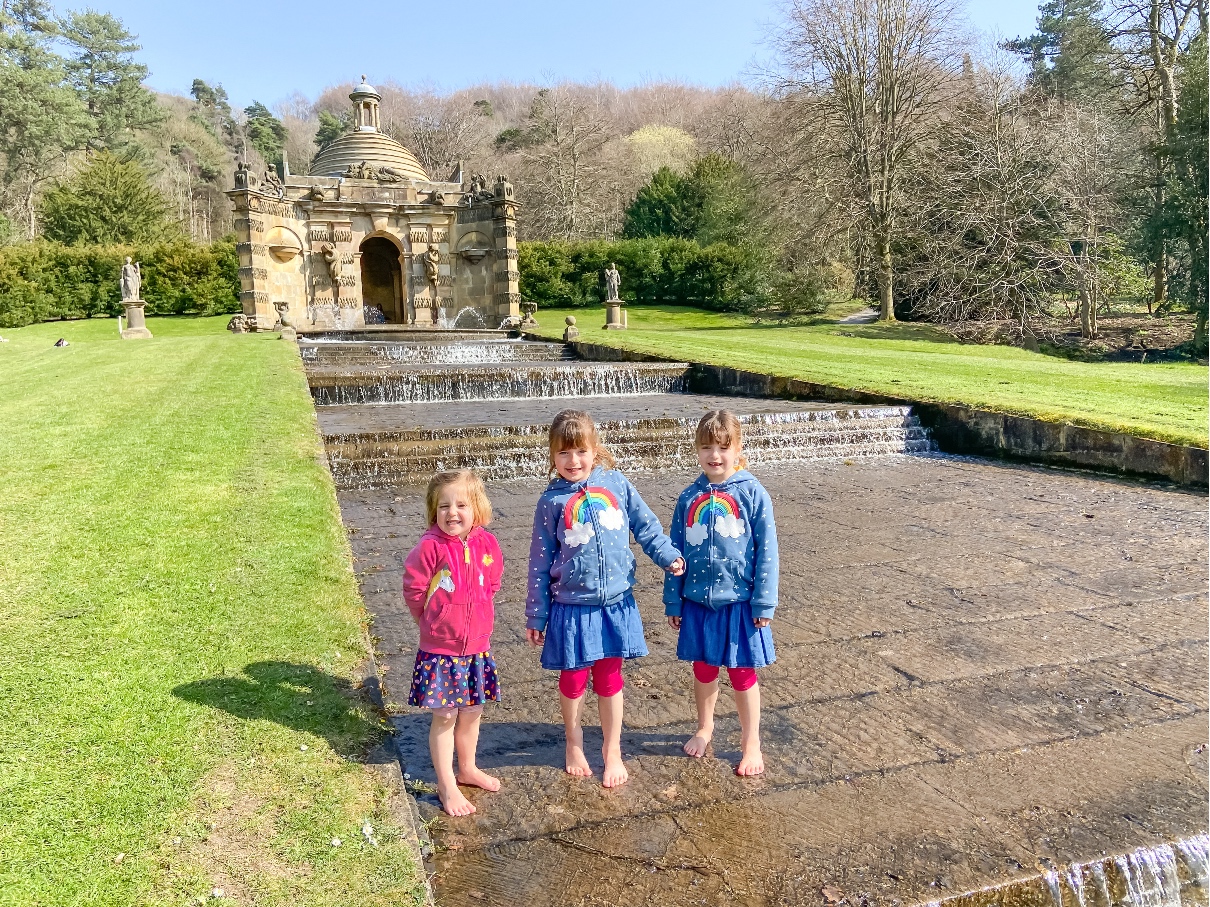 The sun was shining and with the backdrop of the house, we sat in the beautiful Chatsworth House Gardens. We dipped our toes in the magnificent fountain (it's such a fun thing to do but can be very slippery), strolled around the rock gardens, admired the kitchen gardens, danced in the raining tree and admired the sculptures – they have a new exhibition throughout the grounds called Burning Man – it's incredible and opens on April 9, 2022. We got a sneak peak at the Unicorn close to the entrance and it was incredible.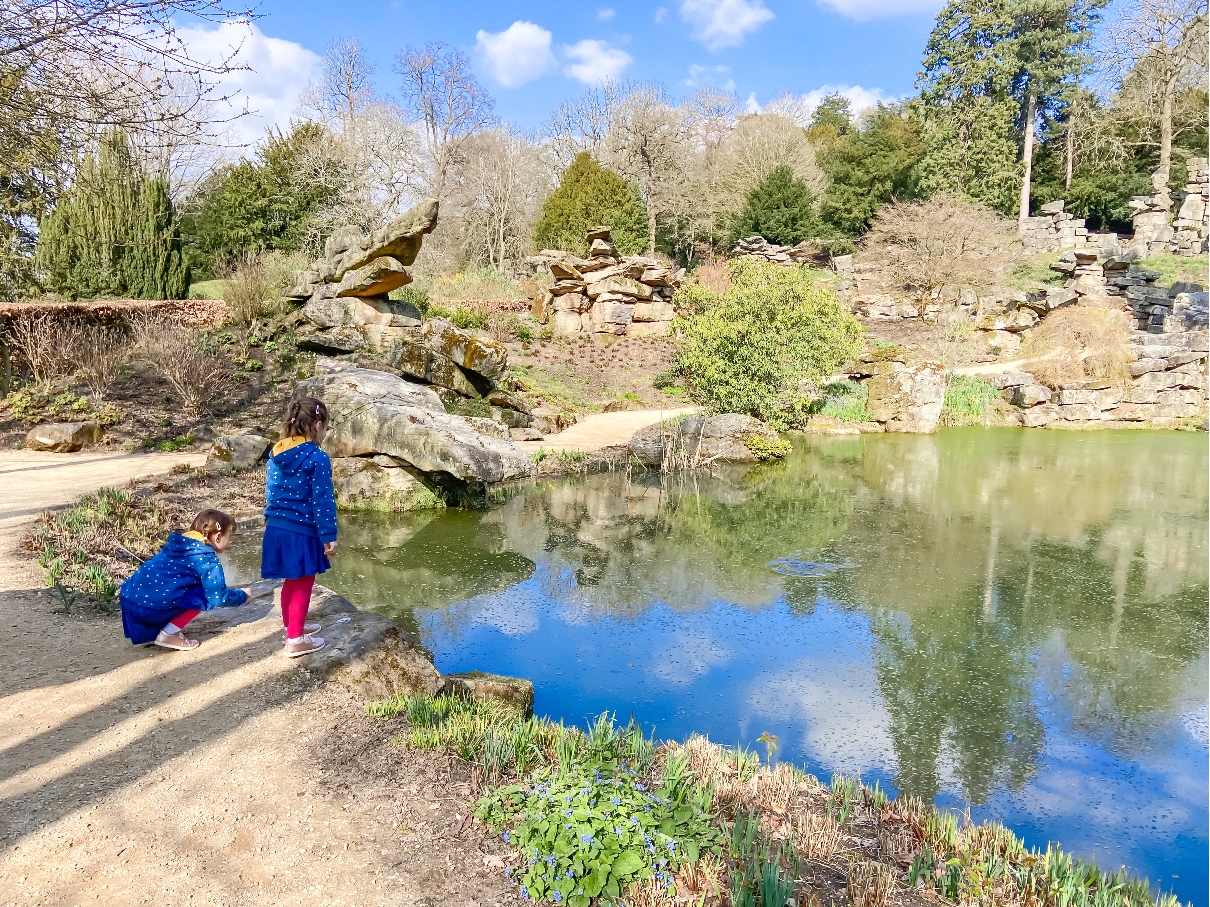 How much is it to visit Chatsworth House Gardens?
Chatsworth House Gardens are famous for its rich history, extravagant water features and sculptures, and its Victorian rock garden, there is something for everyone in the 105-acre Chatsworth Garden. If you wish to buy garden tickets only, it costs £12 per adult and £6 per child.
You can easily spend a few hours strolling around the gardens at Chatsworth. It's a lovely easy walks in the Peak District. Well-behaved dogs are welcome throughout the garden and park, however as there is wildlife and livestock roaming in these areas, dogs must be kept on a lead.
How long do you need at Chatsworth House Gardens and Farm?
You could spend a morning visiting Chatsworth House Farm, a full day wondering the house and gargens, or a few days exploring everything. Personally, I'd happily stay forever! But seriously with kids, taking a day to do the farm and gardens makes a really lovely days out in the Peak District.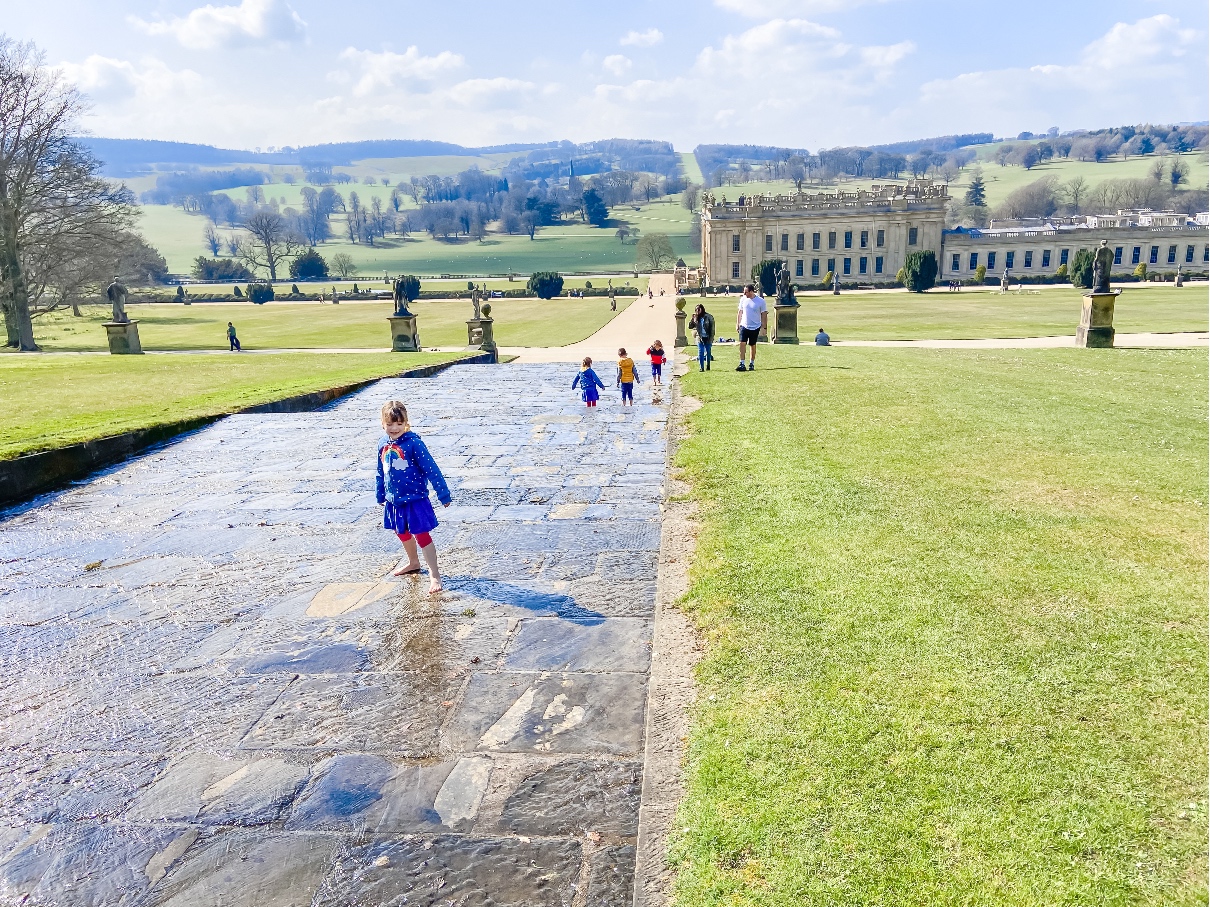 Chatsworth Opening Times
Chatsworth House Gardens is open to visitors from 26 March 2022 – 30 October 2022.
During these dates the gardens and farm open daily from 10.30am – 5.00pm (the house closes at 4.30pm).
Chatsworth Prices and How to Book
There are many different ticket options depending on which parts you would like to visit. These range from £26 to £75 for a family ticket so do check the Chatsworth website to book online and see which would best suit your family and to book your tickets.
Other Things to Know about Chatsworth House
Restaurants at Chatsworth House
There are a few places to eat at Chatsworth:
Carriage House Cafe
The Carriage House Cafe is ideal for families and serves freshly made dishes with seasonal ingredients.
Cavendish Restaurant
Set in the picturesque 18th century stables, the Cavendish restaurant menu showcases the best of Chatsworth Estate and local produce.
Chatsworth House Afternoon Tea
The Flying Childers
The Flying Childers restaurant, located in James Paine's 18th century stables, offers the ultimate British indulgence – afternoon tea. Enjoy a luxurious afternoon tea experience. Freshly made sandwiches and sweet treats baked to perfection are served with Chatsworth teas and coffees, or for the ultimate indulgence add a glass of Laurent-Perrier Cuvée Rosé.
From £45 per person | 11.30am – 4.30pm
Chatsworth House Events
Chatsworth House Gardens is home to a number of special events throughout the year.
Chatsworth House at Christmas
This Christmas Chatsworth House will be transformed with their annual Christmas displays to get everyone into the festive spirit. Keep an eye on the website for the theme for 2022.
Chatsworth Horse Trials
Chatsworth Horse Trials is a three-day event of thrilling world-class equestrian sport, combined with entertainment for all the family. Book by 8 May 2022 to enjoy an early bird discount.
Chatsworth Country Fair
Gates open at 8am
2 September 2022–4 September 2022
Featuring spectacular grand ring displays in the air and on land, demos from celebrity chefs plus entertainment for all the family, Chatsworth Country Fair is an event not to be missed.