As you will know, our family loves to go on an adventure as much as possible. You just can't beat that exciting feeling of trying out new experiences with your children. We have stayed in many different types of holiday accommodation, safari tents in Kenya, holiday cottages in Derbyshire,  and something that we adore is glamping with kids on a luxury Feather Down campsite. There is something kind of special about spending your family holiday time with nature and living outdoors and Feather Down Farms glamping sites do this just perfectly and on this occasion, we had a great holiday glamping in Bedfordshire.
** Our stay at Feather Down Bedford was gifted in exchange for this article.
As I opened the lodge canvas doors at 8.30am, the girls darted past me shouting 'we are off to play mummy'. I did feel a little guilty as the girls danced in circles singing songs that other glampers might not be as sprightly as they were.
Having lit the fire and boiled the kettle on the wood stove, I sat back down and enjoyed a hot cup of tea as the sun came up – I did this every morning of our stay at New Farm Barn in Bedford which is one of Featherdown Farms Glamping farms. We were just so much with the weather. It was glorious.
What is the Difference Between Camping and Glamping in Bedfordshire?
Glamping is a play on words – think glamorous wild canvas camping and you will get the gist. You still have all of the benefits of holidaying in the great outdoors, just with a little extra luxury. You are not having to set up your own safari tents, everything is there ready and waiting for you. There are many types of glamping accommodation from bell tents, tipis, shepherd's huts and tree houses. The possibilities really are endless.
Glamping on a Farm – About Feather Down Farm Glamping
The Feather Down Farms concept was developed by a veteran of Disney and Center Parcs. It was modelled on the simple interior of a typical farm-house from the 19th century. Nowadays, Feather Down can be found in over 75 farms all across the UK and Europe.
Stay on the Farm – Glamping in Bedfordshire with Featherdown
Glamping in Bedfordshire at Feather Down Farm's New Barn Farm is just an hour's drive out of London in Bedfordshire. It is ideal for a family of animal lovers as they have plenty of farm animals to play with on their farm – this was what drew us here; We wanted a really hands on experience.
Feather Down New Farm Barn belongs to Will and Hannah Tongue along with their children Evie, Harry and Fergus and they really were the perfect hosts. They are third generation farmers on the working farm and enjoy every bit of country life which the love sharing with their guests.
When glamping with Feather Down, you life the life of luxury in your very own canvas hideaway surrounded by grazing animals and acres of outdoor space to enjoy nature at it's very best. What's not to love?
Upon our arrival, we were met by Hannah and Will who offered to take our luggage down to our lodge as it's a little bit of walk from the car. This was welcomed because we all know I always bring far too much stuff!  Hannah then went through everything we needed to know about the safari lodge in terms of safety, the fire and log burner etc
Activities at Feather Down New Farm Barn
Our favourite things about Glamping in Bedfordshire at Feather Down Farms is the experiences living outdoors offers the kids, and en experience of real farm life. They don't miss their toys or ask for the TV, they just love playing outside. At New Barn Farm, the girls really were in their element with nature and all the farm animals and you are welcome to do as much or as little as you like on the farm.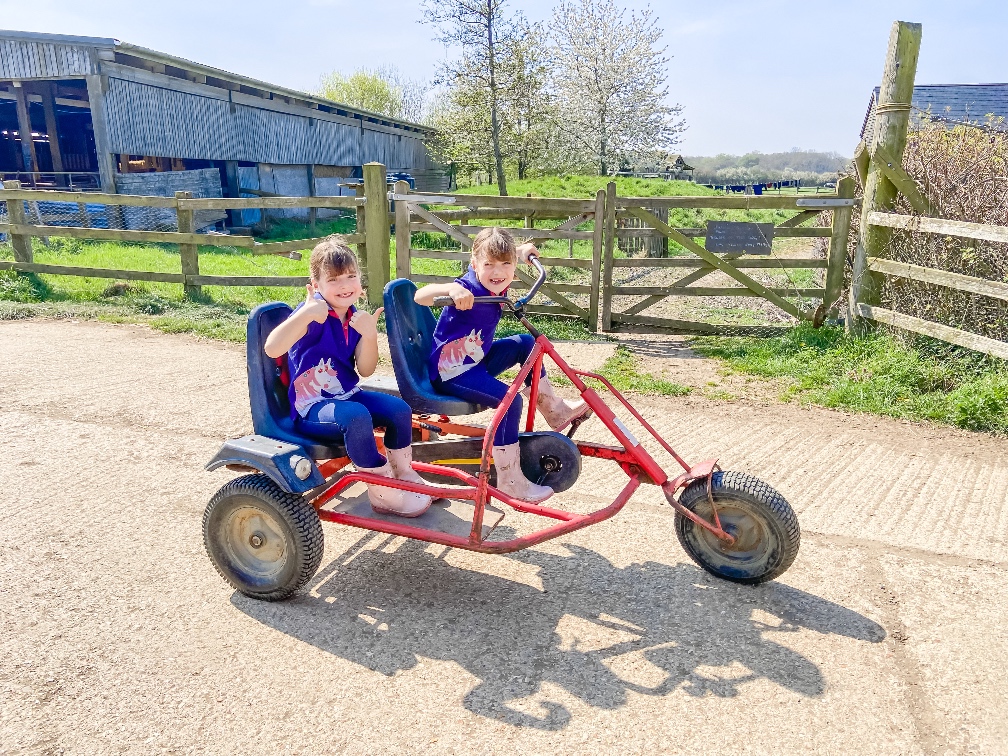 There are so many animals on the farm which you are welcome to enjoy including two of the friendliest pigs who love any after dinner scraps, sheep with lambs (in season), goats, geese, ducks and ducklings, chickens, guinea pigs who love a cuddle and the highlight of the girl's holiday, ponies to groom. There is an extra charge for the pony grooming (£10 pp) but the girls would have done this every day if they could. You may even glimpse some wild badgers, foxes, owls, woodpeckers and small Muntjac deer.
Own a Guinea Pig at Feather Down Farm
Why not let your kids learn all about owning their very own pet guinea pig for the duration of your stay when glamping in Bedfordshire. For a small additional fee,  they can have a guinea pig live with them in a hutch just outside their safari tent where they can feed, cuddle and take care of them daily.
Feather Down Pizza Night
The farmer will fire up the pizza oven twice a week (currently Wednesdays and Saturday night), to give you a night off cooking. Come 6pm, you gather round the communal seating area by the campfire area and enjoy some great homemade pizza with everybody. This is a great area if you are Glamping with friends – larger groups welcome. Your own pizzas are freshly made in front of you and you can choose from a huge selection of toppings. This is an additional £10pp and they are delicious.
Collect Fresh Eggs
Every morning, head out to the paddock to see how many eggs have been laid. They are yours to take home for breakfast!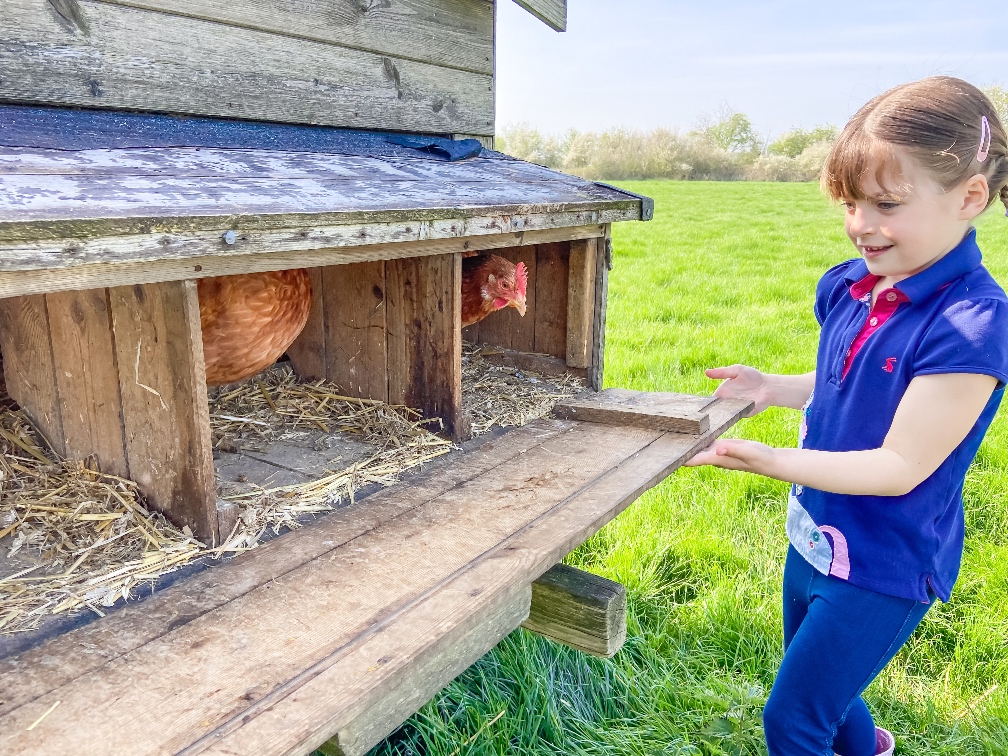 Hire Bikes whilst Glamping in Bedfordshire
One of the fabulous extras at New Farm Barn is their bike shed. You can hire bikes for the whole family (including toddler chairs and tag a longs) and head out for a family bike ride around the 300 acre farm which has grass field margins to enjoy. A number of different maps are provided in the farm shop which give you some great family-friendly routes to suit all ages. We did the shortest route which was just two miles but it was great fun and we had a fabulous afternoon.
The Campfire
Your farmstead isn't complete if you haven't toasted marshmallows on the campfire right! At New Farm Barn there is a communal campfire, and also each loge has their own campfire spot too.
The Cuddle Barn
Cuddle the animals to your hearts content. In the cuddle barn you will find guinea pigs and ducklings to spend time with. You can also go in to the other barns with the sheep and goats too.
Go-Carts
Parked up outside the guinea pigs are a number of go carts to drive around the farm yard on. You can fit 1-4 people in them and they are great fun.
Sheep Milking
The neighbouring farm invites New Farm Barn guests to a sheep milking experience. There is an additional charge of £5 pp but it was brilliant. We started off in the lambing barn where there were hundreds of lambs that needed feeding. You were allowed to pick them up and handle them which was so lovely for the girls (and us!), then we were taken to the milking barn. Here all of us spent an hour milking sheep with the farmers. Even Matilda had a go! Such a great experience.
Farm Tour
Hop on board the tractor and trailer when glamping in Bedfordshire and enjoy a trip around the farm to learn about the crops and wildlife at Featherdown New Barn Farm – do you really know where your Weetabix comes from?!
Facilities at Feather Down New Farm Barn
The Farm Shop
Hannah has plenty of homemade dishes available to purchase from the honesty shop which just require heating up on your log burning stove. The farm shop is always well stocked with the simple necessities that one is likely to forget or run out of. There is also farm product available in the fridges so you can have a scrumptious BBQ on your first night.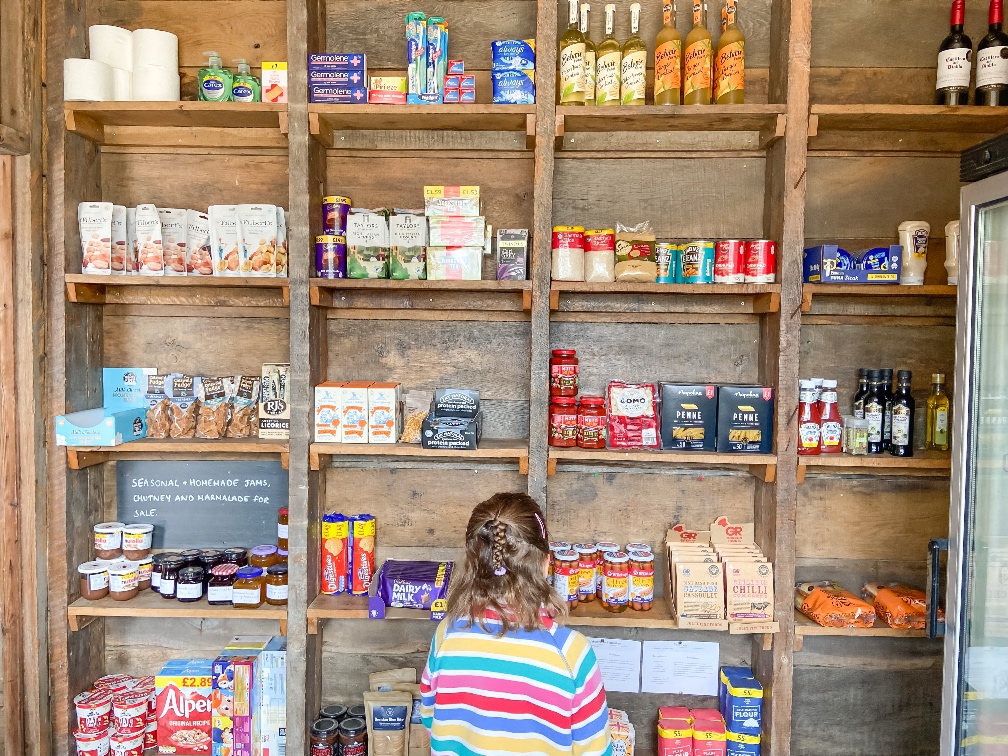 Glamping with Friends at New Farm Barn
Feather Down New Farm Barn is set up perfectly for gaming with groups of friends. Whilst each lodge only sleeps 6, there are 2 communal seating areas you are free to use for meals, making any occasion super special!
The Games Barn
For those of you who love a spot of table tennis, this can befound in the same barn as the bikes.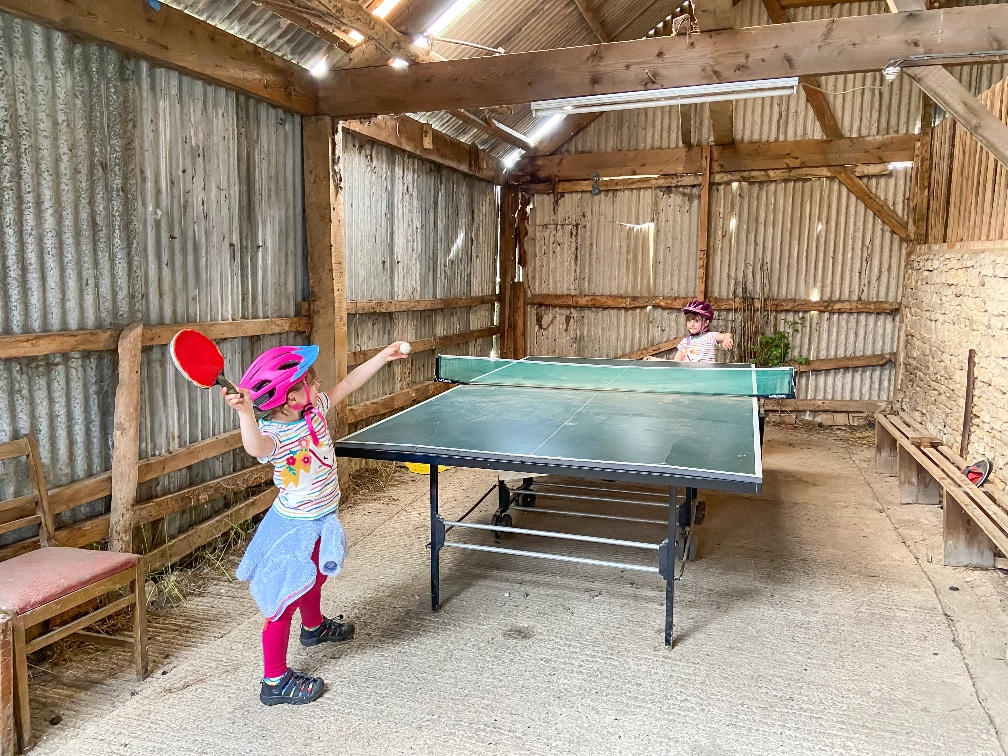 Accommodation at Featherdown New Barn Farm –
Glamping in Bedfordshire
The accommodation on all Featherdown Farms are pretty much the same, we love it and glamping in Bedfordshire was no different. Our family-sized safari tent at New Barn Farm, was exactly the same as the one we stayed at in Layer Marney and Manor Farm – some have a couple to choose from. At New Farm Barn the offer two accommodation options; Canvas hideaway with private outdoor hot shower (this is a hot shower in a shed – not a completly wild shower!) and Canvas hideaway with en-suite hot shower.
The canvas hideaways are like luxurious safari style tents that sleep up to six people. The canvas hideaways have a floor space of nearly 500 square feet which consists of a living area, three bedrooms with real beds; one double bedroom, a cute cupboard bed (the highlight of the stay is sleeping in the cupboard!) and one bunk room with bunk beds. They really are so comfortable with fluffy pillows and thick warm duvets. Towels and bedding are provided but we always take 2 extra blankets each.
We often get asked how dark the lodges are in the evenings/mornings, but if you put all the window shutters down over the windows, the lodge is really dark. We weren't waking up until 8.30 in the morning!
There is a fully equipped kitchen with a kitchen sink / fresh cold water and either a private outdoor shower or an en-suite shower and a private en-suite with flushing toilet, depending on which hideaway you are staying in. Remember crocs or flip flops if your private hot-water shower is outside!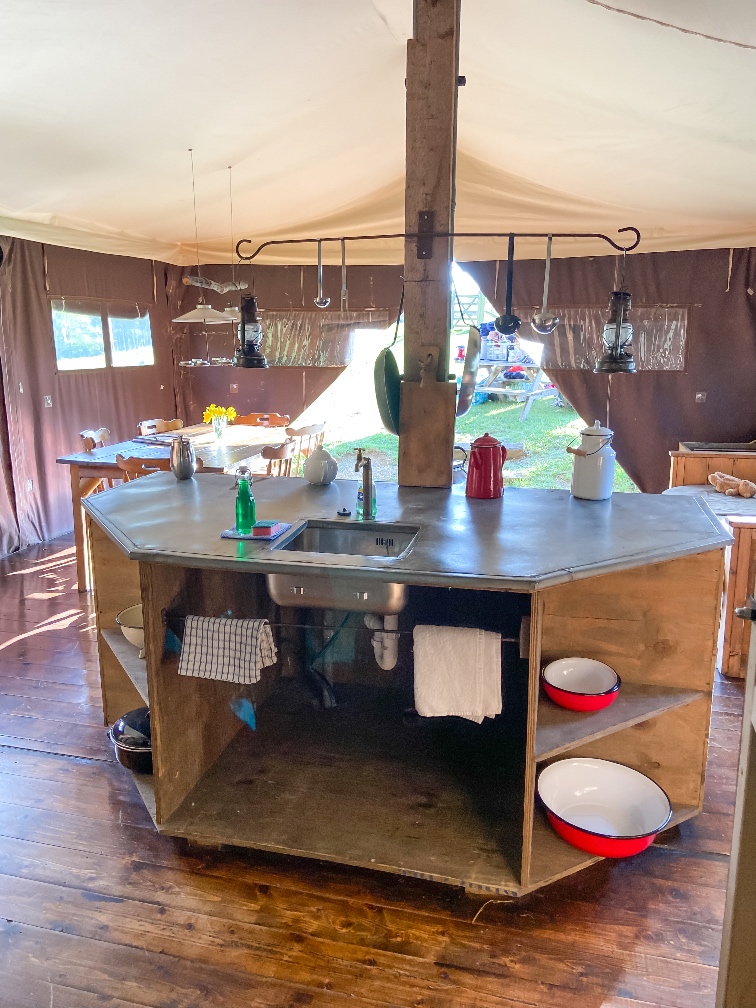 In the main living space, there is a cool box to keep your food cool (two ice packs are provided but we always take a few extra to rotate), a sofa, and a large proper dining table, as well as the log burner stove to cook on and keep you warm. If you have young children you need to request a fire guard as not all lodges come with there and the fire gets so hot.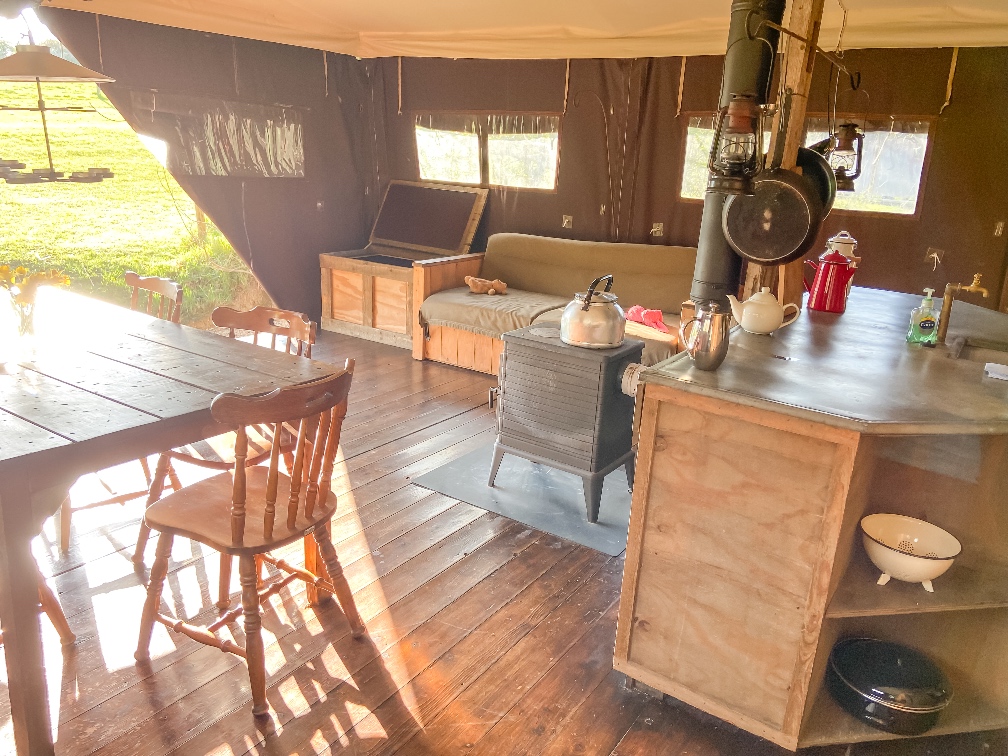 Remember you have no electricity when glamping in Bedfordshire so whilst candles are provided, it is advisable that you take torches too.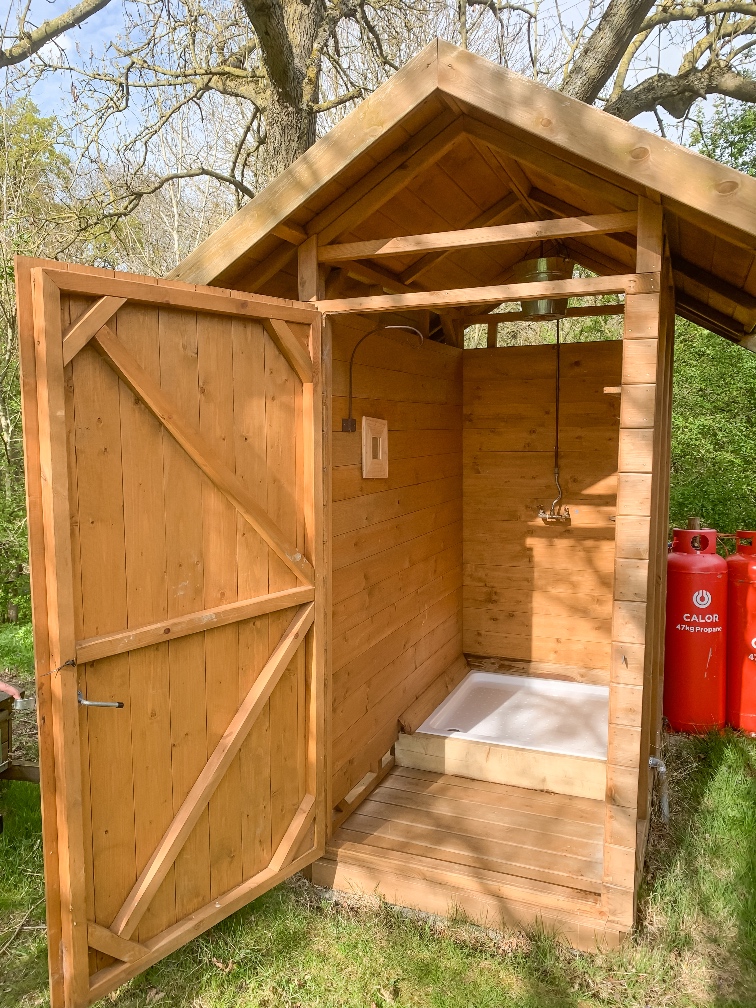 Outside, each lodge is provided with a picnic table for alfresco dining, two deck chairs, a stove for cooking and a fire pit.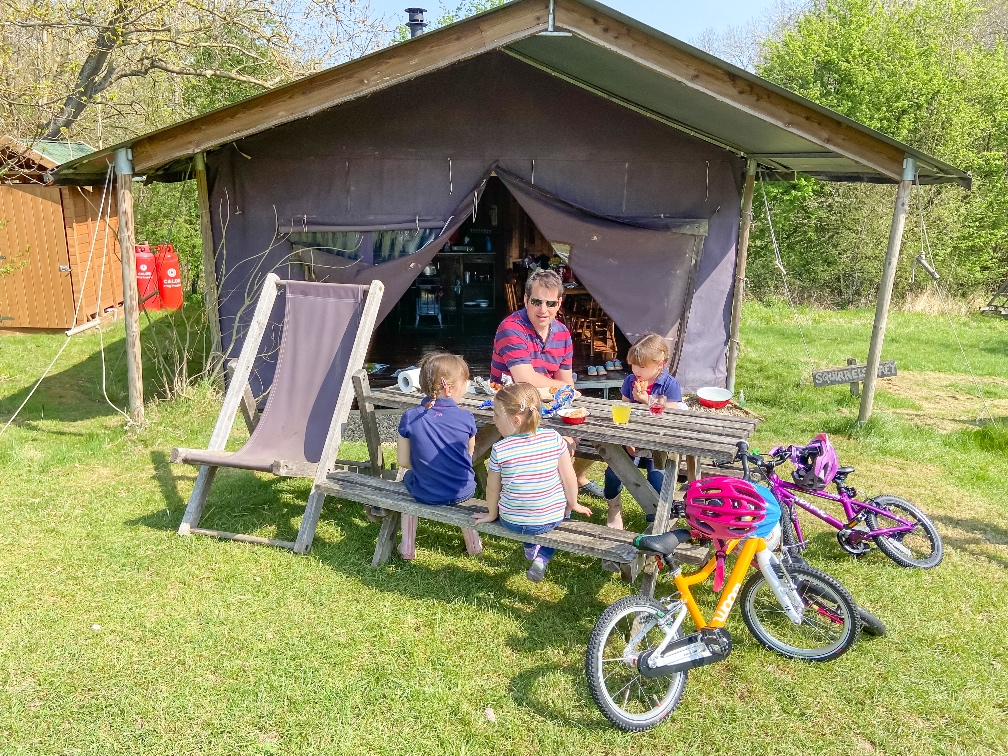 What's included when Glamping at Featherdown?
When you stay at Featherdown you will be provided with oil lamps, candles, matches, bed linen, towels, washing-up liquid and a few other basics. At the centre of your stay is the Feather Down wood-burning stove. It makes your early morning cuppa and is your central heating when there is a chill in the air.
Can you go Glamping with a Baby?
There is no reason why you couldn't go glamping with a baby. We first went glamping just before the girls turned 2 but as long as you take plenty of layers fir bedtime, they will love the fresh air as much as you! The canvas hideaways are warm as they have log burners inside and you have a fully equipped kitchen too. Plus all of the fresh air often means that they sleep really well.
What to pack for glamping
If you are wondering what to pack for your glamping trip, take a look at my glamping packing list. I always recommend packing cubes to organise your clothes too.
There are a few 'essentials' which we would recommend when glamping in Bedfordshire you pack for your safari tent…
Anti-bac hand soap
Anti-bac spray
Mirror – it sounds silly but useful for doing your hair or shaving
Blankets – the temperature really drops between 2am & 4am… take at least one each, and two for the children.
Slippers or indoor shoes – Your feet get cold
Onesies – That extra layer in the evening and mornings really is needed
Crocs or easy slip on shoes
Waterproofs and wellies – you know how quickly this British weather can change and if you are in full waterproofs (adults too), it won't stop play!
Toys – in case it rains. We take a few simple bits like colouring/sticker books and a tub of lego
Outdoor toys – a bat and ball and football
How to Book Featherdown New Farm Barn
You can book your stay in a canvas lodge on the Featherdown Website.
10 Things to do  when Glamping in Bedfordshire near Featherdown New Farm Barn
ZSL Whipsnade Zoo
Whipsnade, Dunstable LU6 2LF
ZSL Whipsnade Zoo is the UK's biggest Zoo. Set over 600 acres on the picturesque Chiltern Hills and home to almost 3,000 animals, including lions, tigers, rhinos, hippos, brown bears, giraffes, zebras, penguins and a herd of Asian elephants.
Woburn Safari Park
Crawley Rd, Woburn, Ridgmont, Bedford MK43 0TU
Woburn Safari Park is a drive-through safari park nestled in over 300 acres of beautiful Bedfordshire parkland. Visitors to the park can drive through exhibits, which contain species such as southern white rhino, elephants, tigers and black bears.
Luton Hoo Estate
Farm Rd, Luton LU1 3TQ
With a stunning view and a warm and welcoming café to come back to, Dunstable Downs and the surrounding area is perfect for walking. They have a wide range of downloadable walks from 2 miles to over 6. Explore the countryside and find out more about the wildlife and history.
Olney
Olney is a beautiful market town in Buckinghamshire; with historic buildings, lots of shops, entertainment, events, clubs, societies and a lively local market.
Bletchley Park
Sherwood Dr, Bletchley, Milton Keynes MK3 6EB
Explore this extraordinary place and discover the amazing stories of the World War Two Codebreakers. Enjoy a full day out – with something for the whole family
Towcester Racecourse
London Rd, Towcester NN12 6LB
Towcester Racecourse is a luxury, multi-purpose entertainment hub and racing venue, set in hundreds of acres of Northamptonshire countryside.
Silverstone
Silverstone Circuit is a motor racing circuit near the Northamptonshire villages of Silverstone and Whittlebury. It is the current home of the British Grand Prix.
Ready Steady Roll – Board Game Cafe
Rushden Road, Sharnbrook, Bedford MK44 1ND
Ready Steady Roll is an award winning board game cafe and shop with a dedicated area to play games with guidance from a Games Guru, lunch and homemade cake.
Wrest Park
Silsoe, Bedfordshire MK45 4HR
Explore 92 acres of landscaped early eighteenth-century garden in this lovely walk in Silsoe. Stroll along the wide gravel central walk, past the long canal and then on to the Baroque style pavilion.
Shuttleworth
Alder Dr, Biggleswade SG18 9DT
The Shuttleworth Collection is an aeronautical and automotive museum located at the Old Warden Aerodrome in Bedfordshire. It is one of the most prestigious and is the oldest in the world due to the variety of old and well-preserved aircraft.
Try another Farm Stay in the UK with Feather Down Farm
You can also check out some of the other Featherdown Farm luxury glamping trips we have been on which include glamping with a hot tub in Essex and glamping in Hampshire.