I think many of you well know by now that I am no camper. In fact, I will do what I can to avoid it at all costs but what I do love is the outdoors and outdoor luxury living. There is something about seeing the sun rising in the morning, it is so special.  I have been glamping with the family twice now, once in Leicestershire when the twins were two and again in Spain when they were four and the baby was one, both in safari style tents and do you know what, on each occasion we have had a fabulous time. Glamping is a great option for camping with a baby. It was now time to try Glamping, perfect for a weekend in the Cotswolds or a longer break.
**Campden Yurts provided us with a complimentary stay in return for this review and coverage on my blog. As always, these words and opinions are all my own.**
This summer we were invited to go glamping in the Cotswolds, but this time in yurts – something I have never done before and if I am completely honest with you, I was a little dubious as we would all be sleeping in the same room (something I am not a fan of).  I am also not a fan of going outside to go to the loo in the night but I like a challenge so we thought, come on, let's give it a go, and so we did!
Campden Yurts is just 2 hours from London in the heart of the Cotswolds surrounded by rolling hills and stunning stone villages. After 3 hours on the road (we were coming from Essex) the girls were really ready to stretch their legs and get out of the car despite the amount of snacks they were enjoying! They are getting so much better at going on road trips but they are always glad to arrive and start another new adventure especially as this one meant Glamping in the Cotswolds.
Arriving at Campden Yurts – Glamping in the Cotswolds
Campden Yurts was easy to find and as we pulled in the gates, Jane the host was there ready to greet us with a warm smile. Once the girls were out of the car, the gates were closed to keep the children safe from the busy through road.
First stop was a tour of the site so that we knew how everything worked and where everything was. The site at Campden Yurts is only small housing just two yurts and I was impressed at the space between each one so you don't have to worry about the noise from early risers. You pretty much feel as though you are there on your own. The other facilities are not far away either, so there is no hiking through fields in the middle of the night to get to the loo!
glamping in the cotswolds
First stop was our yurt, and I did wonder how all five of us would comfortably fit in here! To my surprise, the yurt was extremely spacious and there were beds for everyone with space inbetween. We had the main double bed in the middle, the twins took a futon bed each either side on the main bed and the cot was at the end of the main bed. I wouldn't even go so far to saying it was a cosy fit, there really was plenty of room.
There was also a few chest of drawers to store your clothes, a coffee table, table with a 2-ring burner, lighter, mugs, cups, cutlery, cafeteria, plates, corkscrew/bottle opener, washing up bowl, tea towel and dishcloth, dustpan and brush and a small bin for dry waste.
We were staying mid-September so whilst the daytimes were still warm enough to just be in short sleeved tops, the evenings were getting chilly dropping down to 8 or 9 degrees so you needed to pack layers. The twins were in vests, PJ's and onesies with socks, and the baby have a vest, baby grow, fleece and a sleeping bag and they were covered with duvets and blankets.
Jane provides most things for you so you can travel light (ish – not sure I have ever travelled 'light' yet I am just a skilled packer!). All bedding is provided. Inside your yurt you will find beds/futons made up with sheets, duvets and covers, pillows and case for each person booked. There areplenty of blankets for everyone too so you really don't get cold. The first night I did wake up a few times as was worried about the girls getting cold so I got up and put some extra blankets over them which seem to worked as it was the best they had slept for weeks and they didn't wake up until 7.20! (How times have changed – 9am used to be a lie in now it's 7.20!). There was road noise in the morning from the road, but this didn't seem to bother the girls.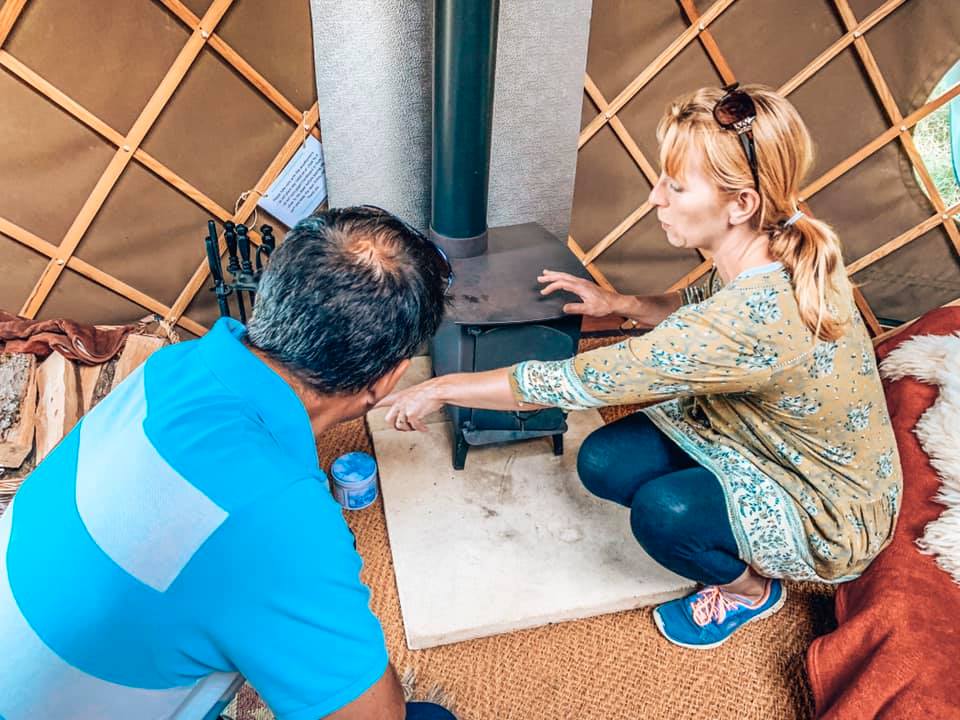 One massive perk to glamping in the Cotswolds is the wood burner in the yurt, there is nothing nicer than coming home after a long day exploring and lighting the fire. It means that you are able to enjoy the outdoor living for longer; the autumn or spring is just as much fun as the summer months. Whilst the wood burner does go out at night, it is perfect to warm it up early evening and first thing in the morning and it gets warm really quickly. Jane went through how to use it on arrival and it really is simple. We requested a fire guard just to be on the safe side as it obviously gets incredibly hot.
Facilities at Campden Yurts
The facilities at Campden Yurts is a big selling point for me. As someone who likes luxury travel, this site really does have everything and all you need to bring are your clothes and a torch. Crocs are useful too, to slip on if you need to pop to the loo in the night. We forgot ours and really missed them.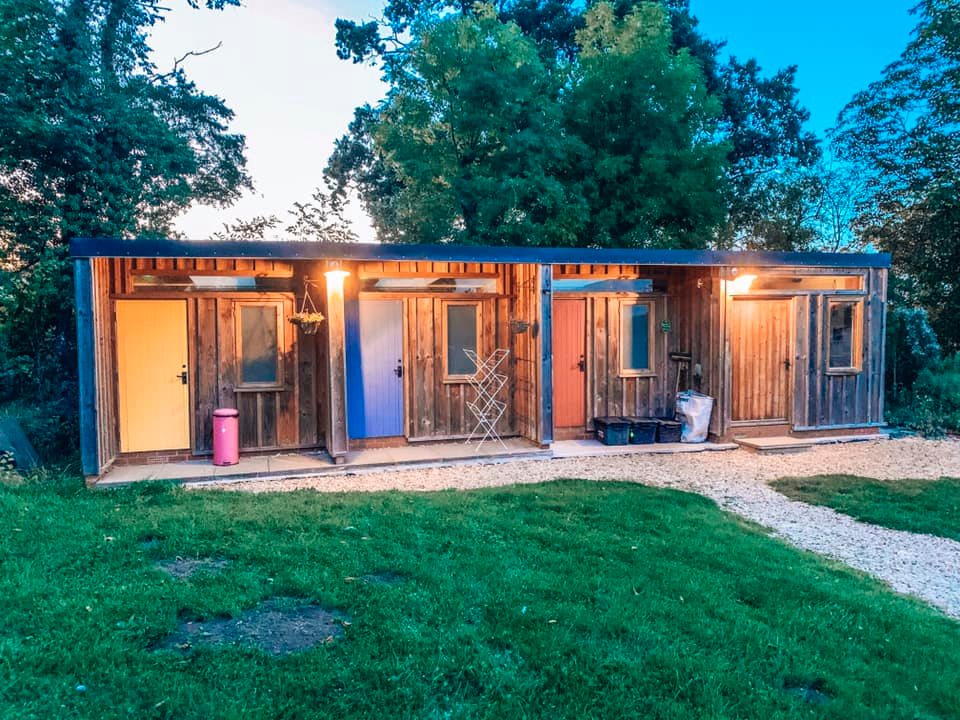 As well as your yurt, you also have access to your own large bathroom which has a toilet, basin, shower and hairdryer. Toilet rolls and soap are also provided. As each yurt has its own, you can also use this as a bit of extra storage space. This was very clean and the shower had good power. There was also a small heater in here to take the chill off in the mornings.
There are two areas for cooking, the main kitchen which has everything you could possibly need to cook with (saucepans, frying pans, bowls, plates, jugs, glasses, mugs, plastic cups and plates etc, wooden spoons, cooking utensils, corkscrew, grater, teapots and kettles. They also provide washing up bowls, tea towels, dishcloths, washing up liquid etc.),plus a microwave, kettle, full size fridge (again there are two of these, one for each yurt) and a box to keep other food bits in. We were delighted to find heaps of plastic, child friendly plates and cups. It is so nice when you find these on holiday and makes travelling with a baby so much easier.
Outside there is another kitchen. This has the plates and a proper gas cooker to cook all your meals in. This is situated right next to the seating area which again there are two options. One area set up outside which is where we ate all of our meals, and another undercover just in case it rains. Highchairs can also be provided free of charge.
The undercover area has a multitude of uses; It is a perfect eating area in the event of rain. The girls found the toys that were there to play with and colouring draw with pencils and colouring books so they sat in here enjoying this for a good hour whilst Matilda played with the dinosaurs on the cushions. This is also a perfect place to spend evenings once the children are in bed. It was something we wondered about – would we have to sit on our beds all evening in silence? Not at Campden Yurts!
Campfires burning
A short distance away from the yurt was a fire pit. On the first night the girls got very excited as we said we would toast some marshmallows – something they had never done. Everything was provided by Campden Yurts (the marshmallows and the extra long handed toasting sticks) although we did buy extra wood for £5 as we decided to base ourselves here after the children had gone to bed! What fun we had – real memory making!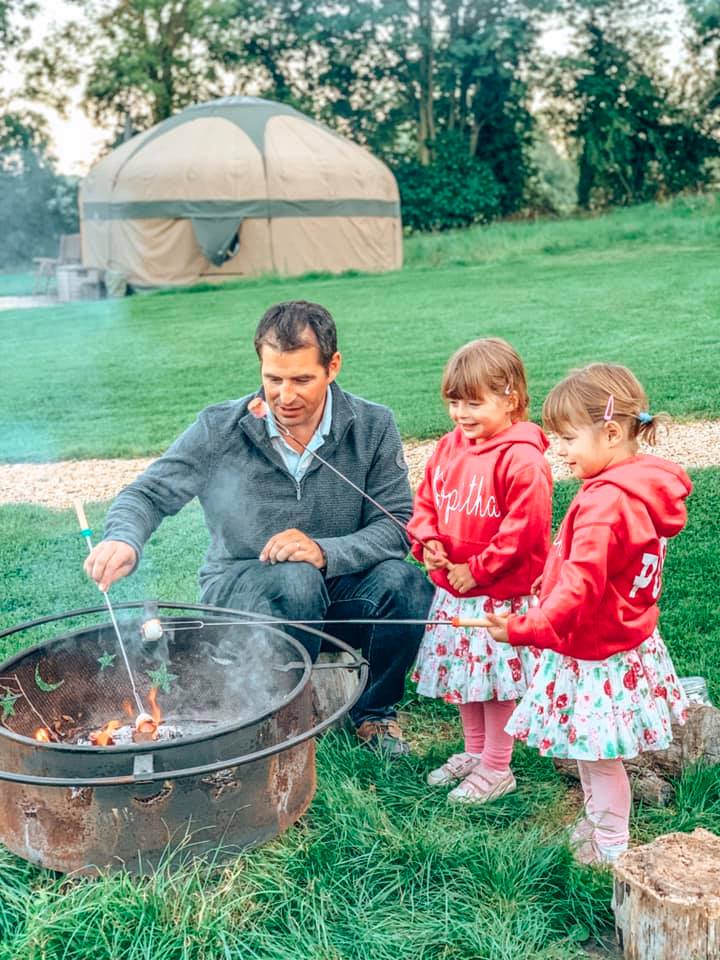 Extras at Campden Yurts
Hammocks
Why not kick back and relax in one of the hammocks at Campden Yurts!
Pizza night
Pizza night was great fun. Jane has her own stone oven and leads a session on making your own pizza. The girls were encouraged to do everything themselves and made two types of pizza, one for their main meal where they added toppings of their choice, and then chocolate ones for desert – can you guess which ones they liked best!! This hols and additional charge of £20 plus £5 per person which is charged for separately but worth it.
Where is Campden Yurts?
Campden Yurts is in the north of the Cotswolds just 12 miles (or 20 min drive) south of Stratford-upon-Avon and just 0.75 miles outside Chipping Campden.
HOW TO BOOK
If you are interested in making an enquiry, or booking a stay at Campden Yurts, pop onto their website today!
Things to do near Campden Yurts
Glamping in the Cotswolds s just beautiful. There are so many stunning villages you can go for a wonder with little shops and cafes. Bourton on the Water is a real favourite for us. You can also take a lovely 20 minute walk down into the local village of Chipping Campden with its many pubs and shops.
Campden Yurts is also a great location for child friendly days out. Please take a look at our article on our suggestions of what to do in the Cotswolds but I think our favourite was a stroll around Bourton on the Water and Cotswold Farm Park – perfect for rainy days too.
FURTHER READING
You may like to read about our other Glamping trips;
Or you may find a child friendly gite in France more your thing.
Don't forget to join our online travel communities;
GO ON, PIN IT!