London in Fall
If you are looking to visit London during the Autumn, then you have come to the right place. London in the fall becomes a beautiful city with its vibrant trees with red and gold hues, crunchy leaves and cosier days, there are plenty of beautiful places to explore. Autumn is always a great season to visit London with kids and enjoy those fall vibes in the city. There is a great atmosphere and a crispness in the air.
There are pretty streets to explore, parks to visit and cafes to sit and enjoy a warming drink. Fall time in London is full of activities and fun things to do for everyone; whether you're exploring with children or as a couple you will be spoilt for choice.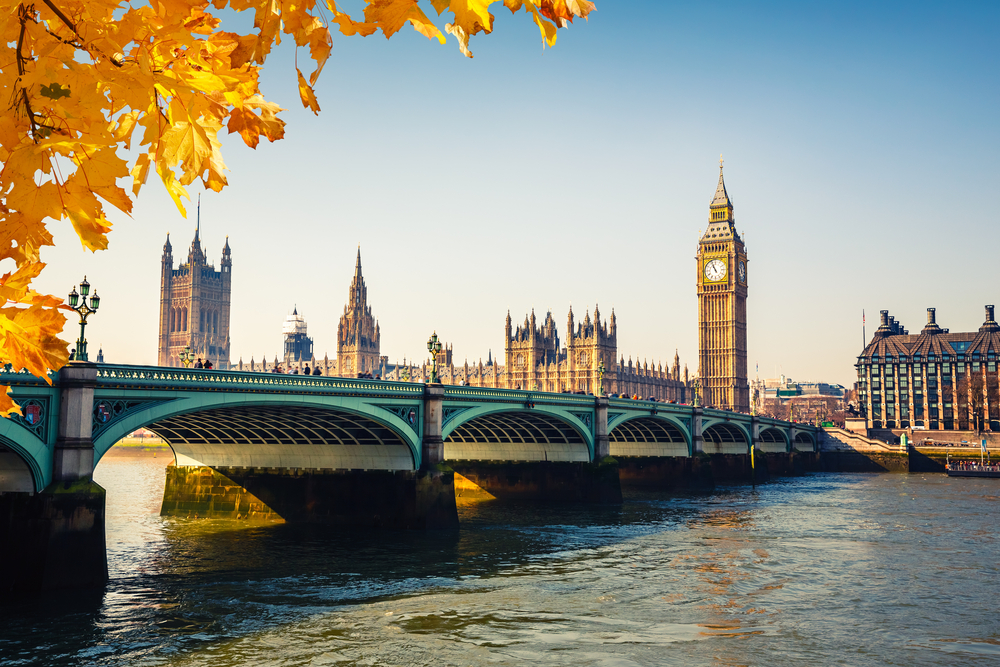 When is the Best Time to see Autumn Colours in London?
The best time to visit London in fall would be mid-October. It's a good time to see the autumn colours at their very best in London. From late September to the first week of November the leaves start to change and the ground will be littered with crunchy leaves. It is also a good time to spot fungi.
Visit Little Venice Canal in Autumn
Little Venice is a lovely place to enjoy autumn leaves in London. Take a walk along the river from Paddington and see all of the trees in their full glory. You can also take a ride on one of the beautiful old canal boats from Little Venice to Camden Town where you can then enjoy the wonders of Camden Market and maybe sit with a hot chocolate and a bite of something yummy to eat.
Best Parks in London in Fall
One of the best things to do in London in Fall is to stroll around one of London's beautiful old parks. There are many parks within the city which are worth visiting in Autumn. Below we have listed a few of our favourites.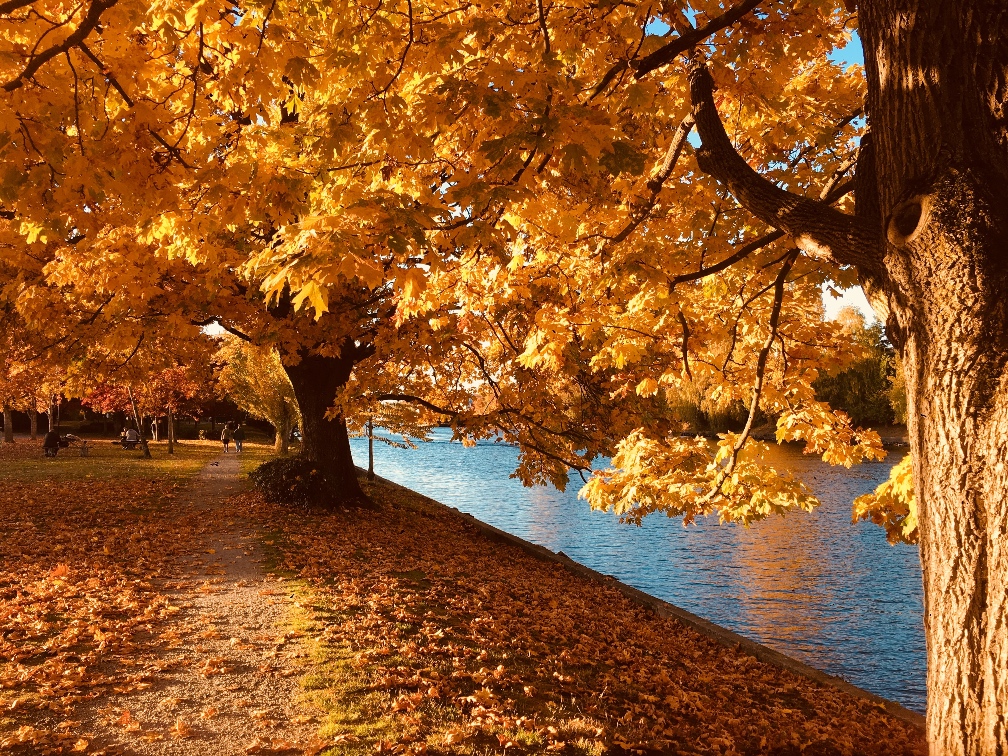 Kew Gardens in Fall
Wherever you look in Kew Gardens you are surrounded by trees, but nowhere more so than in the Arboretum. Visiting during autumn means you get to truly appreciate the changing seasons and the beautiful colours of the leaves. Autumn is also the best time of year to see fungi. You may even be lucky enough to see a fly agaric (toadstool).  The best places to look are the Log Trail and Natural Area, but fungi can be found popping up in many different places across Kew Gardens.
Hampstead Heath
Hampstead Heath is a wild park of woodland and meadows, tucked inside north London's Zone Two – less than four miles from the centre. It is huge at 800 acres and boasts some of the most spectacular views in the city. You could take a stroll around the Heath, enjoying the changing colours then head for a drink or a warming roast dinner at a local pub. There are even swimming ponds for those brave enough to take a dip. If you are visiting with children they could fly a kite on Parliament Hill.
Hyde Park
Hyde Park is one of the most famous parks in the heart of London. It offers winter events such as Winter Wonderland and concerts together with plenty of quiet places to relax and unwind. Wander to the Princess of Wales Memorial Fountain, in warmer months you can take a dip in the Serpentine and you can enjoy the lakes and cafes. There are also plenty of sports going on around Hyde Park too.
Greenwich Park
Overlooking the River Thames and home to some of London's most iconic views, Greenwich Park is a mix of 17th century landscape, beautiful gardens, an adventure playground and a rich history that dates back to Roman times. You can stand on the Prime Meridian, the reference point for Greenwich Mean Time (GMT).
Follow in the footsteps of England's kings and queens with a walk through ancient tree avenues which look splendid during the autumn. Visit the Flower, Herb and Rose Gardens and explore the Park's wildlife or enjoy a snack at the Pavilion Café.
Holland Park
Holland Park contains an extensive woodland for central London, and supports a surprising range of mammals, birds and insects, including peacocks. The park also has a Japanese garden, orangery, tennis courts and a cricket pitch. The Kyoto Garden is a particular highlight and there are woodland areas to explore too.
Richmond Park
Richmond Park has wide open spaces, grasslands and wild deer herds to see. The park is a top UK site for ancient trees and supports a range of rare species including fungi, birds, beetles, bats, grasses and wildflowers.It is also home to the Isabella Plantation woodland gardens. There are tea rooms and brilliant views to be seen.
St James's Park
St James's Park includes The Mall and Horse Guards Parade, and is surrounded by landmarks such as Buckingham Palace, Clarence House and Whitehall. During the Fall enjoy the impressive views of the lake and fountain from St James's Café, watch the resident pelicans at feeding time, or while away an afternoon with a stroll.
Battersea Park
One of London's biggest and best green spaces, Battersea Park has a number of attractions and beauty spots including a boating lake,, tea gardens, a children's zoo as well as ponds and fountains.Battersea Park is a large (200 acre) Victorian park, built between 1854 and 1870. There are many notable trees and ecological areas, children's play areas, the Pump House gallery and the Peace Pagoda. You can also take a walk along the River Thames.
Things to do in London in Fall
There are so many fun places to visit in London in fall for both adults and kids. London with a toddler is equally rewarding as it is so immersive and there is aways something going on no matter what the weather. There is no such thing as a bad day in London. You will always enjoy yourself and at the end of the day be wanting to go back for more!
Sea Life London
Sea Life in Southbank was formerly known as the London Aquarium and is another attraction that will be a big hit in London with a toddler. We have visited with our son as a toddler and he thoroughly enjoyed it. From walking across the shark bridge at the entrance, to going in search of Nemo, toddlers will find something new and exciting at every turn.
By far my favourite part of Sea Life London is the huge central tank that spans all three floors of the aquarium. Within it you will find manta rays, sharks, even turtles and taking centre stage are replica Easter Island heads. This is an attraction not to be missed in London with a toddler and a baby.
The Tate Modern
Bankside, London SE1 9TG
The Tate Modern is a free art gallery that has many activities for children including workshops and games. The gallery is buggy-friendly and they actively encourage young visitors, the collection holds masterpieces of international and British modern art. It is also right on the South Bank so you can stroll around there after your visit.
Harry Potter Studios
High on the list of many children's (not to mention grown up's) wish lists is a ticket to one of the Warner Brothers Studio Tours for a tour of Harry Potter in London. There is private area for parents to feed complete with nursing chair and changing tables is located next to the Backlot Café. Hot water for heating up bottles can be provided within the Backlot Café.
The Emirates Airline Cable Car
27 Western Gateway, London E16 1FA
The Emirates Air Line, nicknamed the Dangleway, is a cable car link across the River Thames. The tickets are very cheap and the cable cars are pushchair-friendly too with the added bonus of enjoying birds-eye views of the Greenwich Peninsula and the Royal Docks.
Shrek's Adventure London
Westminster Bridge Rd, London SE1 7PB
We are all big fans of Shrek, and this family-friendly attraction based on the film has a 4D movie with interactive fairy tale shows including Trolls. Shrek's Adventure can be a little scary in places so this one would depend on hove brave your kids are. It is right next to the London Eye and also the Sealife Aquarium, so after your visit you could enjoy a walk along the Thames and even cross the Millenium Bridge.
Buckingham Palace
London SW1A 1AA
Step off of the train at Victoria and take a short stroll to the Queen's official London residence, Buckingham Palace. You can view the palace through the railings or even book a tour. A big highlight is watching the Changing of the Guard which takes place, weather permitting, at 11.00am on Monday, Wednesday, Friday, and Sunday and daily during the summer. My kids love watching the soldiers in their uniforms and bear skin hats. You are also right next to St James Park where you can see pelicans and parakeets.
London Zoo
Outer Circle, Regent's Park, London, NW1 4RY
London Zoo is located in a corner of Regent's Park and will thrill children of all ages, particularly toddlers. As the world's oldest scientific zoo, London Zoo houses 700 species of animals and has many exhibits including the Gorilla Kingdom, Land of the Lions, Tiger Territory and Penguin Beach. London Zoo is also easy to get to with no less than 3 tube stations within walking distance of Regent's Park. And with so much to see and do alongside the animals themselves, this will make for a great day out in London with a toddler and a baby.
Big Ben
London SW1A 0AA
Big Ben is probably the world's most famous clock and is actually the nickname for the Great Bell of the striking clock at the north end of the historic Palace of Westminster. It is one of London's most iconic landmarks and can be viewed from London Bridge.
Tower of London
Tower of London, London, EC3N 4AB
No visit to London with a toddler would be complete without visiting the Tower of London. We have visited the Tower of London many times and most recently with our toddler son before a trip to America. As a fan of castles, we knew he would enjoy the Tower of London and, by making the visit more interesting with a dragon hunting adventure, we weren't wrong.
From Traitor's Gate, to the White Tower, and not forgetting the Crown Jewels, visiting the Tower of London with toddlers will easily fill a few hours of a day. There are a few cafes to stop for refreshments and gift shops, where we bought our son some knights and horses. Our son really enjoyed our visit to the Tower, especially when he finally found his own dragon on the top floor of the White Tower.
Hampton Court Palace
East Molesey KT8 9AU
Hampton Court Palace is a Grade I listed royal palace in Richmond and was the home of King Henry VIII. Kids can enjoy the Magic Garden (which is closed during winter) where there are mythical beasts, battlements, towers and a secret grotto to explore in this magical children's playground.
The London Eye
Westminster Bridge Road, London, SE1 7PB
If you think the London Eye isn't somewhere to bring a toddler, you are wrong. During our day out in London before heading to America on holiday, we visited the London Eye with our then 3 year old son. I had been on the Eye a few months before but with a party of adults, so was unsure whether he would enjoy it. I need not have worried as he enjoyed the ride, looking out of the capsule and commenting on high we were getting, and checking out the boats on the water below us.
It really does give you some of the best views in London. The interactive tablets also caught his attention and with a little help from mum he could spot some of the buildings that were shown on the tablet. The London Eye can easily be enjoyed with toddlers, but I would advise getting Fast Track tickets as no-one wants to queue for hours in London with a toddler. A visit to the London Eye can also be combined with a visit to Sea Life as they are both located on Southbank.
London Museums – A great time to visit is fall 
London sure does have its pick of museums! Many of these are free to enter and there are plenty to choose from, The Natural History Museum is always a hit with their dinosaurs and animal collection and the Postal Museum is absolutely brilliant for children too. Museums and a great thing to do in London in Fall to get aways from the rain. Here are a few of our favourites.
Natural History Museum
Cromwell Rd, South Kensington, London SW7 5BD
London's Natural History Museum is one of our favourites. There is so much to see for kids of all ages you can discover fascinating creatures and of course walk through the dinosaurs and see all of the bones. There are gemstones and minerals, human body zones and plenty of interactive areas to enjoy, plus The Science Museum is just around the corner and the V&A museum is opposite.
British Museum
Great Russell St, London WC1B 3DG
You can take part in a Museum Mission featured in six galleries and challenge your family to a variety of tasks. On the weekends you can pick up an activity backpack, or a Museum explorer trail, from the Families Desk to guide you around the galleries. During school holidays there are playful workshops that bring the stories in the Museum collection to life. Under 5s and their carers are invited to join in with the Museum's Little Feet programme.
Victoria and Albert Museum
Cromwell Rd, London SW7 2RL
The V&A Museum is  the world's leading museum of art, design and performance. They often have many exhibitions such as the current Beatrix Potter one, you can find out about her life as a scientist and conservationist, exploring the places and animals that inspired her most beloved characters.The museum also has a lovely cafe onsite.
The Postal Museum
15-20 Phoenix Pl, London WC1X 0DA
Take a ride on Mail Rail and discover the inspiring stories of Britain's postal heritage at the Postal Museum. There are plenty of free workshops, an underground ride on Mail Rail and Sorted! The Postal Play Space. The children can also join story-book favourite The Jolly Postman on his rounds through 500 years of history.
The London Transport Museum
The Piazza, London WC2E 7BB
Discover the history of London's transport at London Transport Museum in Covent Garden. The Transport museum provides fun for the whole family, there are singing and story sessions every week in term time. During the school holidays there are creative and crafty activities for the little ones to take part in. Or just wander around at your own pace and look at all of the transport.
London Science Museum
Somewhere we visited before having kids, and somewhere I long to now revisit with our son, is the London Science Museum. With my background as a scientist this is my kind of place. Located in South Kensington, this is one of London's most popular attractions, welcoming over 3 million visitors annually. And I can vouch for how busy it gets.
With exhibitions about space and engineering to maths and medicine, there are exhibits to capture the attention of everyone. There is also an IMAX cinema within the London Science Museum showing short films about a variety of subjects. And even better, the London Science Museum is free although donations are welcome to ensure the continuation of this amazing museum.
London Transport Museum
The London Transport Museum, based in Covent Garden, is somewhere I have been meaning to take my son but never quite got around to it. Opened in 1980 to exhibit a collection from London Transport, the exhibits have been expanded to cover all aspects of transport within London.
From iconic red double decker buses to the recognisable London Underground tube carriages, there are many vehicles on display to capture the attention and imagination of toddlers who visit. It is a great way to discover how transportation has evolved in London and if your kids are fans of things like Thomas the Tank Engine or Chuggington, then I'm sure they'll enjoy the London Transport Museum.
Bonfire Night  – The Best Places to see Fireworks in London in Fall
Wimbledon Park Fireworks
Alexandra Palace Fireworks Festival
Beckenham Fireworks
Morden Park Fireworks
Fireworks Night Cruises
Spooky Things to do in London this Halloween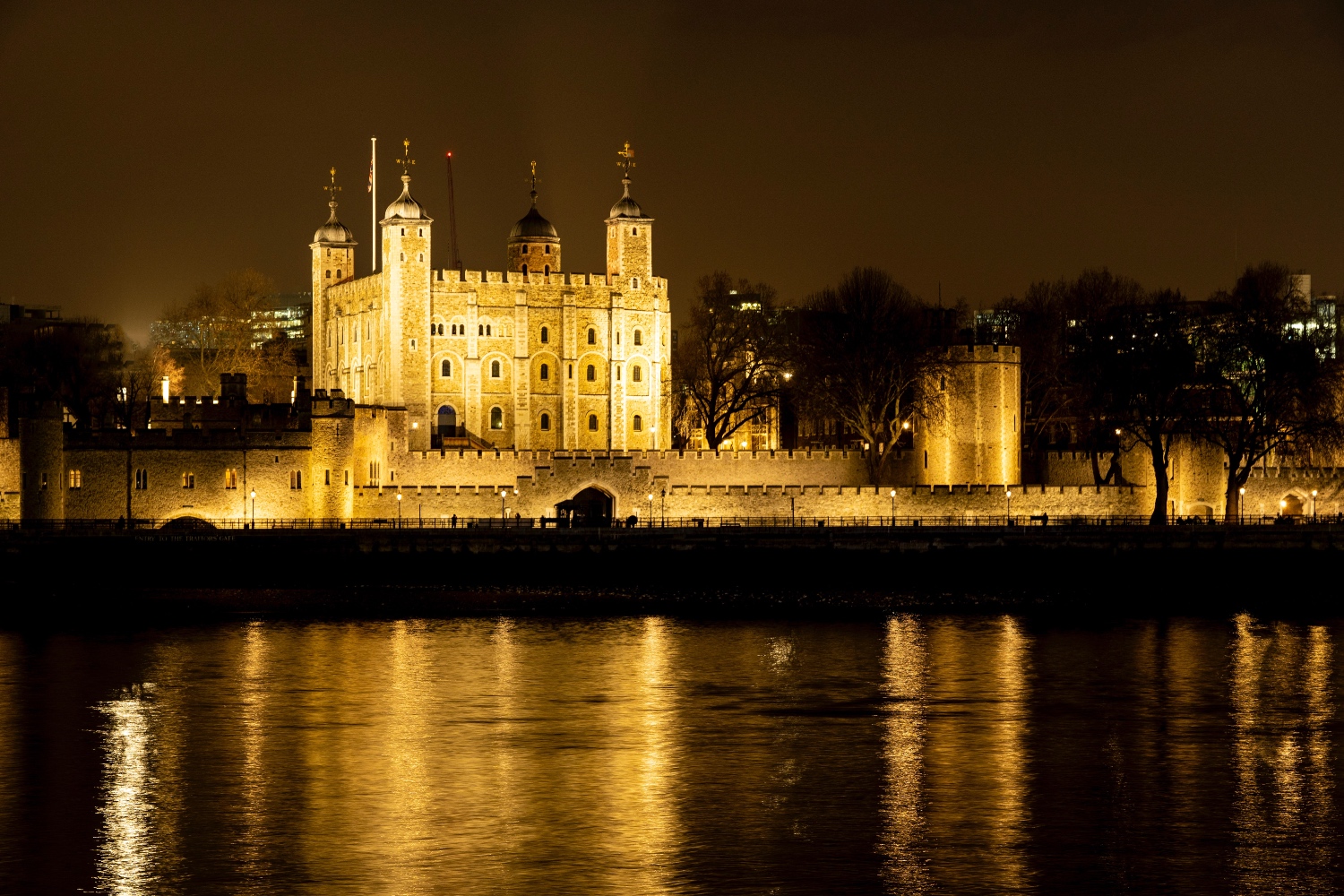 The Tower of London
Hear tales of torture and imprisonment and explore the Bloody Tower 22-31 Oct
Hampton Court Palace
Creep your way through the dark corridors but beware of the eerie moving portraits!  22-30 Oct
Thorpe Park
Fright Nights at Thorpe Park 1-31 Oct
The London Dungdeon
Join the gruesome team at The London Dungdeon for its haunted house themed Halloween event. 15-31 Oct
London Theatre Shows at Halloween
Wicked and Phantom of the Opera are the perfect theatre show for this Halloween season.

What is the Best Month to go to London?
The best months to visit London are often the spring or summer months as the temperatures are mild and the flowers are in bloom but we love London in Fall. The weather in London changes often, sometimes the Autumn months of September to November can also be very mild.
What Should I wear in London in Autumn?
In general we would suggest wearing warm clothes for London in fall, maybe some layers in case it is warmer than expected. Some trousers such as jeans, a t-shirt with a warm jumper and a jacket that you can take off if you need to and maybe keep a hat in your bag if it starts to get chilly.
What Should I Pack for London in the Fall?
The fall season in the UK can be unpredictable, sometimes it is fairly mild and other times it can be very wet and cold. Always keep an umbrella with you, just in case of rain. Bring plenty of layers which can easily be taken off, that you can fit into a rucksack if you need to.