Everything You Need to Know about Visiting Disney World Magic Kingdom for the First Time
This is Your Guide to Magic Kingdom
Walt Disney World is a dream destination for many families. Comprising of four theme parks, plus two water parks, there is so much to explore and discover! For Disney World first time visitors there can be a lot to learn about this ultimate family holiday destination and it can be overwhelming! This guide to Magic Kingdom for first time visitors will tell you everything you need to know to help you plan your first trip to the Most Magical Place on Earth!
Walt Disney World Florida
There are four theme parks at Disney World, each with their own unique theme.
Disney Magic Kingdom
The Magic Kingdom is the most iconic Disney Park and has classic attractions such as Dumbo and Pirates of the Caribbean as well as the iconic Cinderella Castle.
Disney Epcot
EPCOT is home to the world famous 'golfball' and World Showcase, pavilions that are themed to 11 countries around the world. The newest ride in Disney World can be found here! Guardians of the Galaxy: Cosmic Rewind opened in May 2022 and is a family coaster unlike anything we have seen before at Disney! EPCOT also hosts a range of festivals throughout the year that are included in your ticket price and feature extra activities, entertainment and food booths.
Disney Hollywood Studios
Disney Hollywood Studios is the perfect park for fans of Toy Story and Star Wars, both of which have their own lands, and for any thrill seekers in your family with rides such as The Tower of Terror and Rock n Roller Coaster.
Disney Animal Kingdom
Disney Animal Kingdom is amazing for nature lovers, showcasing fun rides as well as animal trails and a safari! Pandora – The World of Avatar is also not to be missed for its other worldly setting which comes alive at night with bioluminescence!
Now let's dive into everything you need to know about visiting the Magic Kingdom for the first time!
Introduction to Disney's Magic Kingdom  – Your Guide to Magic Kingdom
Magic Kingdom is one of the most iconic Disney Parks and recently celebrated its 50th anniversary! It is made up of 6 lands: Main Street U.S.A, Tomorrowland, Fantasyland, Liberty Square, Frontierland and Adventureland.  Each area has its own distinct theming, rides and restaurants.
Main Street U.S.A is a quintessential American street and is actually designed to look like Walt Disney's hometown of Marceline, Missouri. Here you will find shops, restaurants and snack locations as well as the main Disney World Railway station and the classic Main Street Vehicles which you can take a ride in! At the end of Main Street U.S.A sits Cinderella Castle.
Disney Tomorrowland is a futuristic land where you will find classic rides such as Space Mountain and Buzz Lightyear's Space Ranger Spin.
Disney Fantasyland is probably what most people think of when they think of Disney. This charming land looks right out of a fairytale and has rides such as Dumbo, Prince Charming's Carousel, Peter Pan's Flight, 'it's a small world ' plus many more! You can also dine inside the Beauty and the Beast Castle here! This land has lots of rides and attractions that are great for children of all ages.
Liberty Square takes you back in time to colonial America and is home to the spooky Haunted Mansion and is where you can take a journey on the Liberty Belle Riverboat.
Disney Frontierland is themed like the wild west! For families who like coasters you will love Big Thunder Mountain! You can also find Splash Mountain, which is great for cooling down from the hot Florida sun!
Disney Adventureland is home to rides such as Pirates of the Caribbean, Jungle Cruise and The Magic Carpets of Aladdin. There is also a free interactive game called A Pirate's Adventure which is a fun activity for families to partake in to become one of Jack Sparrow's pirate crew!
How to Get to Magic Kingdom Florida
Magic Kingdom is actually on its own island and completely surrounded by water but luckily there are a range of ways to get there! If you arrive by car you will be parking in the Transportation and Ticket Center car park. From here you will be able to catch the famous Disney monorail or a ferry boat to Magic Kingdom.
If you are staying in a Disney World Resort they provide complimentary buses that can take you straight to Magic Kingdom.
If you are staying in one of the Disney Resorts close to Magic Kingdom you can also take advantage of free water taxis that travel between these hotels and the park or even walk!
Magic Kingdom Opening Times
The opening times for Magic Kingdom change throughout the year, with longer hours in the summer and high season months, and shorter hours in the off-season.
The typical hours tend to be from 9am to 9pm but closing time can range from 6pm (on special ticketed event nights such as Mickey's Not So Scary Halloween Party) to 11pm.
Be sure to check out the Disney World app and website ahead of your trip to find out the park hours for when you visit.
If you stay at a Walt Disney World Resort you also get Early Park Entry. Each day you can enter any of the Disney theme parks 30 minutes early morning. This is a fantastic way to beat the crowds and is the best time to head to the attractions that get the longest queues to cut down your waiting time!
If you are staying at a deluxe level Disney Resort you also receive Extended Evening Theme Park Hours on select nights. Magic Kingdom and EPCOT stay open an extra two hours solely for guests staying at deluxe resorts, which is a great benefit as you can enjoy these parks with far fewer people!
At the moment (2022) this happens at Magic Kingdom on a Wednesday night and at EPCOT on a Monday night.
Magic Kingdom Park Pass Reservations
In 2020 Disney launched a new way to visit the parks. You now need valid park tickets and park pass reservations to enter. Magic Kingdom Park Pass reservations can be booked as soon as you have purchased your Disney tickets and all the way up until January 2024.
It is a good idea to book your reservations on the Disney World website as soon as you can as park reservations can sell out, particularly at busy times of the year.
Disney Park Hopping 
When purchasing Disney World tickets you can either buy tickets where you visit one park a day or park hopper tickets. These types of tickets allow you to visit multiple parks in one day, which can really help maximise your time!
To park hop you will need to make a park pass reservation for the first park you plan to visit in the day. After 2pm you can then enter any of the other Disney parks and park hop as much as you like!
You do not need reservations for the other parks you visit, but you must have scanned into the park that you made a reservation for first to be able to park hop.
Most tickets purchased in the UK are automatically park hopper tickets which is great news for us Brits!
What is Rope Drop at Disney World?
Rope Drop is the Disney term for being at the parks when the gates open for the day. What most people don't know is that the official opening time is when the rides start operating and the parks actually open before this!
Arriving 30 to 45 minutes before opening time can help you be some of the first people in the park for the day. Not only do you end up with extra time in the park, you can use this time to your advantage and head straight for the rides that get the largest queues to help you beat the wait time. This is a great time to use jetlag to your advantage!
Anybody used to be able to attend rope drop but since Disney introduced Early Park Entry for Disney Resort Hotels guests this is now an unofficial perk for hotel guests.
Anyone staying off-site not in a Disney Hotel can only enter when the parks are officially open to the public.
Dining in Magic Kingdom – Best Restaurants in Magic Kingdom
Magic Kingdom has a large range of Disney restaurants on offer, from fast food to sit down meals plus plenty of snack locations!
Quick service restaurants are like fast food restaurants. You place your order at the counter, collect the food yourself and seat yourself. This is the cheapest type of dining at Magic Kingdom.
The quick service restaurants in Magic Kingdom are:
–        Pecos Bill Tall Tale Inn and Café – Mexican food
–        Columbia Harbour House – Seafood
–        Cosmic Ray's Starlight Cafe– American Fast Food
–        Casey's Corner – Hot Dogs
–        The Friar's Nook – Bratwurst
–        Pinocchio's Village Haus – Italian Food
–        Tortuga Tavern – American Asian Fusion Fast Food
–        The Lunching Pad – Hot Dogs
You can also mobile order at quick service restaurants. Simply use the My Disney Experience app to order your food in advance, select a timeslot when you would like to collect your food and then let the restaurant know you have arrived so your meal will be ready for you!
There are also a range of table service restaurants in Magic Kingdom. Offering a variety of different cuisines these are a great option if you would like to sit down, rest your feet and have a break whilst dining.
The table service restaurants in Magic Kingdom are:
–        Liberty Tree Tavern – Traditional American Thanksgiving style meal
–        The Diamond Horseshoe – Traditional American Thanksgiving style meal
–        Jungle Navigation Co. LTD Skipper's Canteen – Asian Cuisine
–        Tony's Town Square Restaurant– Lady and the Tramp themed Italian restaurant
–        The Plaza Restaurant– Traditional American food on Main Street
–        The Crystal Palace – American buffet with character dining
–        Be Our Guest Restaurant – French cuisine served inside Beast's Castle. You can even dine inside the famous Beauty and the Beast ballroom!
–        Cinderella's Royal Table – dine INSIDE Cinderella Castle at this signature dining restaurant
You can also enjoy iconic Disney snacks such as Dole Whip, Mickey's Premium Ice Cream Bars, Mickey's Pretzels and the famous Disney popcorn as well as plenty more for stalls and booths all around Magic Kingdom!
There is one restaurant that offers character dining in Magic Kingdom. If you would like to enjoy a meal whilst meeting Winnie the Pooh, Tigger, Eeyore and Piglet be sure to book a reservation at The Crystal Palace. This charming restaurant sits at the end of Main Street and is a buffet where characters come to your table to meet you during your meal. This can be a fantastic way to meet some of your family's favourite Disney characters and to interact and have photos with them!
Cinderella's Royal Table used to be a character dining experience where you could meet the Disney Princesses. This is temporarily unavailable but Cinderella does make an appearance and wave.
One of the most famous character dining locations at Disney World is Chef Mickey's in Disney's Contemporary Resort. This hotel is right next to Magic Kingdom so is very easy to visit if you would like to experience a character dining meal with Mickey Mouse, Minnie Mouse, Donald Duck, Goofy and Pluto!
It is also good to know that children under three eat free in buffets and family-style restaurants as they can eat off of their parents' plate!
Best Rides in Magic Kingdom and Attractions
Magic Kingdom is a great park to visit for the large range of rides that are suitable for everyone. This is a very family friendly park with lots of attractions for you all to enjoy! Magic Kingdom has the most amount of rides out of all the Disney World Parks so there is plenty to explore no matter what your family like to do!
Each land in Magic Kingdom has rides themed to it. There are riders for everybody including rides for toddlers in Magic Kingdom. This guide to Magic Kingdom shares all of the rides below.
Disney Adventureland
–              Jungle Cruise
–              The Magic Carpets of Aladdin
–              Pirates of the Caribbean
–              Swiss Family Treehouse
–              Walt Disney's Enchanted Tiki Room
Disney Fantasyland
–              The Barnstormer
–              Dumbo the Flying Elephant
–              Enchanted Tales with Belle
–              'it's a small world'
–              Mad Tea Party
–              The Many Adventures of Winnie the Pooh
–              Mickey's PhilharMagic
–              Peter Pan's Flight
–              Prince Charming Regal Carrousel
–              Seven Dwarfs Mine Train
–              Under the Sea – Journey of The Little Mermaid
–              Walt Disney World Railroad
Disney Frontierland
–              Big Thunder Mountain Rail Road
–              Country Bear Jamboree
–              Splash Mountain
–              Tom Sawyer Island
–              Walt Disney World Railroad
Disney Liberty Square
–              The Hall of Presidents
–              Haunted Mansion
–              Liberty Square Riverboat
Disney Main Street U.S.A
–              Main Street Vehicles
–              Walt Disney World Railroad
Disney Tomorrowland
–              Astro Orbiter
–              Buzz Lightyear's Space Ranger Spin
–              Monsters, Inc. Laugh Floor
–              Space Mountain
–              Tomorrowland Speedway
–              Tomorrowland Transit Authority PeopleMover
–              Walt Disney's Carousel of Progress
Disney Lightning Lanes and Disney Genie + 
This guide to Magic Kingdom explains Genie plus in the simplest way.  In 2021 Disney World released two new queue skipping systems to help you cut down the wait times. This can be perfect for families as you do not have to stand in the queue, in the sun, trying to think of ways to entertain your children!
Disney Genie+ costs $15 per person, per day and allows you to join a shorter queue for up to 40 rides across the 4 theme parks. You can book a new ride reservation every 2 hours throughout the day.
In Magic Kingdom the Genie+ rides are:
Big Thunder Mountain Railroad
Buzz Lightyear's Space Ranger Spin
Disney Festival of Fantasy Parade
Dumbo the Flying Elephant
Haunted Mansion
"it's a small world"
Jungle Cruise
Mad Tea Party
Meet Cinderella and a Visiting Princess at Princess Fairytale Hall
Meet Mickey at Town Square Theater
Meet Princess Tiana and a Visiting Princess at Princess Fairytale Hall
Mickey's PhilharMagic
Monsters Inc. Laugh Floor
Peter Pan's Flight
Pirates of the Caribbean
Splash Mountain
The Barnstormer
The Magic Carpets of Aladdin
The Many Adventures of Winnie the Pooh
Tomorrowland Speedway
Under the Sea ~ Journey of The Little Mermaid
Individual Lightning Lane Passes are available for the 9 most popular rides at Disney World. These rides aren't included in the cost of Genie+, instead you pay per ride to skip the queue for these attractions. The price fluctuates throughout the year depending on how busy it is and range from $7 to $17 per person, per ride.
In Magic Kingdom the rides that can be purchased Individual Lightning Lanes are:
Seven Dwarfs Mine Train
Space Mountain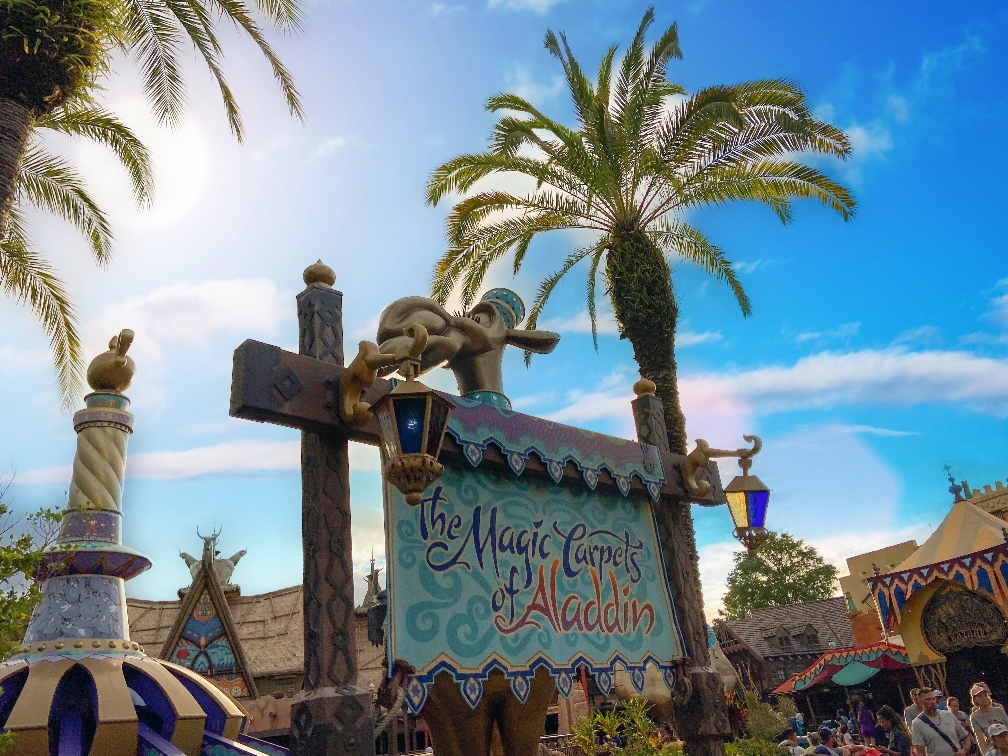 Whether you need to purchase Genie+ or Individual Lightning Lanes Passes comes down to a range of factors. How many days are you visiting Magic Kingdom? Are these rides your family can't miss? Do you hate queuing? Is the cost something you can add to your budget?
Genie+ can be a great way to cut down your wait times, particularly if you stack your reservations. You can make your first reservation at 7am in the morning. If your first reservation is much later in the day you can then make another reservation 2 hours later. You can keep doing this throughout the day. As soon as you scan into your ride reservation you can make another one too.
The only caveat is that the park must be open to do this. So a top tip is to make your first reservation at 7am and then make another at 11am, two hours after Magic Kingdom has opened. This helps you to stack your reservations. Using all these tips will help you get the most out of Genie+ and have multiple reservations at one time.
Individual Lightning Lane Passes do cost more as you pay per ride and once you factor in the cost for everyone in your family it can be very pricey. But these are great if there is a ride you simply cannot miss out on and don't want to queue for hours to ride.
You can purchase Genie+ and Individual Lightning Lane Passes on the day of your visit. If you are visiting Magic Kingdom multiple times during your trip it is a good idea to visit the park once to get an idea of how busy it is as you may find you do not need to purchase them, particularly if you take advantage of Early Park Entry or Extended Evening Hours.
If you are there during a busier time of year you may only want to purchase Genie+ for one or two days out of your trip.
Magic Kingdom is a park that Genie+ works well in as there are so many rides available and you can easily stack reservations here.
Where to Meet the Characters in Magic Kingdom – Meet and Greets 
As well as amazing rides Magic Kingdom also has lots of opportunities for you to meet your favourite Magic Kingdom characters!
The Disney characters you can meet in Magic Kingdom include:
Mickey Mouse at Town Square Theater (Minnie will be rejoining him soon!)
Cinderella at Princess Fairytale Hall
Captain Jack Sparrow in Adventureland
Belle at Maurice's Cottage
Chip 'n' Dale at Storybook Circus
Stitch in Tomorrowland – Rocket Tower Plaza Stage
Buzz Lightyear in Tomorrowland – Rocket Tower Plaza Stage
Rapunzel at Princess Fairytale Hall
Anastasia and Drizella at Cinderella Fountain
Tiana at Princess Fairytale Hall
Elena of Avalor at Princess Fairytale Hall
Country Bears at Frontierland Balcony
You will also see characters randomly appear throughout the park for Magic Kingdom meet and greets so keep your eyes peeled!
In the coming months of 2022 more characters will be returning to Magic Kingdom including Aladdin and Jasmine, Winnie the Pooh and Tigger.
Most tickets sold in the UK include Memory Maker, the Disney photo package, which includes all of your ride photos plus any images you have taken by official Disney photographers. It is a great benefit as you can get beautiful photographs and capture amazing memories of your family at Disney World. Character meet and greets have official photographers present so you don't need to worry about who in your family will take the photo, you can all be in it together!
Shows and Parades in Magic Kingdom
One of the things Disney World is world famous for is its entertainment! Magic Kingdom has an array of parades, Character Cavalcades and shows to keep you entertained throughout your visit and they are totally incredible and certainly not to be missed!
Start by seeing Magic Kingdom's Opening Ceremony, Let The Magic Begin, when the park opens right in front of Cinderella Castle.
Festival of Fantasy is the main parade which features amazing themed floats and a whole host of beloved Disney characters!
Mickey's Magical Friendship Faire takes place in front of Cinderella Castle and features music and characters from Disney classics such as Frozen and The Princess and The Frog as well as Mickey himself!
Mickey's Celebration Cavalcade sees Mickey and his pals in their 50th Anniversary celebration costumes!
Disney Adventure Friends Cavalcade features characters from The Incredibles, Coco, Moana and more journeying through the park.
Enchantment is the name of the nightly Magic Kingdom fireworks show that is not to be missed. Be wowed by spectacular fireworks, projections on the castle, magical effects and songs from Disney films. A visit to Magic Kingdom would not be complete without seeing the nighttime spectacular!
How Long do we Need at Magic Kingdom?
Out of all the Disney World Parks, Magic Kingdom is the one that requires the most days to visit to see and do everything which is why we wrote this guide to Magic Kingdom. So when you are creating your itinerary be sure to allot the most days to Magic Kingdom so you can experience everything you want in this amazing park.
If you are visiting for two weeks you will probably want to visit Magic Kingdom at least twice. This park has so much on offer that it is definitely worth dedicating a least a few days to visit if you have the time.
Where to Stay in Walt Disney World Florida
Disney World has over 20 hotels to choose from so there is something for every family! Each hotel has its own distinct theming, with a range of different pricing categories.
Value resorts are the most affordable but have the least amount of facilities. They have one large quick service restaurant and basic amenities.
Moderate resorts have both quick service and table service restaurants and offer more amenities in the room.
Deluxe resorts are luxurious hotels with the most amount of facilities on offer, with multiple restaurants, including fine dining and character dining, plus leisure activities. They are also the hotels closest to the Disney Parks.
All Walt Disney Resorts offer pools and free transportation to get you to the Disney Parks.
There are a range of deluxe hotels close to Magic Kingdom, which are a fantastic choice if you want to be super close to this park! Disney's Contemporary Resort is just a 5 minute walk or one monorail stop from Magic Kingdom. Disney's Grand Floridian Resort is a 15 minute walk or one monorail stop. Disney's Polynesian Resort is just two monorail stops away. Wilderness Lodge is great for nature lovers and can be reached by water taxi or bus.
Some of the perks to staying in a Disney Resort include early park entry, where you can be in the parks 30 minutes before day guests, and extra evening hours for deluxe resort guests.
If you wish to book any table service dining reservations you can do this 60 days in advance of your trip, but if you stay at a Disney Resort you can book up to 10 days of your trip at the same time. This is a big perk as dining reservations can be very hard to come by.
What to Pack for Disney World 
Many families visiting Disney World will visit for two weeks so be sure to get your big cases out and make the ultimate Disney Packing list! As well as packing clothing, comfortable shoes and swimwear don't forget to pack sunscreen, sunglasses, hats, a camera, entertainment and a power bank for all your devices.
You can also get items such as Disney clothing, bags, bubble wands, ponchos, misting fans and autograph books before you go which will be much cheaper than buying them in the parks.
It is a great idea to take items or games on apps that can help pass the time in queues. Disney have an app called Disney Play which helps you to explore the parks in a new way and is a great way to pass time in the queues!
Renting Strollers at Disney World
You may want to do some research in to the best stroller for Disney.  Even if your child no longer uses one, as on average you walk 20,000 steps a day! We have seen children up to 10 years old being thankful that parents have had one.
There are rental stroller at Disney World. Renting a stroller in Disney World will be a game changer, believe me.
Single Disney stroller are recommended for children 50 lbs. or less. They are $15 a day or $13 for longer periods.
A Disney double stroller is $31 a day, or $27 for longer periods.
How Much Does it Cost to go to Disney World? 
There are many factors to consider that impact the cost of a trip to Disney World including if you stay at a Disney Resort or in an off-site hotel, if you hire a car or use taxis, parking costs, direct or indirect flights, where you want to eat, which theme park tickets you want to buy plus many more!
In recent years the costs have increased significantly and a two week trip will now cost on average around £9000 – £10,000 for a family of two adults and two children.
To help keep costs down consider staying off-site at a hotel in Orlando. Good areas close to Disney World are Lake Buena Vista and Kissimmee. Don't forget to factor in transportation costs if you choose this option.
Disney often release Disney offers for Brits which can help massively towards the cost of your trip.
For instance for bookings made for trips in 2023 you can get up to $1200 of Disney dining credits, 14 day tickets for the price of 7, free memory maker photo package (worth $199) and two tickets to see Cirque du Soleil Drawn To Life.
We will keep this guide to Magic Kingdom as up to date as possible.
Disney Magic Kingdom Cheats and Tips 
This guide to Magic Kingdom shares some of the best cheats. Here are some Magic Kingdom tips to help you get the most out of your time in the Park! They will help you plan your Magic Kingdom itinerary.
Visit early in the morning to get the most out of the day. You can then take a break in the afternoon, when it is the hottest and busiest time of the day, and go to the hotel pool or take a nap and then return to the park in the evening.
If you visit during 'Early Park Entry' only Tomorrowland and Fantasyland are open so know which rides in these lands you want to go on and head to them first.
Magic Kingdom's baby care centre is located just off of Main Street U.S.A between Casey's Corner and The Crystal Palace. It offers a quiet space to feed and change your child and purchase items you may need for your baby. There are private nursing rooms on offer as well as highchairs for feeding, plus a microwave. This is also the location lost children can be reunited with their parents.
You don't have to just dine in the park. You can easily eat in the hotels close to Magic Kingdom as you can walk or get the monorail to them. There are some really fantastic restaurants here and it is a great way to have a break from the park.
If you have a pushchair tie something to it to make it easily identifiable. There will be stroller stations close to attractions to leave your pushchair behind but sometimes they need to be moved. Making yours identifiable will make it easy to find.
Bottles of water can cost over $4 each! To save money get a free cup of water from any quick service restaurant.
Food portions can be huge so can be easily shared and this can help keep costs down!
Disney offers a Rider Switch service for parents so they can both experience the rides. If your child does not meet the height requirement or does not want to ride an attraction with rider switch one adult can wait with the non-rider while the rest of your family enjoys the ride. Once they have ridden they can switch and the waiting adult can ride without having to queue! Just speak to a cast member at the entrance of the ride and ask for rider switch.
Let's go to Disney – Book Today!
Now you know everything you need to start planning your first visit to Magic Kingdom! It is an amazing Disney Park for children and the young at heart and the perfect destination to make incredible memories together You will have the best Disney Holiday ever!