Nairobi is somewhere you wouldn't necessarily think of taking kids, or at least you probably wouldn't think of hanging around too long! But from my experience, there are some great places to stay in Nairobi, and some fabulous things to do in Nairobi that your children will just love and you will be surprised to hear that you could easily spend 2-3 days here alone (longer if you are wanting to go on safari in Nairobi National Park) before heading off on safari with the kids. 
Fun Things to do in Nairobi
Now when I talk about Nairobi, personally, I wouldn't advise you stay in the city centre. Base yourselves in the suburbs on the outskirts. This is where all of the main attractions are, it is quieter and the traffic in the centre itself is horrendous. 
From my own personal experience of travelling to Kenya for 20 years, the areas I would recommend staying in are around Karen and Langata which are outside of Nairobi city centre. These areas are also close to airports so its makes travelling internationally and internally really easy.
Where to Stay in Nairobi?
Whilst I have been visiting Nairobi and Kenya for many years, we have only just taken (2020) our first holiday to Kenya with the children and this is why I decided to write an ultimate guide to Kenya – to help others. There are many things to do in Nairobi and places you can stay near all the main attractions from large 5* hotels to smaller affordable guest houses.
We stayed at the Spurwing Guest House at the beginning of the trip, and then had one night in the Ole Sereni Hotel at the end of the trip. Ole Sereni is the only city hotel to overlook a game reserve so I thought it would be the perfect way to end our holiday, plus, it was also only a 15 minute drive to the international airport which made it easy for an early morning flight. 
Things to do in Nairobi
With so many fun things to do in Nairobi, where do we start!
Nairobi National Park – Things to do in Nairobi
One of the most famous things to do in Nairobi is Nairobi National Park. And the biggest thing that sets Nairobi a part from other cities is that it has its very own National Park, so we have to start here. It really is quite surreal driving around the park looking at the city sky line in the distance. 
Nairobi National Park boasts an abundance of wildlife including the big 5 which may come as a big surprise. Whilst we didn't venture into the Park on this occasion, I have in the past and loved it. You can either stay on the outskirts of the city, or in the National Park itself where you will find tented camps which is an amazing experience in itself. Almost 10 years ago I cycled from Nairobi to Mombasa with Activity Safaris. It was the most amazing experience and this is where we started! 
Sheldrake Elephant Orphanage 
The Sheldrake Wildlife Trust is best known for its work to protect elephants, and operates the most successful orphan elephant rescue and rehabilitation program in the world. It's one of the best things to do in Nairobi in my opinion.
The orphanage is open daily to visitors but there are restrictions to protect the elephants. The gates are only open from 11am-12noon each day unless you adopt an elephant and then you are able to visit from 5pm-6pm but by appointment only as they limit numbers.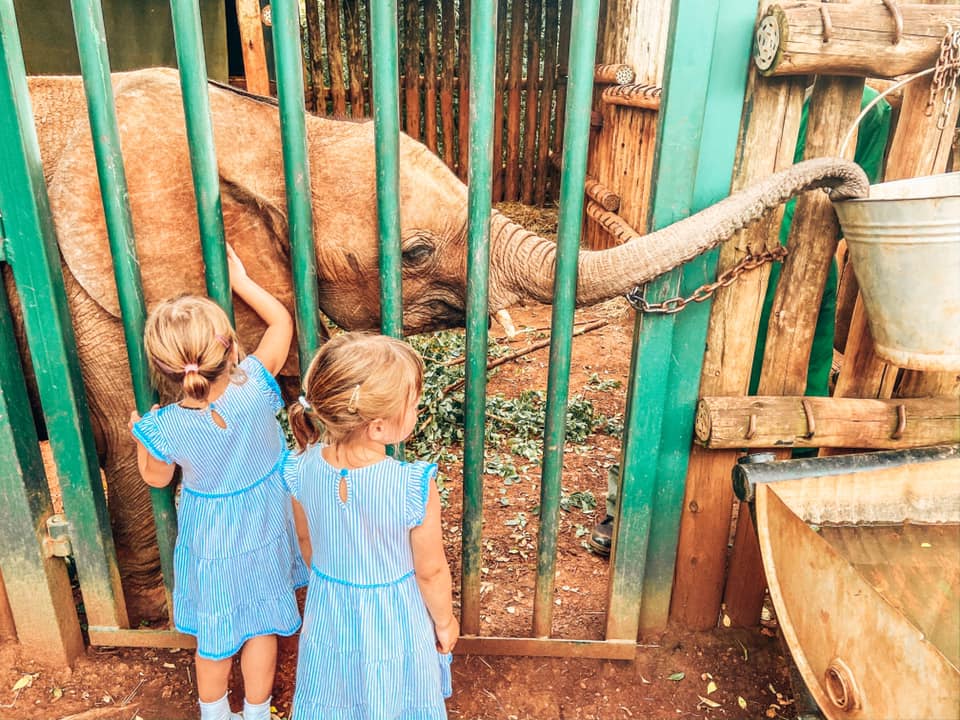 We adopted an elephant for the girls – Tamiyoi. Tamiyoi was born on exactly the same day as the twins – 15/08/2015 so very special to them. They absolutely loved meeting 'their' elephant. We were able to watch all the baby orphaned elephants return to the orphanage, and spend time with them. This is something I would highly recommend as an experience but it must all be set up in advance. 
The Giraffe Centre
Another amazing things to to do in Nairobi is to meet a giraffe or two and the Giraffe Centre. The Giraffe Centre is eet in the grounds of the famous and stunning Giraffe Manor, this is an experience your children, and you, will love. Get up close with these magnificent creatures first hand and see how huge they really are. Something you cannot appreciate in the wild. 
At the giraffe centre, you are given a small bucket of giraffe nuts allowing you to feed and interact with the giraffes and create memories to last a lifetime. Open daily from 9am to 5pm including weekends and all public holidays. There is no need to book.
There is also a small café on site selling chicken burgers, hot dogs and a limited selection of sandwiches.
Bomas of Kenya
Experience an afternoon of tribal dancing, cultural markets and seeing how different tribes live at the Bomas of Kenya. A completely different experience to the above but one we all enjoyed. The girls loved running in and out of the mud huts, seeing how the Maasai really live and were fascinated to see how small the huts really are. 
There is a traditional restaurant on site where we had dinner, the Utamaduni Restaurant, which served a selection of English and traditional Kenyan food. 
Matt Bronze – Sculptures and Restaurant
A great place for lunch. Matbronze has one of the largest display of wildlife bronzes in Africa. It's quite a unique things to do in Nairobi but I love it. Over six hundred pieces of bronze, ranging from cuff-links to life size crocodiles. From cute cub footprints to large lion track trays.
Matbronze is conveniently located between Nairobi's two main tourist attractions: The Giraffe Centre and the Elephant Orphanage. The Matbronze cafe offers light lunches and all day refreshments in a comfortable garden setting.
Nairobi Rehabilitation Centre
We were taken here by our driver but I had never heard of it before.  It was a nice place in Nairobi to visit with kids. It is not huge and only takes about an hour and a half to walk around.  The animals in the centre are either brought back to health and re-released back into the wild, or cared for at the centre on a long term basis. 
When you arrive, a guide meets you at the entrance and stays with you the entire time talking to you about the animals and interacting with the children. They loved the hands on experiences and got to hold a snake, chameleon, an ostrich egg, and feed the monkeys and feed the ostriches which was a real treat. 
Where Next After Nairobi
With so many things to do in Nairobi, you will need a night to relax. But in Kenya, there is no time for that, you have to get going on the next part of your adventure straight away. For us, after 2 nights in the city, we took a flight from Wilson airport and headed off to the Maasai Mara and our first safari with kids which was incredible – I cannot recommend this experience enough, even with young children. We stayed at House in the Wild which fully catered for families and it was am amazing place to stay.
More about Kenya with kids
If you would like to read more articles in my Kenya series, then these may be of interest…
Kenya Packing List – to follow
House in the Wild, Maasai Mara
Turtle Bay Beach Resort, Watamu, Mombasa – to follow
Ole Sereni Hotel, Nairobi – to follow
Spurwing Guest House, Nairobi – to follow