Skiing with a baby can be daunting, I know it was for me, especially as I had never been skiing myself. I often thought, 'maybe we will try it when the children are older'. I really didn't know what to expect. I knew it would be challenging packing all the gear, chilly temperatures plus a little one to think about (or three in our case!) but that doesn't usually stop me from going on holiday, so I was open to giving it a go with young children!
** This post may contain compensated elements
Ultimate Guide to Skiing with a Baby & Everything You Need To Know
Taking a baby Skiing
It is probably the baby paraphernalia that makes you think twice before setting off on holiday with a baby in tow. Would you believe it though, some really child focused hotels actually come fully equipped with travel cots, cot linen, baby monitors, bed guards, potties, highchairs, liquidisers, sterilisers, baby and toddler crockery and cutlery, stairgates, changing mats and toys, so there is no need to worry about how you will sterilise a baby's bottle on holiday – it really is the best way! These days, I try to look for holidays with a crèche and kids clubs, just to get a bit of a break. Ski lessons for little kids is important from the off (when they are able to walk of course!)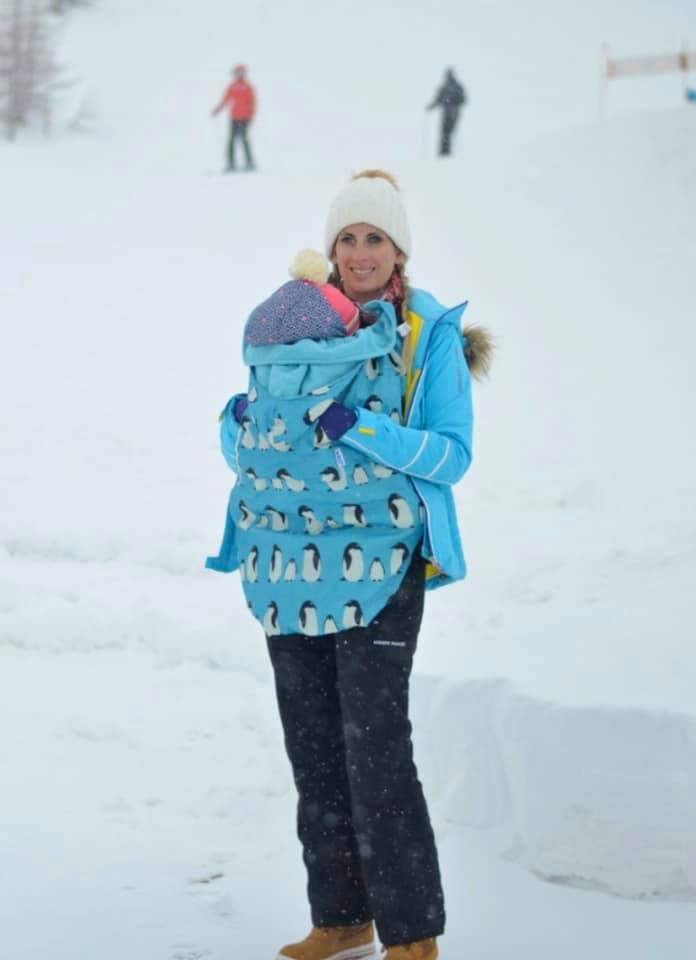 CREDIT: The Mummy Adventure
Our first ski trip will be with a 1 year old and 4 year old twins. I never thought a family ski trip would be possible. Actually, I will be honest, I never thought skiing was a possibility let alone with a baby in tow too.
There is no denying it, there is a lot to think about and a lot to pack, but hopefully with this trialled and tested advice, I can tempt you into having a go too – or at least start thinking about it rather than it being a definite no – let's hit the nursery slopes with young kids together!!
When Is the best time of year is to go skiing with a baby
Do your research about your location and the weather. You don't want to be going at a time when its minus 20. Generally, nearer the end of the season in March/April is warmer. Skiing in April would be great in Europe in Winter. It also means that you can get out for walks with your little one too.
Tips To Choosing A Family Friendly Ski Resort? 
Personally, when skiing with a baby, I would try to find a family friendly ski resort or chalet. This way, they should be equipped with at least some of the baby paraphilia like high chairs to save taking everything with you. You should also be able to book group lessons for the whole family and hire ski boots and ski gear, so see what is included in your family ski holidays. Make sure you get the best deal !
Some say a catered chalet is easier if you are travelling with a baby as not only is your food prepared and cooked for you, but your little one can eat earlier and go to bed whilst you relax. Others say they love a hotel with family dining, a bar and a pool. Some even have a soft play so go with what you feel more comfortable doing.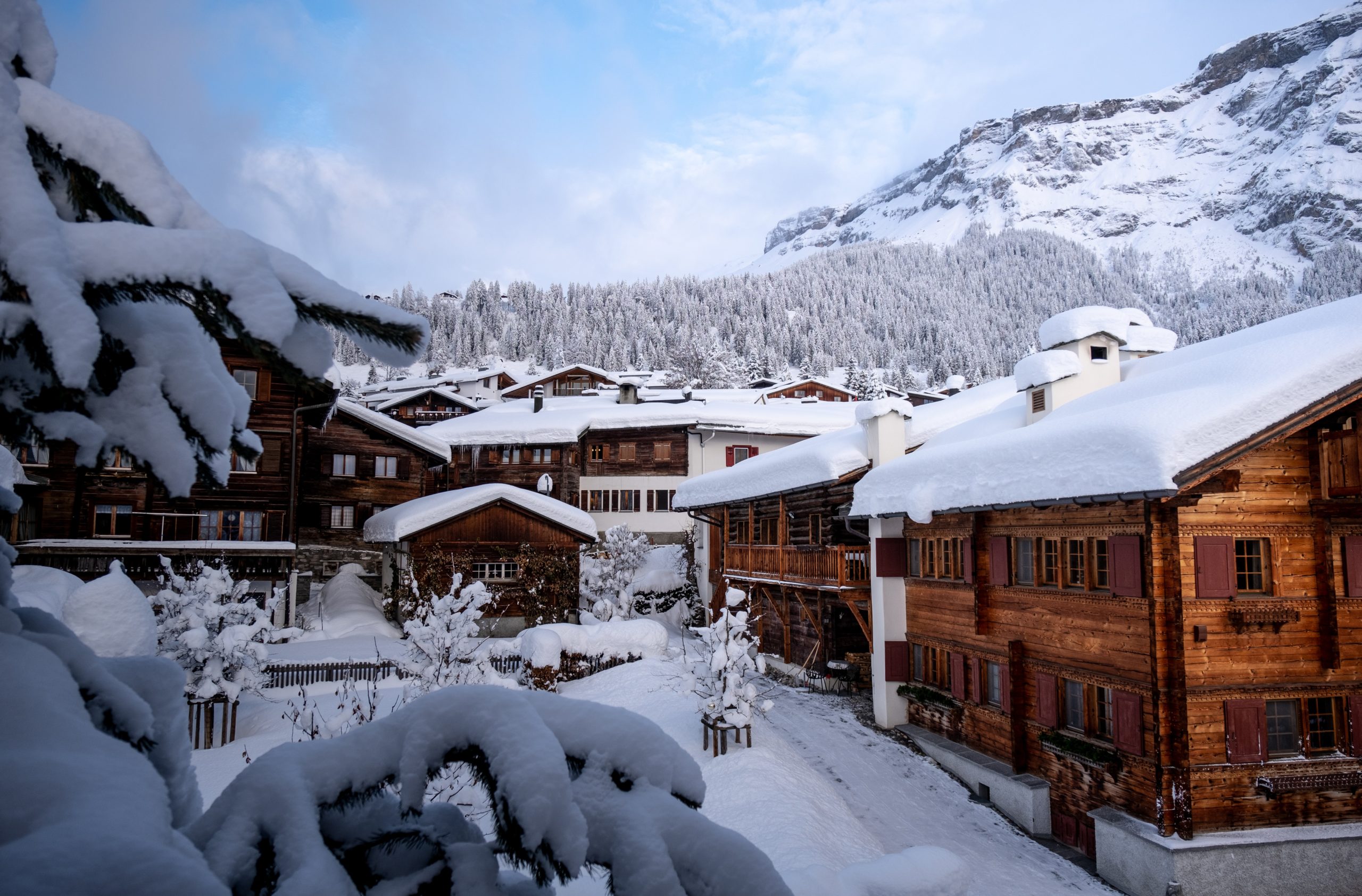 Location, Location, Location
Also think about the ski area location… ideally you want to walk out of the door and straight onto the slopes to your ski instructor, but lots still aren't. Some you will have to use a mini bus to get to the slopes and possibly the kids clubs so research, research, research and you will have a great time. Chat with a child friendly ski agent if like me you are not sure.
Consider a ski resort that offers childcare
If both parent's can ski, or want to learn to ski then childcare is essential if you don't want to keep tag teaming baby duties. If you have booked through a child friendly company like Ski Famille https://www.skifamille.co.uk, it is likely that they offer childcare in the form of a nanny or crèche or if the children are a little older, ski school or private lessons are an option too. This is worth considering when looking for a company to book through.
DECIDE HOW YOU WANT TO TRAVEL WITH A BABY
Think about how you prefer to travel with your baby. Would you feel more comfortable about taking your own car and taking a road trip with your baby. You can break up the trip and stay overnight somewhere? More and more people are travelling by train as it means you can walk about during the journey and don't feel so trapped! Or you may be happy to jump on a flight and get to the slopes as quickly as possible?! This really is personal preference. We chose the flight.
Flying with a baby
Flying with a baby isn't as bad as you think and the routes within Europe generally have a short flying time – it will be over before you know it!
As a general rule, if you are flying with a baby or a toddler, airlines allow you to check in car seats and buggies as an additional allowance free of charge. However, the buggy does have to go in the hold once you reach the plane so I would advise taking a sling too, as the walk between the plane and baggage reclaim can be a long one if you have to carry one, two or three babies.
Some airlines allow families with children to board the plane first – we don't do this! Stay in the airport as long s possible to minimise the time to be strapped in and let everyone else board first.
I always try to plan flights over a nap time if I can and keep them awake as much as possible in the airport before hand. The hum of the engines make perfect conditions for a doze!
Take a few small travel toys with you in your carry on. Ones that flash or have things to pull, tap, lift are always great distractions.
Always take a bottle on with you in case of air pressure. I usually give mine a bottle anyway. And take snacks, lots of snacks!
Remember to laugh. Realistically, it's not going to be the most enjoyable journey you have taken but it is only for a short period and think about what awaits you at the other end – it will be worth it.
I have a great article about what to pack in your hand luggage with kids, and how to survive the airport, so do take a look at these.
Top TIPS WHILST ON YOUR FIRST SKI HOLIDAY WITH A BABY
This may be the first time your baby has been on holiday, an airplane or even left the county let alone experienced snow. It will be an exciting time for everyone so make sure that you are prepared.
What to Pack
What you really need to create is a family skiing pack list so that you are all set for your first ski day, but here are a few basics to consider.
Baby snow suit with some good layers
Warm gloves from the whole family – more than 1 pair
A warm hat or two
Ski socks
If you have booked with a family friendly ski resort, they will be sure to point you in the right direction should you have forgotten anything.
BE PREPARED FOR YOUR ROUTINE TO CHANGE A LITTLE
When travelling with a baby, your routine can go out of the window a little as new surroundings may unsettle your baby initially. Getting out and about in the snow will take longer than planned, and meal times may differ to your routine at home. Always allow a little longer to do anything and pack extras of everything when you leave your accommodation 'just in case'.
MAKE SURE YOU ALL GET A GOOD NIGHT'S SLEEP
Just being surrounded by ski air, and a day in the crèche or snow activities is exhausting enough for adults let alone a baby so prepare yourself for tired children. Try and make sure you baby still gets the required number of naps but appreciate that they might not be as long as they usually are. If a nap is missed, try and make up for it with an early bedtime.
I am usually a little more relaxed with sleep and bedtimes on holidays but this does catch up with them after a few days which can result in a few tantrums.
MAKE TIME TO PLAY IN THE SNOW
As long as you have packed all the correct snow gear, and as long as they aren't too tiny, let your little one experience the snow. Let them roll in it, throw it and yes they will probably eat it too. All this snow prep will make doing other things in the snow – like skiing – less unfamiliar and frightening in years to come.
HIRE A SLEDGE
Most ski resorts and companies will have equipment to get your baby about in the snow. A sledge can be great fun for them too. The should have a strap so they are secure and they can be dragged through the snow.

CREDIT: The Mummy Adventure
How to Book Your First Family Ski Holiday with a Baby
There are so many top ski resorts and holiday companies to choose from, but I would recommend booking with someone that has experience of ski holidays with babies and children of different ages. They will be able to find you all the best options for the ski season!
ENJOY YOURSELF AND MAKE MEMORIES
You have booked, or are thinking of booking your first ski holiday with your baby for a reason – to have fun as a family, to make memories together and to ski, so enjoy it. Go prepared and try to take some time to relax a little. Just because you have a little one in tow, it shouldn't stop you doing things so do NOT disregard skiing with a baby! Yes, you have to think about what you are doing more, but it is all doable and let us know how you get on!
If this comprehensive guide has been helpful and skiing now sounds like your kind of adventure and you fancy more of our travels, then why not follow us on Instagram and Facebook or alternatively you might want to join our travel community pages for Twins and Multiples or Larger Families.
GO ON, PIN IT