Combining a beach stay with a safari is the perfect combination when visiting Kenya with kids. As magical, and as breath-taking as safaris are, they can really wear you out. After several early mornings on safari and long days in a jeep, you will be ready to kick back with a book and relax on the beach, down at the Coast in Mombasa, and the family friendly resort, Turtle Bay Beach Resort Kenya, is your answer.
**We were invited to stay at Turtle Bay in exchange for an honest review. All thoughts and opinions are my own.
We had already spent 2 weeks in Kenya when we arrived in Mombasa and were totally ready for some R and R time – all of us!  We had explored Nairobi for 3 days, and stayed at the Sprurwing Guest House, and then a week at House in the Wild in the Maasai Mara on Safari. The trip up until now had been epic and despite the girls all being so young, they were travelling brilliantly and having the time of their lives! Some down time chilling out was now needed and we had 5 days of that planned in the child friendly resort of Turtle Bay in Watamu.
Location of Turtle Bay Beach Resort Kenya
Turtle Bay Kenya is located along the Watamu coast on the edge of the internationally acclaimed Watamu National Marine Park. It is 2 hours from Mombasa Airport, or 20 minutes from Malindi Airport. Private transfers can be arranged by the hotel at an extra cost and this is what we did. It was very reliable and so easy.
About Turtle Bay Beach Resort
We had very warm welcome when we arrived at Turtle Bay Beach Resort. Staff were ready to take our bags and show us to the main reception where we were offered a welcome drink. Turtle Bay Kenya is a 3.5 star family friendly all-inclusive resort situated in 10 acres of tropical landscaped gardens, directly on the beach with 145 rooms, three restaurants, three bars, entertainment lounge and 3 swimming pools.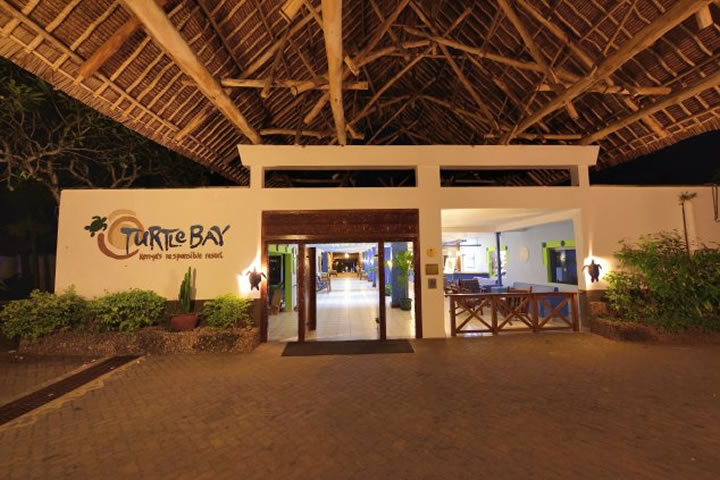 Turtle Bay have been working with and caring for the local community  for many years. They are the first hotel to have been awarded the  "Gold Eco-rating" by EcoTourism Kenya in recognition of their efforts to further sustainable tourism through the preservation of Kenya's environmental and cultural heritage.
Accommodation at Turtle Bay Beach Resort Kenya
Being family friendly and accommodating children of all ages is important to Turtle Bay.  They offer interconnecting rooms for lager families and this is what we stayed in. These rooms were on the ground floor and they gave us plenty of space, and more than enough beds.
We stayed in the D block which was perfect for us. One room had a double bed and a single bed, and the other, a double bed, single bed and a cot. Both rooms had a bathroom with a bath and a shower.
The rooms were pleasantly decorated with beach themed Kikoy décor. Whilst the bathrooms were looking a little tired, they were practical, and had very good showers with plenty of hot running water – that's always a good test and gives a few bonus points – I love a good shower!
Dining at Turtle Bay Beach Resort Kenya
There are 3 restaurants at Turtle Bay. The main restaurant located to the side of the pool area, the Pizza restaurant and the Turtle Bay restaurant for on the beach dining with family friendly dining options.
Main Restaurant
The main restaurant offers full breakfasts, lunch and dinner every day of the week. It seats 300 people. The meals are buffet style. The food on offer tasted good and whilst there was variety, we found the choice a little limiting.
There was choice for the children, pastas every night as well as chips/potatoes plus an option such as fish goujons.
07.30am – 10.00am Full breakfast
10.00am – 11.00am Continental Breakfast
12.00noon – 02.00pm Buffet Lunch
06.30pm – 07.00pm Children's Dinner which can be supervised by the kids club team.
07.00pm – 09.00pm Buffet Dinner
Plus snacks were available in between including delicious freshly cooked pancakes and cakes available from 4-5.
Pizza Restaurant
The Pizza Restaurant overlooks the fishponds where there is an abundance of Golden Weaver birds. Delicious pizza's, pasta, salad bar and soups makes this restaurant a favourite place to dine.
12.00 noon – 02.00pm Lunch Service
06.00pm – 09.00pm Dinner Service.
Blue Turtle Restaurant
The Blue Turtle Restaurant, beautifully located on the beach will provide you with a la carte menus at an extra charge. Reservation required. Whilst we didn't try this, the menu looked delicious and if you were looking to dine as a couple, this could be an option whilst the children were in the supervised children's dinner.
Facilities at Turtle Bay Beach Resort Kenya
Swimming Pools
There are three pools at the Turtle Bay Resort, two large pools, one for families based by the restaurant, this also has a separate toddler pool just off the main pool which is shaded, and an adults only pool. Both pools are a lovely temperature especially in the hot sun. We spent most of our time in the pools.
The Beach at Turtle Bay
Turtle Bay is right on the beach. You can walk out from the pool area, directly onto the sand. There are sunbeds set up on the sand which are still pithing the resort, or head down a few steps and take a stroll in the warm waters.
Kids Club at Turtle Bay Beach Resort Kenya
One bonus of staying at Turtle Bay Kenya is that it is such a child friendly hotel, especially with the Kids Club. After a few hectic weeks on the go, the girls were just as ready to kick back, relax and play like the rest of us needed to and after the first morning with the team, they were asking to go back for more!
The kids club is available for children aged 4 – 12 year olds and is based in a purposed built air conditioned building between the pool area and the main reception. Next to the kids club was a playground.
Each day the kids club offers a variety of child friendly activities from games, arts and crafts, and balloon modelling to sandcastle competitions, beach walks and film evenings. The Kid's Club is free and open daily from 10 am – 12.30pm and 3pm-9pm.
Nanny Service
Turtle Bay is very baby and toddler friendly too. Younger children are welcomed to join in with kid's club activities if they are supervised by an adult. We arranged through the hotel to have a nanny (Caroline) help us out with Matilda.  She was fantastic and looked after her whilst the girls were in the kid's club and then whilst she was napping in the room. This also gave us time with the twins when they were not in the club and saved us sitting in the room for a few hours. We were very happy with the service Caroline provided and can highly recommend using her. There is an additional fee for the nanny of approximately £8 per day payable direct to the nanny.
Playground
There is a great playground for children to play on in the resort.
Entertainment
There is a full daily entertainments team at Turtle Bay Kenya offering Maasai dancers, a Maasai market, water aerobics, beach games, water polo, table tennis, aerobics, walks to the blue lagoon to name a few things you could join in with – there are plenty of sunbeds for you to watch from too! Evening entertainment is available some nights but not until 9.15pm. We made it one night and enjoyed watching a variety of African dancers.
Dive Centre
The resort offers children's and adults snorkelling gear for free. The girls loved playing with this in the swimming pool. If you are an experienced diver, or someone that is interested to learn (which I would highly recommend if you can!), then Turtle Bay Kenya has its own on-site diver centre.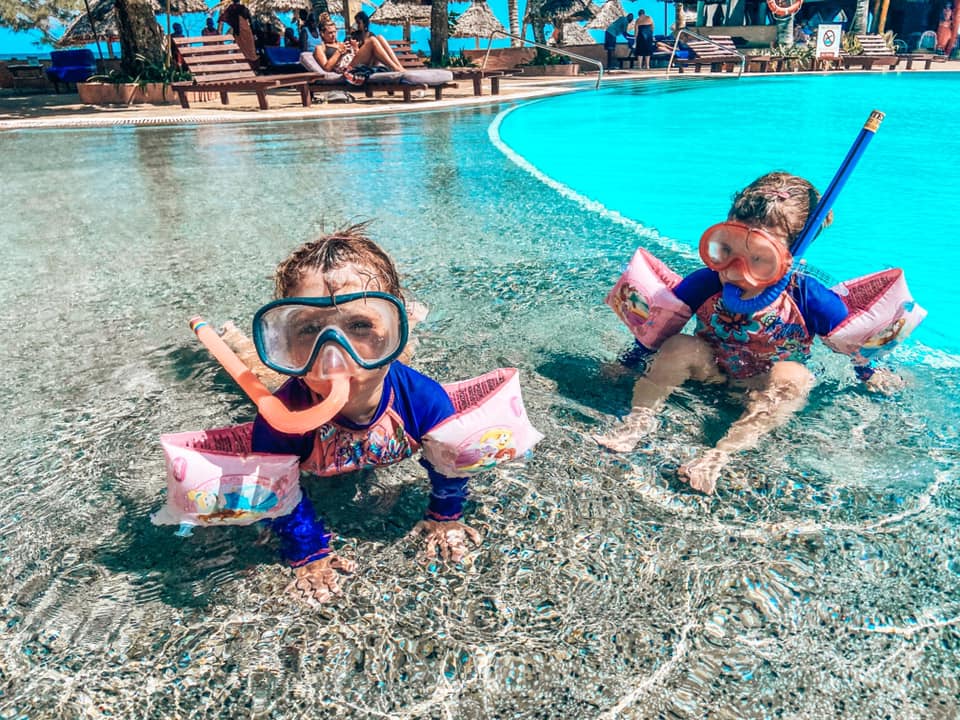 Excursions at Turtle Bay Beach Resort Kenya
There are lots of excursions available through Turtle Bay. Some being more child friendly than others. We chose to go out on a dolphin safari as we thought the girls would love this and it was a totally different safari experience to what we had already experienced. You may also like a hot air balloon ride.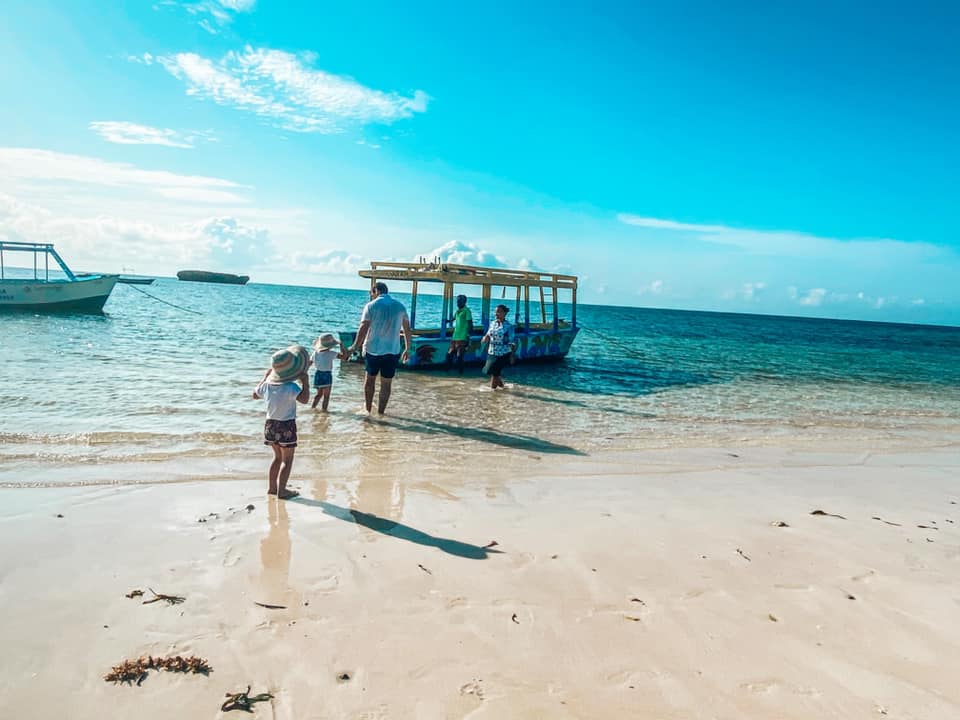 We headed out at 8am on a private boat organised through Turtle Bay Kenya on the search for wild dolphins. It took a while to find them, just over an hour, so I was glad to have taken a picnic breakfast of sausages and croissants which I created from the restaurant. Water was available on board but we still took extra for the children.
Our first sighting was amazing. To see dolphins in their natural habitat is something I would highly recommend. However, we weren't offered children's life jackets so something to consider with younger children. In hindsight, I wish we had taken our Konfidence buoyancy jackets, these were something we really missed and should have added them to our packing list.
There are a variety of other excursions available and these can be found on the Turtle Bay Website.
How to Book Turtle Bay Beach Resort Kenya
If you are interested in a stay at Turtle Bay, all you have to do is contact Turtle Bay Kenya and they will be able to provide you with a very competitive quote.
Read more about Kenya
If you would like to read more about our trip to Kenya, then why not take a look at these articles;
House in the Wild, Maasai Mara
Ole Sereni Hotel, Nairobi – to follow
Spurwing Guest House, Nairobi – to follow
Surviving a flight with a toddler 
Go On, Pin It