With the COVID pandemic still at the forefront of our minds, and UK travel businesses beginning to open up, like many of you right now, we thought long and hard about whether we should start travelling about the UK or not. But Feather Down had invited us to stay at one of their glamping sites in Essex and after looking through their COVID19 protocols which were in place, we felt safe enough to go glamping in Essex, and a family glamping trip was just what we needed.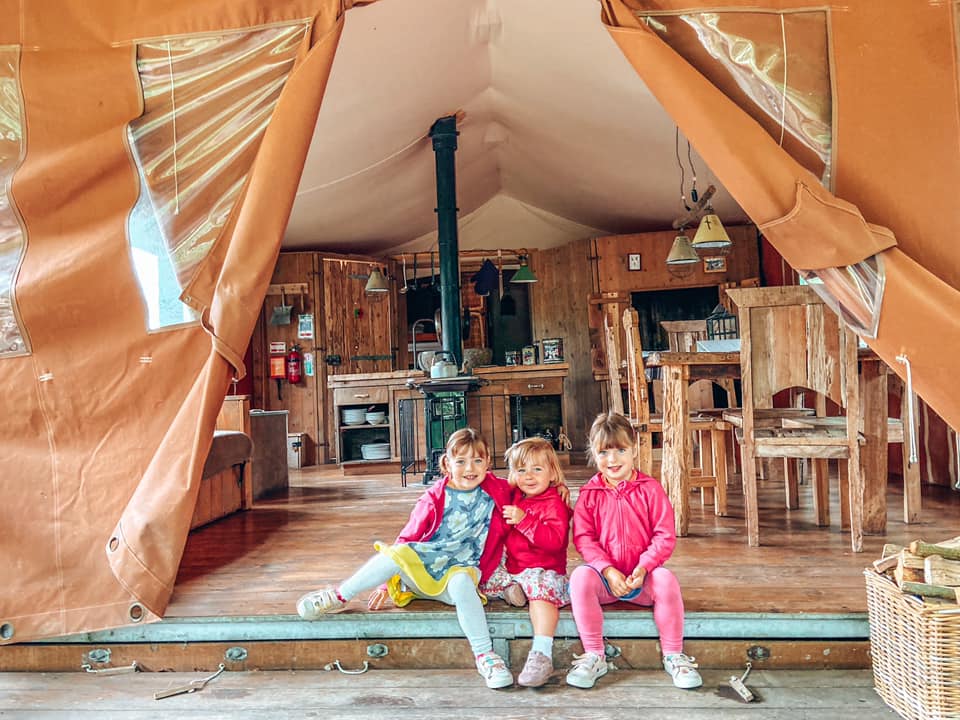 ** We were invited to stay at Feather Down Layer Marney in exchange for an honest review – all thoughts and opinions are my own.
About Feather Down
Feather Down is more than just a glamping holiday. It was set up over 15 years ago and it gives families the opportunity to stay in luxury accommodation, on a real farm, take part in real farm activities with their family and friends. Feather Down Farms combine the outdoorsy feel of camping, with the luxury of a cottage. Real beds, high quality mattresses, your own toilet and shower and a well equipped kitchen – there really is no need to pack the kitchen sink!
Children can play in a safe environment, surrounded by countryside and farm animals – you can just see the smiles on little ones faces right now can't you.
With Feather Down you are spoilt for choice. Whilst we were glamping in Essex at Layer Marney Tower, there are over 65 other locations you can choose from in the United Kingdom, Ireland, The Netherlands, Belgium, France, Germany, and Switzerland leaving you totally spoilt for choice – where will you try first?
Layer Marney Tower – Feather Down Glamping in Essex
It was so pretty driving through the Essex countryside to get to Layer Marney Tower. There was no big road trip to prepare for on this trip but we wiggled around the winding lanes with fields fully of crops and wild flowers, it really was quite a picture. The hustle and bustle of everyday life was behind us for a few days and it was now time to relax a little (or as much as you can with three small children!).
Layer Marney is a farm with a real historical story to tell. It dates back to the Tudor times when Henry the VIII used to visit with his wives. Layer Marney Towers is a simply stunning place to go glamping in Essex. The owners Nick and Shelia welcome you on to their estate and offer a real interactive farm experience.
When we arrived at Layer Marney Tower Glamping, we were met by our host. As part of their new 'COVID' system, we had a specific time to arrive and I was shown round the facilities and our lodge with just the host whilst the rest of the family waited in the car (so it might be an idea to have snacks about now!). I was shown around the honesty shop was, where the logs and wheelbarrows were kept for our fires, and the games room. We then walked over to our glamping lodge to be shown how everything worked – all following social distancing rules.
There are 6 lodges at Layer Marney Feather Down; 3 on either side of a farm track all nestled amongst the woodland. The track wasn't at all busy but it's still worth being aware that cars do drive down it. Some lodges overlooked the deer fields, 2 were further into the woods, and ours looked out to Layer Marney Tower – it was a beautiful picture. The  glamping lodges were really well spaced out and ours was not overlooked. Wood chipped paths were laid down to get to your lodges. This was great because whilst it wasn't busy, it still kept the children safe and away from the road.
Our lodge was spotless and you could see how much work had gone into cleaning it to keep us safe – we had definitely made the right decision to go glamping in Essex.
Inside the Feather Down Farm Lodge
There are two types of lodges on the Layer Marney Towers Feather Down site. The Canvas Frills Lodge with separate shower, and the New Canvas Frills Lodge with separate shower – the differences can be seen on their website.
Our lodge was called Aragon, a Canvas Frills lodge on the edge of the woods with Layer Marney Tower in the distance, just across a field – idyllic. The lodge had a wooden floor throughout including a small covered veranda area. I was so thrilled when I saw the flushing toilet inside the tent and I know it will please many of you to hear this too!
Our lodge had 3 bedrooms, a double room, a room with bunk beds which also had enough space for the cot, and a cupboard bed which easily fitted the two girls. There was plenty of storage around the bedrooms and I loved the basket storage concept. There was more storage underneath the cupboard bed to store your bags too.
The beds were made up on arrival with big white fluffy duvets – they looked so inviting. Towels were provided too. I would advise you take plenty of extra blankets especially for the children – it was cold in the middle of the night, even in July. You can hire cots and highchairs from Feather Down for a fee but we took our own.
The kitchen area was well equipped with the most gorgeous stone sink with cold running water. Everything we needed was included; pots, pans, cutlery, plates, cups and let's not forget wine glasses! You are provided with a basic starter kit which included tea towel, soap, washing up liquid and a bin liner but you will need to bring more of this with you – especially liquid soap. There is a large cool box to store food which needs to be kept chilled and in the honesty shop, there are ice packs for you to use.
In the main living area there was a lovely rustic dining table which seated 6, a log burner to keep you warm and to heat water on, and a sofa. There was plenty of space for us all and had it rained, I would have been happy chilling in the space we had.
Outside Our Featherdown Lodge
We had a huge outside area all to ourselves.  And whilst you could just about see our next door lodge, you never needed to come into contact with them, nor did we hear them and they had young children too!
On the covered veranda were two large wooden chairs and a small table. In the surrounding area of our lodge was a hot tub (we did pay extra for the hot tub at £20 per night), a stand-alone, gas powered shower with hot water, a fire pit and an outdoor cooker. This was great as we managed to do all our cooking successfully on here. We took our own gas stove but we only used it for making a quick cup of tea.
The fire pit was perfect for toasting marshmallows – you just can't go glamping in UK without marshmallows can you! They did sell these in the honest shop should you forget them!
Out to the front of our lodge were huge fields which Layer Marney Tower overlooked. These were perfect for a kick about with a ball, or some tennis so remember to pack your outdoor toys. We went for a walk each evening which was beautiful.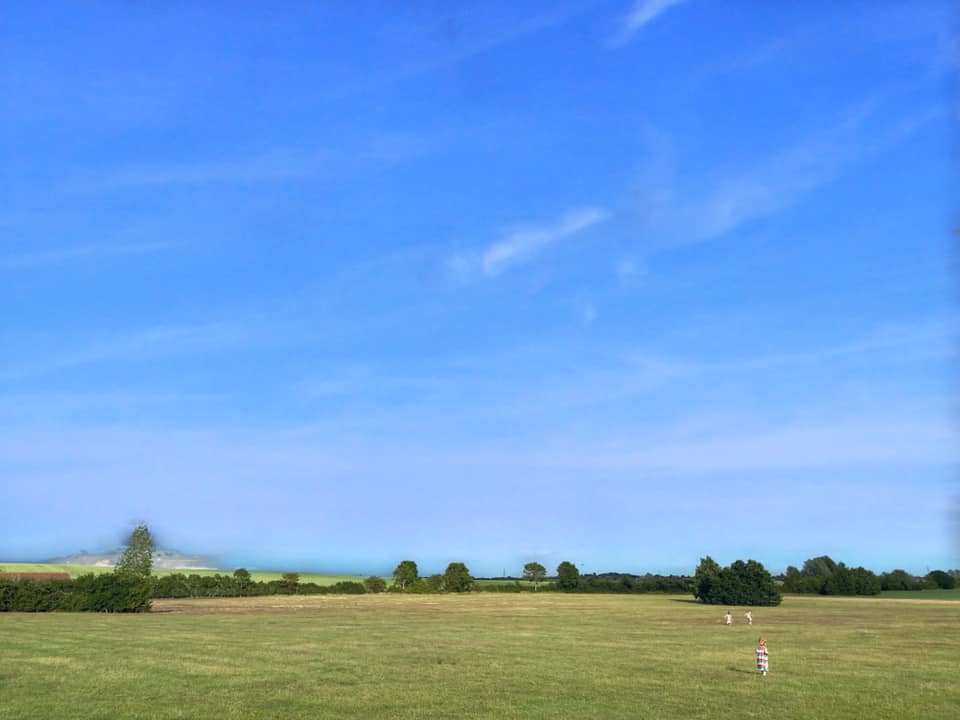 Feather Down Lodge Extras
Feather Down often offer some bookable extras. We decided to book two of these which we paid for ourselves – a chicken coop with two hens and a hot tub. Glamping with hot tub was just the best. It was heated with logs so you could make it the perfect temperate for children to use too – we also snuck back in with a glass of bubbles when they were sleep as well!!
I will be honest; I didn't know whether the chicken coop was going to be a bit of a waste of money but that couldn't have been further from the truth. The twins absolutely loved having them. They were surprised with eggs each morning and took full responsibility feeding and giving them fresh water each day. I would highly recommend this extra if you have little ones.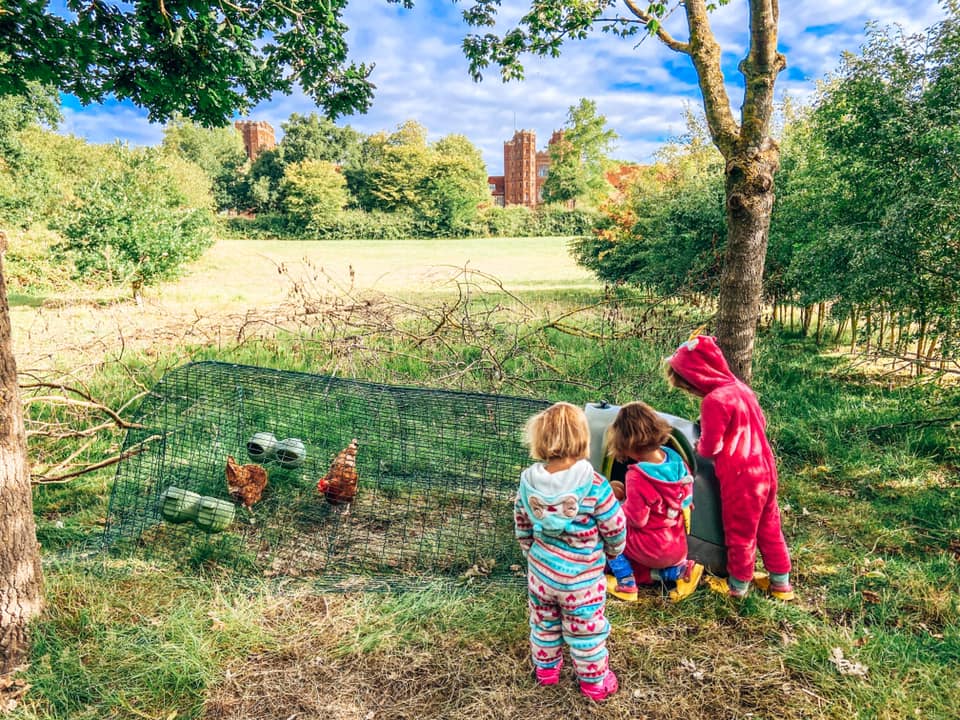 Things to do at Layer Marney Tower Glamping
Animal Feeding
Feather Down and Layer Marney Towers are about more than just glamping in Essex. Each morning at 8am, we walked up to the farm through the churchyard to feed the farm animals with owner and host Nick. The children were invited to join in with the animal feeding and get involved. From feeding the goats, sheep and deer, to collecting more eggs from the hen house. The children couldn't wait to get out each morning. I personally loved the setting and the early morning walk through the horses' fields with the sun coming up over Layer Marney Tower. It was stunning and the perfect start to the day before heading back for breakfast.
Layer Marney Tower
Nick and Shelia invite you look round the Tower on certain days free of charge and it is definitely worth doing this. The building itself is incredible and to climb to the top and look out over Essex is such a treat. They are currently operating a one-way system around the Tower to keep everyone safe.
The girls favourite room was the one full of dolls houses and they were desperate to get them out and have a play – they really were beautiful! I loved all the brightly coloured armour hats which were used in battles – absolutely stunning!
Layer Marney Grounds
Layer Marney sits in acres of farmland, estate gardens and grazing paddocks. The gardens are currently full of bloom and so colourful. It was such a treat to walk round them. You are welcome to enjoy the land and the Estate but if there is a wedding on (which is what Layer Marney Tower is also famous for), do check where you can and can't go as some areas are slightly more restricted on these days.
Play Parks
Over by the goats and the hen house in Layer Marney Towers grounds, there are two play areas. One area has a large spiders web for bigger children and the other lots of wooden play equipment such as balance beams and wobbly bridges to climb over – a real hit with the girls.
Events at Layer Marney Tower
Layer Marney runs several events throughout the year and if you happen to be staying whilst one is on, you are welcome to attend free of charge. Layer Marney Tower is the tallest Tudor gatehouse in England, and was built by Lord Marney, longtime friend of Henry VIII. Over the weekend we stayed, there was a small Tudor event running and the tea room and shop were open.  It was lovely to get a glimpse of what life would have been like hundreds of years ago. Henry VIII and his Wives were wandering the grounds in full costume talking to guests and answering questions about what life was like in the Tudor times.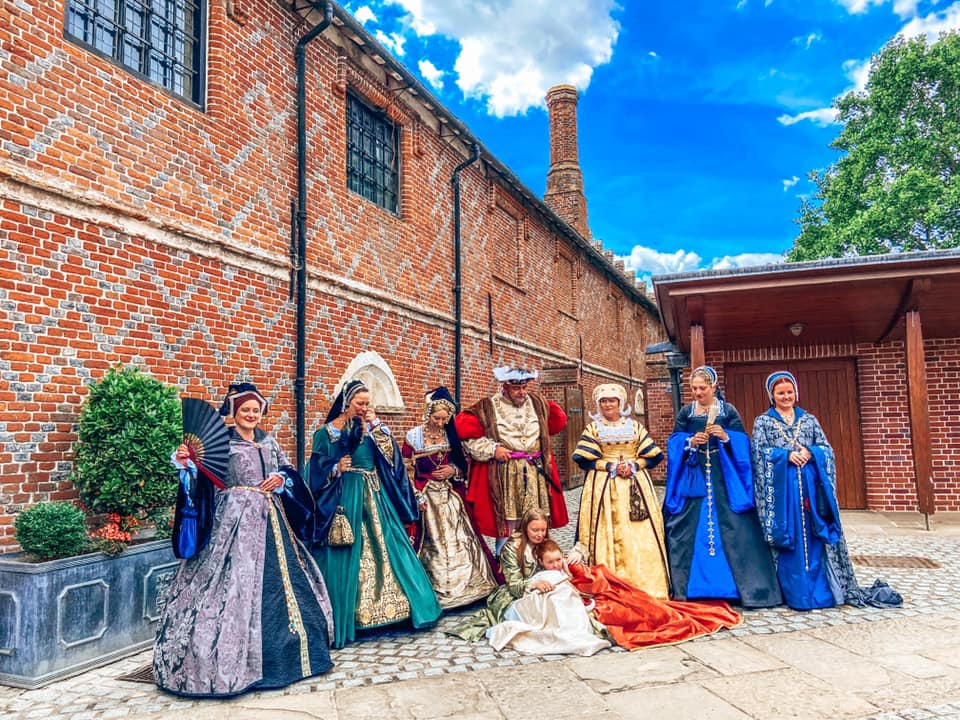 Layer Marney Walks
There are several walks you can take around the estate whilst glamping in Essex. There is a map in your lodge showing you where you can and can't go – I really wish we had more time to do it all.
Extra things to Bring when Glamping in Essex at Layer Marney Tower
There are a few glamping 'essentials' which we would recommend you pack…
Anti-bac hand soap
Anti-bac spray
Hand gel
Mirror – it sounds silly buy useful for just doing your hair or shaving
Blankets – the temperature really drops between 2am & 4am… take at least one each, and two for the children.
Onesies – That extra layer in the evening and mornings really is needed
Crocs or easy slip on shoes
Waterproofs and wellies – you know how quickly this British weather can change!
Toys – in case it rains. We took a few simple bits like colouring books and a tub of lego
Outdoor toys – a bat and ball and football
Feather Down and COVID19 Protocols
Feather Down have taken their role to protect their guests very seriously. When we arrived at Layer Marney Tower Glamping site, I was asked to meet the host on my own without the rest of the family to adhere with social distancing measures – and children can often find this hard to understand, especially Matilda.
The lodges were to be thoroughly cleaned, disinfected twice and ventilated with extra care.
The farm honesty shop was open but only one person was allowed in at any time. The animal feeding still took place but we were asked to social distance from other families at all times.
How to Book
Booking is simple. Pop onto the Feather Down Glamping website and you can see both availability and prices on there.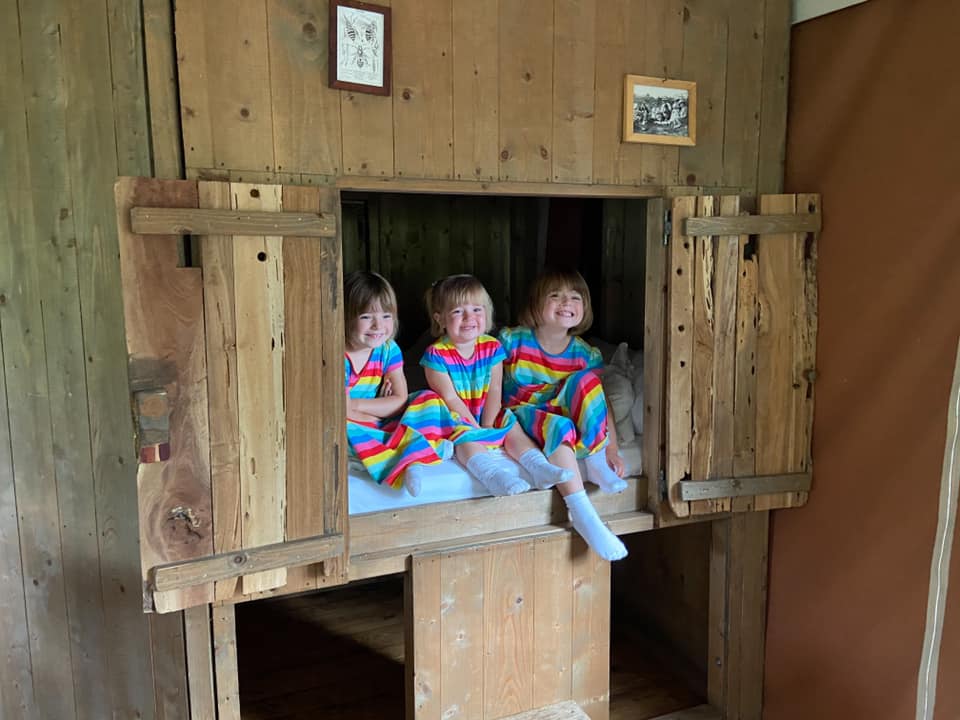 If you are booked and ready to go glamping, then you might find my glamping packing guide and travel first aid kit list useful!
Go on, Pin It