Bury St Edmunds with Kids – The Perfect Town for a Family Weekend Away
Weekends away are a great escape from the everyday. They give you a chance to unwind a little, reconnect and spend quality time with the family and I for one totally recommend them!
On a sunny autumnal day in September, we packed a small(ish!) weekend bag and spent a glorious weekend in Bury St Edmunds. There are so many things to do in Bury St Edmunds for families and we stayed at the most wonderful hotel, The Angel right in the heart of the town. It was an hour from our home in Essex, and it's less than 2 hours from London. A great place to escape to with some fabulous family attractions which I knew the girls were going to love.
Where is Bury St Edmunds?
Bury St Edmunds is in Suffolk in East Anglia and is just over a 2 hour drive from London. Greater Anglia also offers regular trains from Bury St Edmunds to London. Trains leave roughly every 30 minutes taking just under 2 hours to get to London Liverpool Street station.
About Bury St Edmunds
Bury St Edmunds is a historic market and cathedral town in Suffolk in East Anglia. Surrounded by stunning countryside and with 1000 years of history to take in, Bury St Edmunds was the home of Saint Edmund, the original patron Saint of England. Being a market town, Bury in St Edmunds lives up to its name and hosts twice-weekly markets and has a selection of boutique shops, along cosy restaurants, cafes and delis all found in the town centre. Other historical sites include St Edmundsbury Cathedral, the only cathedral in Suffolk, and The Angel Hotel, a Georgian coaching Inn that was frequented by the famous author Charles Dickens.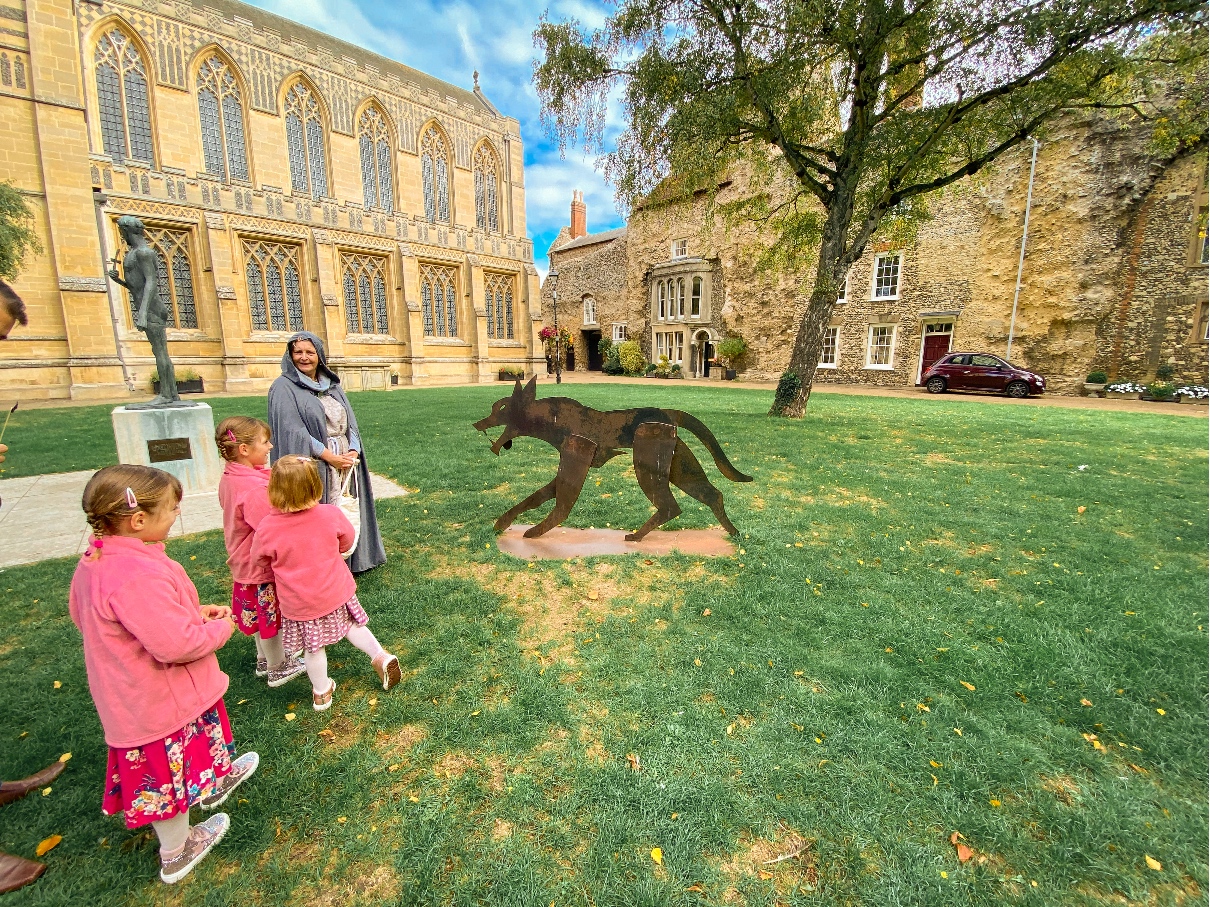 What is Bury St Edmunds Famous For?
Bury St Edmunds' most famous landmarks are its wonderful Abbey ruins. Once a great monastery, the Abbey was built around a shrine to Saint Edmund, which for centuries was a point of pilgrimage. Bury St Edmunds is the home of brewer Greene King and St Mary's Church in Bury St Edmunds is the final resting place of Mary Tudor, Queen of France, Duchess of Suffolk and favourite sister of Henry VIII.
Family Friendly Accommodation in Bury St Edmunds
The Angel Hotel
The Angel Hotel is a historic landmark hotel in the heart of Bury St Edmunds with views of Bury's historic Abbey Gardens and luxurious bedrooms suitable for family weekends away.
The Angel Hotel in Bury St Edmunds marks Charles Dickens' visits to the former coaching Inn which he immortalized in his Pickwick Papers.
"And this," said Mr. Pickwick, looking up, "is the Angel! We alight here, Sam."
Dickens, who created some of the world's best-known fictional characters and is regarded by many as the greatest novelist of the Victorian era, first stayed at The Angel in 1835 as a journalist for the Morning Chronicle (staying in what was then room 11).
The Angel Hotel is right in the heart of Bury St Edmunds town centre and everything is just a step from here. You can see the Abbey grounds from the front door it's that close! Explore the winding, cobbled, shop filled streets and a plethora of ancient architecture on the doorstep.
The Facilities at The Angel Bury St Edmunds
The contemporary, homely rooms have designer furnishings. The stylish restaurant offers a modern British menu including a children's menu which the girls loved – they were so accommodating to their fussy needs! The food was delicious and there was a good variety too with daily specials.  Afternoon tea is also offered.
The lounge area has been completely transformed and reflects the relaxing nature of the hotel where you can enjoy a glass of wine, whilst the children play one of the games from the dressers. The twins enjoyed learning how to play draughts, whilst I taught Matilda how to play dominos!
The Bedrooms at The Angel Bury St Edmunds
The Angel is eclectic and cosmopolitan chic with rooms designed to suit everyone's taste. The individual nature of each room makes your stay a lovely experience. All rooms are en-suite, with toiletries and a hairdryer included. We stayed in a gorgeous family room with a copper bath which was fabulous – yes, they cater for families of 5! All rooms come with flat screen TVs, complimentary WIFI, cafetiere coffee and luxury teas.
The Restaurant at The Angel Bury St Edmunds
Enjoy delicious food at the Eaterie Restaurant with the views of the Abbey. The chef is passionate about cooking and uses local ingredients for inspirational and interesting dishes in our award-winning 2 rosette Eaterie.
The menu represents the perfect Suffolk culinary experience. Afternoon Tea is another lovely indulgence.  There are different packages to suit every need plus options for children, with freshly made delicacies such as homemade scones, savoury treats or cakes. Dinner comes highly recommended by us!
Things to do in Bury St Edmunds with Kids
I was pleasantly surprised by what Bury St Edmunds offers families. Literally 300 meters from the hotel door was this incredible Abbey, surrounded by gardens and filled with families enjoying the sunshine – it was obviously the place to be!
On this occasion, we explored the grounds by booking onto a family guided walking tour. It was brilliant! The stories were adapted so that the children were involved and engaged too.
Here are some of the wonderful things to do in Bury St Edmunds with kids;
Family Guided Walking Tour
Head out on a family guided walking tour with Bury St Edmunds Tour Guides. You will meet up with Lynn Whitehead or one of her team behind the Norman Tower near St Edmund's Statue in the Great Churchyard, whom will be dressed as either the 'Grey Lady. or another historical character to bring Abbey life to life and learn about how Bury St Edmunds got its name. The tours are adapted depending on the age of the children. Lynn interacted wonderfully with the girls.
The tour guides continue to offer their daily tours until the end of October and Ghost Tours from Halloween until the end of March. Lasting 60-90 minutes, the tours explore the history of the Bury with plenty of activity and photo stops.
The Abbey Gardens
The Abbey Gardens and ruins are free to explore.  Families will love to take a stroll around the impressive formal flower beds and lawns of the Abbey Gardens. There is a herb garden, sensory garden, water garden and 400 rose bushes in the pretty Appleby Rose Garden. The children can also have a little exploration of the Abbey ruins and it's fascinating to take in all its history.
The children's play area, aviary, river and water garden were delightful, as is the ice cream kiosk. Visitors can also use the tennis courts, bowling green or crazy golf course by booking in the shop first.
St Edmundsbury Cathedral
St Edmunds Cathedral is free to enter and was once known as the Parish Church of St James until the 20thcentury, building began in the late 11th century on the orders of Abbot Anselm, when he was unable to make the pilgrimage to the shrine of St James in Compostela, Spain.
The cathedral received its cathedral status in 1914 with the creation of the diocese of St Edmundsbury and Ipswich. It is the only Cathedral in Suffolk. The Millennium Tower, a 150-foot Gothic structure, opened in 2005 and a vaulted ceiling was signed off five years later. Book the Tower Tour for a closer look and to take in the impressive views from the roof.
Moyse's Hall Museum
The medieval Moyse's Hall Museum is housed in one of the last surviving Norman houses in Britain and offers a fascinating view into the past. The museum features six Terrible Tales by Terry Deary, best-selling author and creator of the Horrible Histories books and these are retold by the museum staff. Consideration goes in to the age of the children but children 8+ get the most out of the gruesome tales – and the older you get, the more gruesome they get!
You can step inside a gibbet cage (made for the museum by blacksmiths Kingdom Forge), try on a ball and chain, experience the smells of history including the tanner's pits, handle thumbscrews and try on manacles, and pick up a Norman sword.
The Battle of Fornham is told through the eyes of a blacksmith, a nun tending to the body of St Edmund tells of his grisly end. The stories of Mary Tudor, Queen of France, the Red Barn Murder, the Nichols Murder, witchcraft and Witchfinder General Matthew Hopkins, all feature. Every story links back to an artefact, bringing the museum's stories to life which will keep the children thoroughly engaged.
The Lego exhibition was rather cool too and the girls were totally inspired by the creations! Sadly this was a temporary exhibition which has now ended but do keep your eyes peeled for other visiting exhibitions.
West Stow Anglo Saxon Village and Country Park
West Stow Anglo-Saxon Village & Country Park, Icklingham Road, West Stow, IP28 6HG
We ended our weekend at West Stow Anglo Saxon Village in the beautiful Suffolk countryside. It has a small indoor gallery which was fascinating and really interested the girls.
The archaeological dig, grabbed the girls attention. They uncovered the artifacts and read the captions to find out what they were.  The girls couldn't believe how Anglo Saxons used to live and it was incredible to be able to look round a recreation of an Anglo-Saxon village. We explored this area for quite a while chatting about how people used to live this long ago. The houses are so real and authentic and you can smell the burning of fires inside!
West Stow Country Park features 125 acres of woods, heathlands, a river and a lake, plus nature trails, walks and an adventure playground for the children. Visitors to West Stow can explore history and nature, watch a film, dress up as an Anglo-Saxon and visit the rare breed pigs and chickens. There is also a café which serves a simple lunch.
West Stow also regularly holds living history and event days, workshops, walks and talks; these sites and their events really do bring history to life.
More Things to do in Bury St Edmunds
Ickworth House, Park and Gardens
The Rotunda, Horringer, Bury Saint Edmunds IP29 5QE
Four miles outside of Bury St Edmunds, Ickworth House Park and Gardens offers visitors a real treat. This 18th century Italian-style manor house and gardens is set in 1,800 acres of parkland with an adventure playground. Visitors can explore the property with daily tours; a great opportunity to learn about the family history that brought Ickworth to the present day, to uncover how they care for our collections and to look forward to an important year for Ickworth's future.
READ MORE: Our Stay The Ickworth Hotel
Visit the Theatre Royal
Westgate St, Bury St Edmunds
Experience what it was like to go to the theatre in pre-Victorian times at Britain's last surviving Regency playhouse, the Grade 1 listed Theatre Royal Bury St Edmunds. You will find a varied programme of entertainment throughout the year including pantos, music and drama. Built in 1819, the theatre runs under the auspices of the National Trust.
Best Restaurants in Bury St Edmunds
Being able to find child friendly restaurants is important when going away for the weekend with kids. But honestly, there are some fabulous family restaurants in Bury St Edmunds to choose from. The Angel got our vote straight away and Bills had a great selection for everyone. But there are other options for lunch and dinner to choose from too – there's something to suite everyone.
Grounds Café – Abbey Gardens
Situated in the heart of Bury St Edmunds as the 9th and newest addition to and independent, family run franchise the Grounds Cafe offers a range of homemade cakes, soups, stews, paninis, toasties and more.
West Stow Cafe
Icklingham Road, West Stow, Bury Saint Edmunds IP28 6HG
The West Stow Anglo- Saxon Village and Country Park Café is open most days of the year, serving hot and cold food and beverages to takeaway. Options include afternoon tea, daily lunch specials, freshly baked sausage rolls and freshly cut sandwiches and baguettes
DOUGH&co
Discover Italian Pizza with DOUGH&co. They use ingredients sourced directly from Italy, with real chefs preparing them. They are then cooked in traditional oven claves for an authentic Italian taste. Indoor seating is available, with Italian music and a relaxed vibe.
Bills
Formerly Barclays Bank in Abbeygate, Bill's Restaurant serves meals from dawn to dusk, opening for breakfast and continuing to provide their seasonal menu through to dinner for the whole family. With cosy booths were the vaults used to be, you'll find quirky decor using reclaimed materials and furniture.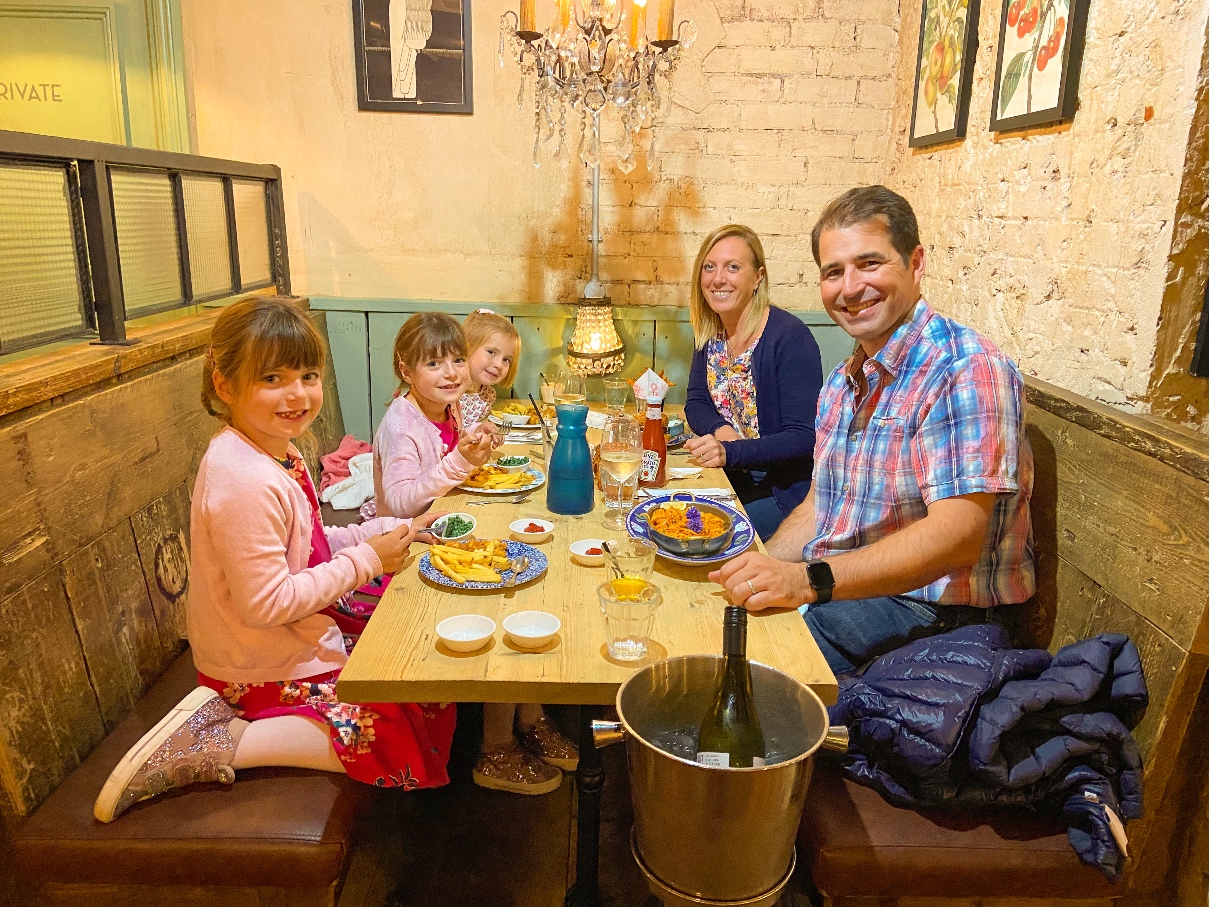 Edmundo Lounge
28 Cornhill, Bury Saint Edmunds IP33 1DY
Edmundo is an eccentric style café and bar in the centre of Bury St Edmunds, they're open all day every day – you can pop in for a drink, a coffee or something to eat.
The Angel
3 Angel Hill, Bury St Edmunds IP33 1LT
With views overlooking the Georgian square and the abbey gardens, this really is the best place to relax and enjoy a meal with the family. Afternoon tea is perfect if you're taking time out from a hard day's shopping or you can enjoy a meal in the Eaterie Restaurant.
What's on for Halloween in Bury St Edmunds
Why not spend a spooky weekend in Bury because with so many historical links, they really know how to do Halloween well… From ghostly medieval monks to the Grey Lady, this historical town offers plenty of fun at Halloween.
Halloween at the Abbey
Get the children dressed up in their costumes and have a go at the Abbey's spooky quiz. You can also pop into the new garden shop to get a quiz sheet.
Claim your prize in the garden shop after completing the quiz. First come first served rules apply for prizes. Wear suitable clothing as this is an outdoor trail. Kids of all ages are welcome, including grown up ones!
Times: 10am-3pm
Tickets: £1.50 per quiz sheet
Booking: Not required
Venue: Abbey Gardens, Bury St Edmunds
Bury St Edmunds Ghost Tours
Murder, executions, plague, witchcraft and sightings of ghostly figures, the Bury St Edmunds Tour Guides take you on a spooky journey around haunted Bury St Edmunds. As you walk around darkened streets there will be stories of mysterious 'monk' like figures appearing in cellars, burnings, hangings and more, finishing up in the Great Churchyard where the tour guides will recall the stories from the Abbey and the famous Grey Lady.
Numbers are restricted to 20 guests per guide. Due to the content of the tour, participants must be aged 14 years or over.
The Ghostly and Macabre Tour runs from Halloween on October 31st to the end of March.
Rougham Pumpkin Patch
The Mell Field, Sow Ln, Bury St Edmunds, Bury Saint Edmunds IP30 9XH
The Rougham Estate has a field full of 1000s of pumpkins, in twelve different varieties. Positioned just off Junction 45 on the A14, you will see a sea of orange, and other colours, showing amazing varieties, allowing visitors to grab a wheelbarrow and choose their perfect pumpkins. There will also be a sandpit and games for the family such as 'Corn Hole' and 'Noughts and Crosses' using baby pumpkins.
The Rougham Pumpkin Patch will be open on the weekends in October 2022 from 9am to 5pm, and also daily over half term, from Thursday 20th – 30th October.
Halloweenies at Kentwell Hall
Kentwell Hall, High Street, Long Melford, Sudbury CO10 9BA
Enter a magical Halloween world at Kentwell Hall where you can explore the spooky zones around Kentwell's Buildings, Gardens and Grounds for some Halloween fun, challenges and activities aimed at children from 3 to 14 years of age. You are welcome to arrive at any time from the start of your session, the last entry is at 2pm; if you arrive later than that, you may not have the time to see everything on offer.
From October 22 until October 30, 2022 – 10.30am – 4.00pm
The Canterville Ghost
The Theatre Royal, Bury St Edmunds, Suffolk, IP33 1QR
A performance of Oscar Wilde's spine-chilling ghost story at The Theatre Royal. Interspersed with their own sensational acts, a comedian, a magician, a psychic and a compere tell the story of Sir Simon de Canterville, who disappeared mysteriously 300 years ago – after being accused of murder. A gloriously ghoulish and uproarious vaudeville spectacular from award-winning theatre company Tall Stories.
Children's Halloween Party
All Saints Hotel, Fornham St. Genevieve, Bury St. Edmunds, Suffolk, IP28 6JQ
Join All Saint's Hotel for Bury St Edmunds Children's Halloween Party. There will be a costume contest, crafting area, buffet, biscuit decorating, dancing and spooktacular treats all hosted at The Lodge Cafe at All Saints Hotel.
Monday 31st October 5pm-7pm – £15 per child
Christmas in Bury St Edmunds
Christmas in Bury St Edmunds is the perfect place to head to for a short break with the kids…
Bury St Edmunds Christmas Market at St Edmundsbury Cathedral
November 24, 2022  until November 26, 2022
Get in the Christmas spirit and visit Bury St Edmunds Christmas Market which will be open from Thursday 24 November to Saturday 26 November. Doors will open between 10.00 am and 4.30 pm daily. Over 40 stallholders from Suffolk and beyond will showcase their products, including baked goods, jewellery and woodcrafts. You'll get the chance to browse stalls and there will be daily entertainment for visitors, including a very special guest for children and families on Saturday 26 November that will be announced soon!
Ickworth Night Lights 2022
The Ickworth Estate will be transformed by colour and light into a magical landscape. It really will be a spectacular sight around Ickworth's gardens as they are transformed by colour and light.  Enjoy a relaxed walk soaking in nature at night as you weave through canopies of trees, ever-greens and a gothic Victorian-esque stumpery. New to 2022 is an addition to the trail exploring a new part of the estate, giving a chance to showcase the Albana woodland. Wear weather appropriate clothing and sturdy footwear and also bring a torch.
The Legend of Robin Hood
Theatre Royal, Bury St Edmunds
The Legend of Robin Hood is this year's panto in Bury St Edmunds. Pity the people of Nottingham – their scheming Sheriff is raising his taxes. Most folks have had to quit the city and move out to Sherwood Forest. Robin of Loxley not only steals from the rich and gives to the poor, but he also looks fantastic in tights.
Christmas Craft and Gift Fair
The Athenaeum, Angel Hill, Bury St Edmunds, IP33 1LU
There will be a great assortment of local crafts and unique gifts especially for Christmas at The Athenaeum, Bury St Edmunds. Head down there on Sunday 20 November, 2022 for the Christmas Craft & Gift Fair. There will be a lovely selection of gifts on sale at this prestigious venue in the heart of Bury St Edmunds. Over 50 stalls to browse with something for everyone.
Festive Afternoon Tea at The Angel
The Angel's popular Festive Afternoon Tea will be served everyday throughout December and includes a glass of fizz per person to kick start the celebration. This Suffolk hotel is right in the centre of Bury St Edmunds town centre and everything is just a step away.
Bury St Edmunds Christmas Lights Event 2022
Town Centre
Enjoy some free family fun at the Bury St Edmunds Christmas Lights Event. This will take place on Thursday 17th November, 2022 between 3pm and 8pm when the town centre will be lit up for the first time.
Now's the Time to Book at Weekend in Bury St Edmunds
There is no better time to book a weekend away in Bury St Edmunds than now. Consider a spooky Halloween weekend, magical Christmas break or just some precious family time – whatever you decide I know you will love it!