Apparently, there is lots of fun to be had camping with kids. Personally, we haven't quite been brave enough to give it a go yet which is why I always call on some trusted friends to tell you about all the exciting places you should go! But anywhere close to the beach, and even campsites close to the beach, is that little bit extra special in my opinion, and the day we do 'brave it' to go camping, it will be on a campsite close to the beach.
I love evening walks on the beach with plenty of space for the children to run around in. Jumping over the waves was, and still is a favourite thing to do of mine. Just getting the sand between our toes and pretending we are anywhere in the world. Believe it or not, we really do have the nicest beaches in the UK, many are hidden and you just need to find them so don't forget to pack your beach bag!
Here is a collection of 9 Campsites that are situated close to the beach. You are just going to love them!
Campsites Near the Beach
Mother Ivey's Bay Campsite, Cornwall
From Ellie at The Wandering Quinn
Mother Ivey's Bay is a sheltered, soft sand beach with calm waves, perfect for children to swim in and take surfing lessons in. Located on the rocks above the beach, a mere 30-second walk away is Mother Ivey's Bay Holiday Park; a longstanding family-run and family-friendly campsite located close to the town of Padstow in Cornwall.
Mother Ivey's Bay Campsite covers 35 acres and has facilities for camping and caravans split over different areas with 150 pitches. The Meadows camping field is popular with campers and families particularly as it offers incredible views over the bay, has plenty of space for children to play in and a good-sized, fully functional play area.
There are plenty of things to do near Padstow and Mother Ivey's Bay. Very close by is Harlyn Bay, a much larger beach in comparison but equally good for surfing and beginner surfing for children. Padstow Town is great to visit to see a real Cornish Town, you can walk around the harbour and a trip to Rick Steins famous Fish and Chip shop is a must.
Other places to visit in Cornwall and nearby are Tingagel Castle to witness some history and Trevose Head for a sunset walk.
Sango Oasis, Scotland – Campsites on the Beach
From Jooella at Roving Jo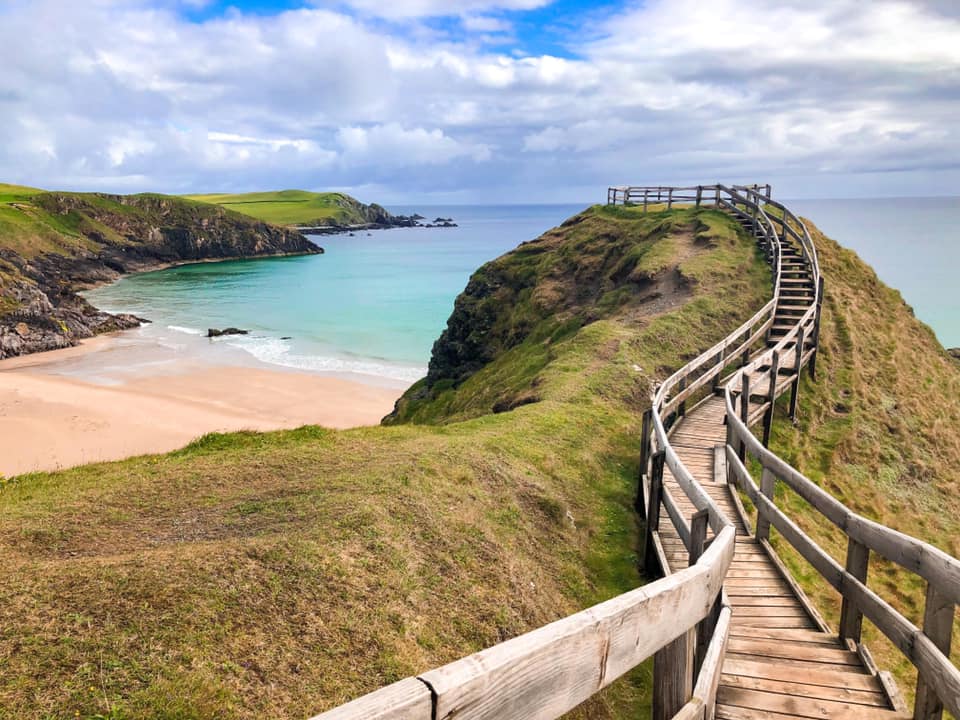 Sango Sands Oasis is located in Durness, a North West remote area of Scotland. It is a ten acre site overlooking Sango Bay. They offer fifty eight electric hook up points and ample paved and grassy spots for those not requiring electric.
Most importantly the camping facilities are strategically set above award winning beaches. This means that most spots have stunning views of the ocean. This camping sites' facilities include separate toilet and shower blocks, laundry and kitchen areas, and even a good value restaurant and bar that serves home cooked meals and Scottish whisky and beer.
The Sango Sands campsite is a North Coast 500 highlight. It is nestled amongst inspiring coastal scenery and is an ideal area for walkers and families on holiday, offering numerous marked paths. The Durness area has many amazing things to do. There is an incredible golf course with superb ocean views. A fun family friendly zip line as well as a free-fall jump. A cafe with the most indulgent hot cocoa. And it is also home to Smoo Cave which boasts a dramatic tidal gorge with a waterfall. And for wildlife aficionados you can watch for dolphins and seals from the site plus a variety of sea birds nest nearby.
Seal Shore Campsite, Isle of Arran
From Sonja at Migrating Miss
Located on the south coast of the Isle of Arran in Kildonan, the Seal Shore Campsite is a little slice of paradise located by the seaside.
The ferry to the Isle of Arran is just 50 minutes from mainland Scotland and then it's a short drive or bus ride to the campsite.
It's only a small site with 13 electric pitches and 13 non-electric, plus two pods to stay in, but there are lots of facilities available including a common room with a TV, shop, picnic and barbecue areas, bathroom blocks, and a laundry room. There's also the Kildonan Hotel with a bar and restaurant right next door and the beach! It's a great spot to take kids as there's plenty for them to do around the campsite itself and nearby.
Plus like the campsite owners say, the sea breeze keeps the midges away!
The Isle of Arran is often called 'Scotland in Miniature' because it has it's own lowlands and highlands, a whisky distillery and a brewery, plus lots of iconic sites like Machrie Standing Stones, Brodick Castle, plus castle ruins (including Kildonan Castle near the campsite). There's also lots of walks to do and wildlife spotting.
Brighton Experience Freedom Glamping and Camping
From Nathan at All About Glamping
Brighton is one of the most popular seaside destinations in England and there are plenty of hotels and B&B's to choose from. However, if you like the idea of camping near the beach there's one clear choice and that is Brighton Experience Freedom Glampsite and Campsite. Experience Freedom is just 2 miles from Brighton beach with frequent buses if you don't want to walk or drive and it's just a 15 minute walk to the marina. The site is in a lovely valley with grassy fields and views of the rolling hills of South Downs.
Camping and glamping facilities at Brighton Experience Freedom include grass tent pitches, camping pods, glamping pods, and even an Airstream caravan for hire. Amenities include bathrooms, dishwashing area, disabled facilities, laundry, and an on-site shop.
The grounds are perfect for families with kids as there is plenty of space to run around as well as a fabulous playground. Aside from enjoying the beach, this location is great for visiting Brighton city center and the Royal Pavilion, riding the beachside Volkes Railway, going to Sealife Center or exploring the South Downs and nature reserves by foot or bicycle.
Calgary Bay, Isle of Mull
From Kathi at Watch Me See
Few beaches in Scotland are as beautiful as Calgary Bay. With uninterrupted views of the open sea, white sandy dunes and plenty of marine wildlife to discover underwater, Calgary makes for a scenic and eventful place to stay for a few nights.
Located on the northwest coast of the Isle of Mull, Calgary beach is a serene island getaway that is probably best suited for families with older children. This is a wild camping site, so there are no facilities to keep the little ones busy.
The campsite is just steps from the soft sand, while the bustling hub of the island (Tobermory) is only half an hour drive away. That means shops, restaurants and attractions are never out of reach, while you and your family immerse yourselves fully in the sounds and views of the Scottish west coast. You could spend all day lounging on the beach, building sandcastles or snorkelling, or explore what else Mull has to offer (island hopping to Iona, Ulva and Staffa, gentle coastal hikes or spotting puffins in summer).
Note, that only tents and small campervans are permitted and you should familiarise yourself with the rules around wild camping in Scotland. There are public toilets across from the camping area, but no other facilities. Water can be taken from a small burn (if it's boiled before consumption), but since this can dry out, it's best to bring water with you.
Nodes Point Holiday Park, Isle of Wight
From Vicky at Days out in England
At Nodes Point Holiday Park on the Isle of Wight you can bring your own tent, or there are all kinds of accommodation opportunities from safari tents, to caravans, to lodges. The best thing about the park is that it's within easy walking distance to St Helen's Beach. Just a few minutes – depending on where you are on the holiday park. On St Helen's Beach you can rent paddleboards and kayaks from Tact-Isle Adventures, and go out exploring. Or, you can just sit and admire the view. There's a little bar there, serving food.
Nodes Point Holiday Park is a Parkdean Resort and has everything you could need. There's a swimming pool with slides, a play park, a pub and restaurant, arcades, a kids area and the opportunity to go pony trekking on the beach too. Every night there's some sort of children's entertainment to keep them busy.  The park is on the east of the island, not far from Ryde where the car ferry comes into. There are loads of fun things to do on the Isle of Wight for a day out within easy reach, nothing is more than 45 minutes away – brilliant!
Dunnet Bay Caravan and Motorhome Club Site
From Bursting My Bubbles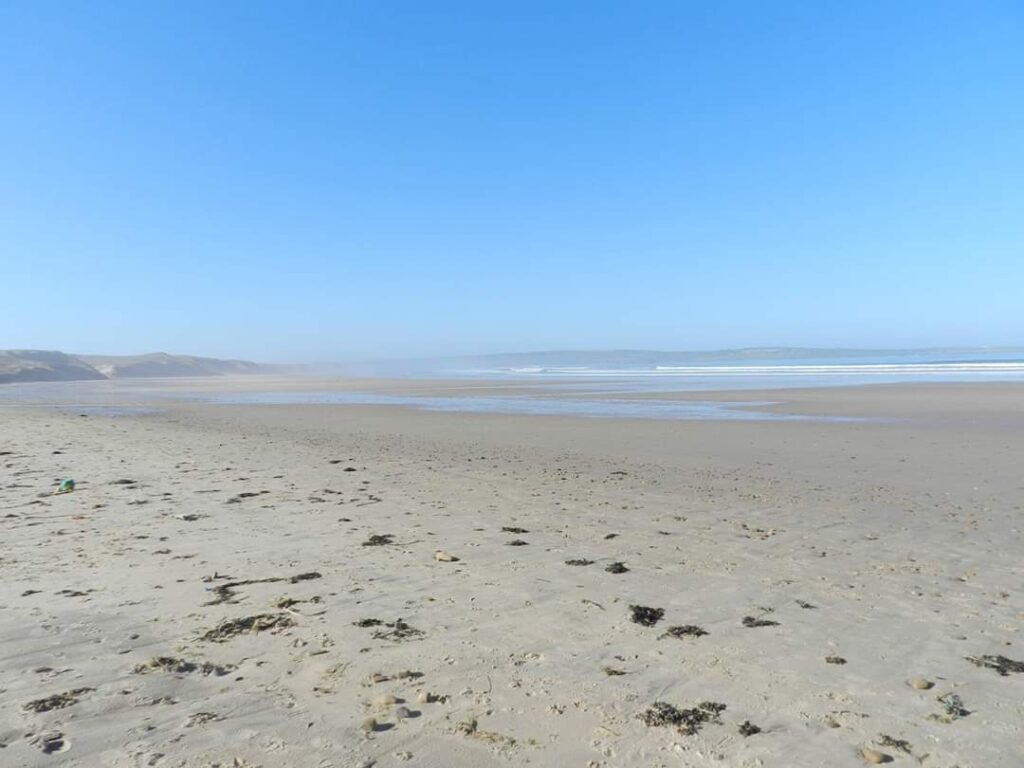 Now don't be put off by the name as I assure you it has tent pitches as well as touring pitches! This wonderful slice of heaven in Dunnet, Thurso, North East coast Scotland is absolutely beautiful. The site is situated on Dunnet Bay beach itself, meaning you couldn't get any closer to sea and sand if you tried.
This campsite is an outdoors and adventure family's ideal place, you can have a nice relaxing beach stay, go surfing, walking and take your bucket and spade to play with. Dogs are even welcome! There are plenty of things close by as well, you can go to the most northerly point at John O Groats, Thurso village is close by where you can get some incredible fish and chips. Or go on a local boat ride and depending on the time of year try spot some Orcas!!!!
It has some great facilities including: BBQs allowed: charcoal, gas, electric, Disabled facilities: facilities for wheelchair disabled, shower room, dishwashing area, dog walk from site, laundry facilities, toilet block, Wi-Fi.
I honestly cannot recommend this site enough, in a beautiful part of Scotland, undisturbed by huge cities and still reasonably priced.
Ocean Pitch Campsite, Croyde, Devon
From Manpreet at HelloManpreet.com
Ocean Pitch is located in Croyde, Devon in the South West of England surrounded by national parks and home to the famous Croyde Beach. Whether this is your first time camping, or you're a regular camper, you will be pleasantly surprised by the quality of their facilities. Free wifi for all guests, hot showers, very clean toilets and staff available 24 hours. If this really is your first time and you are not ready to jump straight into the complete camping experience, then you can book one of their 'glamping' pods!
Located just a few minutes from the campsite by foot, Croyde Beach is a very popular surfing spot in the UK. There is a surf school on the beach which provides lessons for anyone above the age of 8. Making this campsite trip very family friendly. Most campers will take a regular trip into Croyde village, which has a very family feel and offers a nice variety of eateries, cafes and shops. Alternatively, there are many walking routes which visitors take through the surrounding national parks.
All in all, this is a great little gem of a campsite in Devon, located in a stunning part of the UK with amazing facilities and great staff to make the trip memorable.
Long Beach Camping and Touring site, Hemsby, Norfolk
From Tracy at Pack the PJ's
Long Beach Camping and Touring site is perfectly located within Hemsby. It is less than a 5 minute walk to the amusement arcades and fast food outlets, and even closer to one of the nicest beaches we've ever set foot on. The campsite is within the boundary of a private estate, which also includes part of the Winterton Great Valley and over 40 acres of rolling sand dunes and a beautiful sandy beach. The Winterton Great Valley is a Site of Special Scientific Interest.
The campsite is actually three separate sites of differing sizes, owned by the same company. All pitches are grass with electric hook up. Each field has a well-maintained wash block and washing up area – there's always hot water (showers are free).
There is an on-site play area, grocery shop, and coin-operated laundrette. Also, on site is a pub/restaurant called The Dolphin that serves good food and drink. There's a pool table and a few grab machines, and most evenings there's some kind of live entertainment. The bar, and the beach, are dog friendly too.
The overriding attraction of Long Beach Campsite is the beach. It is huge and you can spend hours there flying kites, making sandcastles – even seal-spotting. To mix it up, the arcades are a lot of fun, and there's also karting and a dinosaur-themed crazy golf. Once you park your car and pitch up, everything is within walking distance. You won't need your car!
What I miss most about not being at Long Beach campsite is this … the walk from Hemsby, up the beach (with my dogs), to the Dunes Café in Winterton-on-Sea. There you sit in one of their painted 'sheds' and enjoy a cream-filled Norfolk shortbread cake. It's perfection!
MORE CAMPING AND GLAMPING IDEAS
If you have found this useful or are considering a family camping, or glamping trip, then why not read a few of these…
GO ON, PIN IT!