Just take a look at that picture, idillic right?! Well, have you ever thought of taking a different type of holiday abroad? Maybe stepping out of your comfort zone a little? We love staying in new places and taking on new experiences, so when we got invited to stay at Can Bora Lodges in Spain, we just did exactly that. We had a week in the bush, glamping in Spain. It was amazing! We still dipped our toes in the ocean and spent late afternoons swimming in the pool but we also allowed us to see what else Spain has to offer young families. 
Can Bora Lodges provided us with a complimentary stay in return for this review and coverage on my blog. As always, these words and opinions are all my own.
About Can Bora Lodges
Can Bora Lodges is a small luxury resort of 11 safari style glamping lodges, set in the Spanish countryside away from the hustle and bustle of everyday life, yet within easy reach of main roads which enables you to get out and explore. Located in the North of Spain, just south of the French border just 20 mins outside of a town called Girona.
What I loved about glamping in Spain at Can Bora Lodges was the quietness, slow pace of life, and that they actually had comfy beds. It really was somewhere to unwind and whilst there wasn't much relaxing being done with three young children in tow, there was no rush to do anything. The resort itself is fully fenced and there is a no car rule other than when packing or unpacking. They are tucked up in their own car park just across the road. This meant that children can have free rein and play safely which was great. 
As we sat on our veranda each evening, we loved listening to the sound of the owls hooting, deer rustling in the wood that surrounded us and the wild boar snuffling through the leaves foraging for food. Every night the girls would lay in their beds waiting to hear something and behind the closed doors, once the lights were out, you would occasionally hear one whisper 'Poppy, Poppy did you hear that, I think it's a boar' followed by 'yes, right outside!'.
Accommodation
Can Bora is best described as high end rustic living with just 9 luxury safari lodges on the site, each varying in size starting from 2 person lodges up to family lodges for 5 (plus babies). Whilst they are situated fairly close together, you do not feel overlooked and you are in your own space.
We stayed in a family lodge which had two bedrooms; one bedroom had a luxurious double bed with bedding to die for. It was just so comfortable, and I slept so well! In the second bedroom, there was a set of bunk beds and a single. I don't quiet trust the girls to be in the top bunk yet so they both took a lower bed each. There was one family bathroom which had the most wonderful shower, far better than most hotels in fact!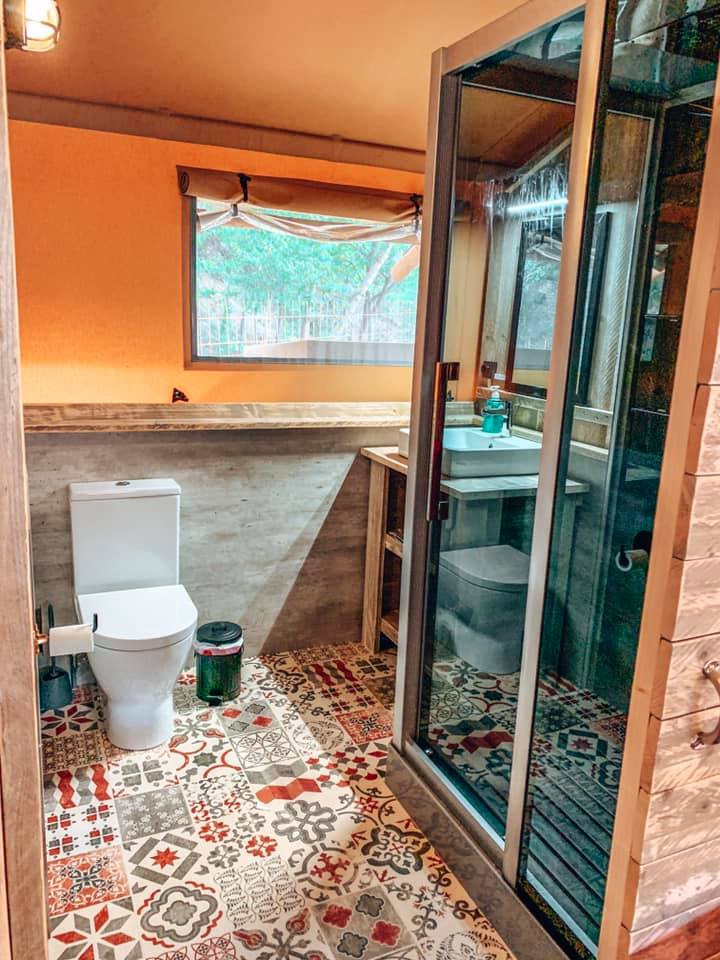 A large living area ran the length of the lodge with a sofa at one end, dining table at the other and a kitchen area in the middle kitted out with a gas hob and dishwasher – a dishwasher!!  Now there wasn't a bedroom as such for Matilda to sleep in, but with the lounge being so large, we popped the travel cot (which was provided) at the far end of the lodge which worked well. There would be plenty of space for multiple cots too here and it didn't get in the way. 
Each lodge was accessorised to a high standard and you could find everything you needed to cook meals. There were plenty of glasses, mugs, plates etc but one thing which was missing for us was a few plastic plates and bowls for the younger children. Highchairs are provided free of charge.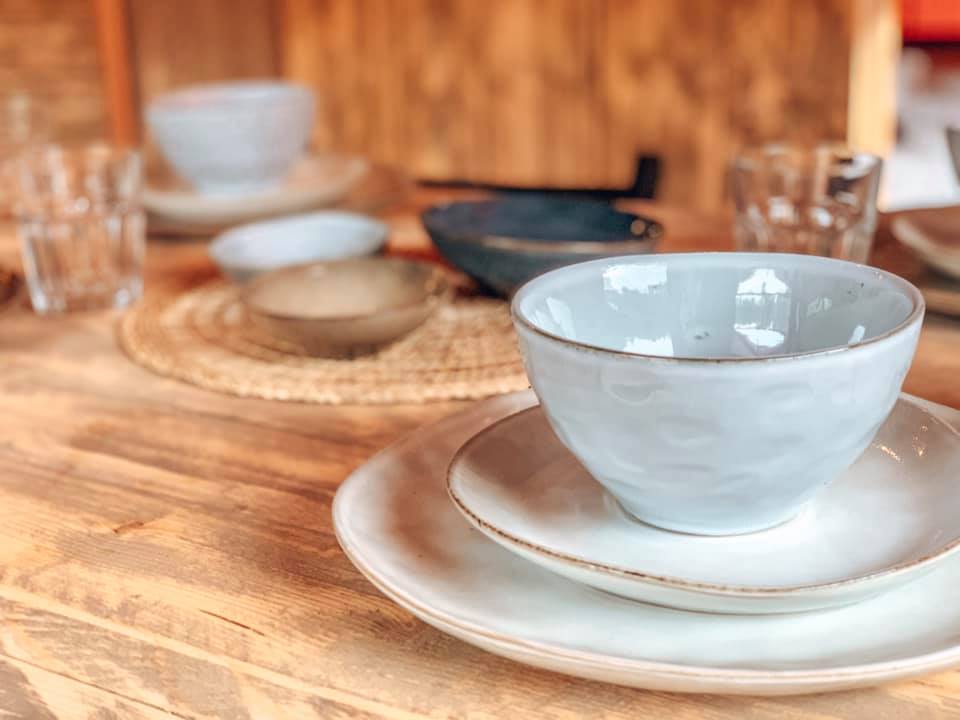 With a large veranda to the front of the lodge, there was plenty of space for everyone to play and feel comfortable in the lodge. There are two large gas BBQ's on site for anyone to use so if you do plan to cook that evening, so make sure you get in quick before anyone else has the same idea!
Facilities
We were pleasantly surprised by the luxury feel of Can Bora and besides the fully equipped lodge that we stayed in, there were also communal facilities to use too. A washroom which had a washing machine and tumble dryer in; was super useful to pop a quick wash on to rinse grubby clothes and we found this were definitely a bonus to have this facility.
There was a well decorated bar/dining area which would host a large number of people should a few lodges want to come together for dinner, or if you yourself fancied a change of scenery. The facilities in here included an honesty bar which was well stocked and fairly priced, coffee making facilities, several tables and chairs with views of both the lodges and swimming pool. On the day it rained, I brought the girls down here to have a play with their toys whilst Matilda napped back at the lodge, it was fabulous to have some extra space. 
Which now brings me onto the pool area. Next to the dining lodge was a stunning salt water swimming pool. It had gradual steps leading down into the pool and a ledge a third of the way round which meant Matilda could stand in the water too.
There were plenty of comfy sun beds and deck chairs surrounding the pool area should the children give you five minutes' peace to sit in one and no, you didn't have to rush down to in the early hours of the morning to reserve your spot! The pool area was a very tranquil area and we were often the only ones in there. The way it was situated meant it felt like you were nestled amongst the woods, the whole setting was stunning. The pool was not heated, so we did take the girls wetsuits which were gifted by Konfidence and we were grateful for – we are not hard core like the other guests who didn't seem to bat an eyelid. I think it may have just been us!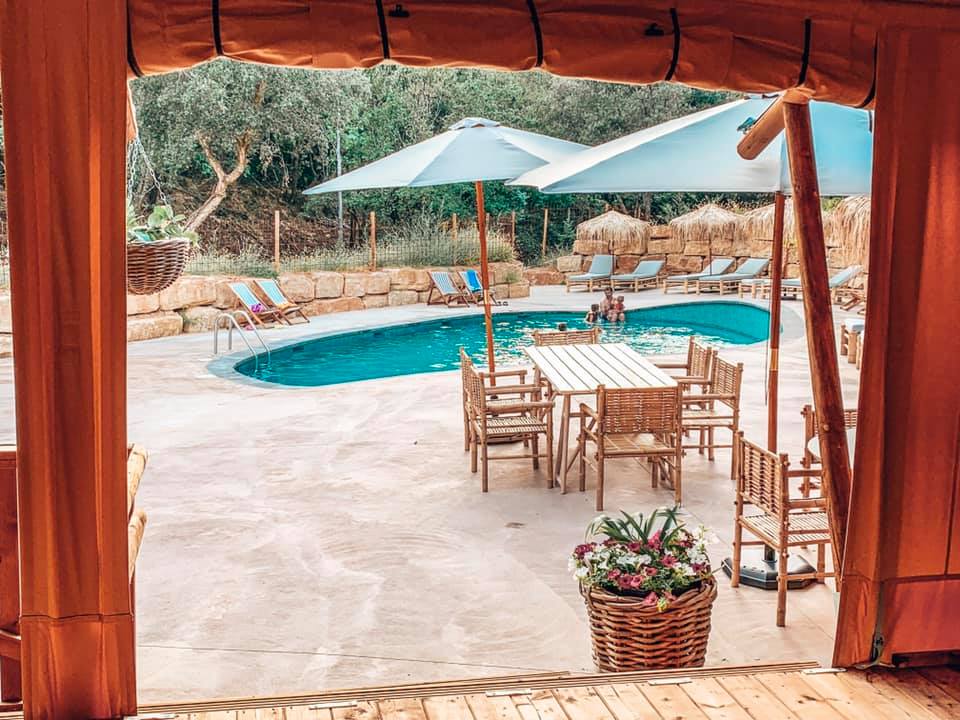 Getting to Can Bora Lodges
The easiest way to get to Can Bora from the UK is by flying into Girona airport which is 20 mins away. We didn't do this as we were heading into France afterwards so we flew into Toulouse. Barcelona is only an hour and a half away too if you were looking for an alternative option. You could also combine it with a visit to Barcelona and see Gaudi's Barcelona for kids. 
I would highly recommend a car when staying at Can Bora. Whilst there are plenty of places to go for walks or a cycle from the site, there is nothing within walking distance or any public transport nearby but we loved getting out exploring every day. Car hire for two weeks cost us £370 through Alamo. We had a top spec Ford Galaxy and couldn't fault them.
Any questions?
What should you wear at night?
I have been asked a lot about what to wear at night. I asked the same thing. You have to remember you are glamping in Spain and even though we went at the end of the summer, the daytime temperatures were early 30's, but the nighttime dipped to 11/12 degrees. The lodges have lovely duvets that keep you warn at night but the twins went to bed in just shorts as it was still hot and I popped their top on as I went to bed and they didn't get cold until the morning when they put their hoodies on. The baby went to sleep in a long sleeved vest and again just before I went to bed, I popped her baby grow and thick sleeping bag on. About 3am the temperature really drops so Matilda in her cot had about 3 blankets by this point! She didn't complain. She was snug!
Do I need to pack mosquitos spray? 
Whilst the site wasn't full of midges by any means, but I would take some mosquito spray just in case. I could hear a few buzzing around and got bitten a couple of times. 
Would I recommend Can Bora as a family holiday destination?
Based on our experience, yes! If you are looking for somewhere off the beaten track to immerse yourself in the slower pace of life glamping in Spain and are happy to travel out to attractions and beaches which will keep the children happy, then this is your place to go. What Can Bora doesn't have is boxes of toys, ride ons and play equipment, and whilst I usually look for holidays that include all of this, we actually didn't miss it.   The standard of living at Can Bora is 5*. 
How much does it cost to stay at Can Bora Lodges?
Prices vary depending on the lodge you need and the time of year so do take a peak on their website or contact them directly on info@canbora.nl
Things to do near Can Bora Lodges
There are so many different places to visit in Spain from beaches, towns, historical places of interest and whilst there is not much to do right on your doorstep unless you are into walking or cycling, but there is plenty to see just a short drive away – you are glamping in Spain after all.  I made sure I  packed some snacks for the journey, Matilda was able to have her naps in the car,  and we always threw the beach bag in (just in case). Then we were off out exploring! 
Girona Town
Girona is a city in Catalonia, Spain, and about 20 mins away from Can Bora.It's a gorgeous city to visit, with medieval walls and narrow winding city streets. The girls thought walking the wall was great fun and there were some gorgeous viewpoints across the city. 
There are three access points to walk the wall; one at the gardens behind the Cathedral of Girona, another by the Spanish Civil War Memorial, and the last one by the Monestir de Sant Pere de Galligants. We really struggled to find it initially. Whilst a baby in a back pack would probably be easier due to steps and uneven ground, we managed with the buggy!
Pals – Medieval Village
Pals is known as one of the most charming villages you can visit in Costa Brava and is an hour from Can Bora Lodges. I absolutely loved it and we can all highly recommend going. Perched on a hilltop, it was built around a fortress and has kept its medieval look so well that a visit to Pals is like travelling back in time. 
Along the streets you will find shops, bars and restaurants that you can enjoy and dip in and out of and a delicious ice cream parlour in the main square. The streets are mainly cobbled but as always we managed fine with our buggy.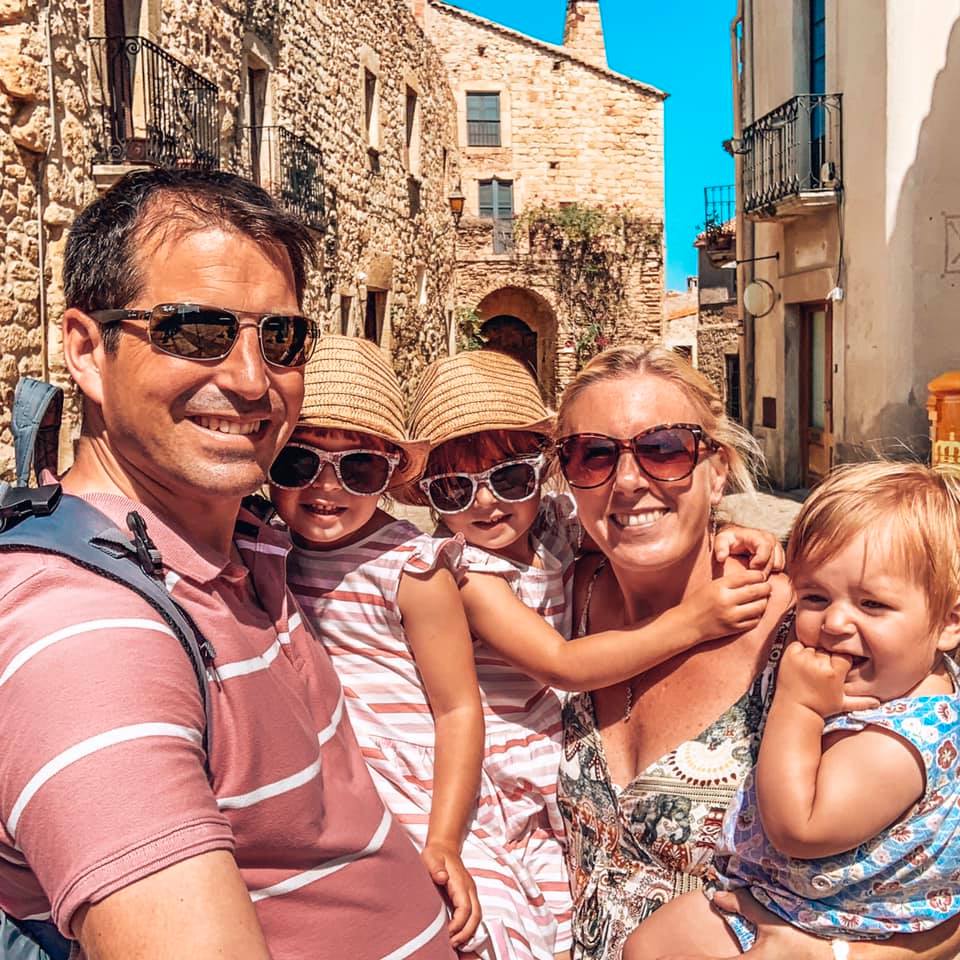 Banyoles Lake
Banyoles Lake is Catalonia's largest natural lake, and is the capital of the county, Pla de l'Estany. It is 45 mins from Can Bora and we spent a few leisurely hours here walking round the lake, and having lunch. We ate at Banys Vells Banyoles. The menu was fairly standard but the girls are always happy with 'standard' food and seemed like a popular option for the locals. What it did have was an entry point to the lake so you can go in and have a swim if you wished. It was shallow enough for children and fenced off so they couldn't wander far. Again, I would recommend wet suits for us Brits! 
Banyoles lake also offers boat hire by the hour so you can have a go at some rowing if your children aren't too young.
Beaches to visit
Platges d'empuries
We went here for the day and whilst it was busy, there were sun beds still about. The beach was lovely and sea shallow to paddle in. Easy parking right at the front and a few cafes for ice creams and drinks. You could also take a walk up to the Roman ruins if you are looking for a little culture although we didn't on this occasion.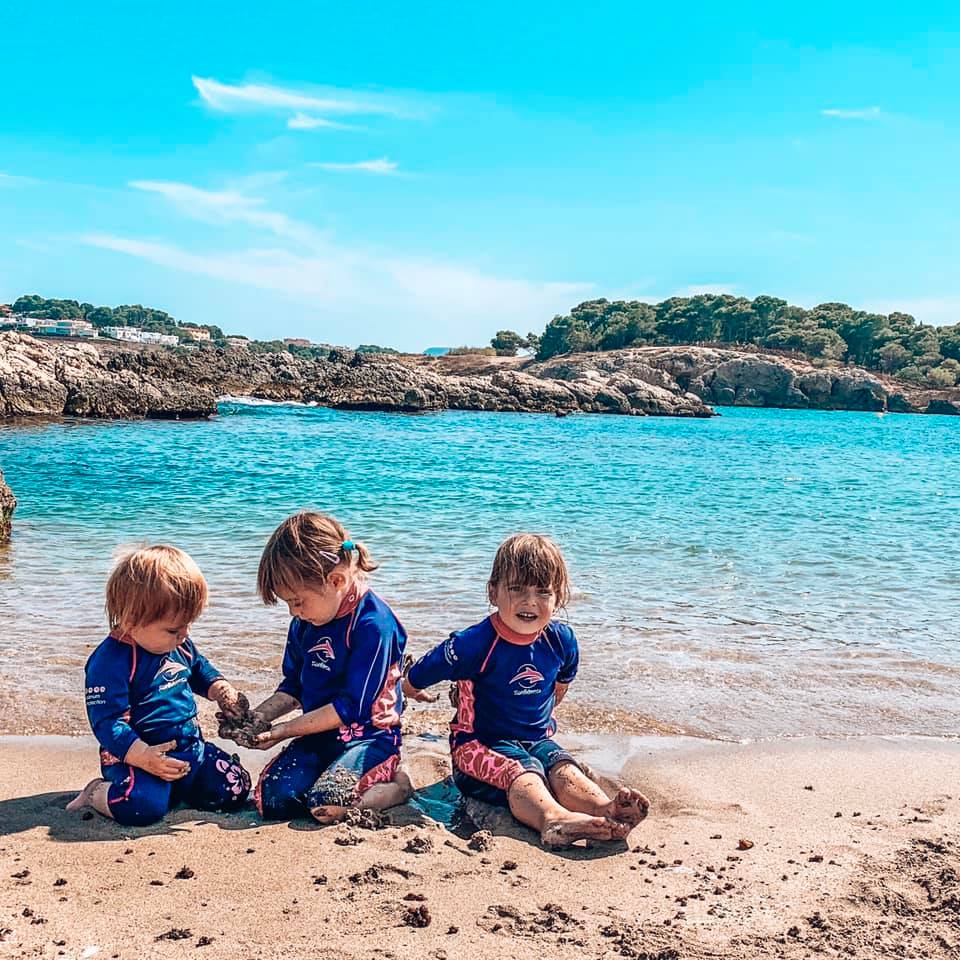 Cadaques
Around the Cadaques area you will find lots of smaller coves to explore and it is a lovely drive through a natural habitat.
Other Beaches
If you are beach lovers then there are plenty of larger beaches to explore and spend the day such as at Roses, Palamos, Blaines and Calella all of which are within easy driving distance.

Check out some other holiday ideas
If you are interested in other holidays within Europe, we have also visited Cotswolds and France this year, plus a number of different counties which I can highly recommend in the UK such as the Cotswolds, the Peak District and the New Forest.
GO ON, PIN IT!