With the sun beaming down on us, we drove through the winding country roads of France. How did I never know this country was so beautiful – it truly is, I was blown away. I can see why so many people collect their holiday days together and create a three-week France itinerary. From that moment, I already knew I was going to love this child friendly holiday in France and that was before we had even arrived at Pagel!
Pagel provided us with a complimentary stay in return for this review and coverage on my blog. As always, these words and opinions are all my own.
About Pagel
The further we drove into the countryside, the more excited I became as I knew our destination in the Lot department was getting closer. As we pulled in to Pagel and were met by the lovely Fiona who manages Pagel and she gave us the warmest welcome before showing us to our gite.
The minute the door opened we could instantly see how child friendly this holiday in France was going to be – there were toys everywhere! Fiona took her time showing us around and to see the girls faces light up when they found their bedroom was a picture. On each bed (including Matilda's) was a box of age appropriate toys and a puppet for them to keep as a welcome gift. What a treat – they immediately felt at home! I usually pack a bag of toys for the girls when we are on holiday – there really is no need if staying here, it is all about the kids!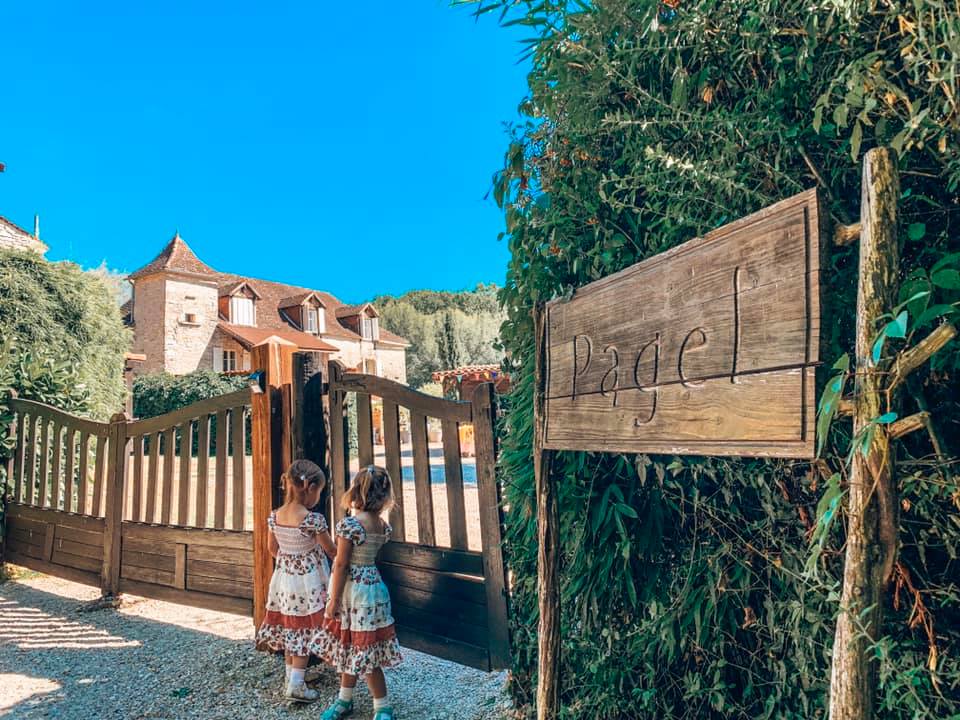 Accommodation
Pagel is a child friendly holiday in France with a complex of 6 gites, 1 lodge in the woods and 2 safari Lodges. They all seemed to be a good size and had plenty of space. Each gite slept between  4 – 6 people including babies.
We stayed in Upper Sunset which was a first floor gite and whilst at first I was a little apprehensive about it being upstairs, there were stairgate's. And it actually did get the best sunset in the evenings which meant that drinks were round ours most evenings – Upper Sunset, mummy socials even on holiday!!
Upper Sunset was a three bedroom gite which had a double bedroom, a twin bedroom and a single bedroom with enough room for a cot. The bedrooms were all off an open plan living/dining and kitchen area.
In the main living area there was a double sofa and two singles with a coffee table and opposite the kitchen was a dining table which comfortably seated 6 people. There was even a play kitchen in here for the children. The kitchen was well equipped for cooking meals and had a gas cooker, dishwasher, a microwave and a full size fridge/freezer. It catered for children incredibly well and included plastic plates, bowls, knives, folks, spoons etc
In the family bathroom there was a bath, overhead shower and steps for the girls to reach the sink. If we had been potty training, we could have requested potties too.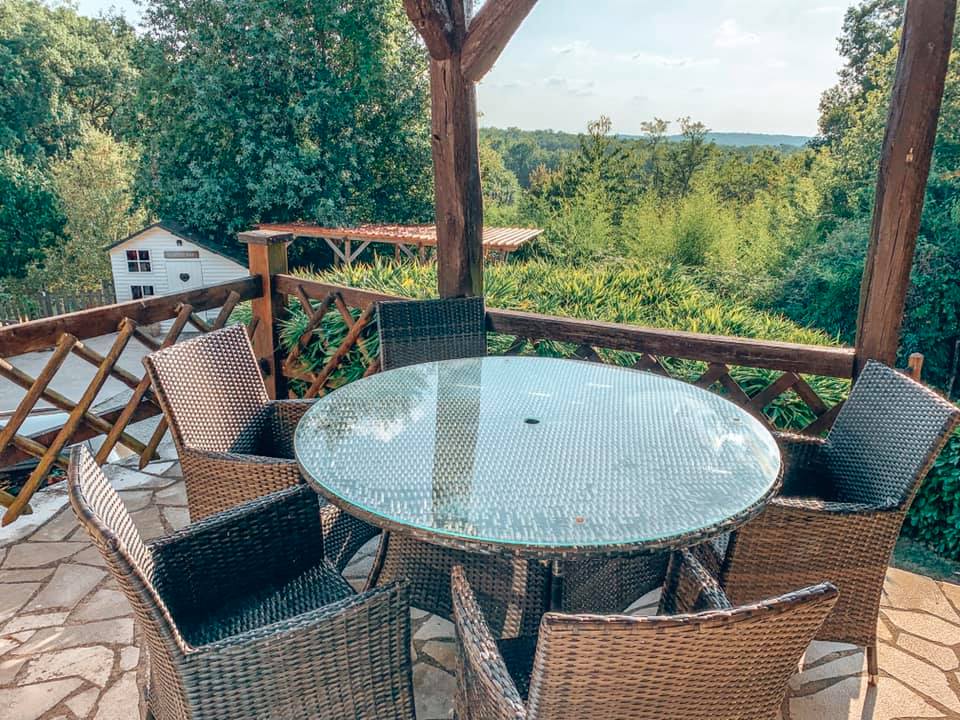 Outside on our balcony was a large table and chairs and this is where we had most of our meals – we kept the baby mess outside!
Facilities
for the children
In the past, I have literally packed a whole case full of the children's and babies 'stuff' (see my packing list!). From monitors to sleeping bags, sterilisers, travel potties you name it, I've squeezed it in. However, as we were on a child friendly holiday in France, the team at Pagel understand how hard it is to travel with kids and have done everything under the sun to make things easy for you by providing this on request – just let them know what you need.
On their website, there is a list of all the baby and toddler equipment that Pagel are able to provide. We were in Spain glamping for the first week of our holiday and our buggy broke. When we arrived at Pagel, there were 6 buggy's for us to choose from in the utility room as well as baby carriers – totally amazing. And if they don't have it, you just have to ask.
It is also important to mention that if you eat out in France, not all restaurants provide highchairs, so Pagel lent us a travel seat to keep in the car just in case. There is honestly no need to take anything – although it is advisable to pack some clothes!!
Play equipment
There was just so much play equipment to choose from on this child friendly holiday in France! With 5 acres of land around the properties, children will have hours of fun outside exploring the grounds. Everywhere at Pagel is free to roam, safe and nowhere is really off limits so wherever they want to run, they can and it is all fenced. Even the swimming pool has a security gate and fence around it.
As well as all the free space, there is also plenty to keep the little ones active so they sleep well at night. With 3 fields of play equipment there was so much to play on. From toddler slides and a sandpit to an enormous pirate ship, climbing frames and a fort for the older children, there is plenty for everyone to enjoy something! As well as this, there are also 2 large trampolines and football goals.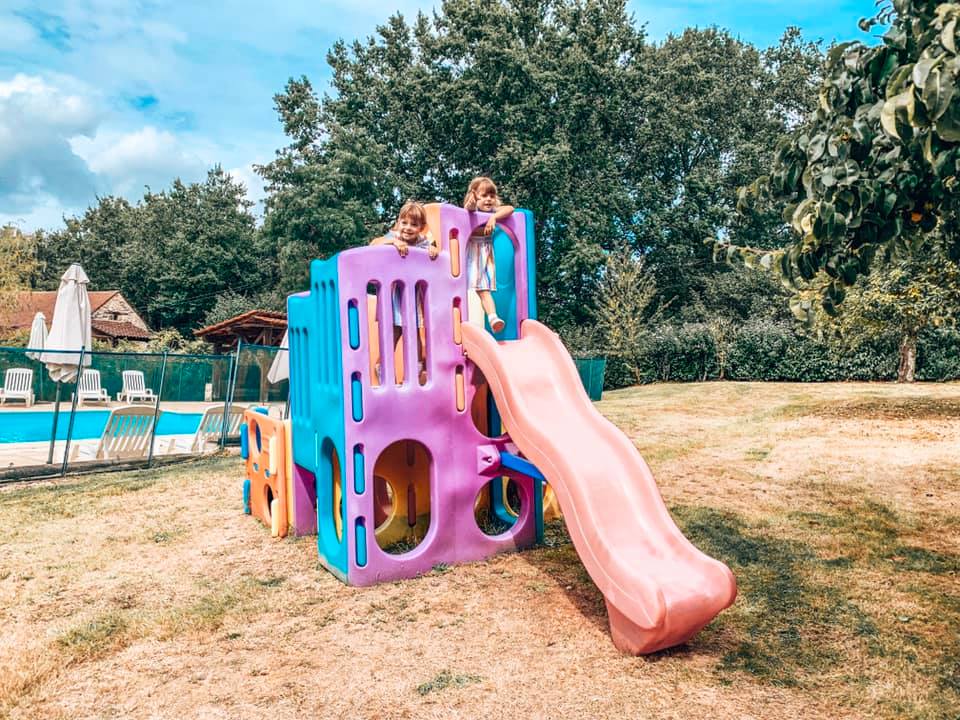 The swimming pool
The heated swimming pool was a big hit with everyone too and we used this daily. Whilst many families do, we didn't spend a full day at Pagel and always went out exploring. However, upon our return, the first place we headed for was the pool and the girls always found a little friend in there to play with. As well as the main swimming pool, there was also a toddler pool for little people. The pool was equipped with a few baby swimming rings and pool toys in the chest at the edge of the pool for everyone to use. We did take our Konfidence life jackets so we knew they were always safe in the pool.
You would also often find a mummy or daddy chilling on one of the many sun beds reading a book (I know, what a novelty!) whilst little people were napping or at the Kids Club. The complex was very safe, the gates were shut and the monitors reached!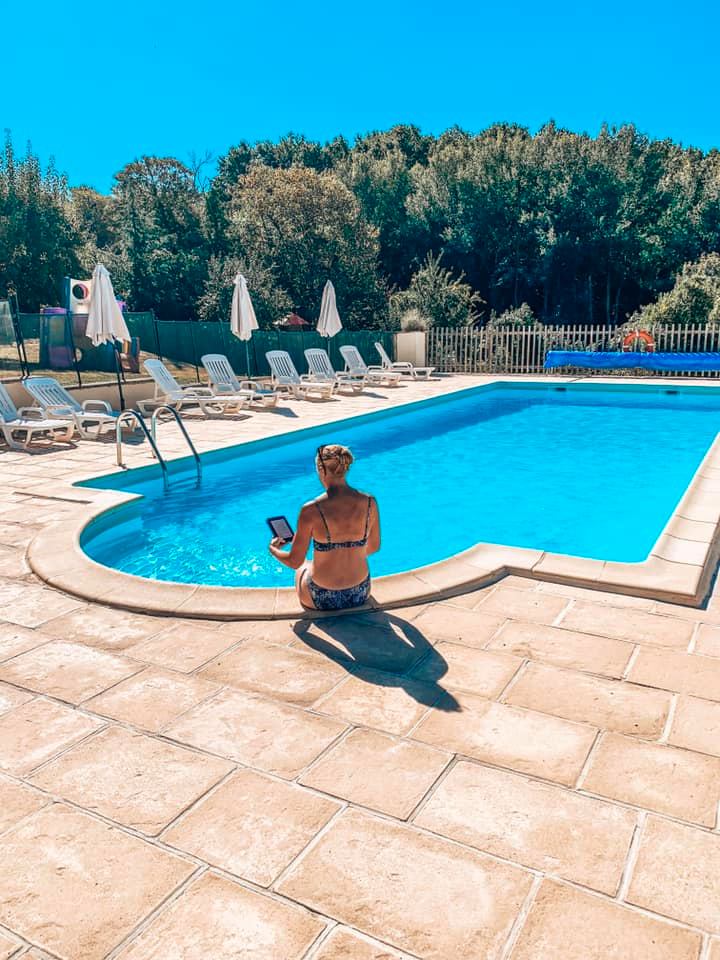 The Play Barn
Whether it was 9 am or 5.30 in the evening, you would always find other small people in the play barn. In my opinion the play barn was aimed at pre-school children with a soft play corner for babies, and role play toys for the older children. There were also heaps of ride on cars for all to enjoy. This was a real social hub for us. Each day we enjoyed many cups of tea and glasses of wine with the other parents on the complex which we now call friends.
Kids Club
Pagel offer 3 Kids Club sessions a week for children over threeon a Monday, Wednesday and Friday. Each session lasts 2 hours long and it costs just euro 12.50 a session.  This really makes Pagel a top child friendly holiday in France. At Pagel, Cathy runs the panda club. Cathy has a teaching degree and before moving to France she was a qualified teacher for many years. Ironically, she and I taught at the same school at different times – what are the chances of that!
From the moment I met her, I knew the girls would have a lovely time, she had so much enthusiasm and was full of creative ideas and activities, plus she was wonderful with the children and the girls adored her. We had planned on sending the girls to Kids Club for just one morning to give ourselves the rest of the week to explore France, but after that first morning they were asking to go again and begged to attend the other two.
The girls had great fun dressing up as pirates, wild animals, making water bombs, going on bug hunts, creating pirate maps from tea bags, painting stones; they even had to walk the plank – but most importantly, they made little friends. Luckily for us, the timing of the club coincided with Matilda's nap time, so for the first time in 4 years I sat round the pool and read my book, child free.
for the Parents
Welcome meeting
There are so many extra treats you can join in with (at an additional cost) and on the Sunday evening, a welcome meeting is held for you to find out about the different options available. The welcome meeting is run by Sarah who is on site every morning to sort out any issues or help you in any way. The meeting brings everyone together to say hi and to go through any questions you may have about the complex or days out.  Sarah also talks about the 'added extras' available at Pagel such as the welcome BBQ, chef for the night service, massage and pedicures, kids club and baby sitters.
The welcome BBQ
It's not only children that often enjoy being sociable, adults do too and I for one love meeting people. Everyone at Pagel has kids so it is inevitable that you will get to know your neighbours – they have a habit of bringing us together. A great time to do this is at the welcome BBQ which is provided by Fiona and one that I really recommend going to, we had lots of fun and it really was great meeting everyone!  The welcome BBQ has an additional charge of euro 30 for adults and euro 10 for children.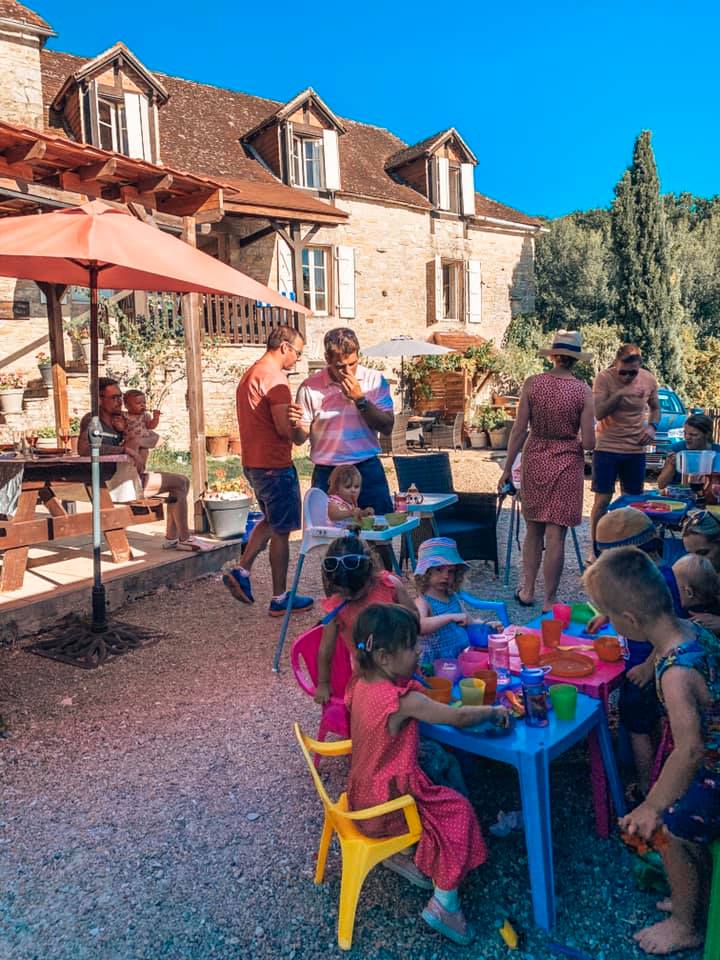 The adults menu was great value, well cooked and tasted good, with some veg sticks and hummus to start, followed by a large selection of meat with salad and rice (vegetarian options available) plus free flowing wine! All followed by a lovely cheese course.
I thought the kid's meal was a little expensive and the menu was slightly limited, sausages and pasta with a few veg sticks (especially as mine don't eat pasta!). I did however find out later that Fiona is willing to try and accommodate fussy eaters like mine the best she can so it is worth mentioning it to her or Sarah at the welcome meeting and maybe asking what the menu is.
Chef for the night
Having a chef cook dinner for us was such a treat. I'm not sure any parent would say no to this so we jumped at the chance to have a delicious meal delivered to our gite. We actually joined another couple which made it really sociable. We were cooked the most delicious 3 course meal consisting of double cheese soufflé with apple and rocket salad, chicken fricassee with dauphinoise potatoes and green beans, then sponge cake and custard followed by cheese and biscuits.  This was euro 35 per person and well worth the money in our opinion.
The tart
For euro 20 you can order the most delicious home made provincial or onion tart for your first night arrival  – do it! The perfect meal for your first night and it is ready and waiting for you when you arrive – all you have to do it heat it up!
The honesty bar
Let's get our priorities right here, even a child friendly holiday in France needs an honesty bar! There is always wine, prosecco and beers available in the honesty bar and in my opinion very affordable. The wine was 6 euros and bubbles 10 euros. There was also a small selection of freezer food available and ice lollies on demand. There wasn't a huge selection of food, so I wouldn't rely on it but good in an emergency. There were a few simple things like pizza, chicken nuggets, home-made risotto, pasta and sauce. If you arrived late, you would easily survive.
The honesty bar was really handy when we all got together  and we could nip in, gab a bottle or some crisps and pop it on the tab!
Washing facilities
There are free communal washing facilities on site should you need to give any clothes a rinse which generally we do!
Things to do near Pagel
Despite being surrounded by the French countryside, there is still so much to do just a short distance away for families and we only just touched on it – I think we need to go back! Below you can read a little about the places we visited and you can find out about others on the Pagel website.
Castelnaud is a 45 min drive from Pagel. This was my favourite place we visited during our week. Castelnaud is built on a rocky outcrop which overlooks the beautiful Dordogne Valley. The panoramic views from the top are stunning. The castle is also home to the Medieval Warfare collection which includes more than 250 weapons and armour on show. The twins were fascinated by everything, especially the canons outside.
There is a paid car park at the bottom of the castle with plenty of space and as you walk up the steep hill towards Castelnaud, you will pass several shops, bars and restaurants which you can pop into. We took the buggy without a problem but others said they struggled a little.
Le Lac Vert, Catus
Le Lac Vert is just a 20 minute drive away from Pagel and makes a perfect family day out. It is a great place to bring children as there is plenty to keep them active all day. It has a small sandy beach with sloping waters into the lake which makes it ideal for children to play in. There is also plenty of grassed areas to sit, with a good sized playground too.
There is a café which is open in peak season and sells a variety of food and drink which are very reasonably priced.You can also walk with a pushchair all the way around the lake. There are pedalos for hire which are cheap and fun!
Cahors
Dating back to Roman times Cahors is only 30 minutes away. It was quite different from the other places we visited. Rather busy but it is the Capital of the Lot department and much more like a town. The river which runs alongside Cahors is stunning and there is a bridge which you can walk across to a small cafe on the other side. As we walked along the river the girls were fascinated by the vines growing by the edge.
We didn't have time to do too much whilst we were here but there is a little train next to the Pont Valentre which departs between 10am to 12 and then 2pm to 7pm which last about 40 minutes and takes you on a little tour of the town. In the main centre you will find a traditional Carousel next to the fountain on the main Gambetta and plenty of cafes to have lunch or a coffee in.
Rocamadour
Rocamadour is a 45 min drive from Pagel. It is a stunning, famous medieval village hanging off a cliff. If you are close, you must at least take a drive past, pull over and get a photo. I would say it is more picturesque from the road than the village its self but defiantly worth going for a few hours. Some of the restaurants have stunning views so pick carefully and you can also go up to the top of the cliff to see the church. You can either take the walk up the steps to reach it, of there is a lift which you have to pay for.
You park at the bottom and take the little train up – we just about squeezed the buggy in. But if you have the time, there are a few shops to have a nose in and some of the restaurants have a stunning view.
Rocamadour is perfect to tie in with a visit to the Monkey Park. Here you can walk through the park and feed the monkeys popcorn by hand. There are park attendants everywhere and it is quite safe and great fun. It is open every day but does close from 12 to 2.00 for lunch and you have a fantastic view of Rocamadour itself from there.
Getting to Pagel
Getting to Pagel is easy. You have two options; fly or drive but either way you need a car to get out and about. We hired through Alamo and it cost us £370 for two weeks – it is worth shopping around and checking prices daily as they change!
Flying
We flew into Toulouse but there are plenty of options. I think I would say go for the cheapest option or the best flight times for you – remember surviving the flight with children or a baby is short lived – you can do it!
The nearest airports are;
Brive 1 hour
Toulouse 1.5 hours
Bergerac 1.5 hours
Carcassone – 2 hours
Bordeaux – 3 hours
Limoges – 2 hours
Rodez – 2 hours
By Car
If you are travelling by plane or car, you can find clear directions on the Pagel website.
Would I recommend Pagel as a family holiday destination?
YES, YES, YES! Pagel has been voted our best family holiday of 2019 and here's why….
I honestly don't know what is going to beat this child friendly holiday in France. It gives you everything you need and more when you holiday with small children and you can do as little or as much as you like from Pagel. There is enough to keep the children entertained on the complex if you want to spend the day at Pagel, and plenty of attractions nearby if you want to explore the region for a day or two.

How to book?
If I have temped you into booking a holiday at Pagel, all you have to do is visit their website and click the 'enquire now' button. Honestly, you need to do this today, you won't regret it!
Thank you to Pagel once again for hosting us!
If you are interested in other holidays within Europe, we have also visited Holland, Spain and France this year, plus a number of different counties which I can highly recommend in the UK such as;
A family hotel in the Cotswolds
A cottage with a playroom in the New Forest
A small resort in the Peak District
A cottage complex with a pool in the Cotswolds