So there I was, actually lying on a sunbed with a book in one hand and a glass of prosecco in the other. For the first time in almost 5 years I was 'chilling out'. Something us mothers never get to do, even on holiday. Unless that is, you stay in a baby friendly hotel like the amazing Princesa Yaiza in Lanzarote which has been voted the Best Family Resort in Spain and WOW, I can totally see why – this amazing hotel does everything possible to ensure your stay is 5 star and more – we have just come back from the most fun, yet relaxing week ever! We went in January which is a great time to visit with children as the temperatures are fab but not too hot for them to not be able to enjoy themselves. Lanzarote in February is also a great time to visit.
***We were gifted a week's holiday at the hotel on half board basis in exchange for social media work and this review. All thoughts and opinions are our own. Flights and car hire were paid for by ourselves.
About Princesa Yazia – Baby and Child Friendly Hotel
The Princesa Yaiza is an elegant 5 star beach front, child and baby friendly hotel in Playa Blanca, Lanzarote. It really is the ideal setting for a holiday of relaxation and with 6 swimming pools, 2 Jacuzzis including one for the children, a spa, its very own baby crèche and a kids club and soft play, there is something to keep every member of the family happy. It creates the perfect mix of adult relaxation time, with family fun. It is the best baby and child friendly hotel we have had the pleasure of staying in to date – IT IS AMAZING!
Location
The Princesa Yaiza Hotel, is perfectly located in the South-East coast of the Island in Playa Blanca. It is just a 30-minute drive from Lanzarote airport, meaning you can be on that sun lounger, shortly after landing with minimal fuss!
The hotel itself is perfectly located in our opinion. So much around yet not busy or crowded. Walk out the hotel gates beach side and the sand will be between your toes in seconds.  Turn right and you will have a glass of prosecco in your hand at one of the beach front bars. Within a 2-minute walk, you will not only come across the beach but 4 very pleasant bar restaurants looking out to sea all selling a good selection of pub style food and shellfish, with a small shop with everyday essentials.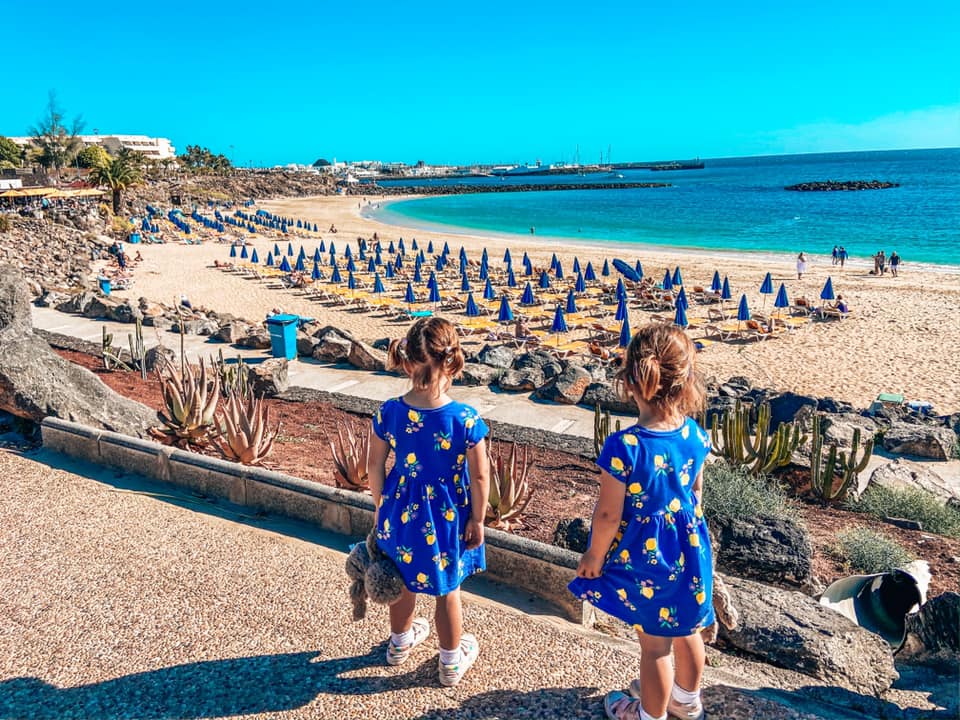 Walk on a further 500 yards, (a 5 minute walk) and you will come across a small bay with several shops and restaurants to mooch around too – great during the day time or in the evening.
To the left of this baby and child friendly hotel, take a 10 minute stroll and you will find yourself at the marina where a small selection of delightful restaurants overlooks the yachts, but, just a warning that with only a chain fence to protect you from falling in the water, it might not be the safest place for that active little toddler – we kept Matilda in the buggy/highchair on this occasion! Everywhere is very child friendly and everywhere we came across had highchairs on offer.
Leaving the hotel out of the front entrance you will find a small supermarket directly opposite and just a 10-minute walk away, the small town of Playa Blanca.
Accommodation
The room choice is vast at the Princesa Yaiza and there's something for everyone with 12 different room options to choose from. But when it comes to staying with the family, they have a whole hotel block specifically to meet the needs of holidaying with children, with a separate restaurant, snack bar and large swimming pool with toddler area. However, due to us visiting in low season, this restaurant wasn't open and we ate in the main hotel (which you can also do in high season if you wish).
The family block and main hotel are connected by the most fabulous underground walkway with several tropical fish tanks for the children to look at. The girls just loved these. It is advisable though, that if you are travelling with young children, to take a buggy as the walk between the two buildings is 5 mins and whilst is isn't far, after an evening partying, you will welcome pushing them rather than carrying tired little people home! However, if you are staying in the Royal Kiko Suite, your room will come with a buggy – how perfect is that – it's what makes this such a baby friendly hotel!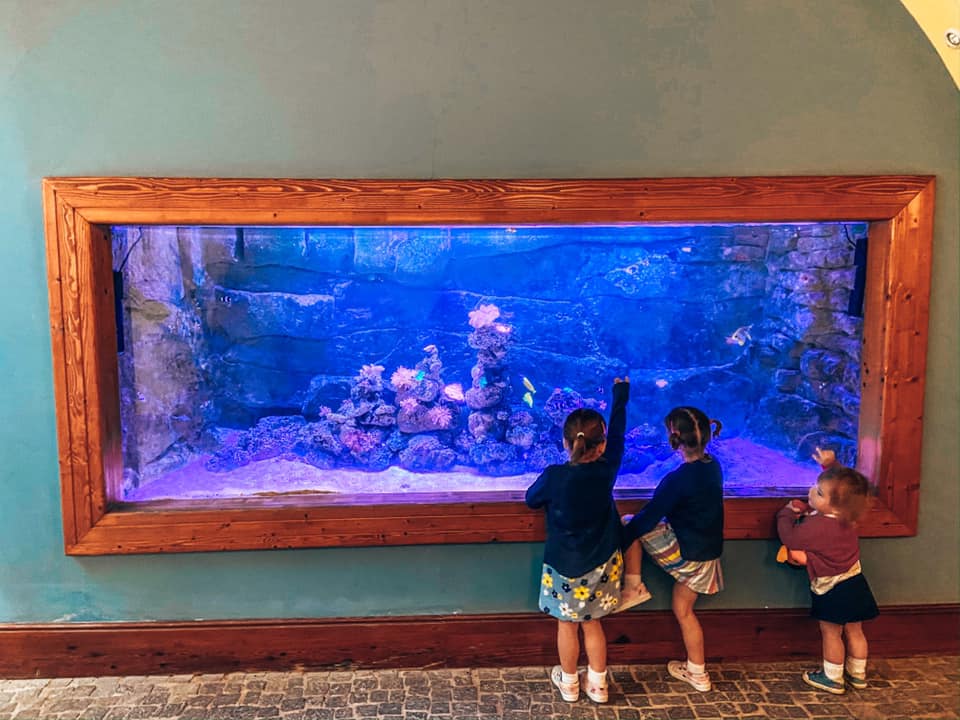 The Rooms at the Princesa Yaiza
There are two main family rooms to choose from at the Princesa Yaiza; the Family Suite and the Royal Kiko Suite.  Both are extremely comfortable and well presented with daily maid service. We stayed in the Royal Kiko Suite and couldn't fault it at all. Both have two bedrooms, two bathrooms (one with a shower and one with a bath), a living area, small kitchenette and balcony.
The main difference is that the Kiko Suite can have 3 beds in the children's room and the baby and children's package. These are the additional features;
Baby Kit:
Easel bathtub with nappy changer, bathtub seat, monitor, bottle steriliser, bottle warmer, baby Cook, single buggy, and highchair.
Children Kit 3 – 12 years:
Bath seat, ozone humidifier, play Station/ DVD Player, game Set + children's and teenager's movies, KIKO toilet kit, night lights, welcome gifts.
This baby friendly hotel is so amazing to have all of the accessories at hand to help parents who want to holiday with ease – they take the stress away instantly!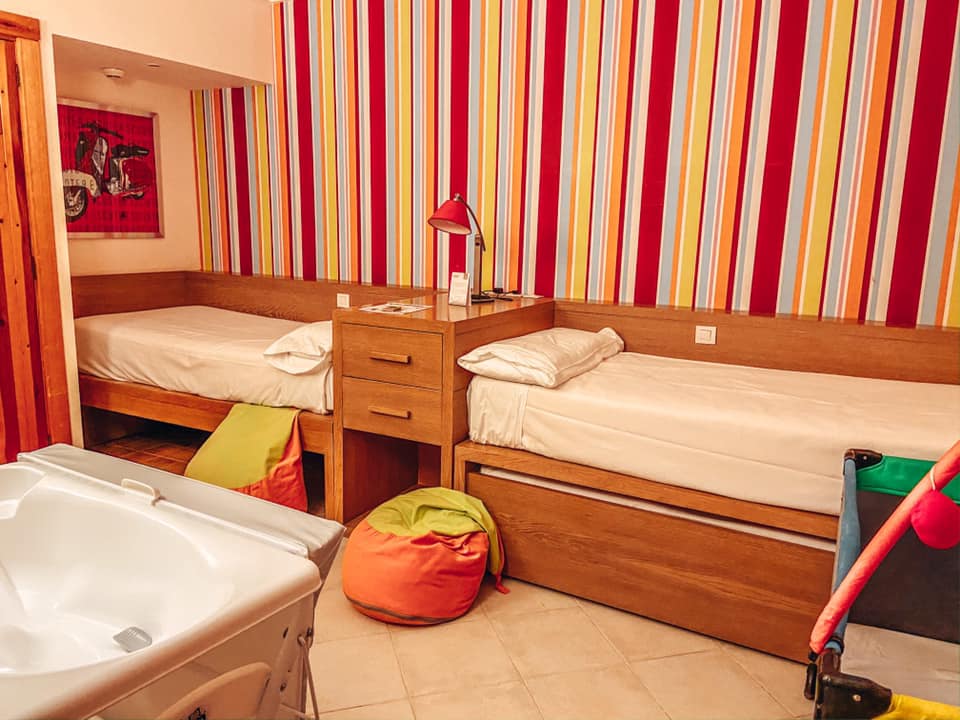 It was always my worry how I would deal with sterilizing and heating bottles on holiday, and taking all of the 'baby essentials' with me so this is the great benefit of this 5 star child and baby friendly hotel. The rooms also come with a hair dryer, bathrobes and slippers.
board Packages
You can stay at the hotel in one of three ways. Bed and Breakfast, Half Board and Half Board Plus. We stayed on a half board basis and this suited us as a family really well. Here are the differences in the packages;
Bed and Breakfast
Half Board
The Half Board Package includes buffet breakfast and a choice of dinner in three buffet restaurants (operating on a rotating basis and reservation required).
Half Board Plus
The Half Board Plus Package includes buffet breakfast and a choice of dinner in three buffet restaurants and four a la carte restaurants (operating on a rotating basis and reservation required) and mini-bar in room with daily replenishment.
The Facilities at the Princesa Yaiza
Swimming
The Princesa Yaiza has no less than 6 swimming pools, two Jacuzzis (one for the kids), with three of these pools are specifically aimed at children with one allowing inflatables and water toys.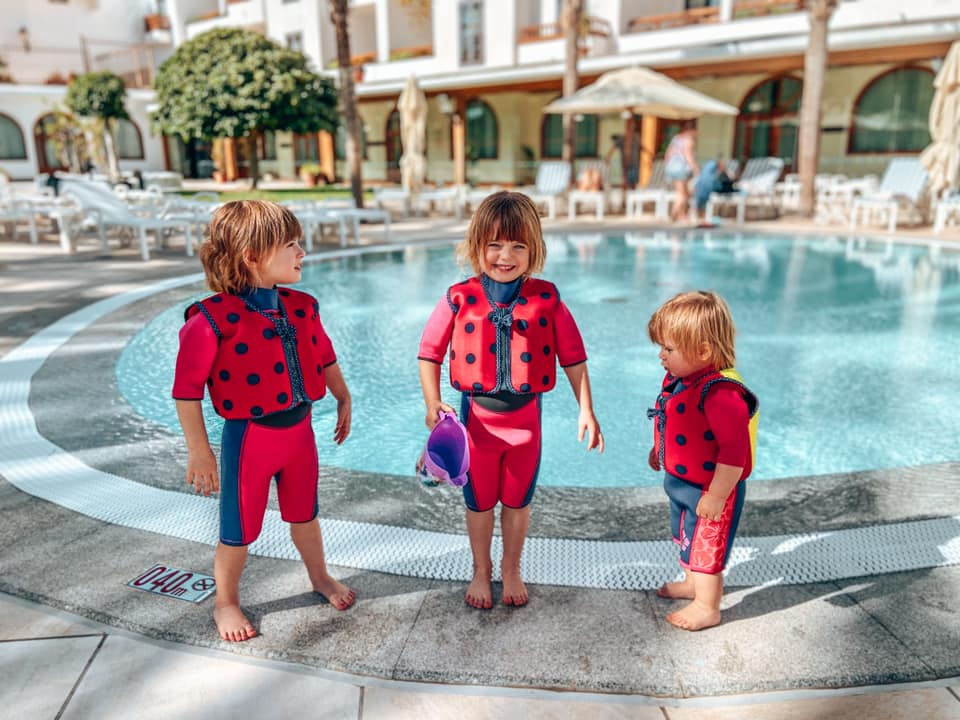 Each one is stunning and so relaxing to be around. It was never a rush for sunbeds and you really are spoilt for choice.  4 out of the 6 are heated but we did take the girls Konfidence wetsuits with us which they wore. The heated pools were comfortable to swim in without them, but my girls are cold children so they lasted longer without getting cold.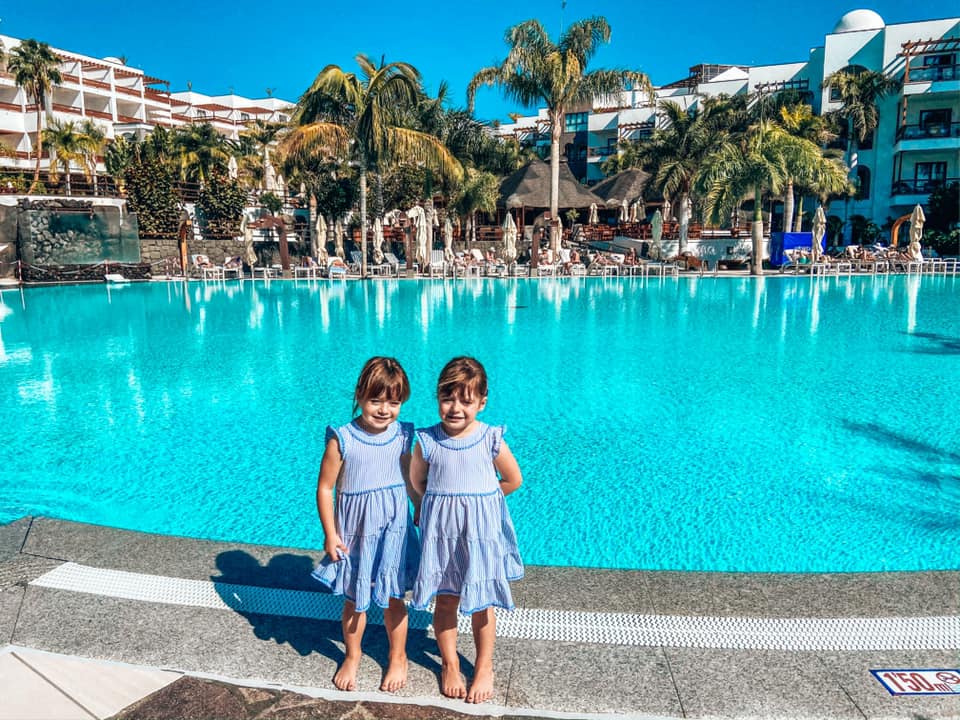 Our personal favourite was the one on the upper level by the cocktail bar (and not for that reason honestly!). We loved it  because it had a section of pool which was just mid calf deep and this was perfect for Matilda to play in. There were also sunbeds in the water here for you to enjoy too. Pool towels are provided.
Kids & Baby Clubs
There is so much fun to be had at the Princesa Yaiza for kids, our girls absolutely loved it and are still talking about it now. There are so many options for children of all ages to have fun in this child and baby friendly hotel especially with its own baby and kid's clubs. By using these facilities, it meant that we knew the children were safe, being well looked after and having so much fun whilst we stepped back and enjoyed some adult time.
Baby Kikoland
Baby Kikoland is a paid for service run 5 days a week by nursery carers catering for babies 4 months – 36 months. It is located in the main hotel and is set up with an abundance of toys and outdoor play equipment for small people to enjoy. It's what makes this such a baby friendly hotel.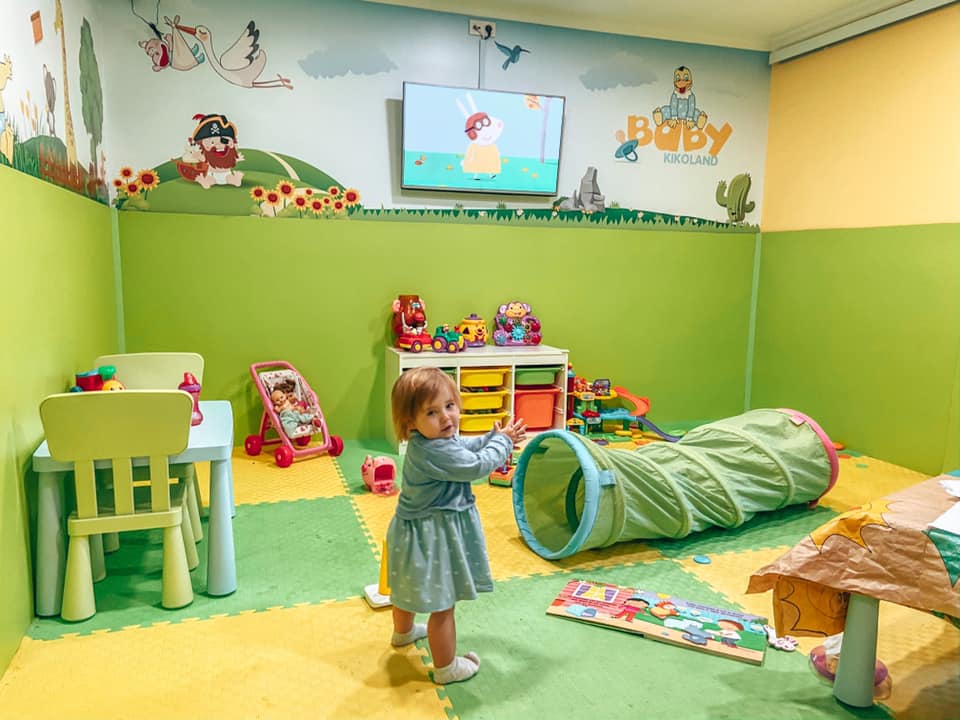 Within Baby Kiko, there is a separate sleeping area for those needing naps and the space for lunch should you wish to use all day care. This is a new service which the hotel is offering. Matilda used this service for 3 mornings and 1 full day and we were very happy at the service we received.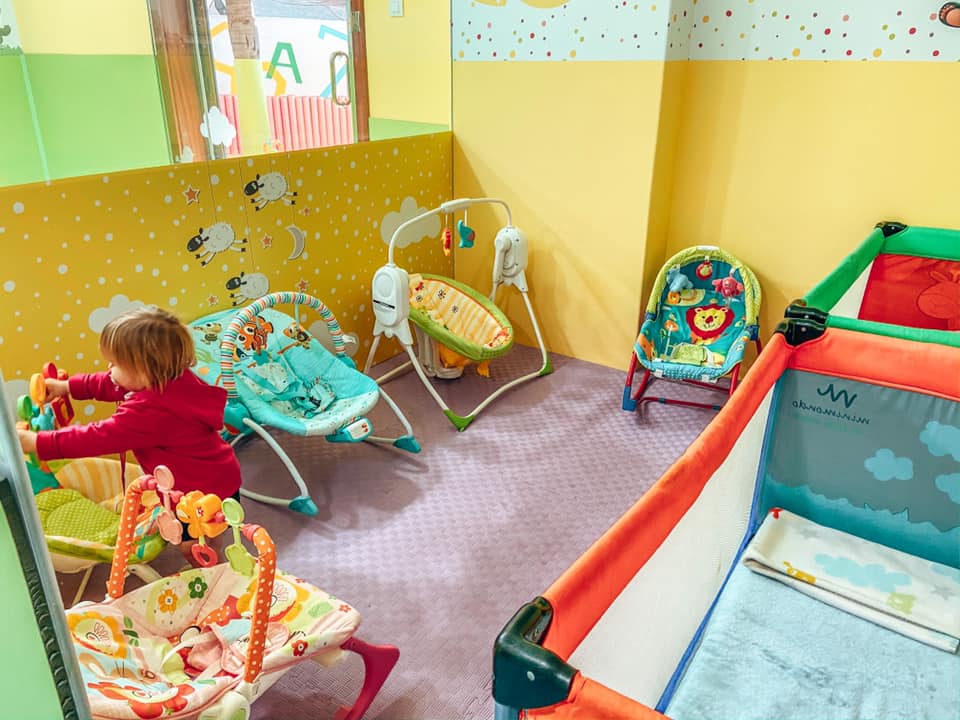 One thing that often worries parents with young children is whether they are ok. At Baby Kikoland, they are able to offer a monitor service so you can watch your baby through an app. I loved that I was able to check what Matilda was up to and if she was ok. It really put my mind at rest.
Fees
Baby Kiko is available from €8.75 an hour.
Initially when we asked about how much Kikoland was, we thought it was really expensive. We were quoted 22 euros an hour, we wondered whether people would be put off by this (especially those with twins – I know I would be), HOWEVER… if you are considering using child care, you wouldn't likely use it for just one hour and this is where it gets good – you can buy a bundle and the first hour is free. If you buy 8 hours of childcare at Baby Kikoland, it is 70 euros which makes it €8.75 an hour. Now this is more reasonable right, and now I would pay. These 8 hours can be used over a number of days.
Nanny Service
Another option for baby child care is hiring a member of the hotel staff to look after your baby on a one to one basis and accompany them to Kikoland. This is 15 euros per hour and possibly something I would consider if Matilda was a little older in combination with Baby Kiko. The facilities in Kikoland would potentially stimulate her more having an enclosed toddler playground and mini pool area.
Childrens Entertainment
Kikoland – Kid's Club
Kikoland is AMAZING; A children's paradise. The Kids Club for over 3 year olds and is free of charge. The main Kikoland facilities are right next to the hotel. You have to sign your children in and out with safety gates which are monitored on entry and exit. All children can use the facilities but under 3's must be accompanied by an adult. There is no need to book. You can just turn up and come and go as you please.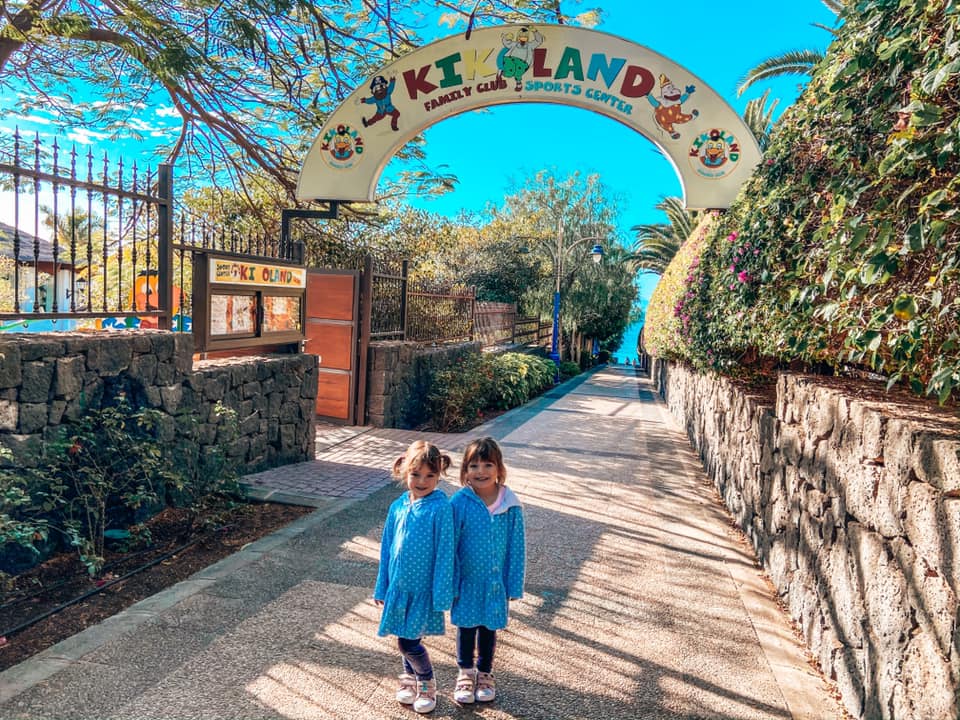 In Kikoland you will find several different fabulous play areas with soft floors, swimming and toddler splash pools and a theatre to practice your dance moves in which the girls just adored. There was something for every age and activities to match.
There are 5 different areas in Kikoland to keep children from 0-18 busy. Each are separated into age groups to ensure everyone's needs are met and children are well looked after. We only had experience of the 0-2yrs area, and 3-5yrs but if you want to take a look at what Kikoland offers older children, then please take a look at the programmes HERE.
O-2 year old area
Specifically aimed at the smaller children and their parents. This fenced area has a playground with swings, a slide and a heated mini toddler pool with water play toys for little ones to splash about in. There is also a building which is fully equipped with cots, bottle warmers, microwaves and changing tables so should you not want to return to your room for nap time, this is a great place to come.
3-5 year old area
This is the main kids club area where you are welcome to leave your children with kids club leaders but again can be accessed at any time with parents too. Here you will find a fun area with a larger climbing frame, bigger swings, a pool and a large space to run around in.
The kids club offers a full entertainments program for 3-5 year olds, with each day having a different theme. The activities changed every hour from art and crafts, to sports, treasure hunts, dancing and even water play in the mini pool. The children are well looked after by the entertainment team and the girls adored the staff – I felt very happy leaving them.
Soft Play
In the main hotel, just off the indoor gardens and restaurants, you will find a large, clean soft play. This is open to all children and has a specific area for under 2's. Again, there are entertainment staff in here during the day to supervise children over 3 should you want to sneak off for a cheeky cocktail or read your book for an hour.
Children's evening entertainment
Every evening from 7.30-8.30, the entertainments team run the mini disco for children to dance away to well known tunes. Something we were told we were not allowed to miss – by the girls that is – total party animals including the baby. It was a real highlight for them. Everyone who attended kids club gets a certificate which is presented by a Kikoland character mascot – Kiko the Duck, Hooky the Pirate, or Cookie the Hippo.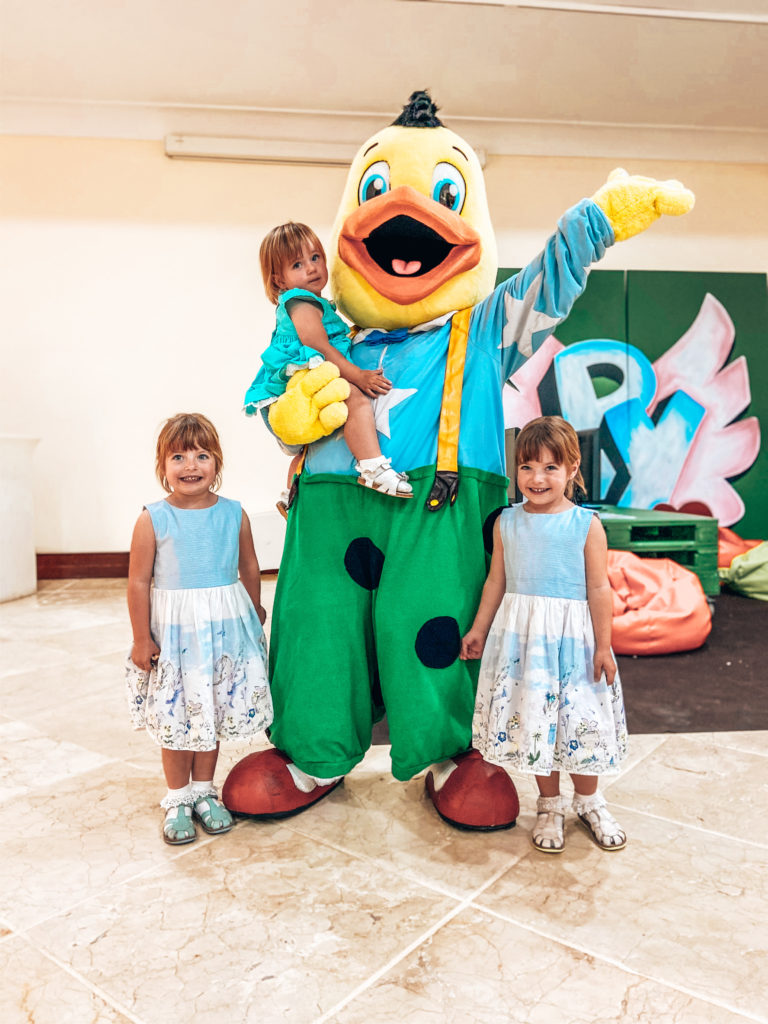 From 9pm, there is further family entertainment in the main bar area. On the first night a Mamma Mia performance was a real treat and I don't know how the girls kept going but they did and begged us to say longer – but we didn't quite make the end.
It was a real fun family show to watch. On other nights we were treated to magic shows, an evening of around the world dance and singers. Most of what we saw we would class as family entertainment, but there were a couple which didn't interest the girls. This was fine for us though as they needed a couple of earlier nights.
We have become fairly relaxed on holidays with bedtimes but it was hard to drop the routine to begin with as I am so strict with it at home.
Dining at the Princesa Yaiza
I was so impressed by all the staff in the restaurants. They were so family friendly and welcomed the girls (with their mess!) every evening – highchairs included. Nothing was too much trouble and they went out of their way to speak to the girls and help in every way they could.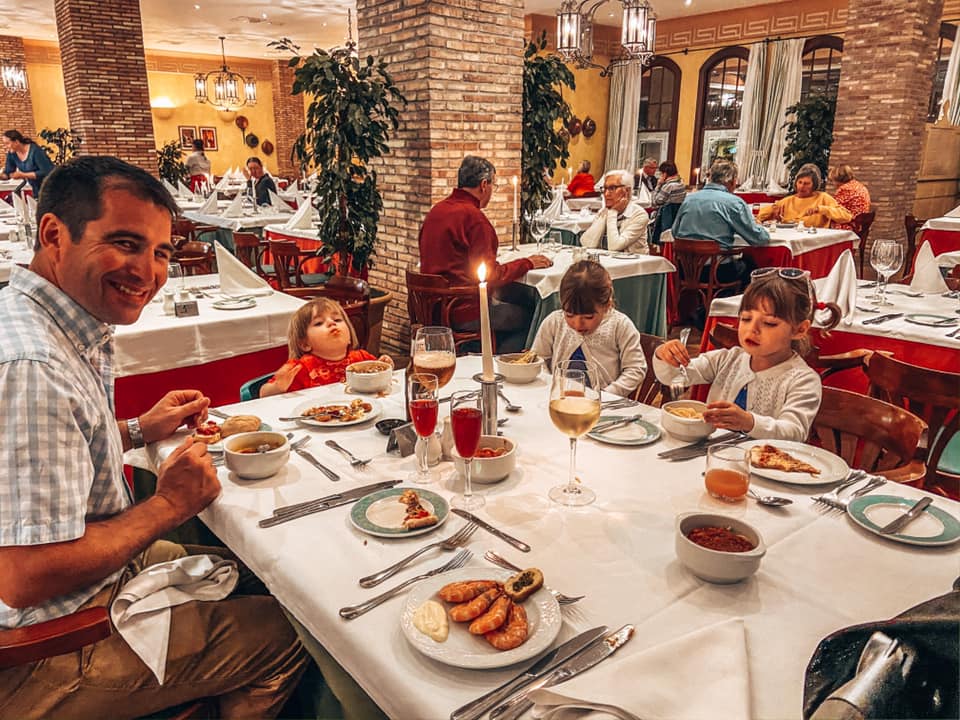 Whatever package you are on, breakfast is included and is amazing, you may even get a visit from a kids club mascot! There was so much choice you could eat as little, or as much as you liked. I went for the 'as much' option.
It was buffet style and had everything from breads and croissants, to fruits, cereals, hams, cheeses, to a fully cooked breakfast. There was even fizz on offer if you wanted. I must say we opted for good old English tea.
Again, these is so much choice restaurant wise and you can move around as much or as little as you like. Some restaurants come with an additional charge depending on your package.
We visited the buffet style restaurant every night which was part of our deal and were very pleasantly surprised with the variety. They had different themed evenings, but a variety of different food options within that. Some dishes were pre made, whilst there were usually two stations where meals were cooked whilst you waited so you could select the ingredients.  The food was of a high standard and we didn't have any complaints at all.
I loved the canape selection that was on offer, and devoured the huge shelled prawns and shell fish that was on offer every night. It is a real favourite of mine. These were easy to pick up and nibble at whilst sorting the girls out, before we took it in turns to go back and get our own dinners. Whilst there wasn't a separate kid's menu, there was always something for them and my fussy eaters ate well. Do note that the hotel requires that gentlemen wear long trousers in the evenings.
Restaurants in Princesa Yaiza
If you wanted to spice your daytime or evening dining options up a little, then you could always try out one of the other 7 amazing restaurants available in the hotel including  a variety of a la carte dining options and a Japanese dinner with show cooking. They are not all available every night so do check on arrival.
Getting to Princesa Yaiza
Many UK airlines fly into Lanzarote. We had really good flights which worked well for us despite flying with Ryan Air!!!
Car hire
We did quite a bit of research about how we travelled from the airport to the hotel and wanted to organise this in advance. In the end decided to hire a car – a 7 seat Zafira, which included full insurance and car seats for all three girls from Cabrera Medina which cost €180. It allowed us to get out and about exploring for a couple of days which we all enjoyed.
Other options included;
Princesa Yaiza transfer service at 112 euros each way
Zip transfers Taxi company about 50 euros each way plus €6 per car seat per journey.
A day at the princesa Yaiza – video tour
Places to visit near Princesa Yaiza
Los volcanoes natural park
We always like to explore a country a little whilst we are on holiday and this one was no different. We took a couple of trips, one to the Los Volcanoes Natural Park to see the volcanos. Somewhere definitely worth a visit. The landscape is out of this world and it really is like being on the moon. I'd advice going after lunch as there were no queues to get in like there were in the morning. It cost us 24 euros to visit (the children were free) which included the bus tour (a 45 min trip around the volcano – take snacks!) and demonstrations. There are café facilities on site.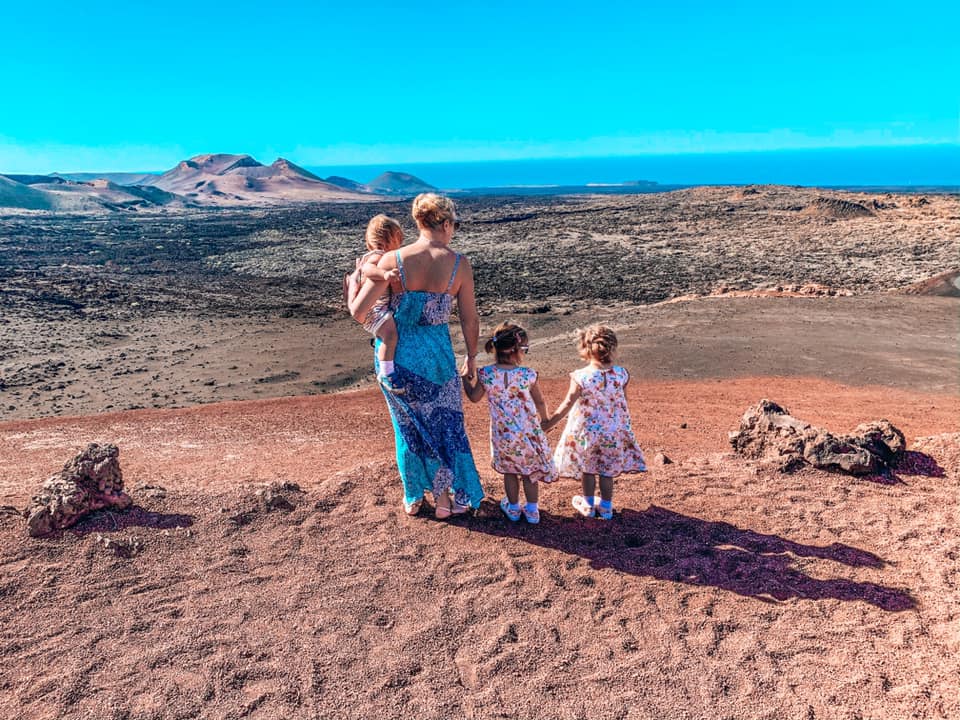 Papogayo beach
We also visited the most beautiful Papogayo beach.
It cost 3 euros to enter via car. You drive down an incredibly bumpy dirt road for 5 minutes before arriving at the car park – I said it was practice for when we go to Kenya! On top of the cliff sits two gorgeous restaurants overlooking the sea – it was almost romantic! The prices were very reasonable here. We had drinks and lunch.
Either side of the car park, you could take a short walk in either direction to get to two beautiful beaches. The walk was down a moderately steep hill but we took the buggy ¾ of the way down and carried Matilda the rest of the way. A beautiful unspoilt beach for the children to dig, run and chase waves on!!
The Twins Views
I asked the twins to tell me their three favourite things about Princesa Yaiza. After saying 'just everything mummy!', they finally revealed….
Kikoland
The swimming pools
Kids mini disco
How to Book
If you are looking for a 5***** luxury family friendly holiday which caters for babies and children, as a family, we cannot recommend the Princesa Yaiza highly enough. It was such a relaxing, chilled week that and one where we came home refreshed. I would 100% go back with my family and take the grandparents too – they would love it just as much. It was able to accommodate every age range with style and sophistication.
Booking is easy… Head straight to their website HERE
Airport Parking
Whether you are travelling from Stansted, Gatwick, Heathrow, Birmingham or Manchester, make sure you start your holiday by booking the meet and greet service – it really does take the stress our of parking. I Love Meet and Greet come highly recommended by us and we will never travel without this service again. They meet you at the main terminal building, and take you car to secure car parks for the duration of the holiday. Upon your return, just make one call and they will be there and waiting with your car to jump straight into – you will be so grateful for this when you have tired, fed up children – we were!!
If you would like to know of other child friendly places to visit in Lanzarote, then check out my article 'Days out with the Kids – Lanzarote'. There are some great ideas in here that we hope to visit next time!
You may also find these articles about travelling with twins and young children helpful too.
What to pack in your hand luggage with kids
GO ON, PIN IT