Presents for 3 Year Olds
Another year on and the twins turned three! Where did those last few years go? I'm guessing I will say that every year.  Before I had children, the thought of going shopping for  their 1st birthday presents sounded super exciting, but in reality it is stressful. Having walked up and down every aisle in the toy shop more than once, I walked out what the best presents for 3 year olds were! The girls have so much already and so I called on a few friends to help me find the girls some wonderful presents which they would love.
My main focus for the twin's birthday this year was outdoor play. Outdoor play is incredibly important in your child's development and I was on the lookout for toys that would encourage imaginative play as well as physical development.
MORE READING: Outdoor Play Gift Guide
So, if you are in the same predicament that I was in and are wondering what the best present for 3 year olds are, then take a look at our creative list of ideas!
Yoto Story Player – The Best Present for 3 Year Olds
The Yoto Story Player is one of my girls favourite ever gifts. It is used every day!
The award-winning audio player fills your home with inspiring audio and lets kids lead the way. It's the heartbeat of the family home.
Kids from 3-12+ use physical cards to explore the best audiobooks, music, activities and educational audio.
No microphone. No camera. No ads.
Yoto Player can let your kids know when it's time to start the day! Use the Yoto App to set wake-up routines that work for your family.
Relax with the night light, unwind with white noise, or cosy up with Sleep Radio. Yoto Player will have night owls nodding off in no time.
If you want to get your little ones playing outside, then this is a must. It has already provided many hours of important outdoor fun. The Step2 Roller Coaster gives little people a great fun ride as they whizz down the track! Pushing the car back up to the top of the coaster ramp helps develop balance, coordination, and gross motor skills, while the recessed wheel wells keep the coaster car steady until toddlers are ready for another ride.
This has been played with by children of all ages, each one enjoying it. It is hardy enough to be kept outside which is great but it can equally be brought inside for active play on wet days. It is easy to put together and move about.
Peppa Pig Grow & Play
The kids can plant seeds, learn how to look after plants and watch them grow with this Peppa Pig Grow and Play Set all while having fun playing with Peppa Pig, George, Suzy and Rebecca too! An additional growing project is included in each set for even more fun.You can also make a street with other Peppa Pig Grow & Play sets by attaching the fence from one set to the house of another!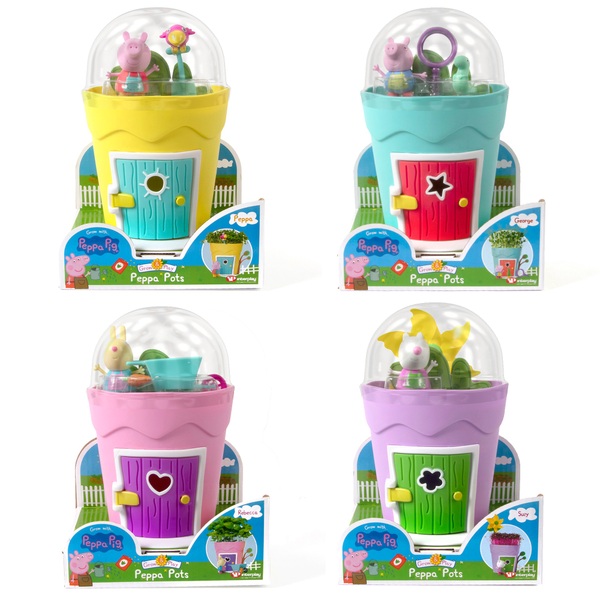 Frugi Splish Splash Steel Bottle
Get sustainable with the reusable Splish Splash Steel Bottle perfect for your little eco-warrior! This is great to take to school or use when exploring the great outdoors. It comes in lots of super cute and colourful designs and it is made from stainless steel and is rust, corrosion and stain resistant.
Frugi Pack a Snack Lunch Bag
Frugi lunch bags are not only perfect for school but great for picncis and outdoor adventures. The Pack a Snack lunch bag has large main pocket with a foil lining to help keep food fresh and a smaller pocket on the front for storing snacks. The outer fabric is made from post consumer recycled polyester.
Edx Fun Play Attribute Beads – Presents for Three Year Olds
Fun Play Attribute Beads are a fun way to learn shapes, sizes and colours. Each bead has a threading hole making them great for lacing activities. Ideal for sorting, classifying by attribute, sequencing, pattern making and talking about geometric shapes. This set includes 72 beads, 2 laces, Fun2 messy tray and 25 activity cards.
Edx Fun Play Construction Cubes
Fun Play Construction Cubes are great for supporting your child's mathematical learning at home. Helping to improve skills such as counting, area and measurement. Each cube has a hole and connector so children can connect the cubes vertically and horizontally, making lots of different creative geometric structures. The set includes 88 construction pieces, Fun2 messy tray and 25 activity cards.
Peppa Pigs Phonic Alphabet
Peppa's Phonic Alphabet helps kids to learn letters, numbers and colours, as well as providing an early introduction to phonics and spelling.
The set comes with 8 interactive play cubes. Peppa then asks the child to find the cube with the correct.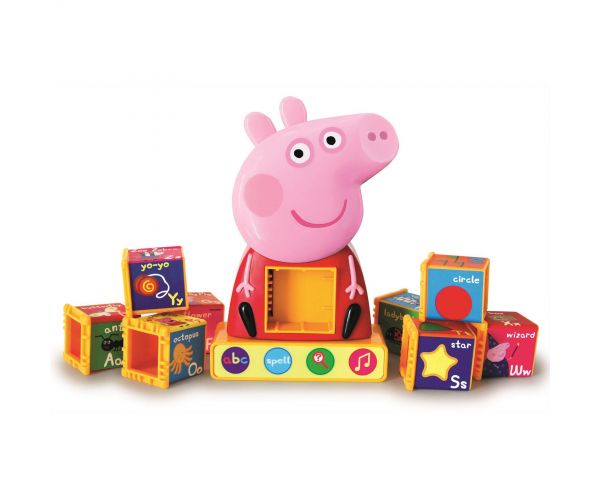 The twins love playing in the sand and so when it was suggested we got them a sandpit, we jumped at the chance! However, I wanted one that could eventually fit all three children in comfortably. Big Game Hunters have got a really good range of sandpits so picking one took quite some time. The sandpit we finally chose measures an impressive 1.8m x 1.8m making it perfect for a large family or lots of friends. The seats on the sides of the sandpit make it comfortable to sit on, if children don't want to sit directly on the sand. Parents can sit there too.
The sandpit includes plastic cover for protection when not in use. You will need around 10 bags of sand to fill the sandpit – we missed this note initially and had to go out and buy more sand! The sandpit comes flatpacked and it does come with instructions on how to put it together.
Inspiring outdoor play with kids mud kitchens. We all know dirt is good, fun and messy and these mud kitchens are prefect to encourage the twins to go and play outside in all weathers to cook up potions and pies! The girls will love getting covered in mud  and actually being allowed to do so. Their wellies have to be their favourite shoes so this is the best gift for them! The mud kitchens come in three sizes, with one, two or three bowls and 32 different colours so perfect for families of all sizes!
Schleich's goal is to provide children with exciting and educational toys to stimulate their creativity and imagination and promoting their development. They sell beautifully made animal and character models, as well as play sets creating presents for everyone's budget. For this birthday we decided to build up their wild animal collection in the hope it can start to educated them on wild animals for when we go to Kenya!
Schleich offer toys for many different age ranges and interests and I can guarantee your child will like more than one. Playset themes include wild life, farm life, horse club, dinosaurs, unicorns and fairies – can you guess which collection is next on their list?! Yes, they have spotted the unicorns!
This lovely little shop is the UK's leading collectable teddy bear and soft toy specialists stocking many well-known brands including Steiff, Charlie Bears, Merrythought, Teddy Hermann, Kosen, Jellycat, artist bears and much, much more! What I love about this shop is that they sell a very affordable range for children and with excellent customer service, they are always there to help make suggestions and meet your teddy needs.
The girls adore their soft toys and their bed is covered in them. The won't go to bed until there are all tucked in. But their eyes still light up when they get another teddy, bunny or unicorn so I couldn't refuse these furry friends by Steiff and Jellycat.
Sleepyhead by Sleepyhead of Sweden
These Learning Subscription boxes make the perfect gift. The Learning Club is a monthly subscription box with a difference – packed full of fun activities and carefully crafted to help children aged 3-5 years to learn and develop. Each month your personalised box will contain 4 fun and engaging activities, with all the resources you need to help your child develop one of the early years skills. Every month focuses on a new area of learning and introduces your child to a new character they can get to know and love.
The girls always get super excited when their box comes through the post and can't wait to get it open to see what is inside!
The Dessineo Jungle Color Paint by Numbers is a great gift for arty children. The girls did need support to do this but it kept them entertained for ages. It made them think about what colours they needed to use when painting pictures and encouraged them to pain carefully as they needed to stay in the lines.
This is a great set to introduce the use of stencils. Again younger children will need help to do this but they will love it. The basic stencil is used to paint the outline of a body. Then choose another stencil to create your chosen animal.  Children can paint the large areas with a roller and paint small areas with the brush.
Learning is made fun with Orchard Toys, and it is always at the heart of all their games. They continue to produce games and jigsaws that get the seal of approval from both parents and children! Orchard toys offer so many games but I decided these two would be perfect for the girls third birthday.
Dinosaur Lotto is the perfect game for my dinosaur enthusiasts! It is suitable for children aged 3-7 so it was a good time to start taking turn taking. They have to take it in turns to turn over the colourful dinosaur cards and be the first to fill their dinosaur board with matching pictures.
This is a giant floor activity that teaches counting up to the 15 with the help of the handy reference board. The players take turns to pick up a card and count the characters before picking up a second card and counting the characters on the second card. If both cards match the player gets to keep them; if not they are placed back on the floor face down and play passes on to the next player. Players can then use their memory skills to match the cards. Play continues until all the cards have been paired.
Get a great night's sleep anywhere with ReadyBed – the 2 in 1 sleeping bag and inflatable airbed. Having just moved into beds, we were really excited to know that we can now leave their travel cots at home (and have the extra space in the car!), but we were a little unsure what we would put them in when visiting friends when there weren't enough beds. That's when I found the ReadyBed, and thought they would be perfect and with a Frozen design, I knew I couldn't go wrong!
The ReadyBed is  a blow-up bed, with built in sleeping bag although the girls did need an extra blanket too. The bed we chose for the girls was for ages 3+ but they do have one for 18 months+ which has sides to stop them falling out which I think is a great idea for small people.
ReadyBeds are great for sleep-overs at a friend's house, or a night with grandparents, to a camping trip with all the family. The ReadyBeds cover most of your little ones' favourite characters so there is plenty of choice.
The twins have embraced the imaginative world of fairies wholeheartedly and so we thought this fairy door would be simply magical for them. We decided to put ours upstairs on the landing but they will fit anywhere, on or above your skirting board, in the kitchen, bedroom, nursery or on the stairs for the whole family to share, and you can build up a collection of doors around your house. As the adult, you can be as creative as you like and could write a little introduction to the fairies who live there on the notelet supplied.
Magical Little World also supply many accessories to go with the fairy door. We have the post box and picket fencing but I know the girls would love to grow their collection more!
What great little travel gifts – I have had my eye on these tins for a while! Perfect as rainy day activities or small enough to take on holiday with you. This chunky wooden farm set comes with a play mat and handy storage tin, meaning playtime can be wherever you are!
Does your little one love teddies like Tabitha? Or maybe to travel like me? Then this travel teddy in a tin is perfect for you. It is a great way to help your little one make memories by taking this cute little bear on your travels with you, take photos to encourage discussion when you return. Although these are aimed at older children, they are great to make with an adult and the girls got really involved in the whole process.
Did you have a space hopper as a child? I did and was forever bouncing around so I just knew the girls would adore these hoppers! Fun family hoppers for the whole family – brightly coloured with grippable ears/horns and 4 wide steady feet to balance on. Great for indoor or outdoor play and such fun for racing on!
They come in a variety of different styles and colours and are available in 3 sizes to cater for the whole family from 12 months – 99 years. You're never too old to bounce!
The twins love swimming and we all love to holiday, so what a present to receive – a new flotation swimming costume, goggles and a ball for some pool fun. The twins have wanted some goggles for ages, so when they unwrapped these beauties – Vorgee Voyager Junior Goggles they were over the moon.
Konfidence have produced these wonderful Floatsuits which give children the freedom to swim in the water, but with the safety of buoyancy. They also have sun protection 30+UPF for when children are swimming in warmer temperatures. They are available in 8 different designs.
Micro-Trike
The Micro Trike has been superbly designed for pre-schoolers who dislike the traditional pushchair as they want their independence but still need a seat and to be pushed along on longer journeys.
The Micro Trike folds flat meaning it is easy to store and transport unlike bulky heavy pushchairs and buggies. Weighing less than half a bag of sugar, the Micro Trike is ultra-lightweight. This makes it easier to push along and carry on a rucksack when your Pre-schooler is off exploring. Available in three different colours, pink, blue and black.
If you have a four year olds birthday coming up and are looking for some present inspiration,

Mummy2Twindividuals

has just written a blog all about this. Click

HERE

to check it out!
If you have any other gift ideas, we would love to hear them. After all, Christmas is always just around the corner!
These articles may also be of interest!
Travel toys for toddlers
** The products were gifted for the purpose of this article, but all thoughts and opinions are my own.