One of the most reasons that we love to go on holidays in the UK with kids is simply because it is so much fun! There are endless possibilities of places to visit in the UK, and on this trip we visited Knockerdown Cottages near the Peak District and Away Resorts Barmouth Bay in Wales before staying at Away Resorts Golden Sands Rhyl. The children got to experience diverse landscapes, British countryside and glorious UK beaches. All of these holiday experiences help them to learn and grow together.

North Wales – Location of Away Resorts Golden Sands Rhyl
North Wales is a geographical area of Wales that takes in the Snowdonia National Park, as well as the local authorities of Gwynedd, Anglesey, Wrexham, Flintshire, Conwy and Denbighshire. The mountains of Snowdonia attracts many visitors, while the coastal towns of Llandudno, Conwy, Bangor, Colwyn Bay, Rhyl and Prestatyn are also popular. We visited Rhyl, North Wales in 2022. North Wales is beautiful and is perfect for a UK holiday with a toddler or young family like us, and our Away Resorts accommodation was the best location for beach holiday in Wales.

Away Resorts Holiday Parks UK
Away Resorts have lots of amazing family holiday resorts UK throughout the UK, from Tattershall Lakes in Lincolnshire to St Ives Bay in Cornwall and Barmouth Bay in Wales. The company specialises in park holidays and on-site holiday homes sales, offering luxury lodges, caravan holidays and chalets – UK holidays to suit all budgets. All of the Away Resort Parks are slightly different, but they have great on-site facilities including swimming pools and an adventure play area.
There are 11 Away Resorts locations on offer, so plenty of Child Friendly holidays in the UK to choose from:
Golden Sands Rhyl, North Wales
Barmouth Bay, Wales
Mill Rythe, Hayling Island, Hampshire
Tattershall Lakes, Sleaford, Lincolnshire
Cleethorpes Pearl, Grimsby, Lincolnshire
Appletree, Boston, Lincolnshire
Mersea Island, Essex
Sandy Balls, New Forest, Hampshire
Whitecliff Bay, Bembridge, Isle of WIght
East Fleet Farm, Weymouth, Dorset
St Ives Bay, Cornwall
Golden Sands Rhyl – Holiday Parks in North Wales
Have you considered taking a family holidays in Wales – a traditional seaside break? This year (2022) we stayed at the popular family seaside holiday resort – Golden Sands Rhyl which is set in the beautiful town of Rhyl Wales. The Golden Sands Holiday Park combines a stunning beach setting with lots of things to do in Rhyl and the local area -brilliant local attractions and a consciously designed caravan park with a variety of accommodation including luxury lodges, caravans and chalets. There is accommodation available to suit all budgets and the park is also completely dog friendly. Golden Sands is located right next to the beach and also close to Snowdon National Park, so there is plenty to keep the whole family entertained.
Where is Rhyl in North Wales?
Rhyl is a traditional seaside setting resort and community in the Welsh county of Denbighshire. on the beautiful North Wales Coast. It lies within the historic boundaries of Flintshire, on the north-east coast of Wales at the mouth of the River Clwyd. This is where you will find the fantastic golden sands holiday park.
Away Resorts Golden Sands Rhyl Accommodation
Away Resorts Golden Sands Rhyl offers self-catering and pet friendly holidays in Wales in caravans, lodges and chalets. Many which have direct beach access. They are equipped with everything you need for your stay. We were so impressed with our Away Resorts Lodge. It was huge and gorgeous! They have really thought things through so there are ramps provided to access doors along with wet rooms in the bathroom.
The Luxury Lodge – Our Golden Sands Accommodation
We loved staying in our Luxury Lodge at Golden Sands Rhyl. It was super clean on arrival and the dining table laid beautifully. Our Away Resorts lodge was very spacious and had three bedrooms sleeping up to 6 guests.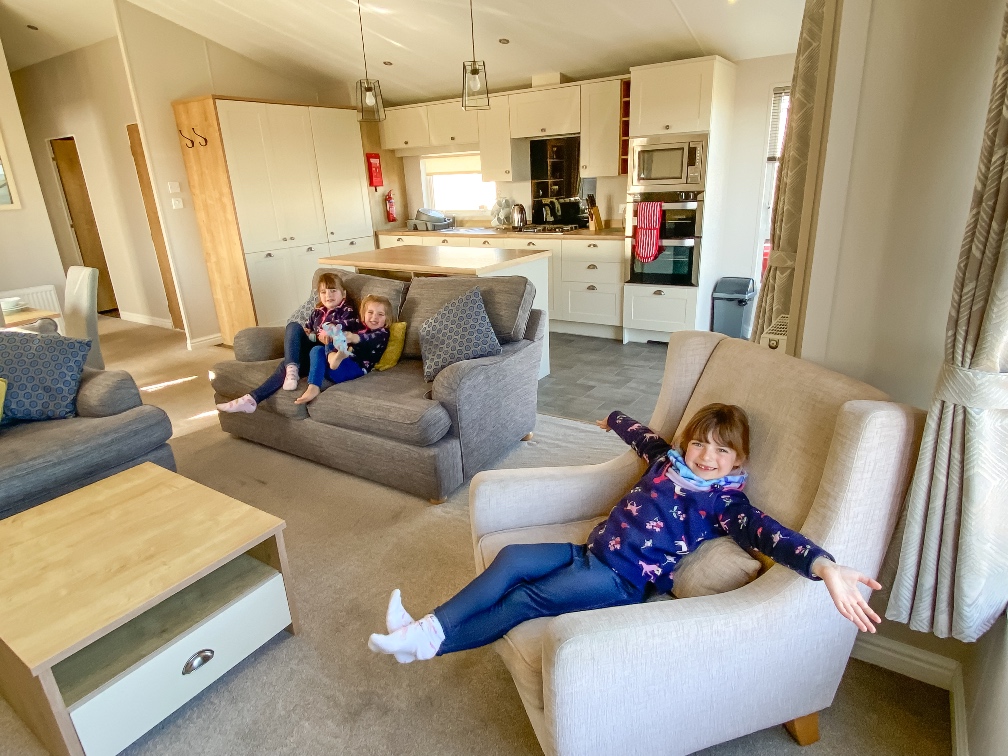 Upon entering our lodge, you go through a utility room with a sink and a washing machine with cupboards. It's amazing to have this extra room for shoes etc.
There was plenty of room for all of us in the open living space. In the living area there was a double sofa with two single armchairs and a coffee table. The perfect space to relax in when the girls had gone to bed. There is a flat-screen TV with Freeview and a DVD player, and a Bluetooth sound bar.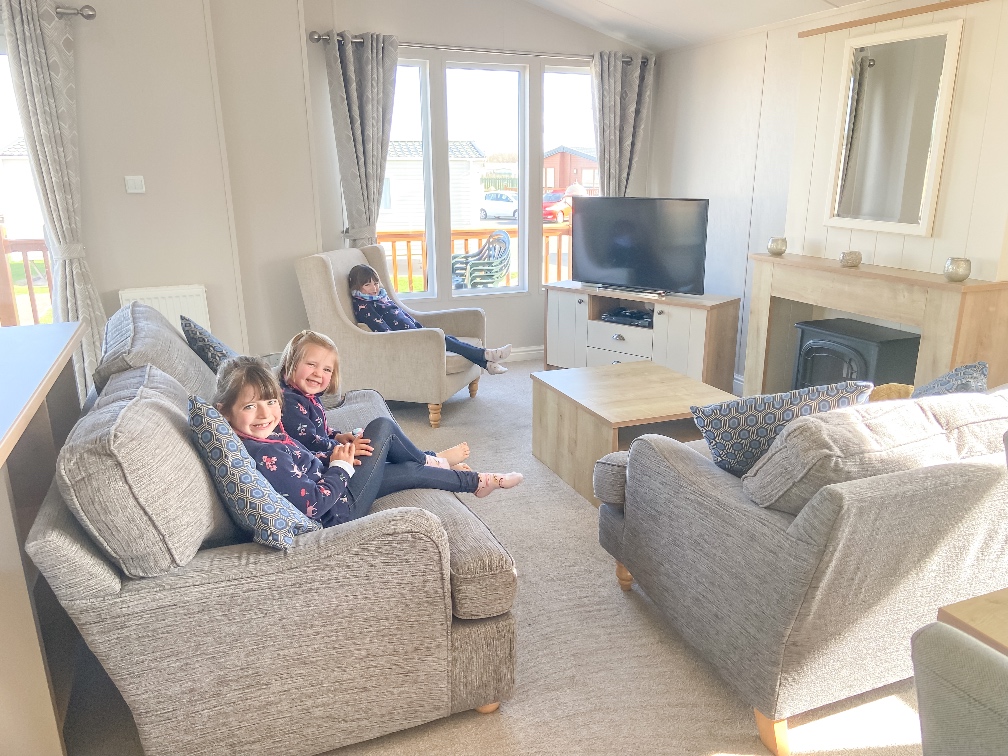 The lodge boasts a fully-equipped kitchen with an Island and more storage than I have ever had in a holiday cottage. The kitchen area includes all utensils and glasses, a microwave, kettle, toaster, cooker and a large fridge with a freezer.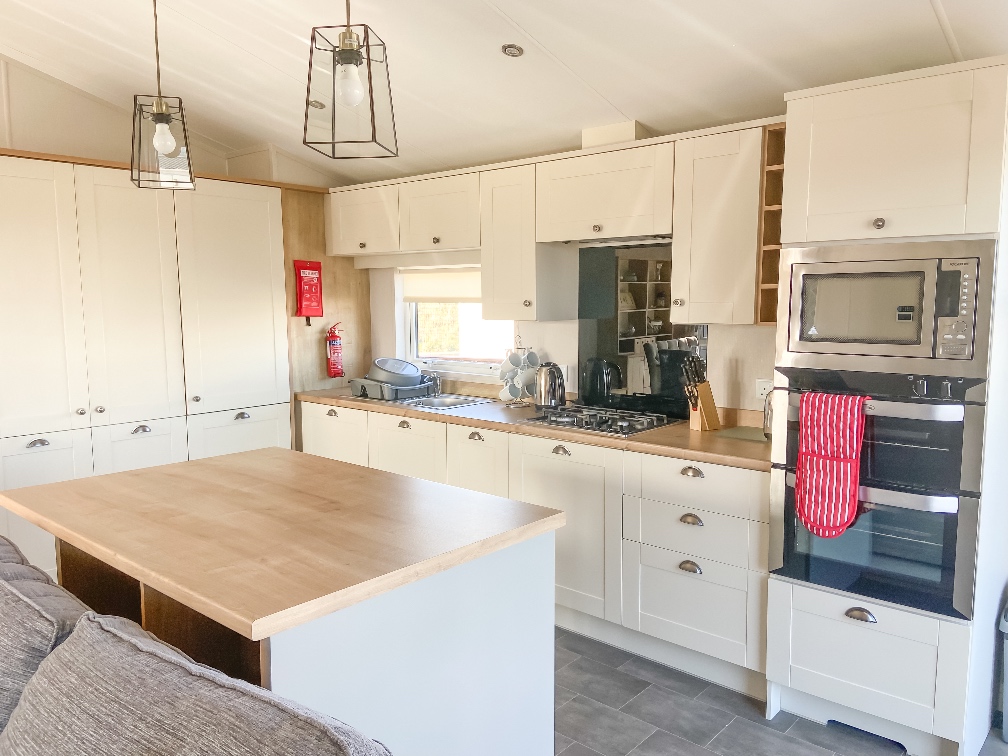 The dining table was laid out just behind the sofa which was great for family mealtimes.
The beds were freshly made with comfy bounce back pillows and linen. We had 2 double bedrooms, and the master bedroom had an en-suite, and a further twin bedroom. There was also a separate family bathroom with a bath.
The lodge is fully heated and has double glazing. If you need a travel cot or a highchair, then these can be hired at a price of £15.
There is an outdoor decking area which wraps around ¾ of the lodge with seating and a table for alfresco dining in the summer months.
The luxury lodges are well spaced out with room for one car to be parked next to your lodge. Our Away Resorts luxury lodge complex was slightly separate from the other accommodation and a 5-minute walk about to the main entertainment building.
We were in a small cul-de-sac so it was really quiet which meant the girl's could cycle about – with us watching them of course.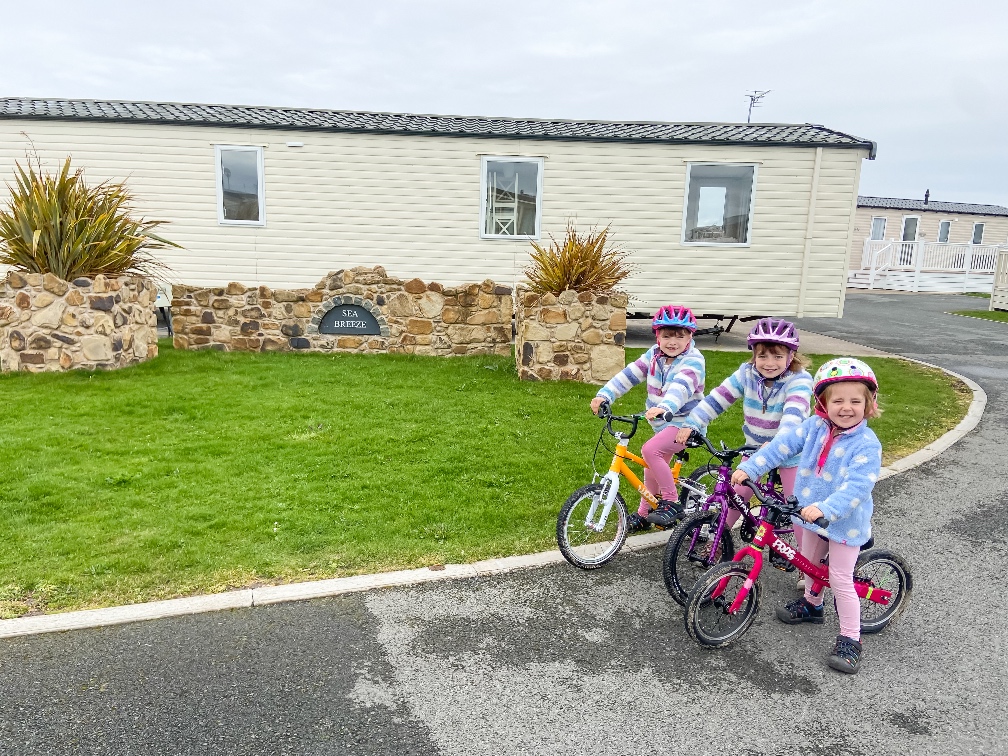 Other Away Resort Accommodation Options
Caravans
Holiday caravans in Wales are a great budget-friendly choice. There are a wide range of caravans at Away Resorts Golden Sands Rhyl that can sleep up to 8 people so great for a large family. You can choose from cosy and affordable to ultimate luxury all with enhanced facilities and beautiful décor.
Pets are able to holiday in all grades of accommodation – so you can bring your dog along too.
Lodges
The Golden Sands holiday lodge North Wales are equipped with all the holiday home essentials you could wish for. The lodges can sleep up to 8 guests and there is even a hot tub lodges option for those of you who love a hot tub holiday.
Chalets
The chalets have a real homely feel and are fully central heated with modern quality furnishings and fittings. The chalets are a great way to get the whole family off on holiday without breaking the bank, perfect for older relatives to stay alongside the family. The most popular chalet has refreshed décor and furnishing.

Golden Sands Facilities
Golden Sands is a fab location for a family beach holiday UK as it has direct access to the beach and our lodge was 20 meters away so we were able to pop there whenever we wanted and saw some stunning sunsets. Being set in North Wales you can always head out for some amazing walks too. But there is definitely plenty to do on-site.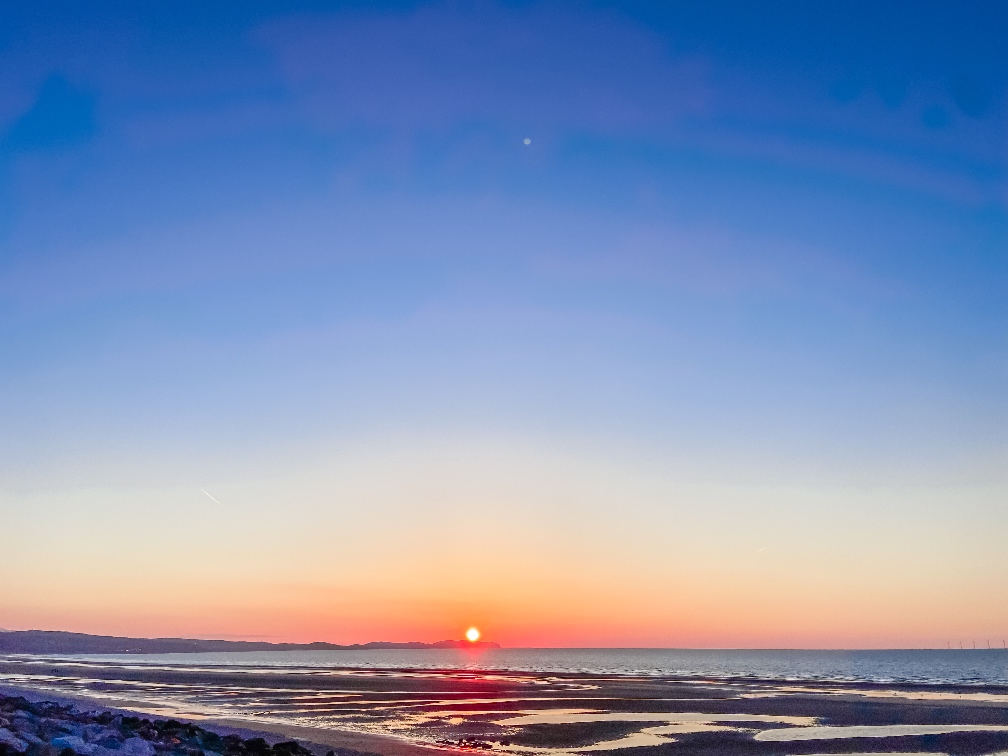 Indoor Swimming Pool
There is an indoor heated pool, bubble pool and toddlers pool at Golden Sands for all-weather family fun. This was sadly closed when we visited.
Play Area
Our outdoor adventure playground has a number of exciting ways to play and have fun so the kid's never get bored – play areas are always a hit with the girls.
Sports Court
Golden Sands has a multi-use sports court where you can enjoy some ball games such as basketball with the kids.
Soft Play – Indoor Play Area
There is a small indoor soft play area is great for the kids, especially on a rainy day or when you want to grab a coffee from the bar.
Things to do at Golden Sands – UK Family Resorts
Activities
During selected school holiday periods you can enjoy a full activities programme at Away Resorts Golden Sands Rhyl  plus an outdoor cinema experience in the summer holidays. The activities will need to be pre-booked at an additional cost but you can get stuck into arts & crafts, Aquafit, disc golf, basketball, water-walkerz and of course watch a movie at the outdoor cinema. We booked the girls in to the pottery painting session. It was 45 mins long and the staff were brilliant with the children. The girls loved it and created some pottery that they will cherish for a long time.
Entertainment Complex at Golden Sands
As well as the indoor pool there is also an amusement arcade as well as fantastic kids' entertainment. Each evening the entertainments team lead the children through children's discos, shows and fun and games before a round of bingo. It was the highlight of the girls holiday. They couldn't wait to get down and dancing every night!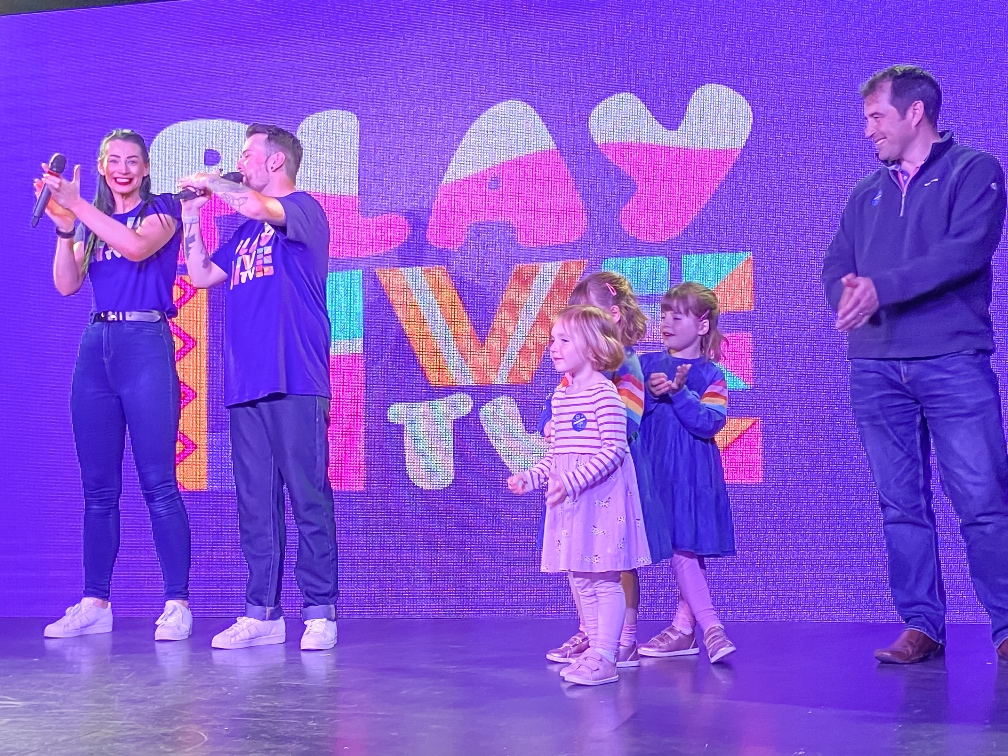 Arcade
Everybody enjoys a go in the arcade with coin pushers, classic video games and of course having a go on the claw machine to win a teddy.
The Sandpiper Restaurant
This is a family friendly Sports Bar and Restaurant with a big screen and a wide selection of food and drink is available throughout the day. We had supper on the first night and it was delicious.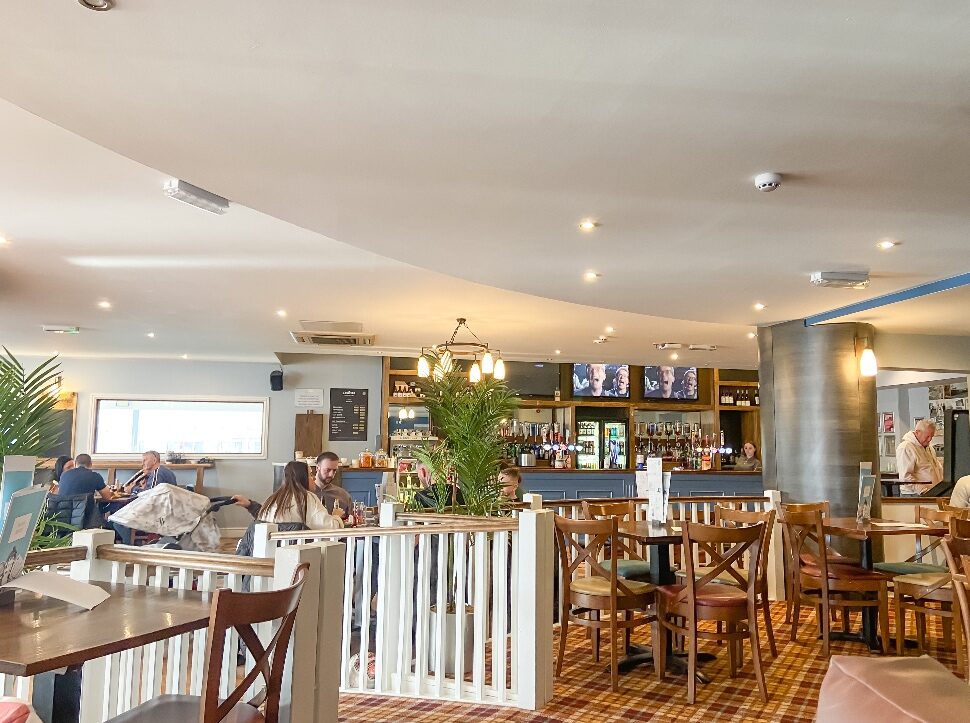 Bar Carousel
The girls lived for the evening entertainment. It was the highlight of the day. The Bar Carousel provides live family shows every evening starting with something for the younger children, right up to the big kids
Golden Sands Beach
Play on the Gorgeous Beach at Golden Sands Wales – It's literally on your doorstep – we spent morning and night on here with buckets and spades and the girls bikes!
How to get to Away Resorts Golden Sands Rhyl
You can of course reach Away Resorts Golden Sands Rhyl by car but if you need to come on public transport then the closest train station is Rhyl railway station which is on the Crewe to Holyhead North Wales Coast Line and serves the holiday resort of Rhyl.
How to Book a Holiday in North Wales at Golden Sands Holiday Park
There are two ways to make a holiday booking at Golden Sands Park Holidays. You can either book online via their website or alternatively you can call them on 0330 053 7000. The park is able to offer pet friendly accommodation to guests wishing to bring their dogs, and charge from £35 per short break (5 nights and under) and £55 per long break (6 nights or more), per dog.
Up to a maximum of two dogs are allowed.
Things to do Near Away Resorts Golden Sands Rhyl
You are right in the heart of North Wales surrounded by many areas of natural beauty when you stay at Golden Sands holiday parks in Rhyl. It's stunning backdrops including mountains and lakes so there are plenty of local attractions including amazing Castles. Things to do in Snowdonia range from gliding over quarries, visiting pretty towns and castles and just taking in that amazing scenery.
Gwrych Castle
Abergele LL22 8ET
A hauntingly beautiful ruin and one of the most talked about tourist attraction's in Britain due to hosting ITV's "I'm A Celebrity… Get Me Out of Here!" for two consecutive years. We spent just over an hour here and had the biggest ice cream ever!
Gwrych Castle is open everyday from 10am – 5pm.
Welsh Mountain Zoo
Colwyn Bay LL28 5UY
The Welsh Mountain Zoo is also known as the National Zoo of Wales with over 140 species.
Harlech Castle
Harlech LL46 2YH
Harlech Castle crowns a sheer rocky crag overlooking the dunes far below. They often have events throughout the year involving knights, stories and living history.
Anglesey
Anglesey is an island in Wales, off the mainland's northwest coast. It's known for its beaches and ancient sites. The island is accessed by the 19th-century Menai Suspension Bridge and the Britannia Bridge, rebuilt in the 20th century.
On Anglesey, we visited South Stacks lighthouse and then took a walk over the hills with a picnic to take in views over the Island, and then headed to Newborough Warren which is one of the largest and finest dunes in Britain. You have the option to walk through the woodland, or spend the afternoon on the beach which is what we did.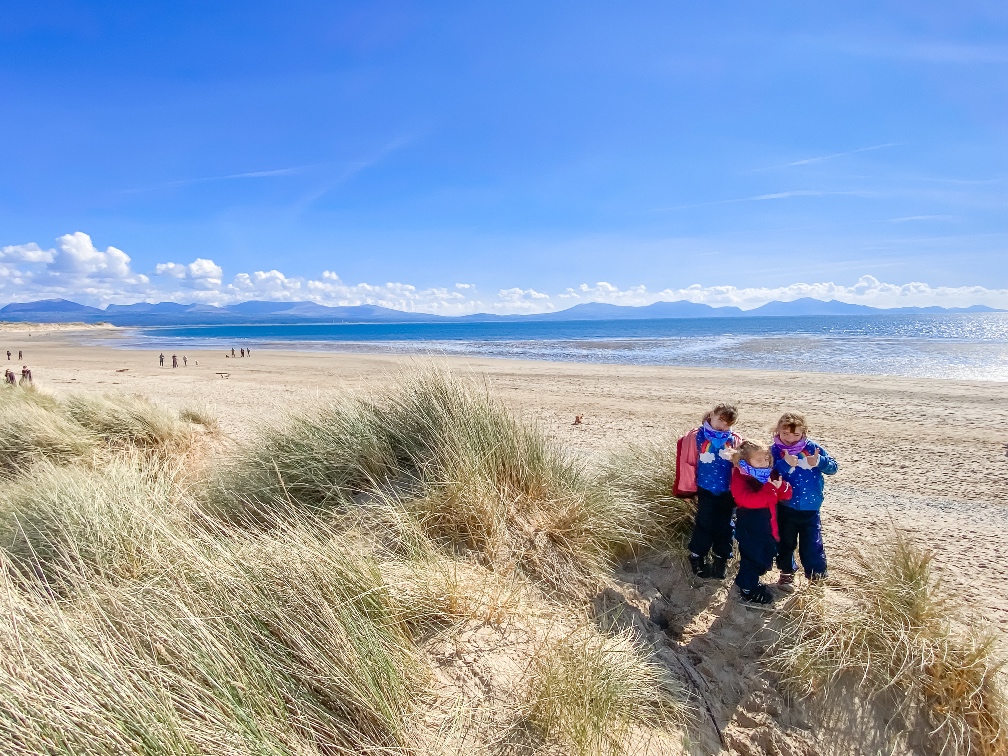 Ffestiniog Railway
12 Cromwell St, Blaenau Ffestiniog LL41 3HG
Outstanding scenery, comfortable carriages and historic steam engines await you in the heart of Snowdonia. With some of the most comfortable carriages on any preserved railway – standard or narrow gauge – you can step back in time to a more civilised age.
Coed Y Brenin
Coed y Brenin is a forest in the Snowdonia National Park, North Wales near Dolgellau. It is popular for its mountain bike trails and hiking paths. It has several man-made mountain bike singletrack courses in a woodland setting.
Dolgoch Falls
The Dolgoch Falls are a series of three waterfalls near Tywyn in Gwynedd, Mid Wales. The falls are part of the Nant Dol-gôch stream, which flows into the Afon Fathew, and form a popular walk from the nearby Dolgoch station on the Talyllyn Railway.
Zipworld
In a stunning woodland setting nestled in the North Wales Conwy Valley, close to the iconic Snowdonia village of Betws y Coed, a host of forest adventures await. Choose from the Fforest Coaster, the UK's only alpine coaster of its kind, bouncing fun on Treetop Nets or zip line and adventure courses high in the trees.
Snowdonia National Park
Penrhyndeudraeth LL48 6LF
The park's historic Snowdon Mountain Railway climbs to the summit of Wales's highest mountain, Mount Snowdon, offering views across the sea to Ireland.
Beaches Near Golden Sands
Kinmel Bay
Kinmel Bay, also known as Sandy Cove, can be directly accessed from the holiday park; it is a north-facing sandy beach with a narrow promenade. It's a great spot for family fun, watersports and nature watching .
Towyn Beach
Towyn Beach is situated adjacent to the Wales Coast Path, renowned for its scenic walks. It has a mixture of shingle and sand and offers a range of seaside attractions such as funfairs and amusement arcades.
Splash Point Beach
Splash Point is a sandy beach with high sea walls and a promenade. It is a fairly quiet beach as it is a bit further away from the town than others.
Colwyn Bay
Situated at either end of a long promenade, Colwyn Bay offers you the typical fun seaside holiday experience with a pier and amusements and Old Colwyn Beach is more of a relaxed style beach.
Places to Eat Near Golden Sands Rhyl North Wales – Pubs and Restaurants in Rhyl North Wales
The Sandpiper Restaurant
The Sandpiper is the on-site family friendly Sports Bar and Restaurant. It serves a wide variety of foods and drinks for the whole family.
The Chippy
Tuck into some traditional fish and chips at the Away Resorts very own Chippy.
The Submariner Cookhouse
Seafront, W Parade, Rhyl LL18 1HE
The Submariner serves food all day from cooked breakfasts, lunches and dinners, there are kids options and they even offer a Sunday roast,
The Bistro
215 Wellington Rd, Rhyl LL18 1LR
Set within The seaside town of Rhyl, The Bistro is one of North Wales most acclaimed restaurants combining delicious local ingredients with a relaxed and contemporary dining room.
Rossini's Italian Restaurant
48 Queen St, Rhyl LL18 1SB
Located within the historic resort town of Rhyl, Rossini's restaurant is a long serving, local culinary entity that offers traditional, authentic Italian dishes prepared with fresh ingredients.
Cafes and Tea Rooms in Rhyl Wales
Monte Carlo Snack Bar
21 W Parade, Rhyl LL18 1HE
Monte Carlo is a family run fast food kiosk located in front of Les Harkers Amusements in Rhyl. They serve hotdogs, burgers, chips, donuts, candy floss, rock, milkshakes and much more.
Coltmans Breakfast and Dessert
28 Sussex St, Rhyl LL18 1SG
This cafe serves breakfasts, toasties and lunches including kids meals as well as dessert boxes.
All American Big n Beefy Burger
W Parade, Rhyl LL18 1HF
This is a burger cafe based on Rhyl front, all of their meats and food is locally sourced.
Les & Rita's Fish Bar
8 Wellington Rd, Rhyl LL18 1BN
Les & Rita's Fish Bar is an award winning Fish & Chip Shop that has been in the same family since 1968.
The Town Fryer
56 Wellington Rd, Rhyl LL18 1BN
The Town Fryer provides fantastic food at a very reasonable price and of excellent quality.
Things to do in North Wales
Great Orme
The Great Orme is 2 miles long, 1 mile wide and rises 207 metres from the sea. The geology, wildlife, archaeology and landscape is of such importance that much of the headland has been designated a Special Area of Conservation. If you're feeling energetic explore the miles of footpaths whilst taking in the views of the surrounding areas.
Conwy Castle
Thanks to restored spiral staircases in its great towers you can walk a complete circuit around the battlements of Conwy Castle This is one of the most magnificent medieval fortresses in Europe. In the distance rise the mountains of Snowdonia and spread out below you are the harbour and narrow streets of Conwy.
National Slate Museum
The National Slate Museum is dedicated to the preservation and display of relics of the Slate industry in Wales. The Museum remains free to enter and there is always plenty going on for kids to get involved with.
Bardsey Island
Bardsey Island, known as the legendary "Island of 20,000 Saints", is located 1.9 miles off the Llŷn Peninsula. It is famous today for its wildlife and rugged scenery. It is a nesting place for Manx shearwaters and choughs, with rare plants and habitats.
You May Also Like….
You may also be interested to read some of my other UK family travel articles. I have some great tips if you are taking a road trip with a baby or some healthy snacks for kids might come in handy – we all know how much kids love to snack when travelling!