Travelling with toddlers can be challenging. From making sure you've ticked off everything on that packing list, to ensuring your road trip with toddlers run smoothly. You need to make sure that the children are well fed and that they get their beauty sleep each night so they don't end up all cranky – really, it can be quite a task. And on top of all of this, you have to find one of the best UK holidays with toddlers so that you all enjoy your time away!
With all of that in mind, I've compiled for you a quick list of some of our best UK holidays with toddlers that we have had, and most of these have been with twin toddlers – I can guarantee, you will love each and every one!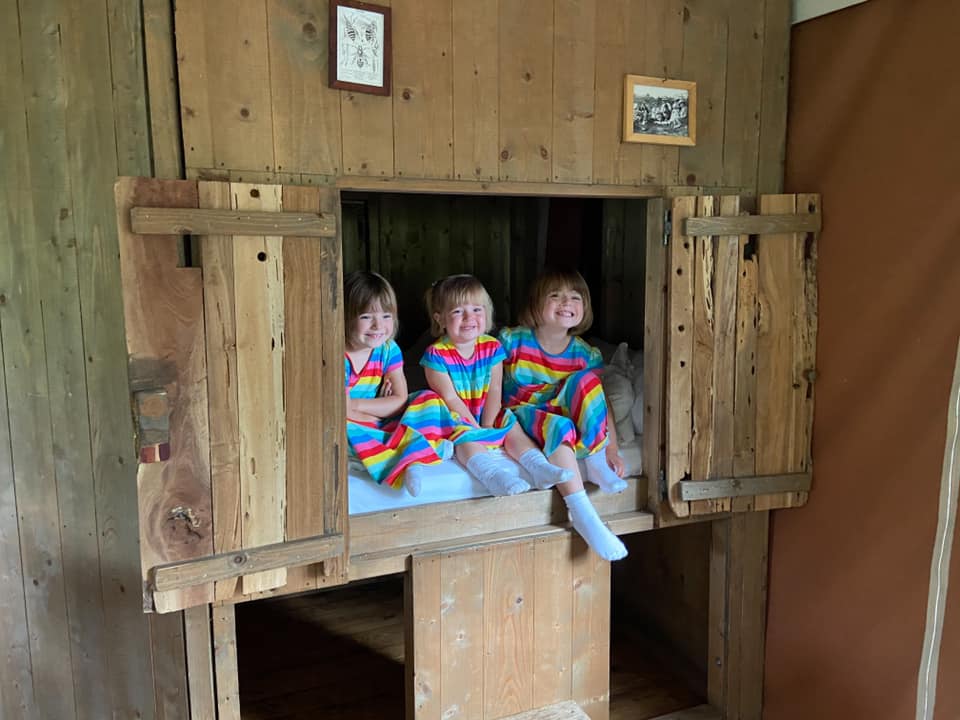 UK Holidays with Toddlers
Croyde Bay
 

Resort, North Devon
As we turned the final corner on our journey to Croyde Bay Resort, our breath was taken away. The sand was sparkling, the waves were crashing – this was going to be the best holiday in Croyde Bay and it was right ahead of us – Right on the beach!
Having stayed at Croyde Bay twice now, it honestly has all the ingredients for a perfect family holiday. It is known as being one of the top holiday resorts in North Devon, being located right on one of the most beautiful beaches. This is the main reason we love it so much. It boasts a number of family friendly facilities on site such as swimming pool (including a children's pool), crazy golf course, play areas, tennis courts and plenty of outdoor green spaces including a large playing field, as well as a huge games room with snooker, table tennis, table football and more.
We love that it has it's own restaurant as it gives us some evenings off cooking and. the girls loved the evening entertainment. For the parents, there's even a spa bath, steam room, sauna, and a gym. All of this is free to guests and which makes for a great holiday.
You can choose from 3 different accommodation options; 3 & 4 Bedroom Lodges, 2 Bedroom Cottages or Hotel Rooms which sleep 2-4 people, all of which have different benefits to cater for different family sizes and needs.
North Bradbury Farm, North Devon
This has been one of our favourite UK holidays with toddlers. It's a hands on farm stay where you can feed the animals day and night, splah in the stream, toast marshmallows around the camp fire, fly down the zip wire, play in one of many play areas and take a dip in the pool. This is a holiday you will want to return to again and again!
Devon also has some of the best beaches in the UK, and is packed with some of the gorgeous scenic views you can relish. Plus, should you want a day out, there are also some cool kid friendly activities and attractions to keep your toddler busy and entertained nearby!
REVIEW: North Bradbury Farm, Devon
Knockerdown Holiday Cottages, Derbyshire
Knockerdown Self Catering Cottages are located in an idyllic setting in the heart of rural derbyshire, close to the market town of Ashbourne and in walking distance to Carsington Water (which is perfect for water sports, cycling or a play on their amazing playground), and a stones throw from the Peak District. With 16 cottages in total sleeping between 4 to 12 people per cottage, it's a great place to holidays in the UK for families.
Knockerdown Cottages stood out for us because  we just loved the facilities for our young family. The family friendly holiday cottages keep all ages entertained with an indoor swimming pool, kid's play area and a communal games room too. Everywhere is really safe and fenced in making it the perfect UK holidays with toddlers  – we really had a blast!
Every morning we woke up to the girls eager to get outside to play, they loved the adventure playground and meadow to hunt for bugs or play ball games in. The view gave us some incredible sunsets!
REVIEW: Knockerdown Cottages
Spindle Cottage, New Forest
If you are on the hunt for a stunning, stylish retreat to the countryside with your toddler, then Spindle Cottage is a great option to consider. For your UK Holidays with Toddlers. Sink into the coziness and warmth of the cottage, while your children enjoy time in the heated playhouse full of toddler toys or outside in garden on the outdoor toys and adventure castle!
REVIEW: Spindle Cottage, New Forest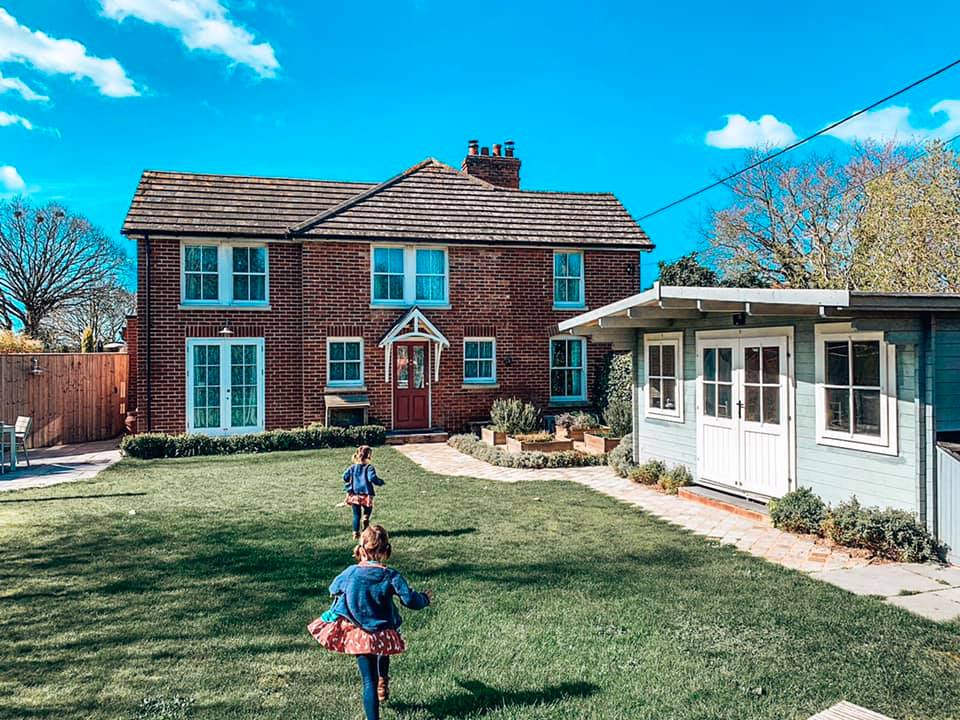 Darwin Forest, Peak District
Darwin Forest in Peak District is another excellent pick if you're on the hunt for toddler friendly holidays in the UK. Spend some time close to nature in the cabin-like lodges (some of them even have hot tubs) and enjoy your evenings under the stars. With an on-site play area, an activity trail through the woods and an indoor pool, it is a great place for even a multi-generational holiday.
REVIEW: Darwin Forest, Peak District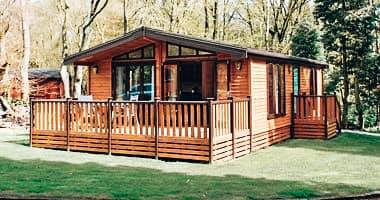 Greenwood Grange, Dorset
Don't mind indulging in a bit of luxury? Greenwood Grange has it all. Enjoy a relaxing stay in the luxury cottages here while your toddler has fun in the playroom, splashing in the indoor pool and the play areas outside.
REVIEW: Greenwood Grange, Dorset
Campden Yurts, Cotswolds
Looking to experience a bit of outdoor luxury with your toddler? Campden Yurts is the perfect place to go. Hammocks, campfires and pizza nights- this is one experience you wouldn't want to miss out on – my girls all slept in until 7.30 every morning (such a rarity these days!)….must have been the fresh air! Pack all the right glamping gear, and you will love it!
REVIEW: Campden Yurts, Cotswolds
Bluestone, Wales
The Blue Lagoon water park, Folly Farm and Tenby Beach – there's just so much to explore and do in and around Bluestone, you won't be disappointed. No wonder it is usually among one of the top choices for those looking for child friendly holidays in the UK.
REVIEW: Bluestone, Wales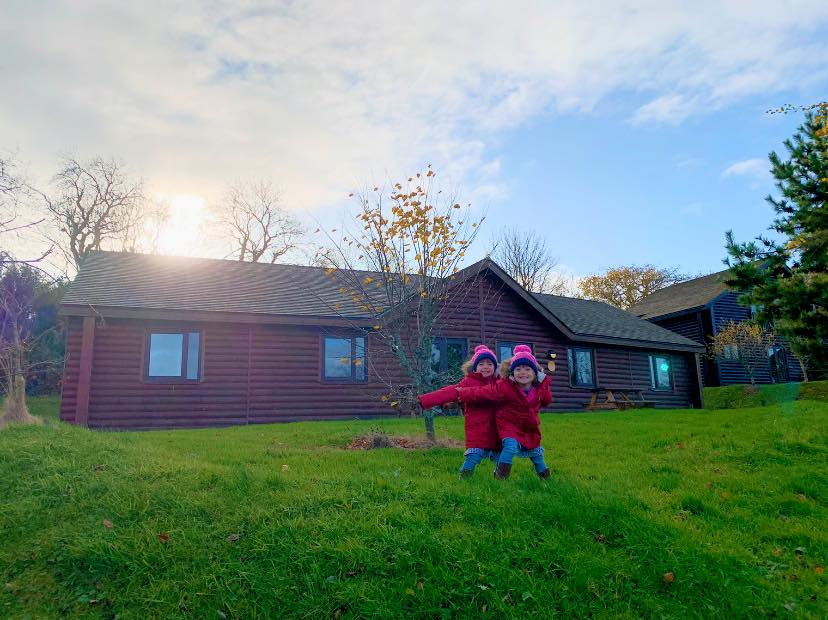 Bruern Holiday Cottages, Cotswolds
Oozing with elegance and luxury, Bruern Cottages are another excellent choice to consider. With an indoor pool, three outdoor play areas and a play cabin for children, and some of the most comfortable cottages to relax in, it is the perfect place to get that little break you're craving for.
REVIEW: Bruern Cottages, Cotswolds
Kennel Farm, New Forest
Kennel Farm is an exciting and fun place for the entire family to discover. You will all all the space and the chance to feed the pigs, goats and if you are lucky (and not pregnant like I was), feed the lambs! Just a 2 hour drive from London, and 20 minutes from Peppa Pig World, it is a great place to stay for a weekend or a family holiday UK. You just can't go wrong!
REVIEW: Kennel Farm, New Forest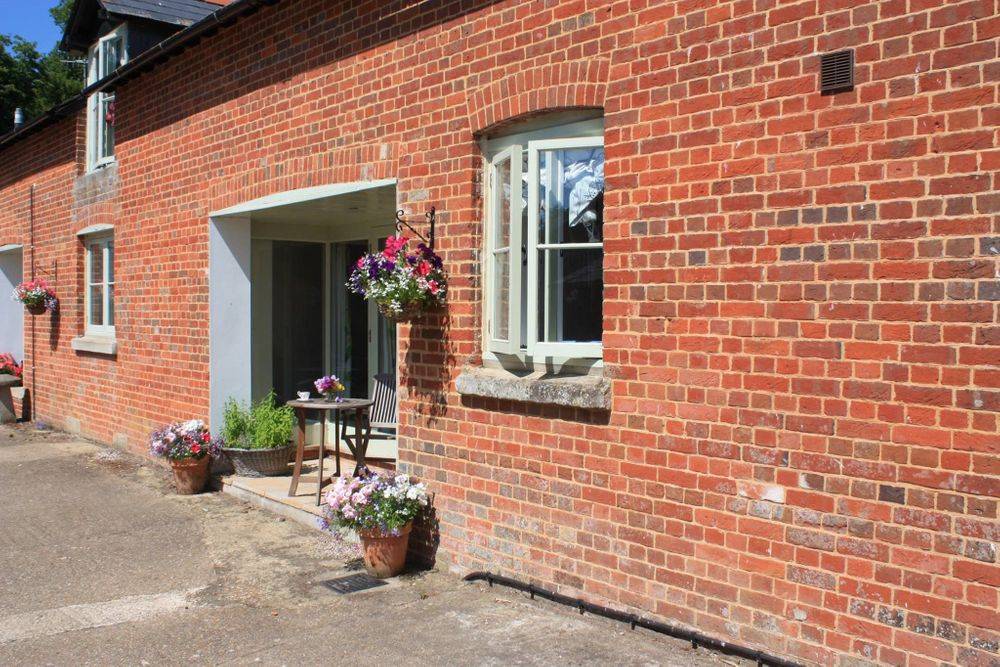 Butlins – Just for Tots
I never thought I would say this but Butlins Just for Tots week is perfect for families with young children and a UK holidays with toddlers to look in to. Our girls loved it, there was always something to do, or a fabulous child friendly show to watch – you definitely won't be disappointed. There is a plethora of activities to keep your toddler busy at Butlins, and you'll also be able to enjoy some great food while you're there!
ARTICLE: Butlins – Just for Tots
The Dandelion Hideaway, Leicestershire
If you want to keep a few luxuries, but are looking to take your toddler a bit closer to nature then this one's just the right spot to hit! Despite living in a safari type tent, you will be treated to proper beds, leather sofas and roll top baths! Escape the hustle bustle of everyday life and truly unwind here while your toddler has a fun time too!
REVIEW: The Dandelion Hideaway Glamping, Leicestershire
Centre Parcs, Elvedon Forest
Centre Parcs is another excellent choice to consider if you're looking for the best UK holidays with toddlers. From the swimming pools and kid friendly restaurants to arcades and playgrounds, everything is just a stone's throw away and you won't need to get in the car all week.
ARTICLE – TIPS FOR TAKING TODDLERS: Centre Parcs, Elvedon Forest
Trecan Farm, Cornwall
Trecan Farm can be found tucked away down a long tree lined driveaway, the perfect place for a fmily friendly countryside getaway where children are a key focus, with fabulous facilities to keep little ones happy and parents relaxed.
Facilities include daily animal interactions; feed the lambs in the spring, collect eggs from the hens, feed the ducks, sheep and goats. Say hello to the friendly ponies and have a cuddle with the rabbits!
Enjoy a game of tennis, let the little ones explore the adventure play area and simply enjoy getting away from the busy everyday life.
WEBSITE: Trecan Farm
Read On
Have you thought about buying your child one of the best travel products on the market – the Yoto Player?
Yoto Story Player – The Best Travel Product on the Market!
The Yoto Story Player is one of my girls favourite ever gifts. It is used every day!
The award-winning audio player fills your home with inspiring audio and lets kids lead the way. It's the heartbeat of the family home.
Kids from 3-12+ use physical cards to explore the best audiobooks, music, activities and educational audio.
No microphone. No camera. No ads.
Yoto Player can let your kids know when it's time to start the day! Use the Yoto App to set wake-up routines that work for your family.
Relax with the night light, unwind with white noise, or cosy up with Sleep Radio. Yoto Player will have night owls nodding off in no time.
If you have found this article useful, then you may like to take a look at some other holiday ideas for kids in Scotland, England and Wales. You will notice that most of these are under £1000 even in the school summer holidays.
You may also like to follow us on Instagram and Facebook where you will find plenty of travel tips, healthy snack ideas for travel and gift guides for kids under 5.
GO ON, PIN IT