We had been looking forward to our stay at Glynn Barton Farm Cottages for over 6 months and the time had finally arrived for us to take our road trip to Cornwall. There is so much to see and so in Cornwall – so we literally couldn't wait to arrive! As we turned off the winding country road and on to the beautiful tree covered drive, the girl's eyes lit up as we passed a herd of cattle with calf's and they shouted – 'Are we really here Mummy? Is this our holiday home for the week? Indeed, it was!
I couldn't believe how idyllic the setting was at Glynn Barton Farm Stay. My first impressions exceeded all expectations – it was beautiful. Rolling hills in one direction, quaint 18th century cottages in the other, and the sound of sheep bleating in the distance. With over 13 acres of play space for the week – I knew we would be very happy staying here.
Glynn Barton Cottages is an award winning family run business, owned by husband and wife team James and Pippa Storey. They took on this new venture three years prior to our visit, having spent years living abroad in Sri Lanka and Dubai – they have quite a story to tell. But it was their 2 young boys who really made their mind up to settle in Cornwall. Since their arrival, they have won some amazing awards which include 'Best Self-Catering Cottages in Cornwall' and 'Best Self Catering Cottages in the South West' – What an achievement and totally deserved!
Glynn Barton FARM STAY Cottages
Glynn Barton Cottages has become such a special place for families; with so many returning guests year after year. It can only be described as a haven for young children. I say young children but I hear teenagers have just as much fun too!
Glynn Barton Farm Stay is a complex of 8 cottages which are set around a grassed area, perfect for the children to play on whilst parents can sit and enjoy a coffee or glass of wine – yes sitting and relaxing is totally possible at Glynn Barton!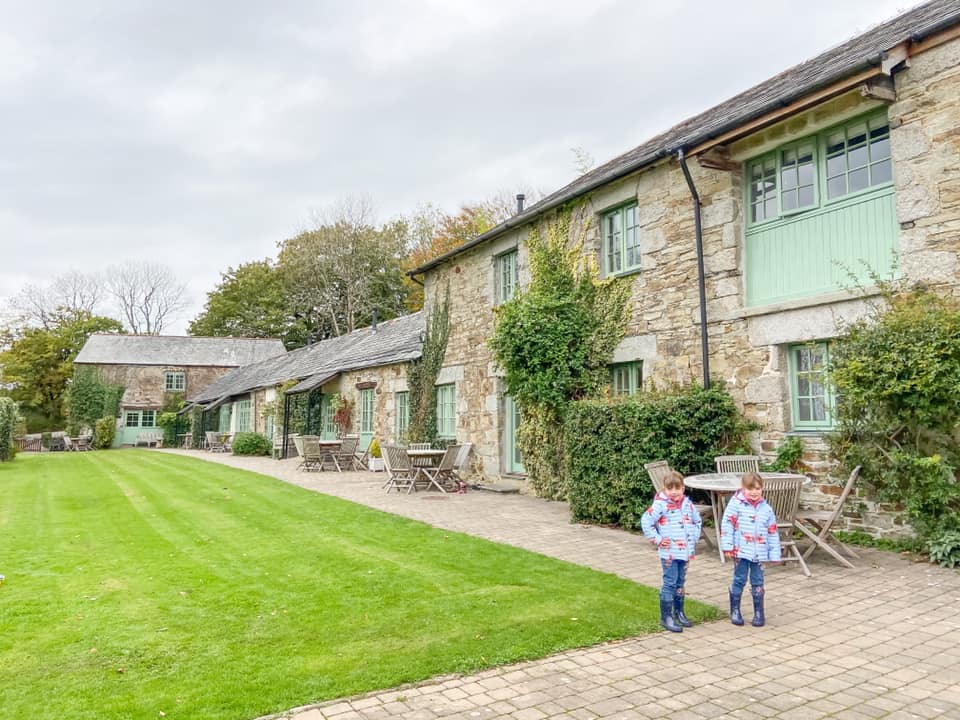 Pippa and James are parents of young boys themselves so they have a pretty good idea of what parents really need when going on holiday and do everything in their powers to make your stay as easy and as comfortable as possible.
Glynn Barton has a small car park off the private drive for your car away from the cottages. You enter the complex through a small gate which is closed at all times so little people can't escape!
Accommodation
Glynn Barton has the perfect set up for a family holiday in Cornwall. There are 8 luxury cottages which vary in size, from one bedroom properties to three bedroom. Some are on one level, whilst others have stairs. If you have special requirements or preferences, talk to Pippa as she will always do her best to accommodate you.
Each cottage comes with everything you could possibly need when travelling with small children. They have a huge list of what they can supply and you just let them know prior to your arrival.
They can supply cots, highchairs, stairgates, potty training packs, baby packs, monitors, the list goes on. And there is more than enough to go around should you have twins or multiples!
The Hayloft
We stayed in Hayloft; a luxury three-bedroom upside down cottage. What I mean by this is that there was a twin and double bedroom with en-suite, and family bathroom on the ground floor, and a twin bedroom on the upper floor just off the lounge, and kitchen area. All of the rooms were a really good size with heaps of storage space which I love – cupboards, chest of drawers; we all know how much I love to unpack!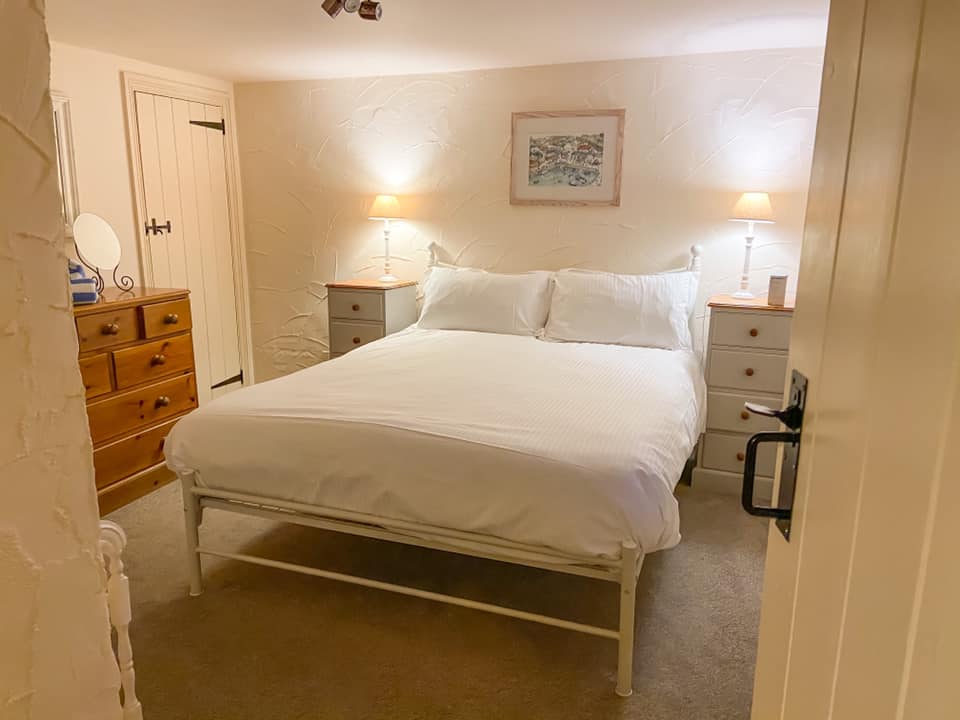 The cottage was really comfortable and well presented. It had a real country cottage feel and we felt very at home spending our evenings there.
The kitchen was well equipped with everything you could think of. There was no need to bring anything from home – it even has a dishwasher!
All bed linen and bath towels are provided with Swimming pool towels available to hire too.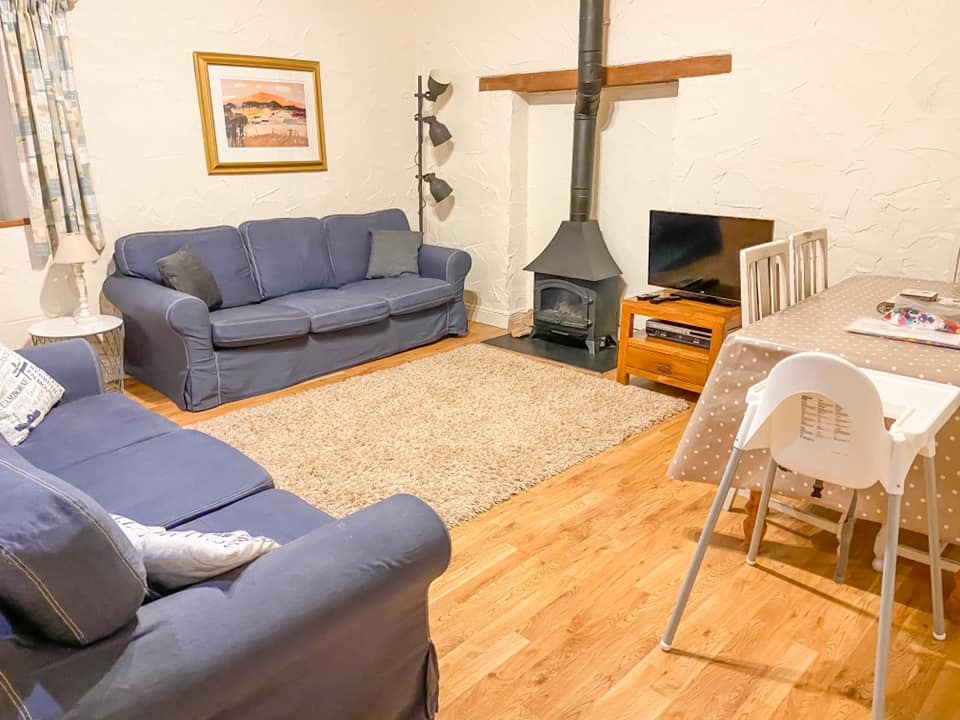 Outside in courtyard, there is a barn with washing machines and tumble dryers should you need them – who am I kidding. If you are travelling with young kids, of course you will –  what a bonus!
We truly had the best week here. I would take the family back in a heartbeat and can totally see why families return year after year. Highly recommended by 'Twins and Travels'!
Read on to find out just why…
The Glynn Barton FARM STAY Experience
Staying at Glynn Barton really is special. It is one of the best luxury holidays in Cornwall you can take with kids. It is the place to relax and have some time out after the hectic day to day goings on at home. You can spend as much, or as little time on site as you want – it's a real haven for relaxation but with HEAPS to do for the kids!
Animal Feeding
Due to COVID, the animal feeding sessions are currently being run slightly differently to 'normal'. They are offering feeding sessions 3 days a week (it usually runs 5 days) and in small groups.
The twins adore animals and they thought this was the best thing ever – a holiday on a farm was like a dream come true! Pippa and James led the animal feeding sessions and provided little pots with animal feed in for the children. I loved this idea as it is perfect for those that are a little nervous about animals eating from their hands. This was Matilda but it really encouraged her to join in!
Pippa and James were fantastic with the children, talking to them about how you look after the animals and what was in the food they were eating. They were great at answering all the crazy questions the girls came out with.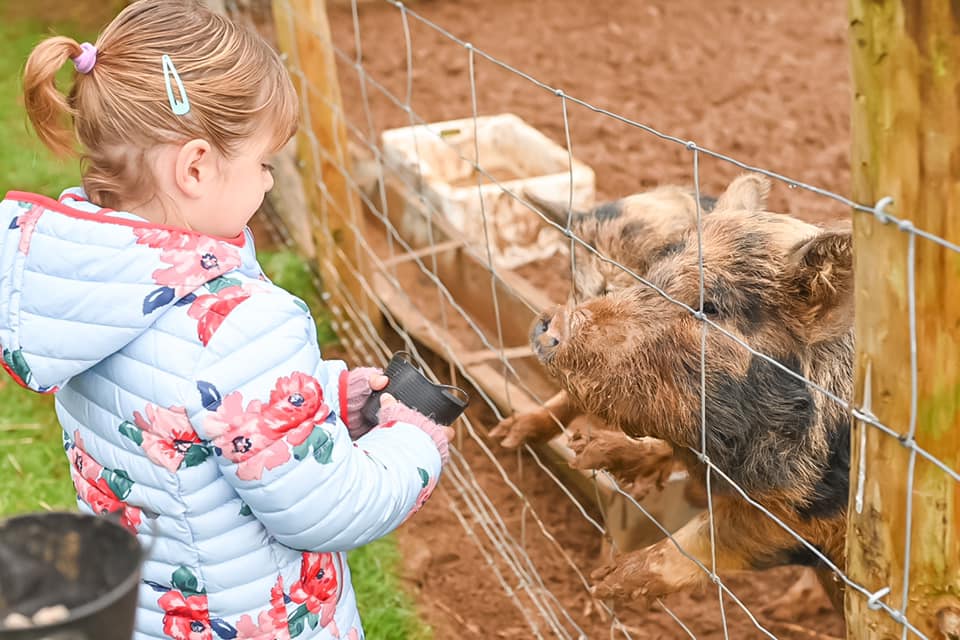 There is a lovely selection of animals for the children to feed; The most gorgeous sheep, alpacas, donkeys, pigs, goats, chickens and would you believe it wallabies. The wallabies were rescued and a great addition to the farm!
Indoor Swimming Pool & Hot Tub
What a treat to be on holiday with an indoor pool and hot tub to use – it was so warm, even I went in. They are currently running a booking system which we actually liked and you got the whole pool to yourself for an hour.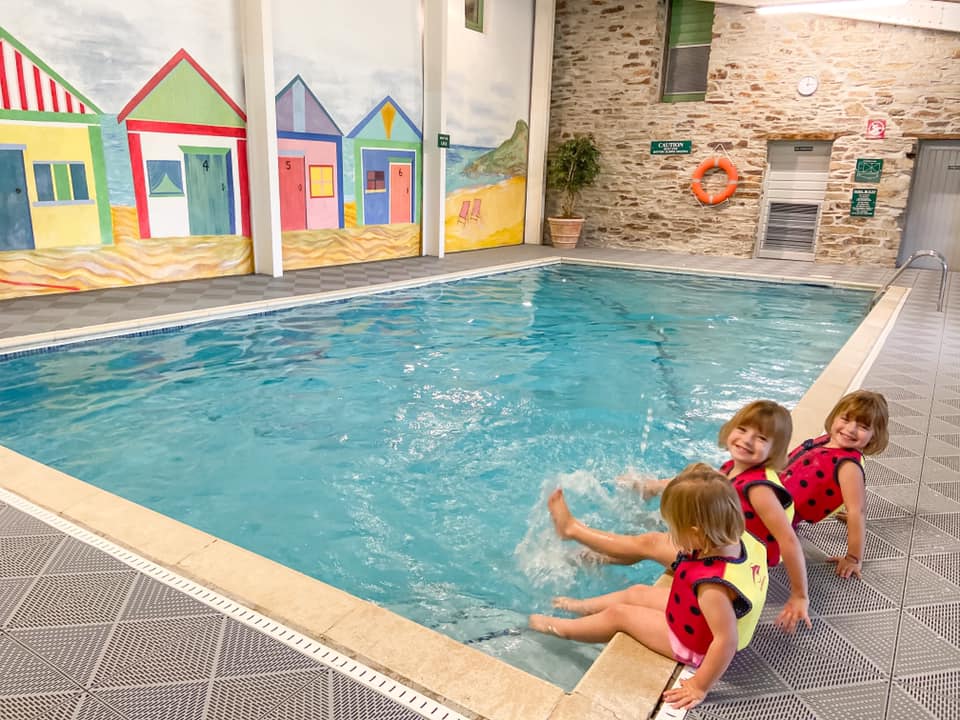 Toys, woggles and baby floats are provided for pool use and there is a play pen to put little ones in and keep safe whilst changing – this is so helpful for families with babies!
Indoor Soft Play Barn
Imagine this – Prosecco and play and totally allowed!  A small soft play for children under 6 and just perfect to burn off that last bit of your children's energy before bedtime, or on a rainy day. It is a real asset to have this at Glynn Barton!
Giant Outdoor Fort
All I can say is WOW – what a play area. The twins were just so excited to play on this and had to go on it at least twice a day. Whilst it was a little big for Matilda, she was fine as long as she was supervised and loved it just as much.
Younger Children's Play Area
But as I say, they have thought of everything and have play areas for every age group. This area is great for primary aged children. All the play areas are immaculate.
Toddler Play AreA with Ride-On's
Matilda absolutely loved this area. There was so much for her to play on, and plenty to go around. It was gated too so there was no chance of losing her!
The Amazing Maze
Just look at that maze – beautifully well-kept and hours of fun!
Tennis Court
We didn't get a chance to have a game of tennis, (plus I am pretty bad at it!) but there are lots of balls and rackets to borrow should you want a game!
Mud Kitchen
Trying to get the girls out of the mud kitchen was as hard as getting them to bed in the evening. Like many small people, they aren't afraid of getting their hands dirty and loved making the biggest mud pies around!

Den Building Area and Campfire
Once a week, Pippa and James host a social evening at Glynn Barton around the campfire. As we were there for the Halloween half term, they put on a great (socially distanced and COVID friendly) event full of games and activities you could do as a family with a stint around the campfire for hot dogs and of course toasting marshmallows!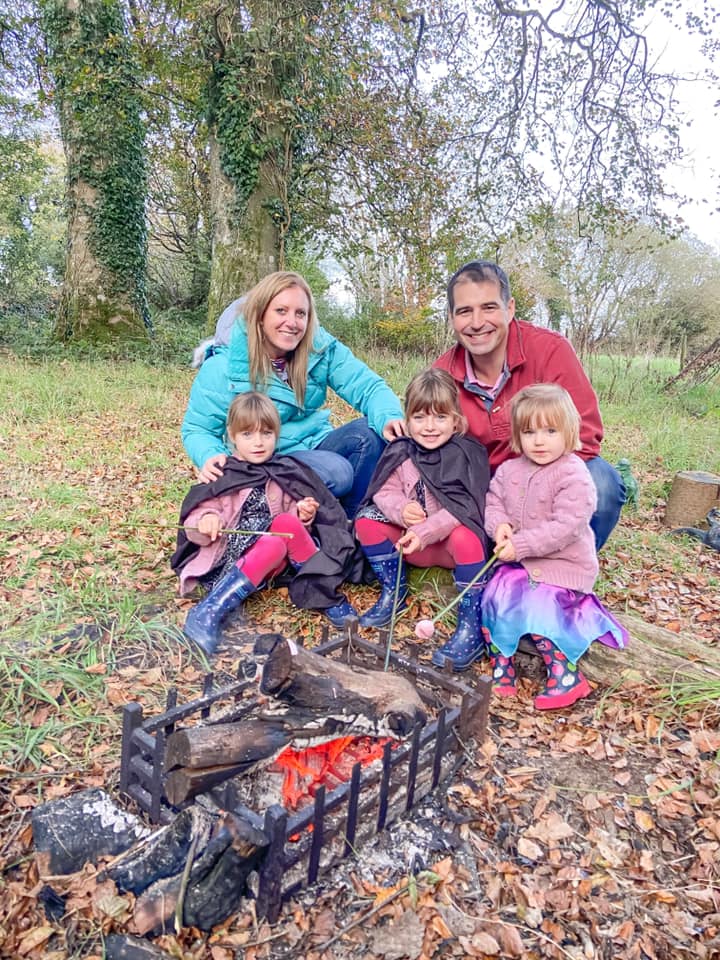 Toy Barn
Unfortunately, this was closed due to COVID, but when things return to normal, it is a treasure trove full of toys, books and games for all ages. It also includes a pool and football table.
Nature & Fitness Trail
Around the Glynn Barton Estate, a nature and fitness trail had been set up – these are two separate things. You could do the fitness trail as quickly, or as slowly as you liked – it was great fun. The nature trail consisted of a set of clues to follow, with animals to find. A great way to learn all about nature.
Glynn Barton and COVID Protocols
Pippa and James are working extremely hard to keep everyone safe at Glynn Barton. Social distancing is adhered to and is encouraged. There are several hand sanitiser stations around the estate including at the entrance, around the play areas and when animal feeding. If you are concerned by this at all, please speak to Pippa & James, whom I am sure will put your mind at rest – we felt very safe the entire time.
Glynn Barton Farm Stay -The Extras
Can you believe there is more, but this time more for you parents because we are on holiday after all too!
Angels in the Kitchen
Angels in the Kitchen bring delicious homemade meals to your cottage. Use them for the week, or as a one off treat – honestly, their food was amazing.
Baker Tom
Baker Tom delivers to Glynn Barton Cottages three times a week – choose from a bread box, an afternoon tea box or individual pieces (check their shop out for more) – you won't be disappointed one bit. We had Pain au Chocolats waiting for us on those three mornings and a bread box on arrival – yummy!
Massages
Oh my goodness, what a treat this was. I booked a full body massage with Carole from Heavenly Massage Kernow who visits Glynn Barton regularly. Tristan agreed to put the children to bed and I enjoyed some much needed R&R time – This is a must for all you tired parents!
You can book all sorts of treatments in your cottage and it's something I really recommend you do.
How to Book Glynn Barton Farm Stay
If you want to experience this amazing farm stay in Cornwall just like us, then pop over to the Glynn Barton Cottages website and book – But be quick because their cottages fill up fast. I promise you will have the best family holiday in Cornwall ever!
Days out from Glynn Barton Farm Stay
As you can see, you really can enjoy your time in the 13 acres at Glynn Barton, but sometimes it is nice to explore whilst you are on holidays in Cornwall too. There are so many great attractions nearby which include…
Screech Owl Sanctuary
Screech Owl Sanctuary is a haven for sick and injured owls located near St Columb Major, Cornwall. It is more than just a sanctuary; It welcomes visitors daily to educate them about these magnificent animals. Enjoy the flying displays, animal encounters and so much more. With a small farm on site, you can meet some of the animals close up. I was lucky enough to meet the meerkats – what a fabulous experience it was! There is also a café and play park on site.

Camel Creek Adventure Park
Camel Creek Adventure Park is a fun day out if you have children. A small theme park with rides for all ages, even Matilda had a blast. As well as rides, they have a reptile house, small animal barn and a soft play area.
The Beaches in Cornwall
So many beaches in Cornwall to explore I could have easily stayed another week!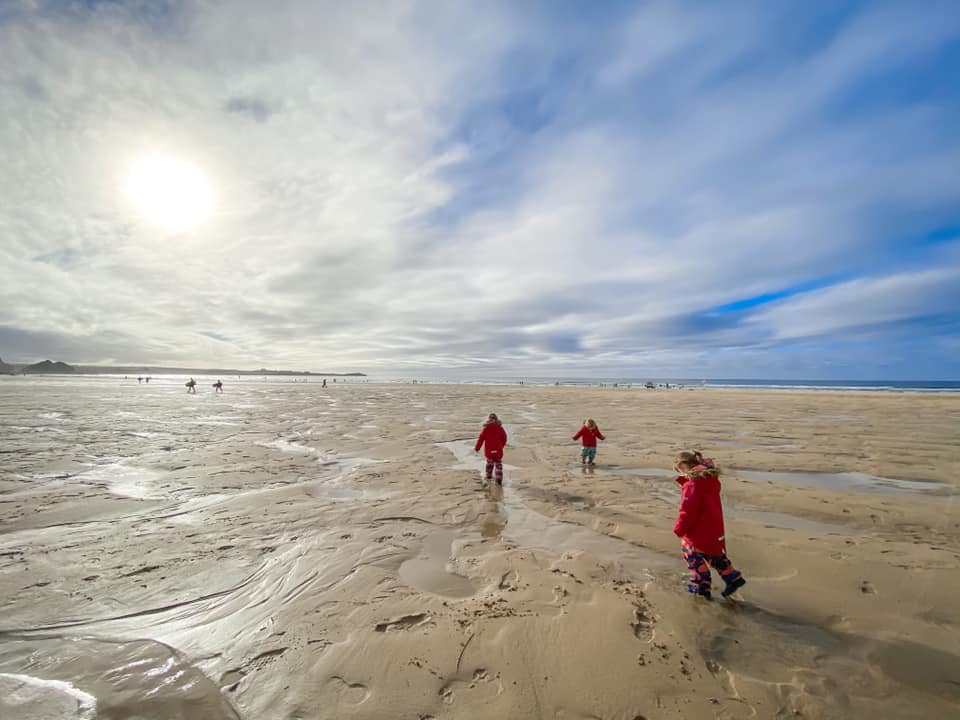 And more days out ideas can be found on the Glynn Barton Website or in their Digital Guidebook.
A huge thank you to Pippa and James for hosting our stay
at Glynn Barton!
Go On, Pin It!