When I started my blog / Facebook and Instagram page in 2017 I could only dream what has become of Twins and Travels. We started out sharing our day to day lives with our readers in the hope we could support others and now, with our love of travel, having travelled all over Europe and the US as kids; Spain, France, Portugal, Canary Islands, the list goes on… we are becoming an online resource for twin and toddler friendly holiday ideas for families with young children, twins and multiples. A place to come to, to get advice, twin and travel tips and holiday inspiration.
AD – Most of the trips included in this post are press trips as part of my role as a family travel blogger 
2018 Travel
In 2018 was an amazing year with the birth of Matilda and we therefore decided to stay a little closer to home travelling to several parts of the UK which was just as much fun. All of our holidays were 100% twin and toddler friendly holiday and we would easily recommend them all. We took 6 holidays in the UK including our first glamping trip, something I wanted to do whilst the twins were still in cots. We took a 5 hour drive down to Devon to stay at the fabulous North Bradbury Farm where the girls loved riding the ponies, splashing in the pool and joining in with daily farm duties.. On our return we stopped at the beautiful Cowshed in Dorset. Great for young children as it had a playroom too.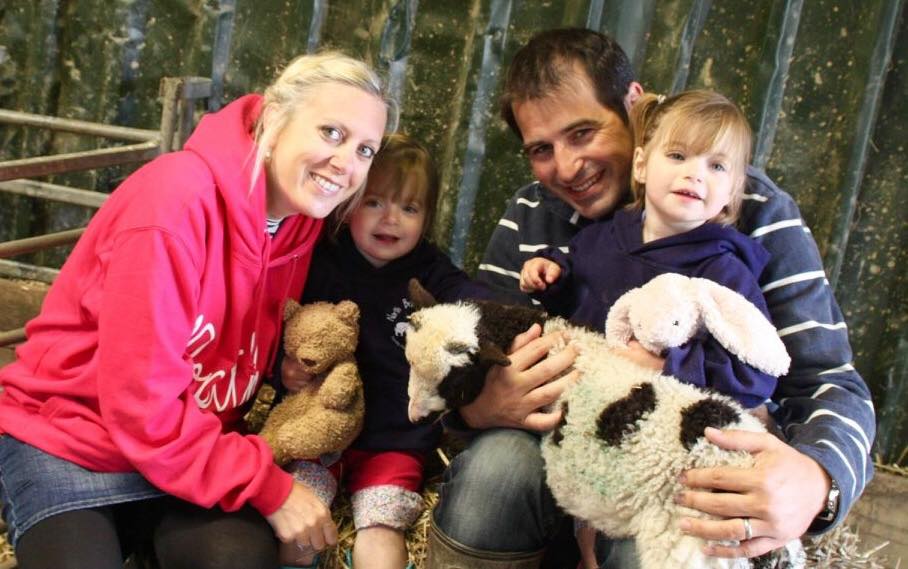 It must have been a year for firsts. We went to the famous Peppa Pig World for the first time and stayed on a lovely little farm just down the road, Kennel Farm which was perfect for a weekend getaway. We ended the year at New Park Manor for my birthday which was amazing. For all of you who thought you can't take your young family to a luxury spa hotel, you totally can!
2019 Travel
So on to 2019 which has been wonderful and so much fun. It has proved that you can holiday with twins and a baby – don't worry what anyone else thinks about your family madness, enjoy making memories. The fun times outweigh the hard days and wine helps a little too!!
In August, the twins turned 4 and it really saw a turning point for us as they became much easier to holiday with and therefore the twin and toddler friendly holiday search was on. In 2019 we holidayed for 62 days, and visited an amazing 13 destinations (including 2 family holidays with my parents meaning I got a break rather than be working). Let's find out about our adventures below!
UK Travel with Toddlers
Some of our best holidays have been in UK and we have always been lucky with the weather. However, when it has rained, we have been prepared and togged the girls up in waterproofs and just got on with it. Splashing in puddles is often a highlight of their day! There are so many child friendly attractions in the UK that there is never a dull moment!
The Cotswolds
Woolley Grange, Cotswolds
What a way to start the year at a Luxury Family Hotel. It simply is one to visit if you really do want a break. They are set up for families with young children with a free creche, kids club, early dining times for children and a listening service so you can enjoy a romantic meal and glass of wine with your husband –  Whilst it comes with a price tag, I simply love a weekend away here and would highly recommend it.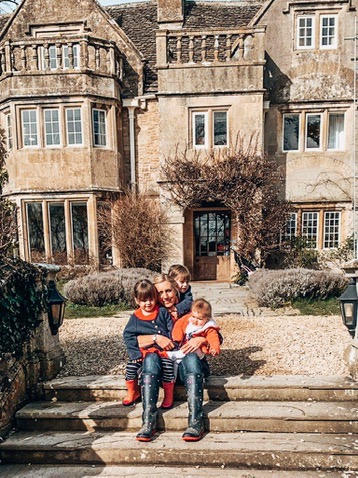 Bruern Cottages, Cotswolds
A wonderful family retreat for the whole family to enjoy, young and old. Upper class country living, yet the perfect stay for families with children in the heart of the Cotswolds. You can request baby/toddler friendly products from cots, to bed guards and plastic cutlery. Bruern has more than one outdoor play area, large gardens to run about it and heated playhouses fully equippend to keep young children entertained. It even has a warm indoor pool and a treatment room with a number of treatments on request to relax whilst you close your eyes, enjoy a treatment and take in the scents of the wax melt in the background.   Surrounded by countryside, yet the Cotswolds is full of child friendly attractions to visit.
Campden Yurts, Cotswolds
I was a little worried about staying in a yurt with 3 young children. I hate sharing a room with the girls and always worry about everyone waking everyone up ridiculously early. But the truth be told, everyone slept like a log and we all had a lie in until 7.30 each morning! Campden Yurts are able to provide futons for the children and cots/highchairs for babies. They even have enough for multiples and go the extra mile to make sure you have everything you need.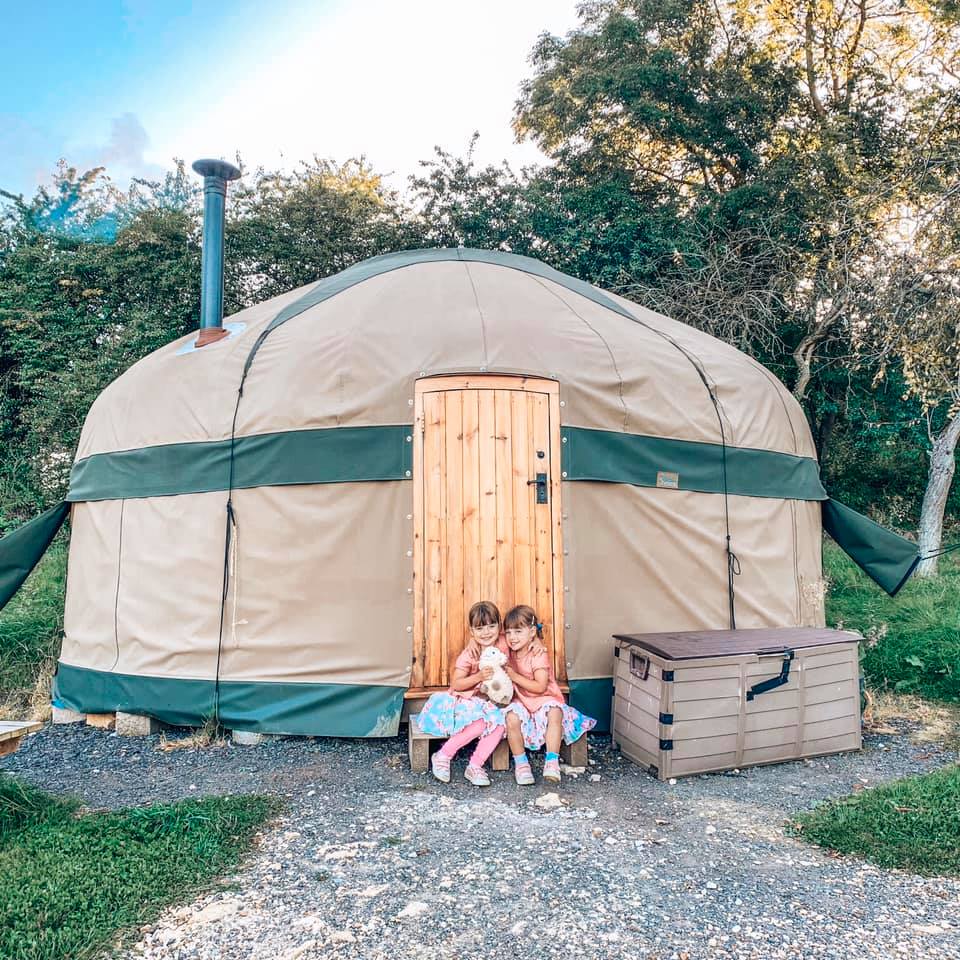 Whilst the site itself is faily close to the road, it is fully gated and what I loved about Campden Yurts is each yurt (there are two) has its own large bathroom, two fully equipped communal cooking areas, your own campfire for toasting marshmallows and a covered seating area in the event of rain or for parents to escape to in the evening for a hot chocolate or a glass of wine whilst the children are sleeping.
New Forest
Spindle Cottage, New Forest
Spindle Cottage in the New Forest is home from home. Beautifully presented and finished with some lovely touches on arrival including a cake in a jar to enjoy making and eating for tea, locally source breakfast in the fridge on arrival and a whole playroom in the garden where I also enjoyed a meditation session one evening, lead by the owner under candlelight. Situated in the heart of the New Forest surrounded by ponies and moor land.
Peak District
Darwin Forest, Peak District
We were amazed when we walked through our lodge door at how big it was. We were staying in a 3 bedroom lodge and it was huge, and complete with our very own hot tub.
Darwin Forest is great to use a base to explore the Peak District or to stay put and relax. With an onsite bar and restaurant, an indoor pool plus lots of woodland walks, you can enjoy it all year round.
Bath
Bath Mill Retreat, Bath
This Hoseasons site is perfect for visiting Bath. With the park and ride just a short 10 minuite drive away, it makes for a great twin and toddler friendly holiday. Bath Mill Retreat is outside of the site and offers spacious lodges for families up to 8. We stayed in a 4 bedroom, 3 bathroom lodge with hot tub and so there was more than enough room for everyone.
On site there is plenty of space for little ones to scoot or cycle around and you will also find a restaurant and a small playground which serves breakfast, lunch and dinner. Other than Bath itself, there are also lots of child friendly attractions nearby so you can either stop by for a weekend, or enjoy a longer stay with the family.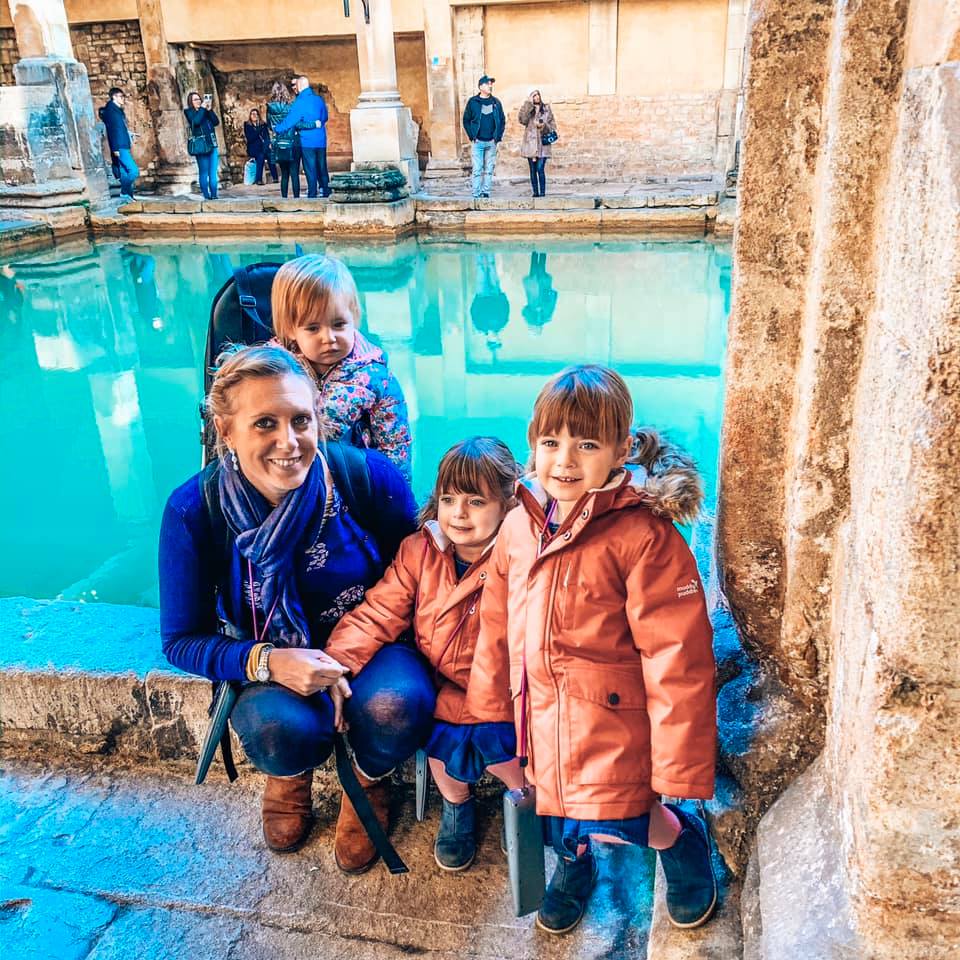 Wales
Bluestone, Wales
For our last trip of 2019, we finally got to visit the Famous Bluestone Wales, and for all of you wondering whether Bluestone is better than Centre Parcs for under 5's, in my opinion, yes it is. There is so much to do both on the resort and in the surrounding area. If you just want to unload and not move from Bluestone for a week you can, whilst if you want to get out and about exploring a little like we did, then you can too.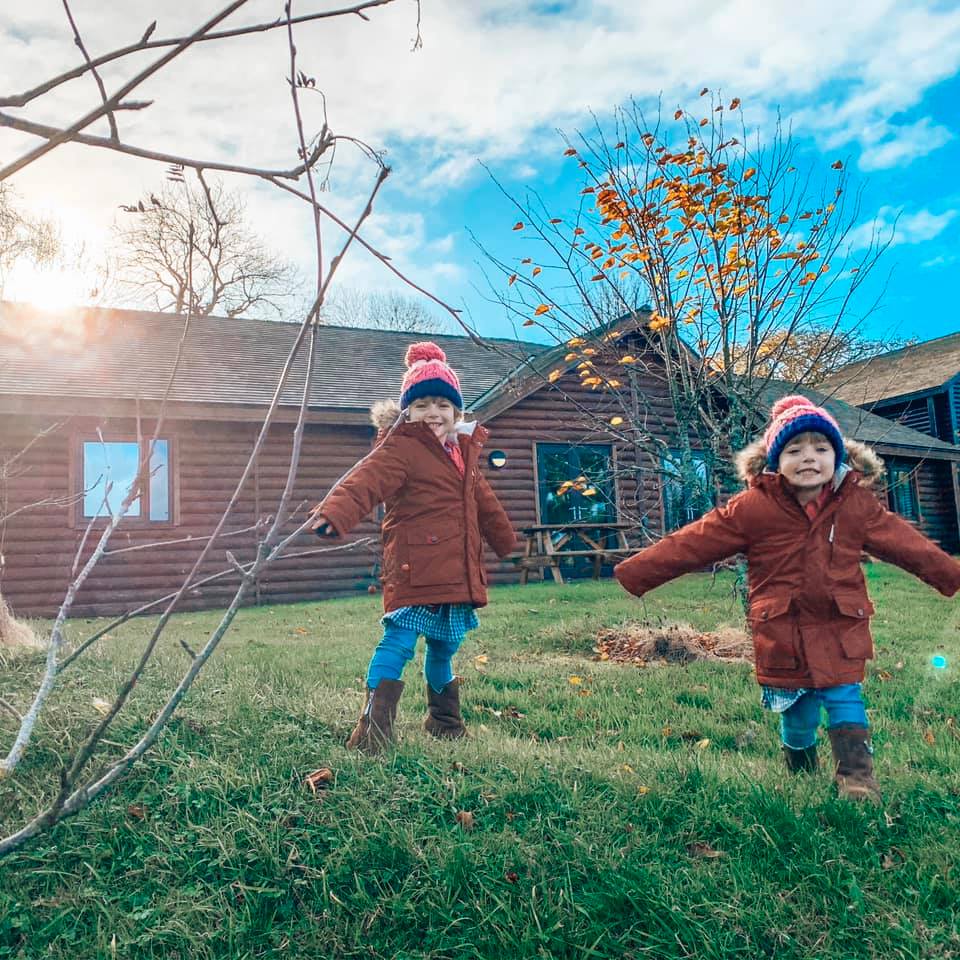 Bluestone has everything from outdoor playparks and nature walks, a soft play centre to a brand new covered play dome with water and sand play, a toddler park, foam construction areas, a theatre and food and drink sheds. The large indoor swimming pool caters for all ages with a wave machine, lazy river, flumes and separate toddler play pools. You will also finds a host of restaurants and a spa if you fancy treating yourself a little whilst there. No matter what time of your you go, Bluestone will guarantee that you will all have a good time!
I have written a full review on Bluestone which will give you a lot more detail about the resort.
European Travel of 2019
Travel can sometimes be daunting when you venture outside of the UK with young children and therefore twin and toddler friendly holiday are essential. You will of course have airports and flights to survive, carry-on bags to pack and suitcases with limited space to fill. But once you get past this fear, you will see what a wonderful world awaits us. (Plus I have several articles on the above to help you through!). Our first European holiday of 2019 was Holland…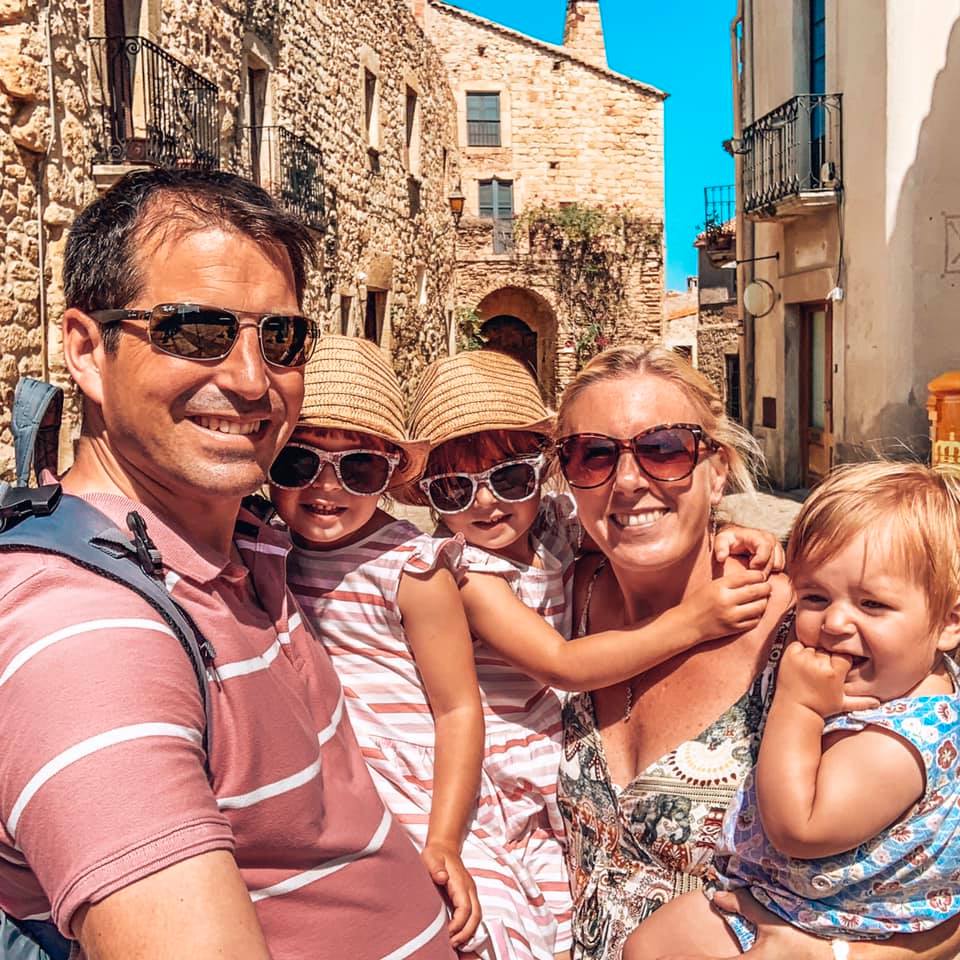 Holland
Beekse Bergen, Holland
No flights or trying to survive the airport with young children, just a ferry crossing and a three hour car journey to contend with – it was actually a very easy trip. Holland was not a country on our bucket list, but one now, that I would highly recommend to families. There is so much to do in Holland with kids that makes for a great twin and toddler friendly holiday and it really was so easy.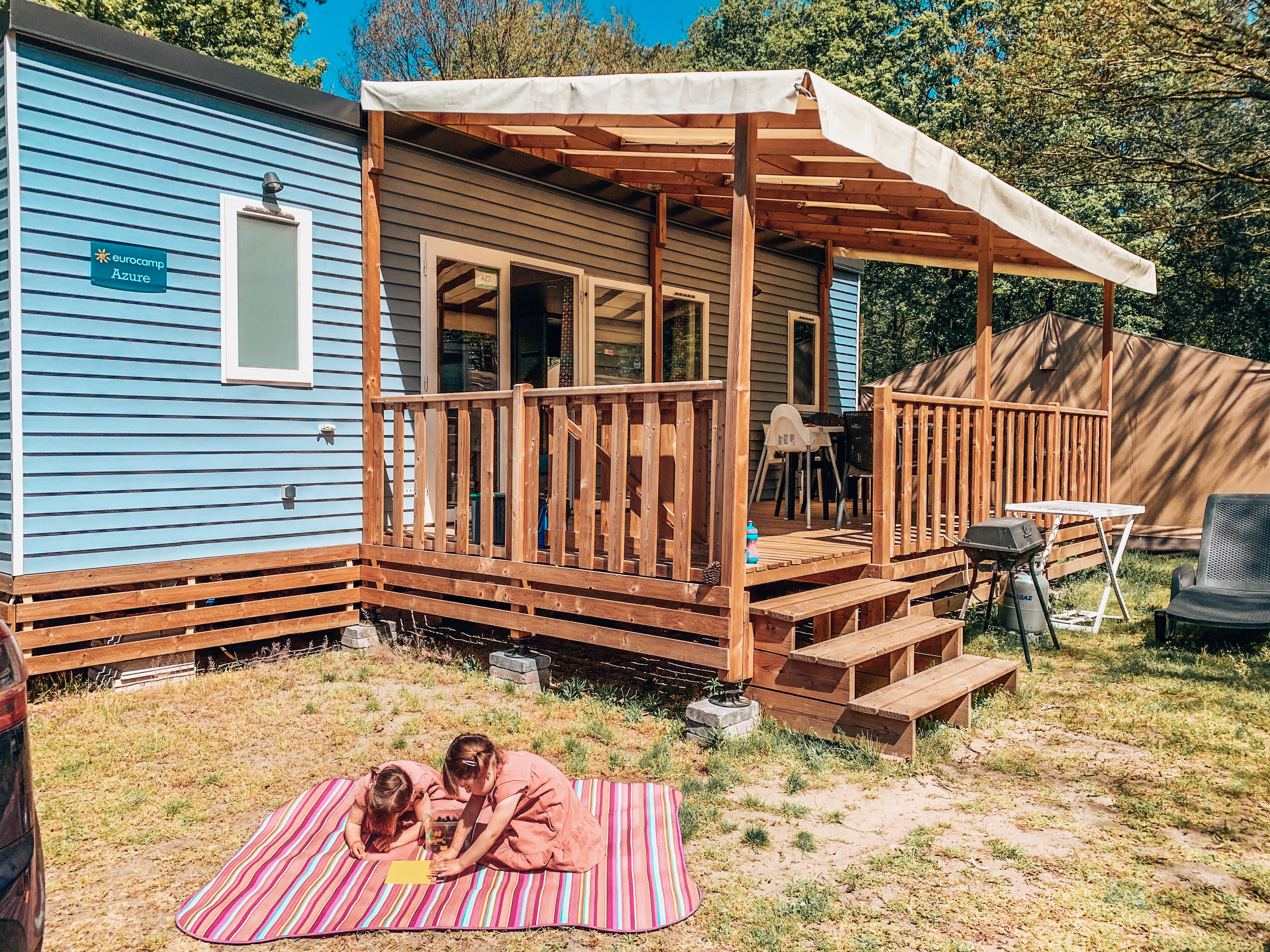 We stayed on the Eurocamp Beekse Bergen site where unlimited trips to the Beekse Bergen Safari Park and Speelland were included and yet another perfect twin and toddler friendly holiday. Whilst the Eurocamp accommodation was a little on the cosy site, it did have three bedrooms and they provided a cot and highchair. The outdoor veranda was a godsend.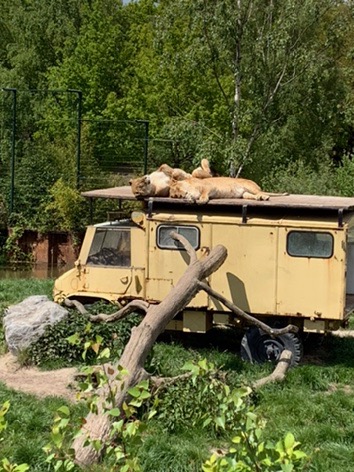 Spain
Can Bora, Girona-Spain
Glamping in Spain is something I had NEVER considered. I have holidayed in Spain many times, but always at a family resort so this was something quite different and it did not disappoint. There are 11 luxury safari lodges, most with bathrooms (and amazing showers), an honesty bar area, sunbeams and a swimming pool.
You will need a car if staying at this small glamping resort but they are able to cater for families of all ages and up to 5 people in each lodge unless you take over more than one lodge at a time. There are plenty of attractions to visit nearby and some really beautiful beaches to spend the day at with the family.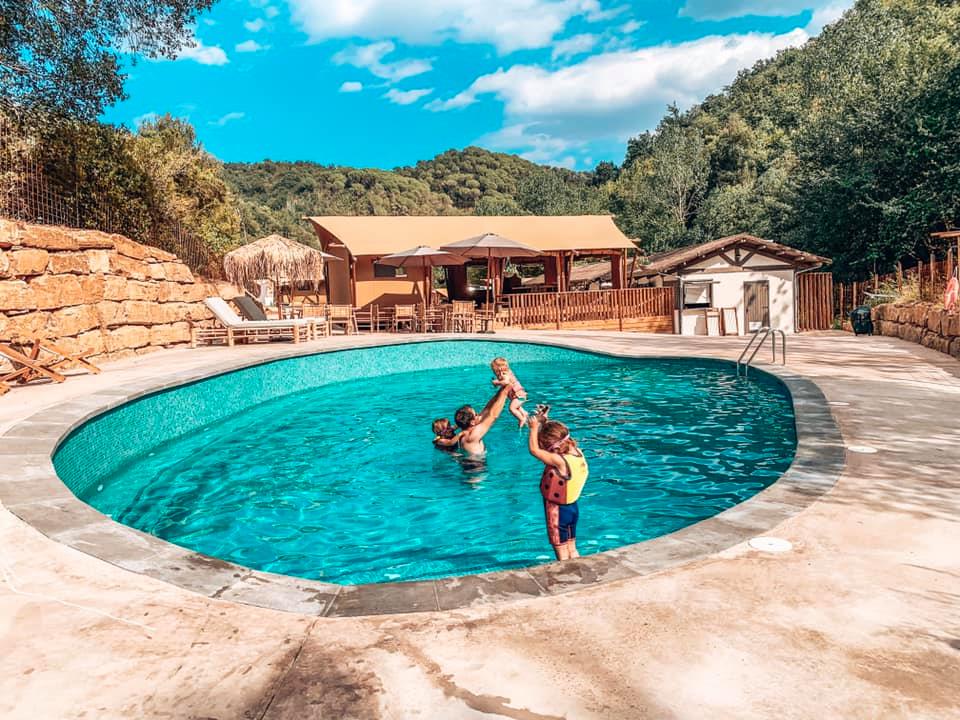 France
Pagel, South-West France
Pagel was our favourite holiday of 2019. If you are looking for one twin and toddler friendly holiday, then this is it. They cater for your every need and are able to provide practically everything baby related from monitors, cots and baby gates, to buggies and baby carriers.
The site itself is set up with children at the forefront of the holiday. With 5 acres of outdoor space to runabout in and play equipment galore, children will never get bored here. Pagel also has its own heated swimming pool and toddler pool with sun loungers which is fully fenced.
Pagel also has its own kids club for children 3+ which runs three times a week and is led by a teacher from the UK. Whilst we hadn't planned putting the twins in for all three sessions, they were begging us to go as it was so much fun!
That's a wrap!
So that's it for 2019. As I said, we have had a fabulous year making memories and meeting some wonderful people. We would like to take this opportunity to thank the above companies for hosting and making memories with us.
2020 is set to be even more amazing with 4 holidays already booked between January and March with holidays planned for a luxury hotel break in Lanzarote, a family Kenyan safari and coast extravaganza in February and our first skiing holiday with Esprit in March. We will then take a road trip in April to Cornwall staying at Tredethick Cottages which I know will be a hit with the girls as they enjoyed North Bradbury Farm Stay so much in 2018! We would love to travel around Ireland too but that may have to wait until 2021!
GO ON, PIN IT!