Center Parcs at Christmas – Center Parcs Winter Wonderland
Going away for Christmas – Christmas short breaks
Going on a family holiday at Christmas is the perfect way to spend quality time with your loved ones. UK  family Christmas breaks give you time away from cooking and work and household chores, while the children will get a present they'll never forget – an exciting Christmas holiday. Family holidays are a great way to catch up with everyone and spend some real quality time together – whilst enjoying a well-deserved break. Center Parcs Winter Wonderland, is a great Christmas break in the UK over the festive period. There is plenty going on to keep everyone entertained at Center Parcs at Christmas.
Center Parcs UK
In the UK you can choose from five Center Parcs resorts plus one in Ireland. There are: Woburn Forest, Bedfordshire; Longleat Christmas, Wiltshire; Elveden Forest, Suffolk; Sherwood Forest, Nottingham and Whinfell Forest in Cumbria. There is also Longford Forest in Ireland.
Center Parcs Europe
Center Parcs owns 27 European parks in the Netherlands, Belgium, Germany and France. So, if you fancy a trip across the pond then there are plenty of choices.
Christmas at Center Parcs  – What is Winter Wonderland?
Winter Wonderland at Center Parcs is a fun festive experience – one of the best family Christmas breaks UK. The forest will be transformed into a winter playground, designed to get you well and truly in the Christmas spirit. You can explore the beautiful winter forest with a sprinkling of snow, twinkling lights and festive decorations and discover a variety of seasonal activities for all ages.
READ MORE: Another great Christmas break is Bury St Edmunds!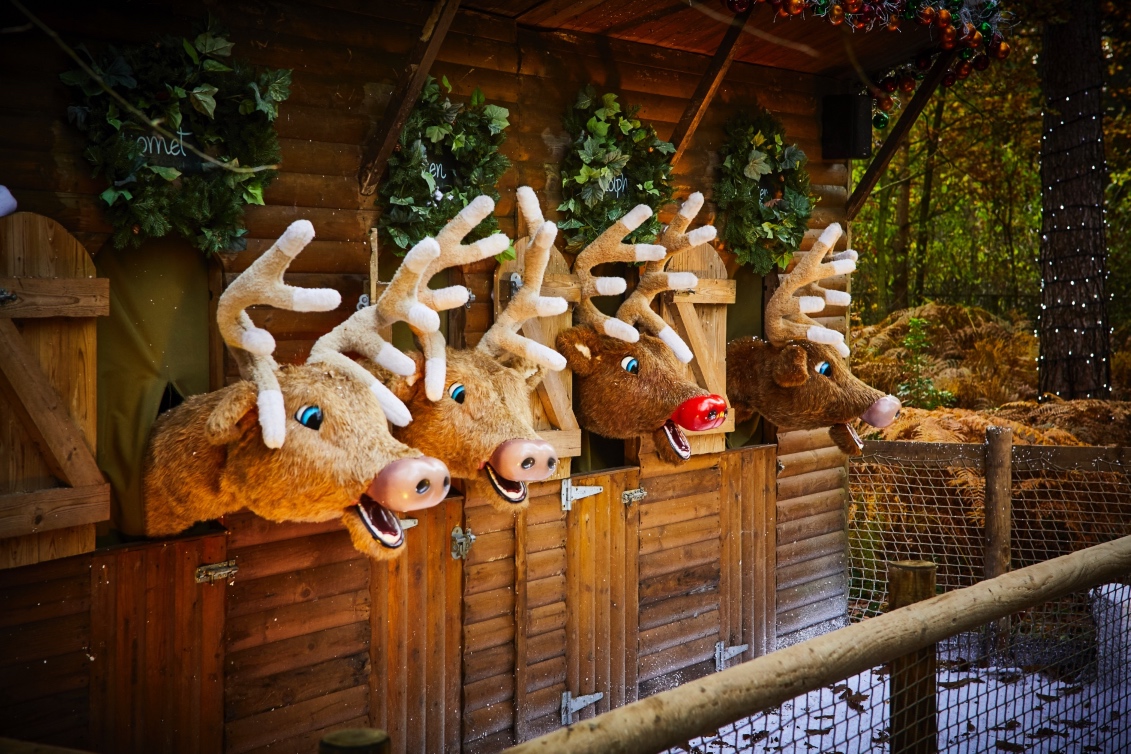 What's included in your Winter Wonderland break at Center Parcs?
Your Center Parcs at Christmas break features plenty of activities and experiences that you can enjoy at no extra cost.
Unlimited entry to Santa's Woodland Village and the Enchanted Light Garden
A free guide to what's on during your break, including a new Elf Explorer Passport
Letters to Santa, where you can write and post your letters and receive a personalised reply during your break
Festive Storytime in the Tipi with a friendly storyteller (places must be booked in advance)
Storytime with Nutmeg and Friends – watch animated bedtime stories on your lodge TV every night from 6pm
Santa's Village Tour, where you can wave to Santa as he makes his way around the village from 6:15pm every Tuesday and Saturday
Festive choir performances every Wednesday and Sunday
Read More: Christmas Presents for a 1 Year Old
Center Parcs Activities – Santa's Woodland Village
At the heart of Winter Wonderland in Center Parcs is Santa's Woodland Village. Center Parcs at Christmas is such a magical experience and free to enter. Inside you'll find:
Interactive and immersive seasonal displays, sculptures, and photo opportunities
The Enchanted Light Garden, where you can stroll through twinkling lights and bright bursts of colour, dancing along to the festive soundtrack. Open 4pm – 9pm daily
Toadstools, featuring elves in festive scenes and the Wise Old Owl telling his story
The famous singing reindeer
Santa's Woodland Workshop, where you'll be greeted by the elves and journey through the workshop before meeting Santa himself (pre-bookable at an extra cost, available until Christmas Eve)
Playful elves wandering round the snowy paths
Forest Festive Fayre, where you can buy hot drinks and festive treats

What Date does Christmas Start at Center Parcs?
Christmas at Center Parcs starts  from Monday 7 November 2022 until Monday 2 January 2023 and feel the magic in the forest.
READ MORE: Presents for 3 year olds
Free Christmas Activities at Center Parcs
As always the swimming pool will be open at Center Parcs throughout Christmas. There will be free storytelling as well as the festive Enchanted Lights trail. The adventure playgrounds will all be open and you can stroll through the woodland and enjoy a festive cycle ride.
Family Christmas Breaks in the UK – Center Parcs at Christmas – Activities
As well as all the usual Center Parcs activities,  when it's Christmas at Center Parcs, you can also enjoy these extra festive treats…
Aladdin Pantomime
It's the very best family entertainment there is. Everybody loves panto.
Design a Giant Christmas Stocking
Design a colourful, sparkling Christmas stocking to hang on the fireplace – a festive arts and crafts session that's fun for all ages. Minimum age 3 years.
Elf Academy
It takes a lot of hard work and dedication to become one of Santa's elves. This 3-hour fun training session is jam-packed with Christmas crafts, dancing, games and treats.
Elf Trail
A magical Christmas adventure for you and your little ones. Can you help Santa's elf to search the forest and find candy canes and decorations for the Christmas tree? Ages 18 months to 5 years.
Festive Carriage Rides
A wonderfully traditional way to travel through the winter woodland… sit back and relax while taking in all the picturesque festive scenery of our forest from the comfort of your family's very own horse-drawn carriage.
Festive Chocolate Chefs Academy
'Tis the season to eat chocolate! Packed with sticky, sweet, chocolatey fun, our famous Festive Chocolate Chefs' Academy is perfect for budding chefs as they make their very own Christmassy chocolate creations in this unaccompanied session.
Festive Cookie Decorating
Let your little ones get creative as they decorate some cookies ready for Christmas. They'll learn tips and tricks along the way – and even get treats to share with the family afterwards. Ages 3 to 9 years.
Festive Cupcake Decorating
Piping bags at the ready as you learn a range of professional, impressive cake decorating techniques – and transform six ordinary cupcakes into magical Christmassy masterpieces. Minimum age 8 years.
Festive Forest Discovery Trail
Explore the festive forest! Navigate around the village, following the map to find the Christmas clues and solve the puzzles. Guide your little ones and learn all about the fascinating forest in this brand-new festive family experience.
Festive Pony Ride
Introduce your little one to the gentle joys of pony riding, with a fabulous festive trek through the beautiful forest. Ages 2 to 7 years.
Festive Pottery Painting
The activity that's loved by all the generations and will leave you with a special Christmas souvenir to take home. Your festive masterpiece will be professionally glazed and fired overnight, so you can treasure it forever. Suitable for all ages and abilities.
Festive Storytime
Your little ones can listen and enjoy the storytellers as they bring the Winter Wonderland characters to life in this free storytime session. Minimum age 2 years.
Festive Wreath Making
Learn how to weave delicate willow fronds into a beautiful wreath to display and admire over the festive season. Minimum age 8 years.
Father Christmas Workshop
The big day is on its way and we have a very special visitor at Center Parcs… Santa Claus himself is setting up his workshop in the forest, as his little helpers make all the last-minute toys and gifts for Christmas. There's even real reindeer!
Center Parcs Breaks – Christmas Activities for Babies and Toddlers
Festive Cupcakes for Little Ones
Your little ones will love learning new cake decorating techniques and creating four deliciously Christmassy cupcakes – not to mention getting to eat them afterwards! Ages 3 to 9 years.
Festive Face Painting
Get your little ones into the Christmas spirit with some fun festive face paint. We use washable face paints to avoid laundry incidents. Minimum age 2 years.
Festive Wreath Making for Little Ones
Your little ones will love joining in the festivities in this craft session, where they'll create a fun festive door wreath that they can proudly display at home year after year. Ages 3 to 9 years.
Toy Making Workshop
The elves need all the help they can get at this time of year, so come and see what they get up to behind the scenes at Christmas time! Your little ones can experience the joy of toy making as they create and decorate two toys to take home. Ages 3 to 9 years.
READ MORE: Center Parcs with a Toddler – Tips
READ MORE: UK Holidays with a Toddler
Center Parcs at Christmas Bike Hire
At the Cycle Centre at Center Parcs, the knowledgeable staff will make sure you get exactly the right equipment for your height, age and ability. From adult and junior mountain bikes, to tandems and trailers, there are plenty of options of bike hire at Center Parcs. They also stock a range of accessories to keep you safe and comfortable as you pedal, including water bottles, lights, gloves, helmets and protective gear, available to buy or hire.
Pre-booked cycles can be collected 11am – 8pm on your arrival day and should be returned 8am – 10am on your departure day. Non arrival and departure days opening times: 9am – 5pm
Center Parcs Christmas Tree
If you are staying at Center Parcs at Christmas you will want your lodge to look festive. You can pre-order a Christmas tree, lights and decorations pack to add seasonal sparkle to your lodge. The real Christmas tree – 5 foot (minimum height), blocked and cut will be delivered to your lodge on your arrival day. Please note decorations are not included so you will need to order a decorations pack too.
Center Parcs Christmas Dinner
It's not Christmas without a traditional Christmas dinner. Christmas dinner at Center Parcs is served in Huck's American Bar and Grill. You will be treated with delicious food, good wine and great service. Their festive menu includes all the traditional trimmings, so you sit back, relax for your two hour allocated Christmas dinner.
Center Parcs Christmas Experience
Soak up the festive magic of Winter Wonderland and get the whole family together for a Christmas break at Center Parcs and be enchanted by the Winter Forest Lights. When it's cooler outside, choose from a wide variety of indoor activities to keep the whole family entertained. You can still make a splash on the Subtropical Swimming Paradise, dine out and enjoy some festive food and drinks or escape to the Aqua Sana Spa with a warming aromatherapy massage or a comforting soak in the hot tub.
READ MORE: Places to have Breakfast with Santa near You!
The Center Parcs Christmas Party
Center Parcs resorts have various private event spaces, function rooms and private dining rooms for large and small events, all tucked away in the heart of the forest. So if you are planning to have a Christmas party it may be worth looking into hiring a space at Center Parcs.