Alton Towers Cbeebies Land. Everybody loves visiting UK theme parks with their family. You will always find such an assortment of rides, shows and attractions. They really do contain something to suit all tastes and can be enjoyed by adults, teenagers and young children. During our trip to Knockerdown Cottages in Derbyshire, we took a day trip to Alton Towers to visit Cbeebies Land with a toddler – can you imagine, nothing would top this day out in Derbyshire for them! The girls were 3 and 6 (2022) at the time of visiting and we feel that this was such a great age for them all to enjoy it.
We are massive fans of CBeebies here. The excitement sky rocketed in the week leading up to our visit and not just from the 3 year old, the twins were just as excited to see some of their favourite characters in real life! Matilda hasn't stopped going on about it and has her sights on going back soon – it was honestly the best day of her life!!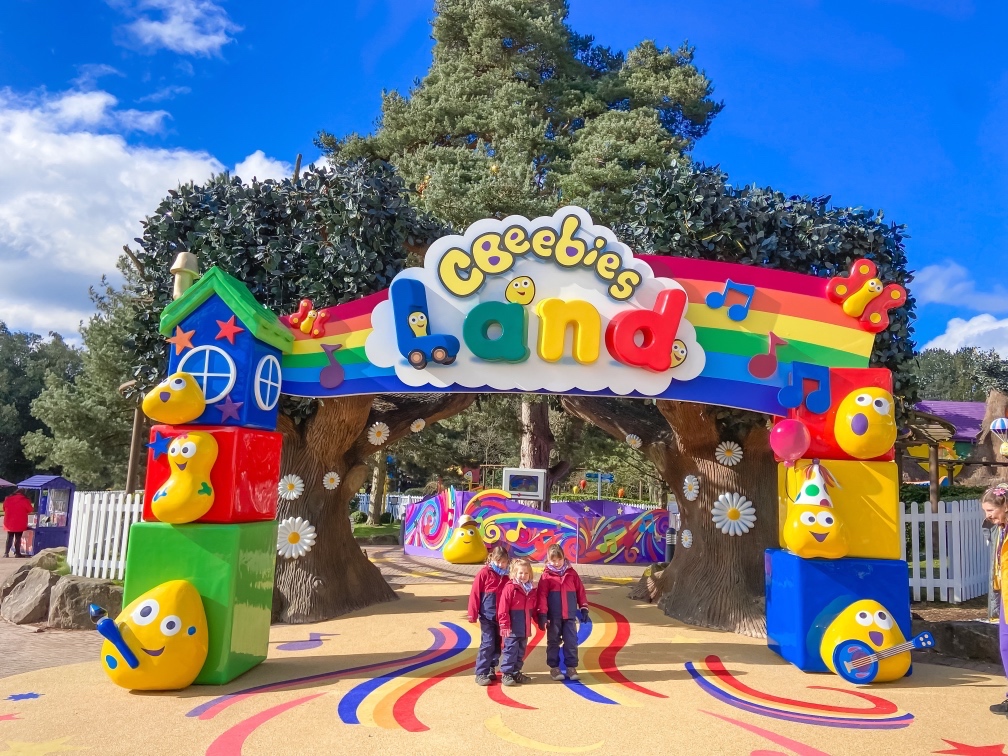 **This was a gifted trip in exchange for this article.
Our trip was made even more exciting as it started to snow on our journey – good job we had packed the waterproof trousers as nothing was going to stop us going and the snow actually went in our favour because we didn't cue for a single ride all day – I know this is different in the warmer months so you do need to plan for this carefully!
Where is Cbeebies Land?
Cbeebies Land is one of the top days out in Derbyshire and can be found at one of the best theme parks in the UK – Alton Towers Resort. Alton Towers is a theme park and resort complex in Staffordshire near the village of Alton. It is one of few theme parks with hotels in the UK.
Is Cbeebies Land part of Alton Towers?
Cbeebeis Land is part of the Alton Towers theme park. The dedicated CBeebies area at Alton Towers resort is home to live shows, a large range of rides, as well as indoor and outdoor attractions, including Furchester Hotel,  Go Jetters, In the Night Garden, Octonauts, Postman Pat and Peter Rabbit. The CBeebies area is suitable for children aged from 1-6 years and the area can easily be fully explored in a day.
Cbeebies Tickets – How much is Cbeebies Land with a toddler?
There is no CBeebies Land only ticket. So it's a full Alton Towers ticket. That said, under 3s are free!
Tickets for the theme park start at £34 per person and Alton Towers Annual Passes starts from £119 per person.
NEW Parent and Toddler Pass at Alton Towers
For those wanting to visit UK theme parks with toddlers then this exclusive online offer is perfect for you! Parent and Toddler Pass returning to Cbeebies Land Alton Towers for the 2022 season. It is available on selected dates and the Pass allows tickets at just £25 (one adult and one toddler under 5). Guests can also opt to add on an extra toddler, under 5yrs, for just £5. In addition, under 3's go free at Alton Towers Resort every day.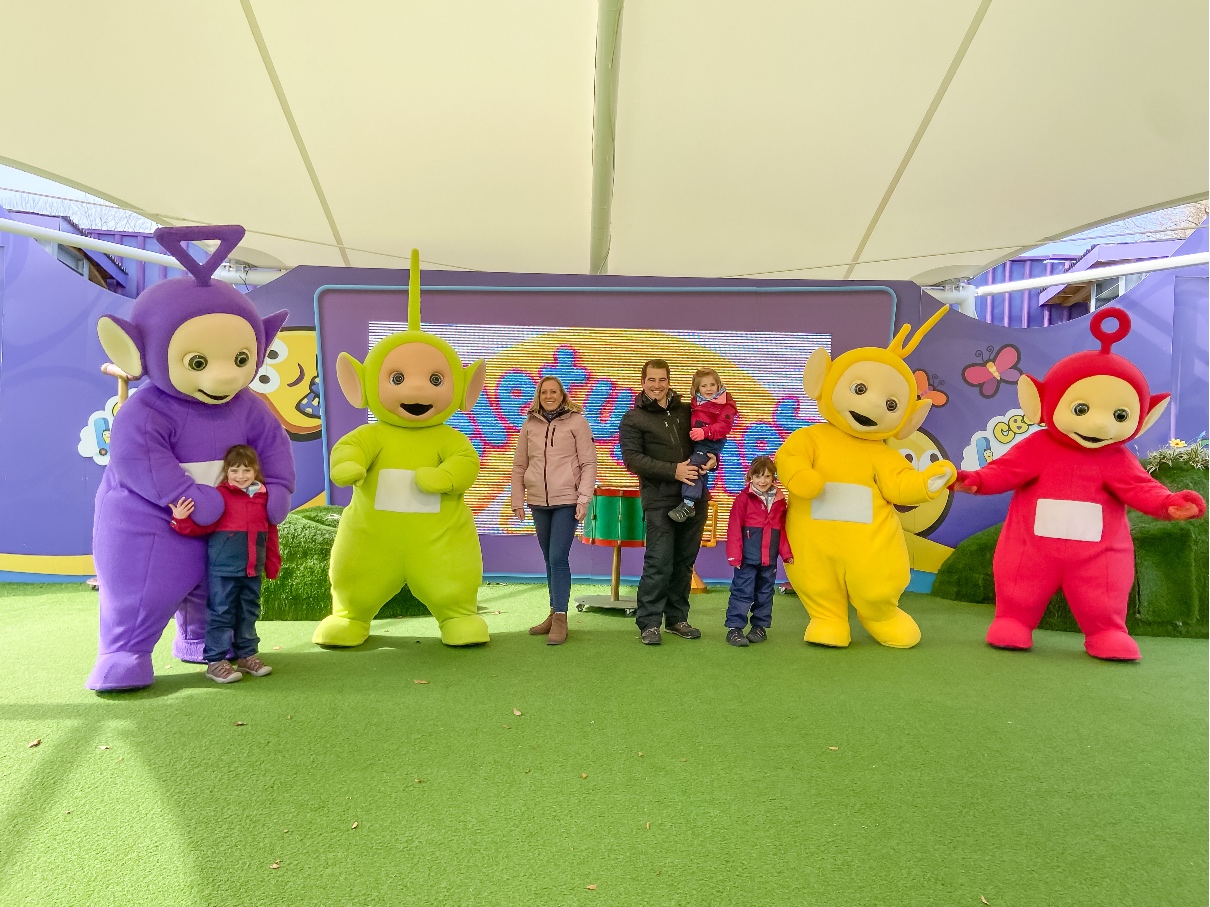 Cbeebies Land Opening Times
CBeebies Land is open from March until November every year. The theme park opens daily from 10am and closes at 5.00pm (6.00pm on certain evenings)
What age is Cbeebies Land suitable for?
CBeebies Land at Alton Towers is aimed at children aged 1 to 6 and is one of the best theme parks for toddlers in the UK, though there are attractions across the whole of Alton Towers Theme Park that are suitable for younger children.
Can you do Cbeebies Land with a Toddler in One Day?
Yes, you can do Cbeebies at Alton Towers in a day and it is a amazing day out for toddlers and younger children.  The twins were only toddlers at Cbeebies Land on their first visit and it was a rainy day, and more recently it was snowing, so the weather definably impacts how many people are there and queue times because we didn't queue at all on either occasion.
The fun doesn't stop in wet weather though, you just need to dress appropriately and I would advise waterproof trousers for the whole family.  In the summer months, the wait times will be much longer so be prepared for this.
Parking at Alton Towers Cbeebies Land
The car park opens at 9am so that people can arrive ready for the 10am opening. The car park is £6 and a 15-20 minute walk from the main gate. There is a monorail connecting the car park to the entrance gate and it seems the majority of people used this.
However, a huge tip from us is if you have the money for the express parking, then I highly recommend it especially if you are going to CBeebies Land with a toddler. It's £20 and you have to book it but it's right next to the entrance and it saves the 20 min walk from the main car park which is hard on little legs. You can of course use the monorail but there were huge queues here when we tried to use it.
Also make a note of the letter where your car is parked!
Cbeebies Land Map
What are the best rides/attractions at CBeebies Land?
Let's ask the girls on this one…
The twins at 6 say the Peter Rabbit ride and Go Jetters ride
Matilda at 3 says In the Night Garden ride
Also make a note that the Octonauts Rollercoaster Adventure, Jet Setters and In the Night Garden are always popular so I'd say make get to these either first thing or late afternoon.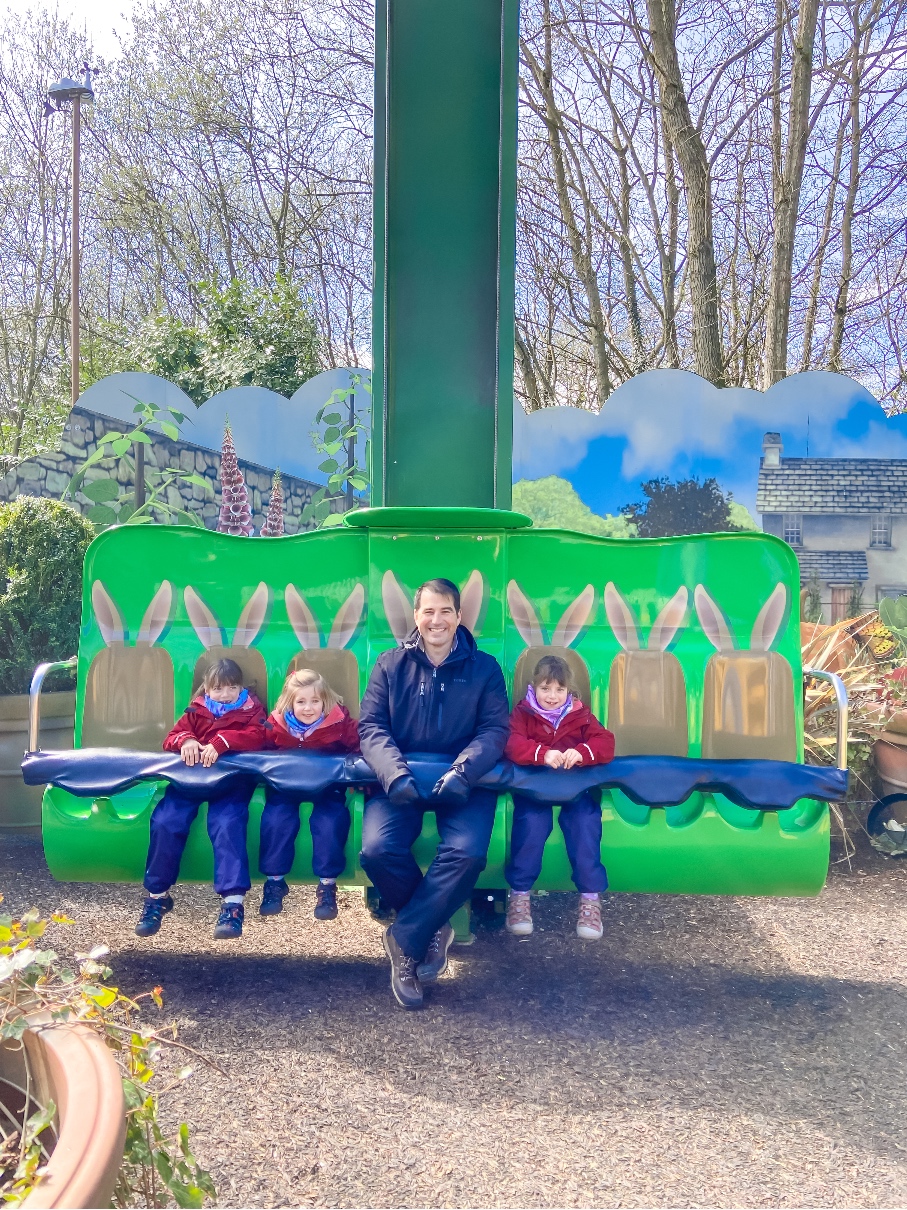 Cbeebies Land Rides and Attractions
New attractions at Cbeebies Land in 2022
Hey Duggee Big Adventure Badge
Any CBeebies fans will be familiar with Hey Duggee. The Hey Duggee Big Adventure Badge attraction invites children to get active and climb, slide and bounce their way through interactive, sensory play areas, including the UK's first real-life Hey Duggee Clubhouse, complete with slides. The kids get to join the Squirrel Club and go on a big adventure to all their favourite Hey Duggee locations. Hey Duggee also has a brand-new live show called "The Map Badge".
JoJo & Gran Gran At Home
If your little ones love JoJo and Gran Gran, then they will love this. It is an active play space that is suitable for all ages where youngsters can join JoJo & Gran Gran at Home as they play, make, and explore. They'll be able to call Great Gran Gran in Saint Lucia from the sitting room and help bake Gran Gran's banana bread in the kitchen. They'll also be able to head out into Gran Gran's garden.
Andy's Adventures Dinosaur Dig
Dinosaur fans can immerse themselves in prehistoric sights and sounds as they see what they can discover in the brand-new live interactive show, Andy's Adventures Dinosaur Dig. This was such a brilliant attraction and we loved it.
They'll get to visit Andy's outpost and explore the prehistoric dig site; unearth fossils and have  them analysed in the fossilator; help build a new exhibit with the outpost curator and learn all about  their discoveries in this interactive show. As part of the experience, guests will be joined by Andy via video link from his gizmo. They'll also discover amazing animals; help feed a baby dinosaur and even join in with one of Andy's raps!
Doing the rounds around Cbeebies Land were the Cbeebies Dinosaur crew. There were there sharing amazing dinosaur facts and dancing the dinosaur jig which of course you could join in with too!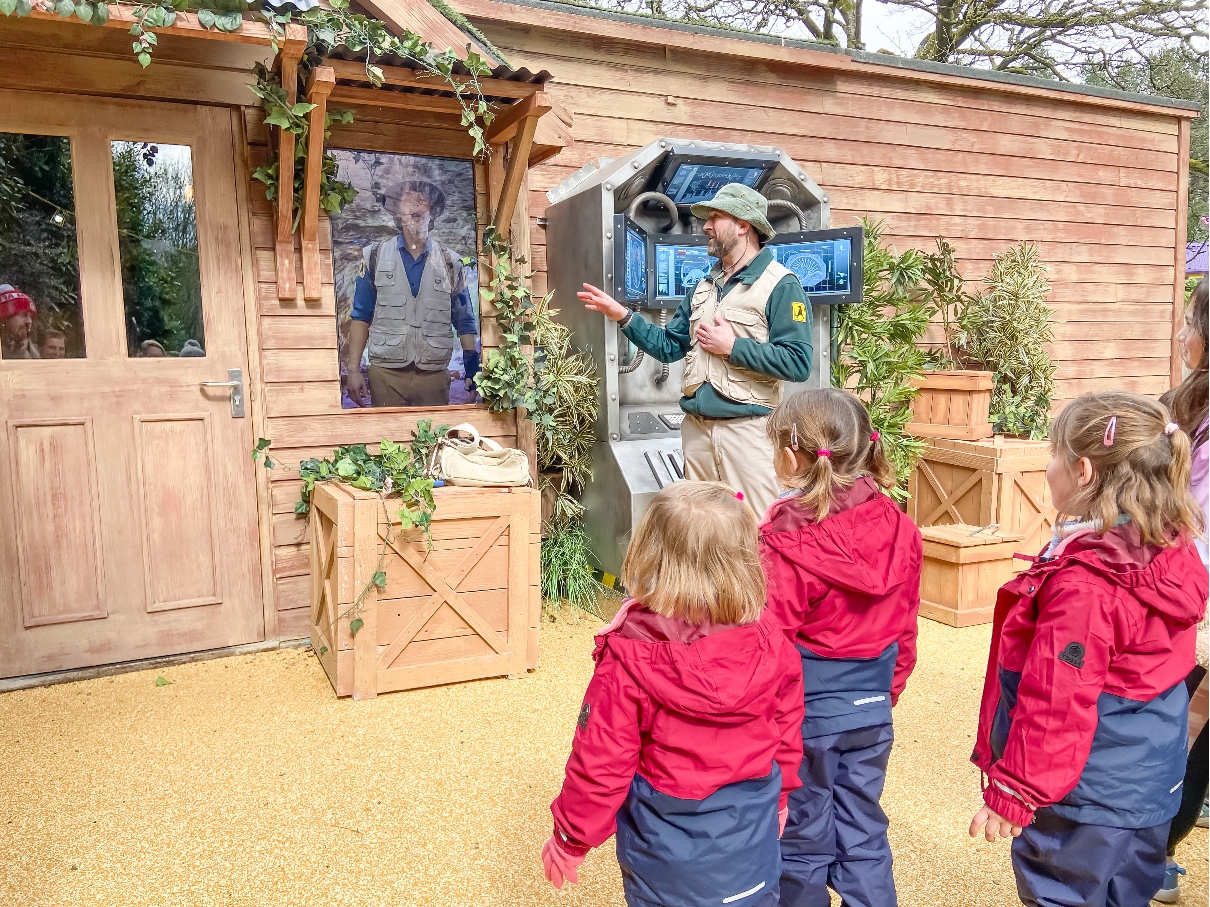 New Cbeebies Land Shows for 2022
There are some fabulous Cbeebies shows to see and the girls enjoy the performances from some of their favourite Cbeebies characters. A brand-new live show called Bing and Flop in the Big Fun Showtime is one not to miss and there is a full schedule of events where kids can meet and interact with some of CBeebies' biggest stars.
Cbeebies Land Height Restrictions and Rides
There are plenty of rides and attractions for children of all ages to enjoy in CBeebies Land and keep your eye out for the characters walking about too – the girls love bumping into their favourite TV stars.
Are there height restrictions for children at Alton Towers Cbeebies Land?
Yes, there are height restrictions on some rides but there is something for everyone and is a theme park for babies too. The first time we visited, the twins were 3 and Matilda was just 1 and she got to enjoy some of the rides and attractions too.
Rides for Children under 90cm at Cbeebies Land
Postman Pat Parcel Post
Height: Anyone can ride.
Children under 1.1m must ride with an adult
Report to the sorting office to receive your instructions and become part of Postman Pat's Special Delivery Service. Take control of Pat's van along his delivery route.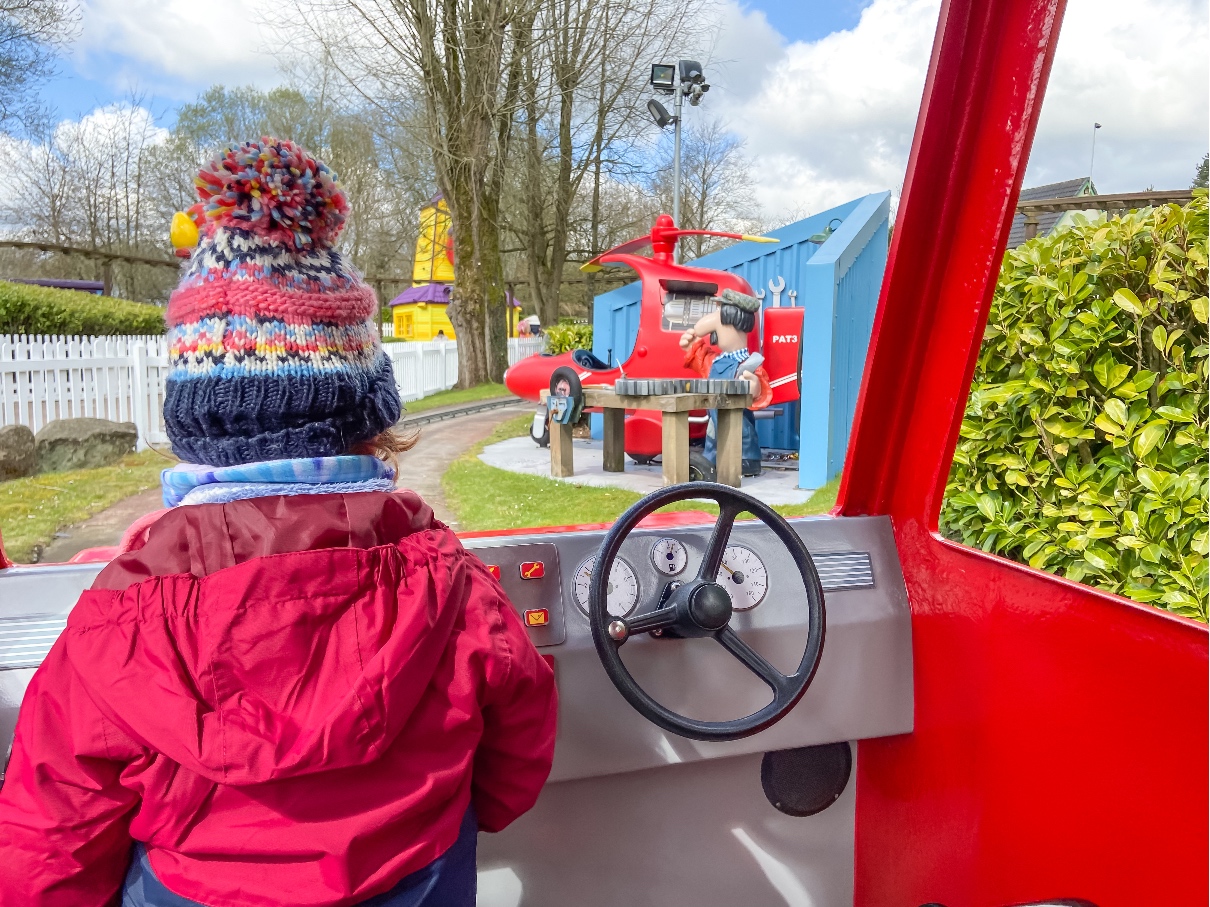 Get Set Go Tree Top Adventure
Height: Anyone can ride.
Children under 1.1m must ride with an adult
Wake up the sleeping bugs in the CBeebies bedroom and get, set go on this fun carriage ride.
In the Night Garden Magical Boat Ride
Height: Anyone can ride
Children under 1m must ride with an adult
Set sail on a boat journey through In the Night Garden and spot Iggle piggle, Upsy Daisy and all of the favourite characters.
Something Special Sensory Garden
Follow Mr Tumble's spotty bag trail and search for some special objects. This attraction is suitable for all ages and is supported by Makaton signage designed to help children with language development.
Bugbie Go Round
Height: Anyone can ride
Children under 1m must ride with an adult
Hop aboard your own Bugbie cart and take control of the steering wheel as you whizz around.
Cbeebies Land Rides for children over 90cm
Octonauts Rollercoaster Adventure
Height: Minimum 0.9m
(0.9 – 1.1m must ride with an adult)
Join Captain Barnacles and crew on an Octonauts rollercoaster adventure.
Go Jetters Vroomster Zoom Ride 
Height: Minimum 0.9m
(0.9 – 1.25m must ride with an adult)
Join the Go Jetters on a global adventure and fly around the world in a Vroomster. Children guide the Vroomster with controls, launching up and down from the jetpad.
Peter Rabbits Hippity Hop
Height: Minimum 0.9m
(0.9 – 1.1m must ride with an adult)
Join Peter Rabbit and Lily Bobtail as they explore Mr McGregor's garden and hop high into the sky.
Justins House Pie – O – Matic Factory
Height: Minimum 0.9m
(Under 16's must be accompanied by an adult)
The Pie-O-Matic Factory is full of fun and chaos. This factory makes custard pies and it is your job to put the cherries on top.
Other attractions and rides at Alton Towers for toddlers and young children
If you want to venture out of CBeebies Land and enjoy the rest of the park you can. Your ticket guarantees you entry to the whole of the Alton Towers Resort too! The main park is huge but there are a few rides worth walking to that are only a few minutes from CBeebies Land.
If you've got a budding pirate, head to Mutiny Bay for a swashbuckling time aboard the Battle Galleons, and don't miss the SEA LIFE aquarium of Sharkbait Reef. Equally, toddlers will love taking a trip in a gondola on the SkyRide, across the park to The Gardens, where you'll find a perfect spot for a picnic or a run around before you head home.
Sharkbait Reef by SEALIFE at Alton Towers
You can also visit the aquarium at Sharkbait Reef by SEALIFE in Mutiny Bay. All three girls loved this. You'll get to see blacktip sharks and chocolate chip starfish, spotted rays, seahorses and the UK's first Tropical Interactive Pool with shrimp that will give you a little manicure treatment if you dip them into the touch pool!
The kids loved wandering through the tunnel of sharks, seeing over 300 unique species of fish, including sharks, rays and seahorses – they even stroked a starfish. Sharkbait Reef also stays open in the winter months for festive package guests.
Enjoy the Parkland and Gardens
During the spring and summer especially, I have heard that the parkland and gardens at Alton Towers are beautiful and well maintained. The temples are stunning and there are lots of tree/bush dens to explore and winding paths to walk down.
The huge expanses of grass near the main lake is great for a picnic or to let toddlers just running around and feeding the ducks. Also watching people on the pirate ships attack each other with water is a giggle – we went on this when we visited Alton Towers with toddlers and got soaked!
Visit the Tower at Alton Towers
The Towers themselves. I love the history of Alton Towers & have always found it so intriguing…and the fact that you can explore the tower is also worth doing, you can go right up to the top & overlook the whole park. It's a great observation point, there's lots of steps but it really is a beautiful gothic building.
Cloud Cuckoo Land
We didn't actually venture to Cloud Cuckoo Land on this trip but there are more popular rides for younger children, as well as older children in this area, a carousel and driving school (probably not for toddler age but definitely for younger kids).
The Amusement Arcades at Alton Towers
There are a few dotted around as well as hook a ducks and other skill games. (They cost a little extra) but the girls love these.
Watch the Big Kid Rides at Alton Towers
Just simply watching other people have fun on the other roller coasters and listening to excited screams, my LB was transfixed when we took him to the new Wicker Man ride, it has this mist that seeps out and feels like rain and he tried to join in with the screaming.
The Skyride
Enjoy a peaceful few minutes as you glide over the stunning views of the whole park, gardens and rides.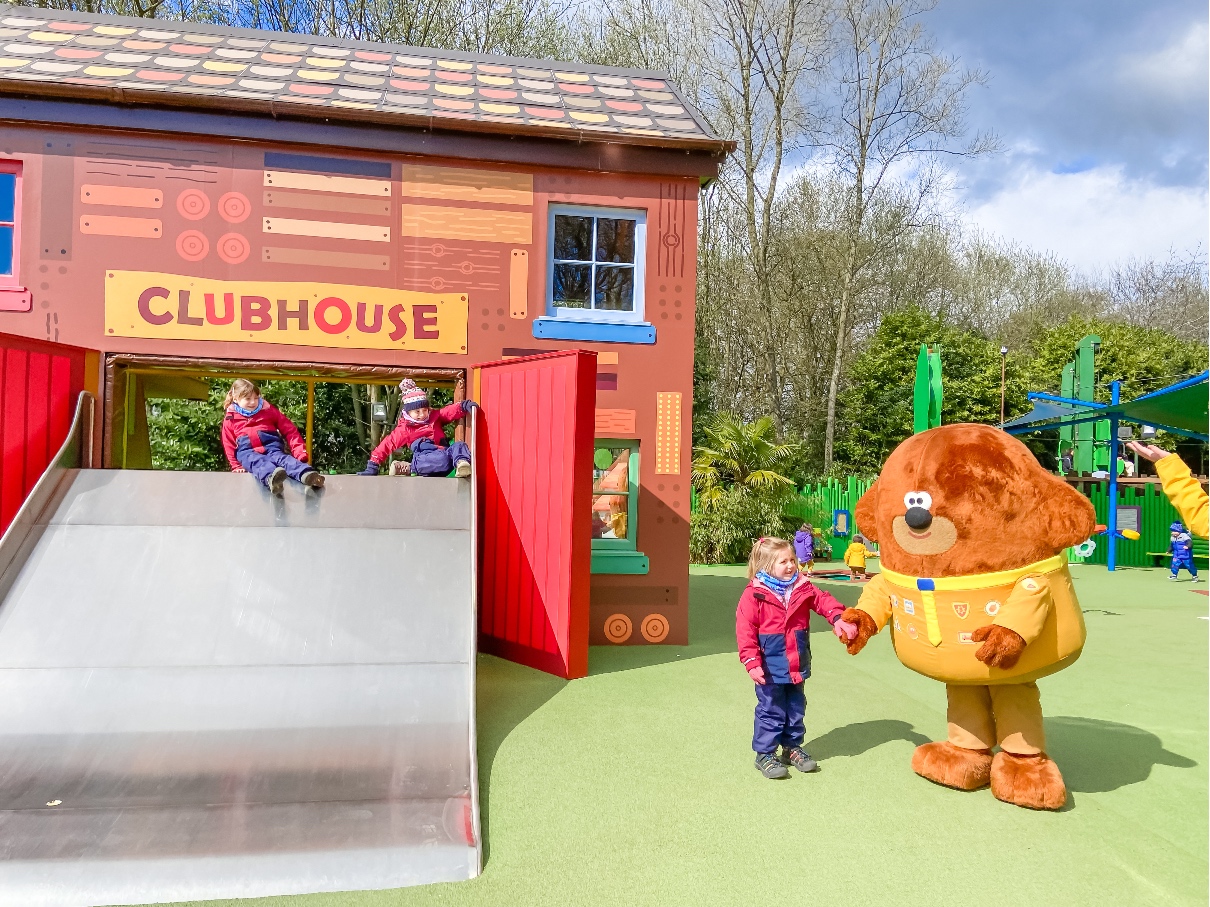 Facilities at Cbeebies Land Alton Towers
Toilets
We were really impressed with the facilities at Cbeebies Land. There are plenty of toilet and changing facilities dotted around this area of the park with fun themes that you never had to walk far to find one.
Buggy Parks around Cbeebies Land
There are also a lot of buggy parking areas where you can leave prams to go on the rides.
Cbeebies Land Gift Shop
There is one Cbeebies Land shop in Cbeebies Land and that's when you come off the In the Night Garden Ride. It's a lovely shop stocking tonnes of CBeebies merchandise all at competitive prices.
Where to eat in Cbeebies Land
We ate at the Lunchbox Cafe in CBeebies Land and were personally pleasantly surprised by the prices. As well as everything being priced individually, they also offered a meal deal. £5 for a children's lunch which included a choice of sandwiches, jacket potato or pasta (both with a choice of toppings), a snack (fruit/veg bag, pom bears, popcorn or snack a jacks) and a drink.
However, if you are looking to save a few pennies then it is totally fine to bring your own picnic in to the park.

Places to eat near CBeebies Land – Alton Towers Restaurants
Rollercoaster Restaurant
The UK's first Rollercoaster Restaurant is set below a vast rollercoaster track, where you can watch as orders tackle gravity defying loop-the-loops before dropping to the table. There is a good kid's menu with plenty of choices from fish, chicken nuggets and burgers and plenty of tasty side dishes.
Secret Garden
Located on the ground floor of the Alton Towers Hotel, the Secret Garden Restaurant has an eclectic mix of British and international dishes served in a brasserie-style restaurant. There is a healthy children's menu available here but they do advise booking in advance. The restaurants and bars in the Alton Towers Hotel are now cashless so payments can be made via room charge, Apple Pay, Android Pay, Contactless and all major credit or debit cards.
Crooked Spoon
Breakfast, lunch and dinner are served in this quirky restaurant with a delicious yet unusual menu on offer. Keep an eye out for the mischievous little folk, as rare glimpses have been caught on camera and displayed on the gallery walls… Watch very carefully as they may not be quite as they seem!
The Windmill Restaurant
The little ones can tuck into fish finger hot dogs, burgers and healthy pasta dishes – this is part of the CBeebies Hotel so if you are staying there is also a delicious buffet breakfast served between 7.30-10.00am.
The CBeebies Land Hotel
Have you ever considered taking a short break staycation at the CBeebies Hotel? It is perfect for families with young children as they have themed rooms. You could be in Bugbies room, an Octonaut adventure or even In the Night Garden. With activities throughout the day, children can also enjoy self-play before a full-on evening of fun begins.
Every room has a separate area especially for toddlers, plus a special entertainment wall planned around interactive play. There are lots of other toddler-friendly features, including a cot, baby baths, children's toilet seats and steps for the bathroom sink. There are rooms or suites available; a deluxe room can sleep a family of 5 whereas a suite can sleep 7 people.
Cbeebies Land Tips
Beating the queues for the CBeebies Land rides
Try to go on a weekday, or in the colder months as this is when queues are less likely. On warmer days and weekends, the queues fluctuate quite a lot throughout the day. Try to go on the most popular rides first – these are; In the Night Garden, The Jet Setters Jet Set Go ride and Octonaughts always have the biggest queues so do them first of last.
Also, the in the night garden ride makes you exit through the CBeebies shop so just be warned with that!!
Download the Alton Towers app
The Alton Towers App is really helpful as it has real-time queue lengths on it. The CBeebies Land area is really compact so if you see a queue time drop you can head to it quickly. It also tells you when all the shows are so it's a good idea to set alarms for these.
Express Parking
It's £20 compared to £6 but in our opinion worth every penny. The express car park is right next to the entrance wich you will be really greatful for after a long day at Alton Towers with young children. There is the monorail of course, but the queues here can get long. Or it's a 20 min walk back to the other car parks.
Plan for the weather
Check the weather and plan for it, raincoats and umbrellas…or sunhats and cream…most of the queues are outside and exposed to the elements.
Get to the shows early
During the warmer months, if you want to see one of the shows one of you needs to get in the queue 30 mins before the show time so you get a good space.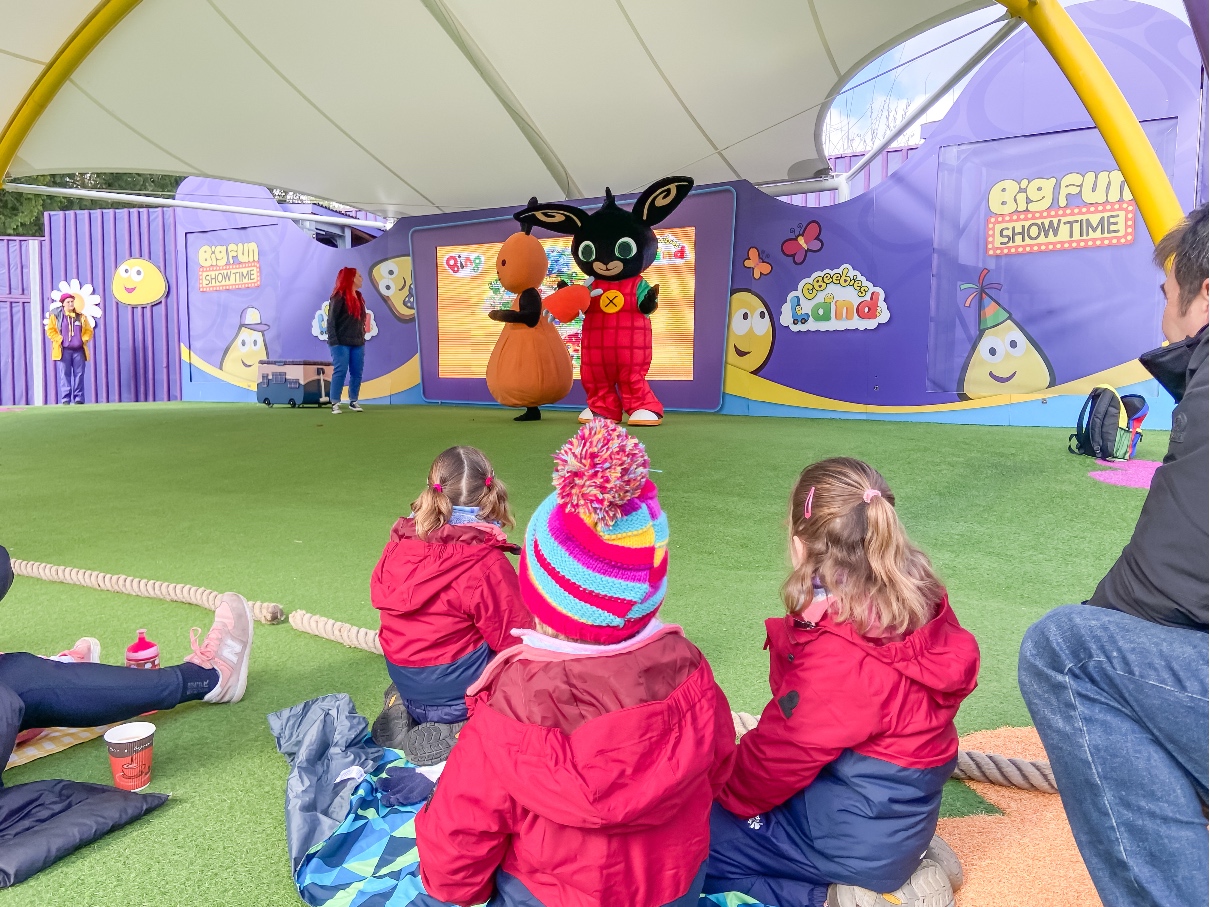 Take snacks & the odd toy if you can
When Cbeebies Land is busy, it's great to have some goodies to hand to keep little ones happy in the queues.
Pick your days wisely
If your kids are not school age…make the most of that and go during term time.  On a weekday.  It will be so much quieter and queues will be a lot shorter.
Take the buggy/baby carrier
Don't underestimate the amount of walking you will all be doing. Even the 6 year olds legs were tired when we went so consider taking a buggy or hiring one.
Hire a pushchair
You can hire a pushchair/double buggie for £25. Your £10 deposit gets returned when you drop it back off. A life saver for little legs.
Pack a Mini First Aid Kit
If your kids are anything like mine and a simple scrape can ruin a whole day in seconds, take a mini travel first aid kit with supplies in to make life easier. We always carry Calpol, plasters and antiseptic wipes wherever we go!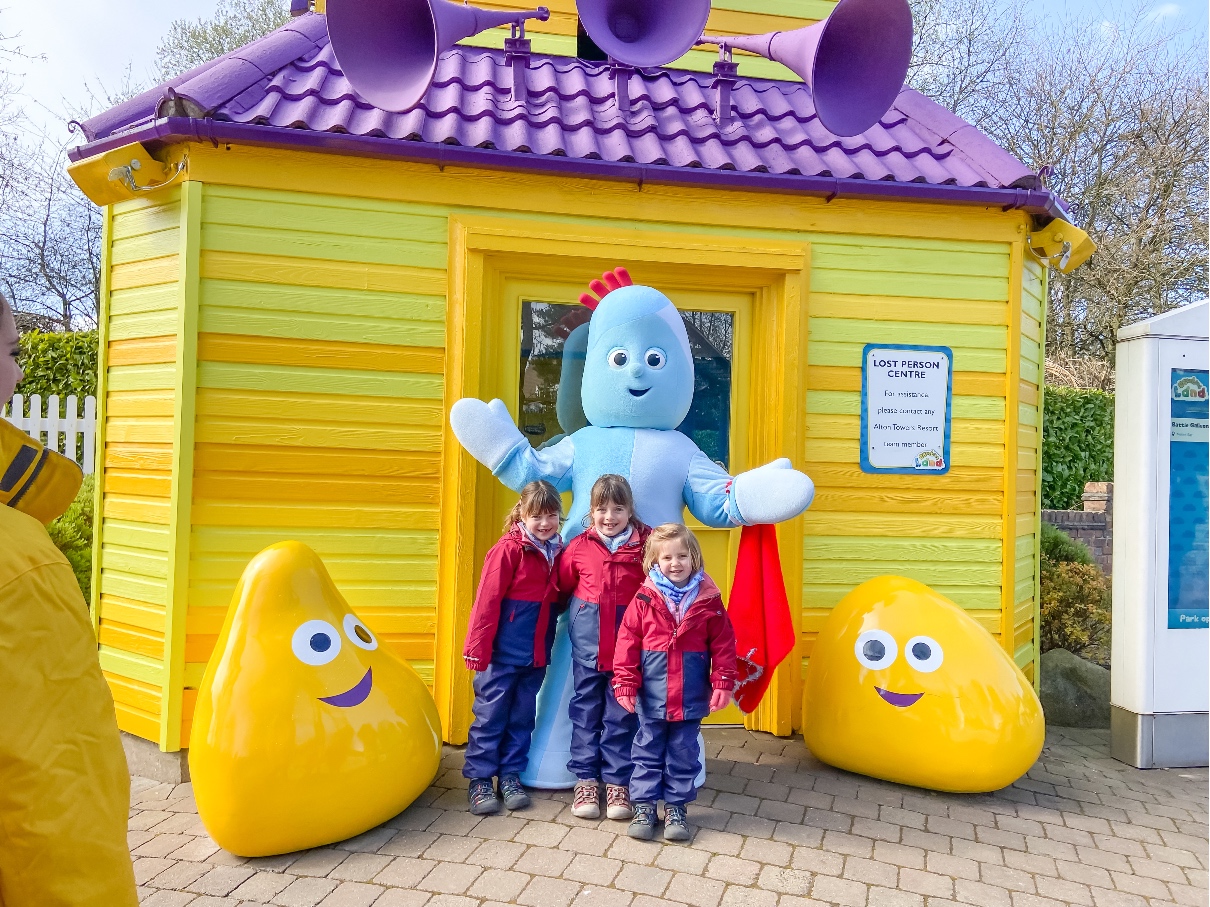 How to Book Tickets for Cbeebies Land AltonTowers
Hop over to the Alton Towers website to book your theme park adventure now – it's always cheaper booking your Cbeebies Land tickets in advance!