Safari Lodges in Kenya
Safaris and sprawling landscapes and wildlife on your doorstep – You will find some of the best game reserves in Kenya. If you have been considering an adventurous family holiday of a lifetime then a Kenya safari with kids is probably on your radar.
Kenya is a country in East Africa sharing a coastline with the Indian Ocean. The country has dramatic scenery including large mountains, lakes and savannah. Kenya is also home to amazing wildlife such as lions, elephants and giraffes as well as many other rare species. You may choose to go to Africa for many reasons with your family but one of the main reasons people want to visit is to go on safari in Kenya. Safari in Kenya Masai Mara is one of the most amazing sights on earth – you cannot miss the wildebeest great migration if you visit. 
Kenya is a friendly and welcoming country and is very family friendly, so it is actually a perfect destination to take your children to. Make sure you do your research and check when the best time to go on a safari in Kenya is. A Masai Mara Safari is a must and the wildebeest migration is the most amazing sight you will ever see. There  are over two million wildebeest and zebras crossing the Mara River to get to the Serengeti.
The Masai Mara National Park remains Kenya's most famous game reserve and if you are visiting Kenya with family then a Masai Mara Safaris really isn't one to miss. The Maasai wear the most striking costume, and are probably the best known tribe in Kenya. As a visitor, you can go to a traditional village in many areas of Kenya, where they will be welcomed and invited in to meet and learn about the people living there.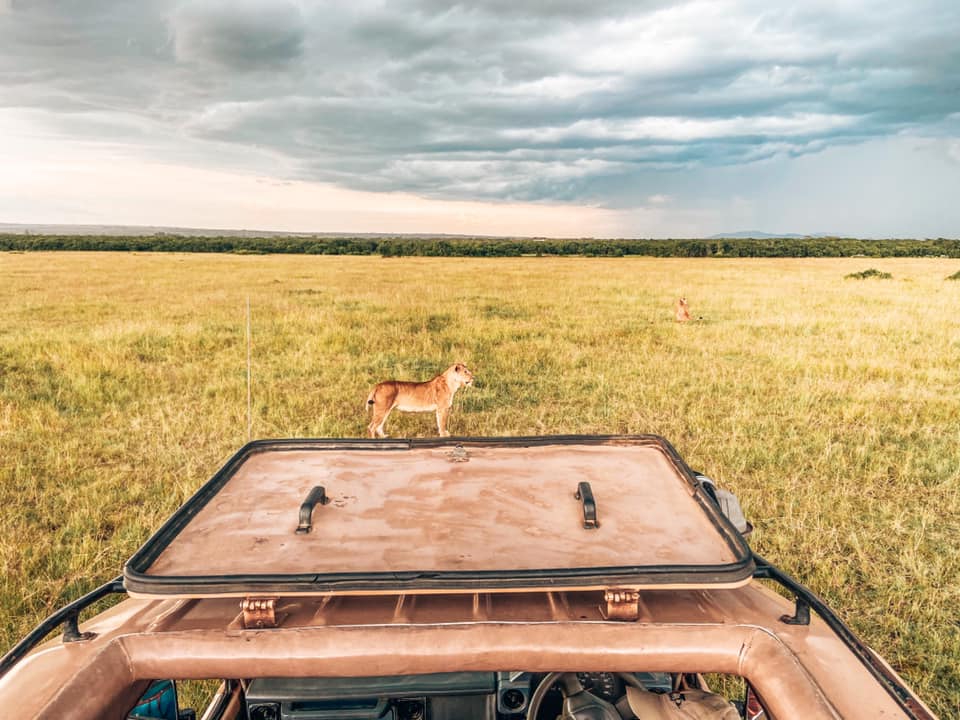 There is plenty of family safari lodges in Kenya, from traditional style tents and lodges to all-inclusive hotels. Below we have listed some of the best family accommodation in Kenya.
What are the Best Safari Lodges in Kenya?
Ol Donyo Lodge – Chyulu Hills, Kenya
Ol Donyo Lodge is located on over 111,000 hectares of private land in the heart of the Chyulu Hills, between Kenya's Tsavo and Amboseli National Parks. Safari experiences include horseback safaris, mountain bike safaris, guided walking safaris and open vehicle game drives. Guests will have the option to select from the Pool Suites, Deluxe Pool Suites and the Sambu Suite.
The pool suite has a spacious and comfortable bedroom with a small lounge area. The deluxe pool suites have a spacious bedroom with an extra large lounge area and the Sambu Suite is a two-bedroom private family villa offering a blend of contemporary and rustic accommodation. Activities include game drives, guided bushwalks, hiking, biking, horse riding and fly camping.
Sarara Camp – Namunyak Matthews Range, Kenya
Sarara Camp is in the northern frontier of Kenya lies Namunyak Wildlife Conservancy, an area of 850,000 acres of pristine wilderness in the Mathews Range. There are three secluded lodges tucked away in the wilderness. With intimate knowledge of and a deep passion for the landscape and wildlife, the Samburu safari guides will make your safari experience unforgettable. There are six double tents, each with flushing toilets and open-air showers. There is a natural rock swimming pool which overlooks a watering hole where you will often be able to see animals. Each tent has its own private terrace with a table and chairs with views of the mountains
Saruni Samburu – Kalama Wildlife Conservancy, Kenya
There are six luxury eco-chic villas at Saruni Samburu. Each are open and spacious, each with spectacular views over Kalama Conservancy and Mount Kenya. As the only lodge in over 200,000 acres of unspoiled bush, guests enjoy a safari that is guided by Samburu warriors passionate about their land and culture. Villa One is a large family villa with two separate en suite bedrooms joined by a spacious living room and verandah.
This villa is fantastic for families with young children. The bathrooms have bathtubs and outdoor showers, the open verandah has a fireplace to keep away the chill on the cool nights, and the spacious sitting and dining area is great for private dinners. There is free Wi-Fi connectivity in common areas, bathrobes, mosquito net, a safe and a water dispenser.
Ol Pejeta Sweetwaters – Nanyuki, Kenya
Located within the Ol Pejeta Conservancy is Sweetwaters, one of Kenya's most noteworthy conservancies and home to the 'Big Five' (elephant, rhino, lion, buffalo and leopard) These 56 stylish tents include the standard wing and the deluxe Morani Wing, and are designed with thatched roofs, solid floors and canvas interiors. All of the tents feature electricity, an ensuite bathroom with hot and cold water, showers and flushing toilets. Boasting views of Mount Kenya, the new Morani Wing features 17 deluxe double, twin and triple tents, one of which is specially adapted for guests with mobility issues. Bathrooms include a two-hand washbasin, a WC and a shower with a glass door.
Ol Pejeta Bush Camp – Ewaso Nyiro River Ol Pejeta Conservancy, Kenya
Overlooked by the dramatic snow-capped peaks of Mount Kenya, Ol Pejeta Conservancy is in central Kenya's Laikipia County. It's home to the two remaining northern white rhinos on the planet and many other endangered animals, all protected around the clock by dedicated rangers. Ol Pejeta Bush Camp is a relaxed tented camp set along the narrow Ewaso Nyiro River.  Ol Pejeta Bush Camp has seven spacious, eco-friendly tents, the peaceful camp is staffed by a warm and hospitable team and is a great place for families, with activities like the Junior Ranger Programme to keep kids entertained and engaged.
Giraffe Manor – Nairobi, Kenya
Giraffe Manor is a boutique hotel in Nairobi. It is set in 12 acres of private land within 140 acres of indigenous forest in the Langata suburb of Nairobi. This historic manor house harks back to the 1930s when visitors first flocked to East Africa to enjoy safaris. It's in a great location and close to some great places to visit in Nairobi.
There is a resident herd of Rothschild's giraffes who may visit morning and evening. Their four day bedrooms are all located on the first-floor and provide peaceful space for those wishing to rest. Guests cannot stay overnight at The Retreat or visit Giraffe Manor, however their en-suite bedrooms can be booked for the day and provide the ultimate comfort alongside the wellness centre.
Lewa Wilderness – Muchiene, Kenya
The lodge at Lewa Wilderness has just nine exclusive rooms that dot the Kenyan  landscape. Six cottages are tucked into the hillside overlooking the sprawling Eastern Marania Valley, plus a further three garden cottages that are cosy are set amongst the beautiful lawn. There are six thatched cottages which provide the ultimate privacy.  The three garden cottages boast a sizable open plan living area complete with fireplace, flanked by a large room and bathroom on each side. Rich with rustic charm and handmade furniture, these ranch-style homes are perfect for families.
Kenya Safari Lodges Masai Mara
Cottar's 1920s Safari Camp 
The award-winning Cottar's 1920s Camp is situated in the 7608-acre private Olderkesi Conservancy bordering the Maasai Mara in Kenya and the Tanzania Serengeti game reserve. It is owned and managed by the oldest established and continuing safari family in Africa. The camp has nine tents in total all with en suite bathrooms. The family tents are open-plan and  have living rooms with fireplaces.
The entire camp is situated to ensure that tents are private and quiet. The camp has two main mess tent areas for dining, drinking, reading and relaxing, and a pool and spa where guests can relax after a game drive. Guests can also enjoy a traditional canvas safari bath. The location of the camp provides easy access for day and night game drives in the Maasai Mara National Reserve and the Olderkesi Conservancy, game walks, and cultural interactions with the Maasai community.
House in the Wild –  Enonkishu Conservancy, Kenya
House in the Wild is a private family-owned boutique lodge, and one of the nicest safari lodges in Kenya. It is set in a unique location perched on the banks of the Mara River. On what was once an intensive farm, Naretoi is the first project of its kind where the land on the edge of the Mara has changed from farming back to nature.  This "rewilding" project has seen the rangelands around the House in the Wild return to their natural state, with wildlife returning to the area after over a decade of intensive farming.
Guests can enjoy a totally private safari home, where they can experience an adventure with family, enjoying quality time together on safari. The main lodge has six private suites, with one or two rooms each.  There is a main lounge and dining area with a swahili bar, a swimming pool with a thatch gazebo and bar. The River Cottage has one double room with a huge bathroom with a copper bath, a large verandah and lounge area with the option of additional two single beds for children.
READ MORE: HOUSE IN THE WILD KENYA REVIEW
Angama Mara – Maasai Mara, Kenya
Angama Mara is inspired by the Swahili word for 'suspended in mid-air'. Located high above the floor of Africa's Great Rift Valley, Angama Mara is a remarkable safari lodge. There are two intimate camps of 15 tented suites each, a private airfield and access to the Mara below, tailor-made safari days and a famously warm Kenyan welcome.
Guests are accommodated in spacious Tented Suites, which have been designed for comfort and are reminiscent of a classical African safari. Every detail has been considered: end-to-end glass frontage, sweeping canvas, decks overhanging the Mara, and inside – parquet floors. The lodge consists of two totally separate and intimate camps, each with its own guest area. Inspired by the old-world atmosphere of Nairobi's famous Muthaiga Club, guests dine, read, relax, and enjoy a drink.
Mara Bush Camp – Olare Orok, Serena, Kenya
The rooms at Mara Bush Camp are a mixture of luxury walk-in tents and high-end, eco-conscious tented rooms  all within a natural setting. Experience a unique hippo pool platform within the lodge overlooking over 50 hippos that are active in the river below. They run on solar power, with handcrafted furniture built from sustainable wood and materials. The tents are very generous in size and offer an incredible ambience of warmth.
Your bedroom is furnished with a double (king size) and single bed, a writing desk and chair, wardrobe and chest. All bathrooms are partitioned through soft furnishings and offer a vanity unit and double sinks, with hot and cold running water and a shower as well as flushing toilets. All 12 Guest Tents are designed with great attention to detail and there is complimentary WiFi.
Sopa Lodges – Masai Mara, Ololaimutiek Village, Kenya
Located high on the slopes of the Oloolaimutia Hills, Masai Mara, Sopa Lodge was one of the first safari lodges to be built in the Maasai Mara Game Reserve. All of  the buildings follow the design of traditional African round houses with conical roofs, and these stretch along the line of the hills with the large public area buildings and the swimming pool at their centre.
The ground floor rooms have two queen size beds and a sunken living room at the front which opens out onto the lawns. Top floor rooms have a king size bed and in front of it a balcony which has a wrought iron railing and furniture to match. All rooms have large front windows; televisions; mini-bars; telephones; electronic safes; tea and coffee making facilities; and spacious, open air verandas.
Kichwa Tembo – Masai Mara National Reserve, Kenya
Set on a private concession, with wildlife and panoramic Masai Mara views, Kichwa Tembo Tented Camp is a great spot to stay. With timeless interiors, there are 12 classic tents, 20 superior tents and eight Superior View tents. Massive windows in the spacious guest areas invite the Mara inside and incorporate split-level spaces where guests can relax. You can choose delicious ingredients from the organic garden and enjoy cooking in  the interactive kitchen.
Treat yourself to holistic healing in the massage tent, indulge in a rejuvenating treatment or browse the Safari Shop, offering the finest Kenyan handicrafts. The rim-flow swimming pool, on the edge of the Mara, boasts one of the world's most beautiful views.
Kicheche Bush Camp – Masai Mara, Kenya
Kicheche Bush Camp is located in a superb wildlife area in Olare Motorogi Conservancy bordering the Masai Mara Reserve. There are six stylish tents spread out under Acacia trees, with spacious en-suite bathrooms and running cold and hot water. One of the tents is a spacious family suite with two bedrooms and ensuite bathrooms. The bedrooms are connected by a lounge furnished with a sofa and small table for private dining.
The spacious well-furnished lounge and dining tent have two roaring fires for the cooler evenings. Game viewing is also possible from your verandah, overlooking the dam.  There are charging facilities in your tent. Lighting is supplied 24 hours; however, the solar system does not allow hair dryers. There is also WIFI in the lounge but it can be unstable.

Kenya Beach Resorts and Hotels
Turtle Bay Beach Resort – Watamu, Kenya
Turtle Bay Beach Resort is well-known as one of the best all-inclusive Kenya beach resorts  in Africa and is the first hotel to be awarded "Gold Eco-rating" by EcoTourism Kenya in recognition of their efforts to further sustainable tourism. It is situated on 200 metres of beach on the edge of Watamu National Marine Park.
The hotel buildings are set in 10 acres of tropical landscaped gardens with 145 rooms, three restaurants, three bars, entertainment lounge and swimming pool. A supervised Kid's Club is open daily  and all kids between 4-12 years can join in and have fun with games, swimming competitions, arts and crafts, field trips, cooking lessons, videos and much more.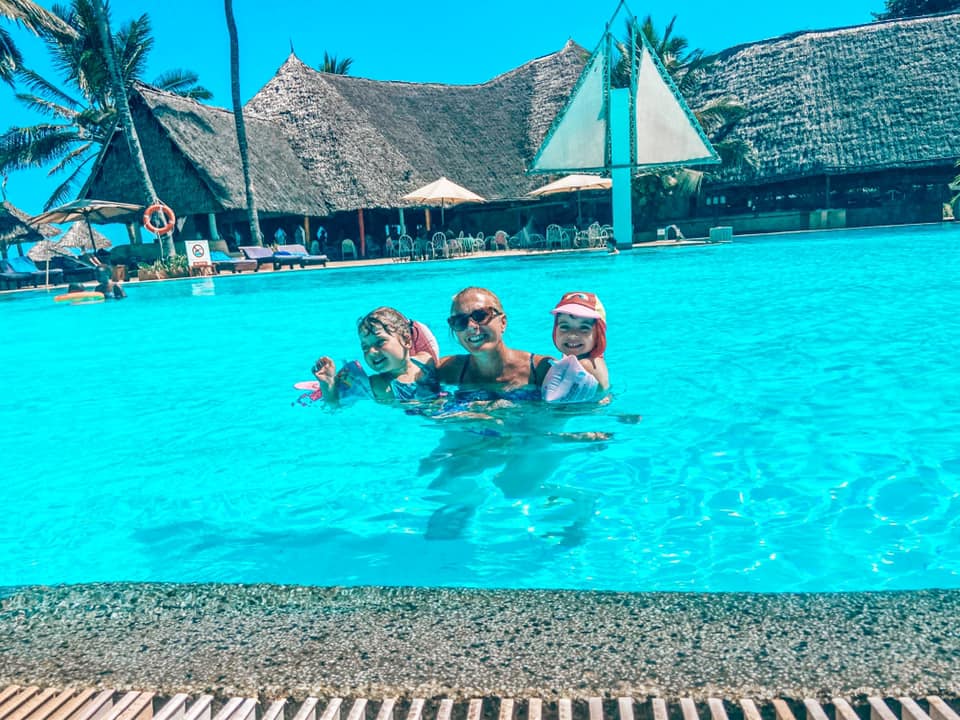 Kinondo Kwetu – Diani Beach, Kenya
Located on a tranquil private beach on a 16 acre plot south of Diani Beach, by rocky cliffs, Kinondo Kwetu is classified as a 'Kaya'area. Kinondo Kwetu has five cottages which include three double bedroom cottages, one double bedroom connecting to a single room for a smaller family. There is also a big family suite cottage with a double bedroom connecting to a single room downstairs and one double bedroom upstairs. All rooms have views of the ocean, ensuite bathrooms, a private veranda and air conditioning. Kinondo Kwetu has two pools, by the big and deep pool you can sunbathe from morning until evening.