When is the Best Time to Visit Africa?
As you all well know – we love Africa. From the first moment I stepped on to African soil, I knew I wanted to return. And Africa isn't just for adults, Africa with kids is so much fun. We first took our children on safari in Kenya when they were 18 months and 4 years old and we all had the time of our lives. There is so much to see and do on the world's second-largest and second-most populous continent.
Africa covers 6% of Earth's total surface area and 20% of its land area. The largest country in Africa is Algeria. Africa is home to the river Nile, Lake Victoria and Mount Kilimanjaro. In total there are 54 countries in Africa. The best time to visit Africa is from September to December, when the dry and warm weather across the continent offers the ideal conditions for safari trips and sightseeing.
Each area has its own beauty, Africa has a very diverse culture. It is rich in cultural heritage with a wealth of natural resources. There are animals and wildlife, beautiful scenery from lush landscapes to deserts and mountains and the people there are some of the friendliest we have ever met.
We have done some research for you, picking out some of the best countries that you can visit in Africa, including some beautiful safari destinations. Read on for some inspiration.
What are the Best Countries to Visit in Africa?
Kenya
Kenya is located in East Africa and borders the beautiful Indian Ocean.
Kenya is famous for its array of National Parks, like the Maasai Mara and it is well-known for being the world's best safari destination. Some of the landmarks that are not to be missed in Kenya are Mount Kenya, Lake Victoria and the Menengai Crater.
When is the Best Time to Visit Kenya
Most Kenyan safari destinations are best to visit between January and the end of March when the climate is mild and mostly dry. Many iconic wildlife species of Africa are native to Kenya, including lions, hippos, elephants, buffalo, zebras, and giraffes.
The dry seasons in Kenya are from June to October, and from December to March. Game viewing is usually best during these dry season periods. There are two rainy seasons in Kenya. The heaviest rains usually fall from mid-March to May and a shorter period of rain occurs in November and December.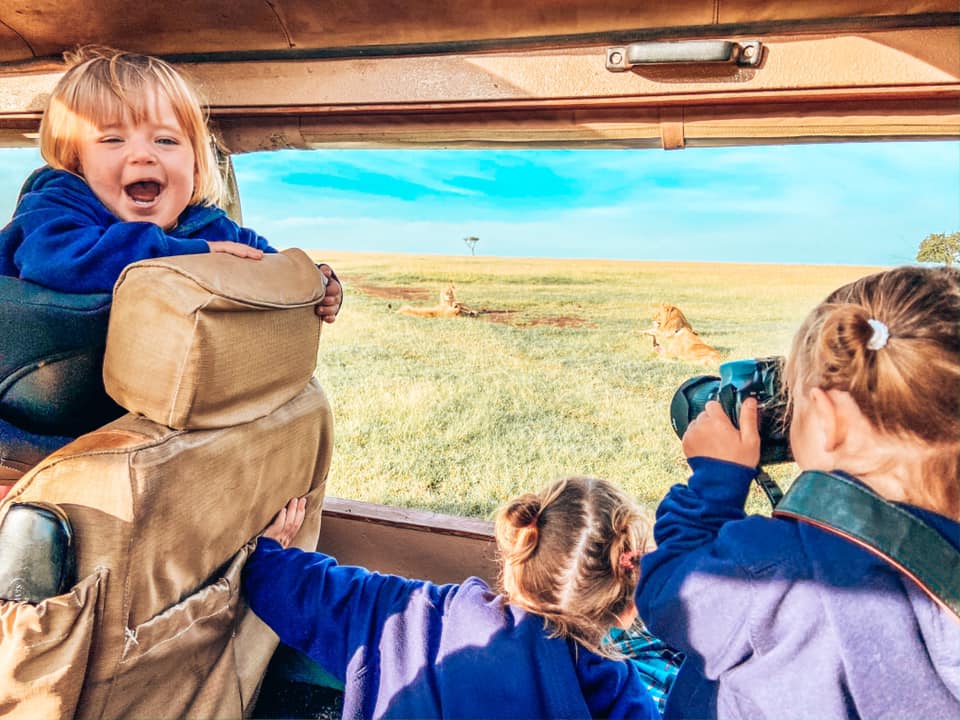 READ MORE ON KENYA:
Best Hotels and Safari Lodges in Kenya
Family Safari Lodge in Masai Mara: House in the Wild / House in the Wild
Family Coast Resort in Kenya: Turtle Bay
Tanzania
 The United Republic of Tanzania is an East African country which also borders the Indian Ocean. Tanzania is a very popular destination for travellers, known for its exotic wildlife and rich culture. It is also classed as one of the most iconic safari destinations in the world. Tanzania is probably best known for Mount Kilimanjaro. It is the highest mountain in Africa.
When is the Best Time to Visit Tanzania
The best time to visit Tanzania for a safari trip is from July to October when the weather is at its driest. This coincides with the migration of river crossings. Animals native to Tanzania include cheetahs, lions, wildebeests, gazelles, ostriches, elephants, and giraffes.
The dry months offer good wildlife viewing throughout Tanzania. Tarangire and the southern and western circuit parks are best visited in the Dry season, from June to October. The rainy season in Tanzania begins in March and ends in May, while the short rains begin in October and continue to early December.
Uganda
Uganda is situated in east-central Africa and is about the size of Great Britain. Uganda is known for the largest freshwater lake on the continent, the source of the longest river, the strongest waterfall, the largest number of primates, and the highest number of mountain gorillas worldwide. Uganda has some of the friendliest people in Africa and it is the second largest banana producing country in the world.
When is the Best Time to Visit Uganda
The high season for Uganda safari falls in line with other East African destinations, which means during the winter months in the southern hemisphere, from June to October. The African bush elephant, the mountain gorilla, the African lion, and the Cape buffalo are some of the most well-known animals living in Uganda.
The best time to visit Uganda is during its two dry seasons: between December and February, and between June and August, when conditions are particularly good for trekking to see mountain gorillas and chimpanzees. Uganda's climate is tropical with two rainy seasons per year, March to May and September to December.
Rwanda
Rwanda is a land-locked country in east-central Africa. Rwanda is known as the  "Land of a Thousand Hills" with mountains and hills everywhere. Rwanda is also the second smallest nation in Africa and is known to be the cleanest nation in East Africa. It is blessed with incredible wildlife living throughout its volcanoes, montane rainforest and sweeping plains.
Uganda has excellent terrain for a wide variety of safaris. There are lions, leopards, African wildcats, cheetahs, hyena, and many more. Herbivores include buffalos, elephants, giraffes, hippos, rhino, zebra, antelope, Uganda Kob and many more.
When is the Best Time to Visit Rwanda
The best time to visit Rwanda is during the drier period from June to September, when you have the best chance at spotting the country's mountain gorilla. The rainy seasons from March to May and in November are the best times for tracking chimpanzees.
Zambia
Zambia is a landlocked country in south-central Africa. Zambia is famous for pioneering the walking safari and it  is one of Africa's most rewarding safari destinations. Zambia is best known as being the home of Victoria Falls, this southern African nation boasts the world-class South Luangwa, Lower Zambezi and Kafue among its 20 national parks.
When is the Best Time to Visit Zambia
The best time to visit Zambia for a safari is between June and November, when the weather is dry for wildlife watching. You can spot lions, buffalo, rhino, leopard, and elephants in Zambia. The best time to visit Zambia is during the dry season between June and November. Temperatures can sit anywhere from 73°F to 97°F across the country.
Zambia experiences a sub-tropical climate: a hot and dry season (mid-August to mid-November), a wet rainy season (mid-November to April) and a cool dry season (May to mid-August). December, January, February and March are the wettest months
South Africa
South Africa is the southernmost country of the African continent.
South Africa is a country of variety; it has three capitals, eleven languages, 21 National Parks and ten UNESCO World Heritage Sites. The country is famous for its landscapes and a diversity of African animals. It is well-known for Kruger National Park and its private game reserves like Sabi Sands, Thornybush, Londolozi, MalaMala, Lion Sands and Dulini. Table Mountain is a flat-topped mountain forming a landmark overlooking Cape Town.
When is the Best Time to Visit South Africa
The best time to go to South Africa for a safari is from May to October. These months are great for game viewing in Kruger, Madikwe, Pilanesberg and KwaZulu-Natal. In South Africa you can expect to see elephants, giraffes, hippos, buffalo, zebra, wildebeest and the rare rhino.
South Africa is a large and diverse country with a climate that varies from region to region. The summer lasts from about December to March then winter lasts from June to August. Cape Town and the Western Cape have rainfall in winter and a dry, hot summer.
If you're looking for a relaxing getaway with plenty of outdoor activities and breathtaking natural wonders, then Cape Town would be a great choice. But if you're searching for a city break and cultural attractions then Johannesburg is the place to go. The wet season in South Africa is usually October to April and the dry season is June to August.
Zimbabwe
Zimbabwe is a landlocked country in Southern Africa. Zimbabwe is a country of incredible natural beauty thanks to Victoria Falls (the largest waterfall in the world) and Lake Kariba (the largest man-made lake in terms of its volume).
When is the Best Time to Visit Zimbabwe
June is considered the best time for a safari in Zimbabwe offering great game viewing in the dry season – the natural waterholes dry up and huge herds of animals congregate at lakes, rivers and man-made waterholes. The Sable Antelope is the national animal of Zimbabwe. The Nile crocodile occurs throughout Zimbabwean wetland systems comprising marshes, rivers, pools, swamps, and reservoirs.
There are two main seasons in Zimbabwe: the rainy season (November to May) and the dry season (June to October). If you want to see Victoria Falls they recommend you go between March and May. If you want to go white-water rafting, visit Zimbabwe between September and December. The dry season in Zimbabwe is from April to October, with the rains falling from November through to March.
 Botswana
Botswana is a landlocked country in the centre of Southern Africa. Botswana is well known for having some of the best wilderness and wildlife areas in Africa, 38% of its total land area is devoted to national parks, reserves and wildlife management areas. Tsodilo Hills in the north of Botswana is a sacred place for the continent's oldest people; the San bushmen.
When is the Best Time to Visit Botswana
The best time to go to Africa Botswana are the cooler months of June to August. These are the best time of year for luxury safaris in Botswana, which has the perfect weather for a game drive.  The Big Five animals – lion, leopard, elephant, black rhino and buffalo – live in Botswana, alongside a great giraffe, antelopes, zebras, wildebeest and hippo, which can all be seen in abundance in Chobe National Park and Moremi Game Reserve.
Botswana is one of the best places on earth for wildlife and beautiful landscapes. From the Kalahari-Desert to rivers and deltas, this country offers endless opportunities for adventure. The dry season in Botswana is from April to October, with the rains falling from November through to March.
Namibia
Namibia is on the south-west coast of Africa. It is one of the driest and most sparsely populated countries on earth. Namibia is famous for Etosha National Park, Fish River Canyon Park, the Namib desert, and the Kalahari Desert. Namibia is well-known for the highest dunes in the world at Sossusvlei.
When is the Best Time to Visit Namibia
The dry May to October winter months are widely regarded as the best time to visit Namibia for a safari – especially in Etosha National Park. Among the many animals which you can see in Namibia are: lions, elephants, giraffes, hippopotamus, cheetahs, black and white rhinos, wildebeest, hyenas, vultures, black backed jackals, ostriches, zebras, seals, baboons, springboks and wild dogs.
Namibia is a vast country with deserts and national parks. The 'rainy' season is during the summer months, from November to April. The weather tends to be hot and humid with dramatic afternoon thunderstorms.
Malawi
Malawi is a landlocked country in Southern Africa. Malawi is probably best-known for its smiling, friendly people and its extraordinary freshwater lake, Lake Malawi, which dominates this landlocked country.
When is the Best Time to Visit Malawi
You can take a safari in Malawi at any time of the year. July to October corresponds with the middle and end of the dry season, and is the best time for general wildlife viewing. You can spot elephants, lions, buffalo, rhino, leopard and cheetah in Malawi. Malawi has two main seasons, the dry season between May and October and the hot wet season between November and April.
 Mozambique
Mozambique is on the eastern coast of southern Africa, bounded by the Mozambique Channel and the Indian Ocean in the east. Mozambique is known for its beautiful beaches, game reserves, scuba diving and snorkelling escapes, swimming with dolphins, whale sharks, rays and turtles. Mozambique generally has a warm tropical climate which suits all tourists.
Mozambique is one of the best places for adventure, sports and underwater activities. It is especially good for scuba diving and swimming with sharks and marine species. Wildlife includes big game like lions, cheetahs, elephants, leopards and rhinos as well as smaller animals like antelopes, zebras, hyenas and buffalo. Marine wildlife includes humpback whales, whale sharks, manta rays, dolphins, dugongs, turtles and many fish.
When is the Best Time to Visit Mozambique
The best time to go to Africa Mozambique is between September and Movement when game viewing is at its best and whale migration can be observed. The wet season in Mozambique lasts from November to April, bringing around 150 to 300 mm of rainfall per month in the north and 50 to 150 mm per month in the south.
 Egypt
Egypt is located in the northeastern corner of Africa. Egypt is very famous for its ancient civilization and the monuments of the pharaohs, such as the Great Pyramids of Giza, the Great Sphinx, the Egyptian Museum, the The Grand Egyptian Museum, Sakkara, and Dahshur.
Egypt safari trips are some of the most interesting experiences. The desert safari offers an opportunity to enjoy various desert activities. Horses, Camels, Buffalos and Donkeys are the most prevalent animals to be found in Eqypt. As for desert wildlife the Gazelles, Nubian Ibex, Jackals, Jerboas and desert Foxes are indigenous to the country.
When is the Best Time to Visit Egypt
The best time to visit Egypt is between October and April, when temperatures are cooler. This makes exploring Cairo, visiting the Pyramids in the desert, and exploring ancient Pharaonic tombs more comfortable.
Egypt is in general a very sunny and hot country. The hottest months are June through to August, and the coolest month is January. Rainfall is almost non-existent, except on the coast.
Morocco
Morocco is on the northwest corner of Africa and is bordered by the North Atlantic Ocean and the Mediterranean Sea. Morocco is home to the world's largest desert known as the Sahara desert. It is also home to the Atlas Mountains, a series of mountain ranges in northwestern Africa, running through the countries of Morocco, Algeria, and Tunisia. Morocco is Known for its uniquely rich culture centred on religion and tradition and abundance of beaches, mountains, ranges, and deserts.
Travellers can enjoy activities such as sand-boarding or camelback safaris and hiking. There are plenty of exciting places to visit like the medina in Fez and the Blue Village of Chefchaouen.
When is the Best Time to Visit Morocco
The best time to visit Morocco is September to November or March to April. The weather is warm, but you will avoid the extreme temperatures. Most of Morocco north of Western Sahara, particularly along the coasts, experiences a typical Mediterranean climate, with mild wet winters and hot dry summers.
Seychelles and Mauritius
Mauritius is a subtropical island country in the Indian Ocean, off the south-eastern coast of Africa. With a territory of 177 square miles the Seychelles is the smallest African country. The Seychelles is an island republic in the western Indian Ocean, comprising about 115 islands, with lush tropical vegetation, beautiful beaches, and a wide variety of marine life.
The Seychelles are unique as the world's only granite islands in mid-ocean. Each island of the Seychelles is surrounded by a coastal landscape consisting of warm, turquoise water, white sand, and palm trees. Mauritius is famous for the Dodo and is also known for its stunning white sandy beaches.
On a jeep safari in Mauritius you can witness lions, and tigers in their natural habitat without any cages hindering your view is a breathtaking experience that few people ever encounter.
The Seychelles boasts of some of the most beautiful beaches such as Anse Source D'Argent located on the island of La Digue, which is one of the most photographed beaches in the world with its pink sand.
November to April are the hottest and wettest months, with temperatures peaking at an average of 30.1 °C in both January and February, and with February being the wettest month.
Zanzibar
Zanzibar, Swahili Unguja, is an island in the Indian Ocean off the coast of east-central Africa. Zanzibar is famous for its spices and the island offers a unique blend of idyllic beaches, history, cultural diversity and rich flora and fauna. Plus, it is a short ferry ride or flight away from Tanzania and Kenya.
It has the endangered Pemba flying fox, considered the largest bat species in the world. Other animals in the island are the vervet monkeys, Mozambique cobras, tortoises, bush crabs, red eyed doves and mangrove king fishers.
When is the Best Time to Visit Zanzibar
The best time to visit Zanzibar is during the dry season, from July to September. However, it's worthwhile travelling at most times of year, with balmy temperatures and sunshine all year round. The rains in Zanzibar begin in the month of March, April and May, easing off in June and there is some in November and December. Most of the other months see very little or no rain at all.
Madagascar
Madagascar is the world's fifth largest island, situated in the Indian Ocean off the coast of southern Africa.Madagascar is best known for its lemurs, chameleons, orchids, and baobab trees. With breathtaking views of nature, white sand beaches and rainforest, this really is an amazing place to visit.
Madagascar safaris offer some of the most exciting and unique wildlife on the planet and July to December is the best time to visit Madagascar for wildlife, with baby lemurs on display from October, birds breeding between September and December, and humpback whales arriving at Ile St Marie in July and August. Rainy season in Madagascar is from January to March. You can dive with whale sharks, visit the Crocodile Farm, watch the humpback whales or even go paragliding.
When is the Best Time to Visit Madagascar
In Madagascar there is a hot rainy season from November to April and a cooler, dry season from May to October.