Theme Parks for Toddlers in the UK
Theme parks for toddlers are a great way for families to escape from norm and have a day of adventure. They are a great place to make some long-lasting memories with your young kids that they will treasure for a long time and ask to go back again and again. There are some amazing theme parks around the world like the Disney theme parks Magic Kingdom but there are also plenty of toddler-friendly theme parks throughout the UK for you to explore as a family. We have compiled a list of some of the best theme parks for toddlers below.
What are the Best Theme Parks for Toddlers in the UK?
Theme parks for toddlers are great places for fun-filled family days out, but sometimes they're not ideal if you've got toddlers who aren't big enough to meet the height requirement for the thrill rides. Some theme parks have huge rides geared more towards older kids but some of the larger ones have plenty to also keep the little ones entertained. Most have dedicated zones, toddler-friendly rides, and soft play areas, playgrounds, a petting zoo, puppet shows to watch where they can meet their favorite characters and some even have a splash zone.
Theme Parks in Hampshire  – Peppa Pig World At Paultons Park
Ower, Romsey SO51 6AL
Peppa Pig World at Paultons Park is one of the top theme parks for toddlers. It has 9 fun rides which are perfect for toddlers. The children will love meeting Peppa Pig and George, who often appear for photograph opportunities on the veranda in front of the school house. There are a variety of activities for the very young from small tame rides to soft and outdoor play areas. There is also a dedicated area inside George's Spaceship Indoor Playzone with soft toys and musical instruments. They will also love the Splash Pad – Don't forget your swimwear!
READ MORE: Places to Stay Near Peppa Pig World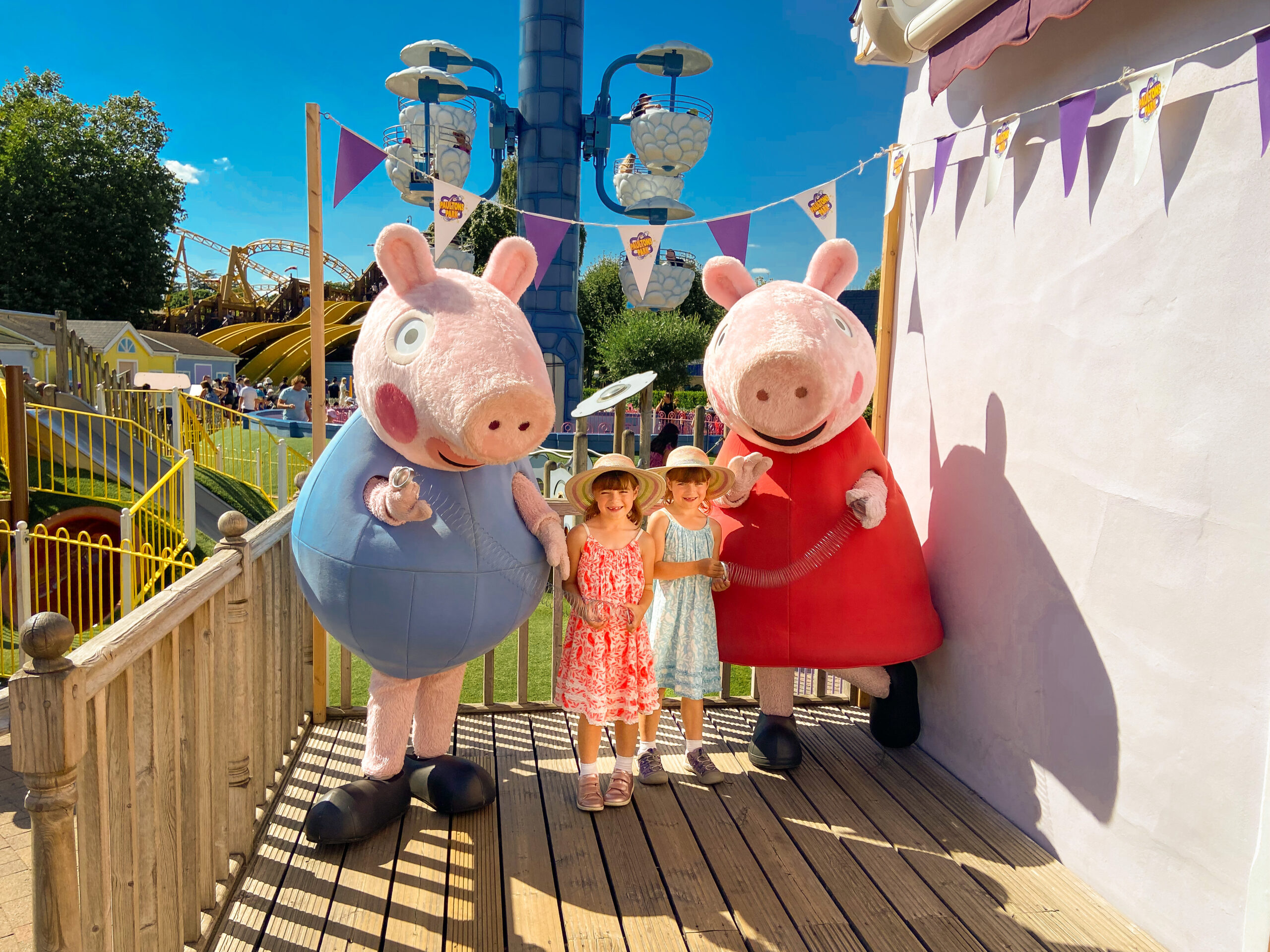 Theme Parks in Nottinghamshire – Sundown Adventureland
Treswell Rd, Rampton, Retford DN22 0HX
Sundown Adventureland is a fairly large theme park especially for children aged under 10 years. It is located in Nottinghamshire and is not too far from Lincoln. Sundown Adventureland has no age restrictions so you can go safely in the knowledge that you all can have a great day out. The park is perfect for younger children with there being no height restrictions on any of the rides or activities
Theme Parks in Cornwall – Flambards Theme Park
Clodgey Ln, Helston TR13 0QA
Flambards is a toddler friendly theme park in Helston, Cornwall. Families with little ones will love the traditional rides in Ferdi's Funland including the Teacups, Space Shuttles and Pirate Ship. Hop aboard the Western Mine Train and explore the Wild West. Go on an adventure and discover dinosaurs in the Jurassic Journey before uncovering fossils in the Dino Dig.  You can also see the new arrivals hatching in the Dino-Nursey.
READ MORE: Places to stay in Cornwall – Glynn Barton Farm Holidays
Things to do in Cornwall with kids
Theme Parks in Essex – Adventure Island
Western Esplanade, Southend-on-Sea SS1 1EE
Adventure Island is a theme park in Southend-on-Sea, Essex. The green rides are for children between 1m and 1.2m and taller. These 11 rides include mini roller coasters, a pirate ship, spooky ride and lots of rides with height and spin. The red riders are for the toddlers, under 1m, they must be accompanied by an adult. There are 15 rides and attractions including carousels, wheel, train, fun house, helter skelter, cars and much more. Some of the rides are indoors along with 6 storeys of soft play and arcades. Other attractions include sealife adventure with fish, meerkats and penguins. Plus adventure golf, Formula Al Karting and dodgems.
READ MORE: Things to do in Essex with Kids
Theme Parks in Devon
Crealy Great Adventure Park Devon
Sidmouth Rd, Clyst St Mary, Exeter EX5 1DR
Crealy Theme Park & Resort is an award winning family theme park in Devon that boasts over 60 rides and attractions, with spectacular entertainment, live shows and animals. Crealy offers a fantastic range of attractions and activities for young children and toddlers, making it one of the best family days out in Devon. Crealy is the home of animals of all varieties including Meerkats, Crocodiles, Snakes, Barn Animals, Turtles, Insects and so much more. Buddy Bear's Kingdom is a fantastic place for toddlers at Crealy, with soft play areas specifically for children aged under five. The Adventure Zone boasts 75,000 square feet of indoor play, which is perfect for when the weather isn't playing ball.
The Milky Way, Devon
The Milky Way Adventure Park, Bideford EX39 5RY
The Milky Way Adventure Park is located in North Devon near Clovelly, in between Bideford and Bude. There are so many things to do for preschoolers and toddlers. They even have a sensory area for relaxing, quiet time, where toddlers can spend some special one-to-one time exploring lights, colours and textures. There are two dedicated play areas for little ones. Little Stars is the newest addition and offers imaginative and adventurous play designed especially for those aged 0-6. Little ones love bouncing on the Jumping Jupiter outdoor pillows and riding in Humphrey the Cosmic Caterpillar and the Milky Way train, plus they have special dodgems sessions for small children and they can ride their own mini tractors.
READ MORE: Places to Stay in Devon – Croyde Bay Resort
Theme Parks in Wales – Folly Farm – Pembrokeshire
Begelly, Kilgetty SA68 0XA
Folly Farm offers four big attractions all in one place aimed at children aged 3-12 years. Toddlers will enjoy the play areas and interactive features. Folly Farm is definitely a toddler friendly day out in Pembrokeshire. Babies and toddlers will certainly love seeing the animals in the zoo and farm, and there is a special Under 6's soft play area in the Carousel Woods area.
READ MORE: Places to stay near Folly Farm – Bluestone 
Theme Parks in Derbyshire – CBeebies Land at Alton Towers
Alton Towers, Alton ST10 4DB
Alton Towers is probably one of the UKs best-known theme parks in the UK and it incorporate the famous Cbeebies Land which is one of the best theme parks for toddlers. I know your toddlers and young children will love CBeebies Land and its themed rides and attractions. It is the perfect theme park for toddlers! Join Postman Pat, ride the Octonauts Rollercoaster Adventure with Captain Barnacles and his crew or travel the world and go on an adventure on the Go Jetters Vroomster Zoom Ride. Meet Bing or the Teletubbies in Story Land.
CBeebies Land is aimed at the little kids age group 1 to 6, though there are attractions across the whole of Alton Towers Theme Park that are suitable for younger children and Big Kids.
READ MORE: The Ultimate Guide to Cbeebies Land
Places to stay near Cbeebies Land – Knockerdown Cottages / Darwin Forest
Theme Parks in Staffordshire – Thomas Land At Drayton Manor
Drayton Manor Dr, Mile Oak, Tamworth B78 3TW
With over 25 rides and attractions at Thomas Land, there's plenty for young Thomas the Tank Engine fans to explore on The Island of Sodor at Drayton Manor Toddlers will love the Sodor Railway or flying high with James, Harold and Jeremy. Thomas Land is an ideal family day out in the UK which is geared up for toddlers and preschoolers, dedicating a whole area of a theme park, to little ones.
Theme Parks in Blackpool – Blackpool Pleasure Beach
525 Ocean Blvd, Blackpool FY4 1EZ
Blackpool Pleasure Beach is a huge amusement park situated on Blackpool's South Shore, in Lancashire. It's the UK's most ride intensive amusement park and home to the UK's only Nickelodeon Land. From Wallace & Gromit's Thrill-O-Matic, The Alice In Wonderland Ride or the world famous Flying Machines, Blackpool Pleasure Beach is the perfect day out the whole family can enjoy. For the bigger kids and adults there are some white-knuckle fast roller coasters including the Big One, which is for the brave only!
Theme Parks in Dorset – Adventure Wonderland
Merritown Ln, Hurn, Christchurch BH23 6BA
Adventure Wonderland is a family theme park aimed primarily towards families with children aged 3 to 10 years old situated near Bournemouth. As well as rides there is  indoor play, crazy golf, Shetland World, outdoor play, the Alice in Wonderland Maze and showtime in The Theatre. They have a huge indoor play centre called  'Wild Thing.' Some of the rides have height restrictions and your kids are given coloured wristbands according to their height.  Younger kids will love the Humpty dumpty ride, teacups, round-a-bouts, driving school and a choo choo train.
READ MORE:Places to Stay in Dorset – Greenwood Grange
Theme Parks near London – Chessington World of Adventures, Greater London
Leatherhead Rd, Chessington KT9 2NE
Chessington World of Adventures Resort is a theme park, zoo and hotel complex in Chessington, Surrey. Chessington is geared for all ages, teens love it there, but there are a handful of rides suitable for toddlers too. Rather than age they are divided by height. Toddlers can join Mouse on a magical riverboat journey on The Gruffalo River Ride Adventure, or roar with the lions in the Trail of the Kings. There is also the zoo area and Sealife aquarium to explore.
Theme Parks in Yorkshire – Flamingo Land, Yorkshire
Kirby Misperton, Malton YO17 6UX
Flamingo Land is a theme park, zoo, and resort located in Kirby. Apart from all the fun rides on offer, there's also a chance for your child to learn. Flamingo Land is focused on conservation and educating visitors about the threats to wild populations of flamingo species. There are a few rides that are suitable for younger children such as the crazy Go Gator which is a little alligator rollercoaster which sends them on a twisting, turning journey that's sure to create a smile.
Theme Parks in Windsor – Legoland Windsor
Winkfield Rd, Windsor SL4 4AY
Make amazing family memories with a day out at the LEGOLAND Windsor Resort. There are loads of family-friendly rides, attractions and shows going on which will provide fun for all the family. The park is very toddler-friendly with ample baby changing facilities and healthy food and drink options, plus  buggy or locker hire if you need them. The little ones will love wandering around Miniland with all the Lego models to look at, there is a City Deep Adventure, Fairy Tale Brook and a DUPLO Valley Puppet Theatre. Plus they can visit the aquarium and play in the DUPLO play area too.
Theme Parks in the Isle of Wight – Blackgang Chine, Land of Imagination, Isle of Wight
Ventnor, Isle of Wight, PO38 2HN
Blackgang Chine is the oldest amusement park in the UK, having opened in 1843. The park has two new thrilling rides, Evolution and Shipwrecked which are great for older children. The theme park is best for children aged from around 3-11 years old. In Lands of Imagination the little ones can explore Cowboy Town, Dodo Valley, Fairy Land, Nursery Land where they can explore the house that Jack built, climb inside giant toadstools, find Humpty Dumpty on his wall, and visit the old woman who lived in a shoe. There is also a Pirates Cove and Underwater Kingdom.
Gulliver's World – Matlock Bath, Milton Keynes, Warrington & Sheffield
Gulliver's Theme Parks have focused specifically on families with younger children across their four theme parks in the UK. Gulliver's World in Warrington is a perfect day out designed for children aged 2 – 13 years.  All of their parks have age-appropriate rides and attractions. The Matlock Bath theme park Gulliver's Kingdom was named among the best small theme parks for families. It consists of themed areas Land, Gully Town, and Safari Kingdom.
Gulliver's Kingdom, Temple Walk, Matlock Bath DE4 3PG
Gulliver's Land, Livingstone Dr, Milton Keynes MK15 0DT
Gulliver's World, Shackleton Cl, Old Hall, Warrington WA5 9YZ
Gulliver's Valley, Mansfield Rd, Sheffield S26 5QW
Diggerland – Kent, Devon, Durham, Yorkshire
Diggerland is the name of theme parks inspired by diggers and JCBs. There are four theme parks in England. Diggerland offers 20 different rides and drives and an array of additional activities. For safety reasons, a number of rides at Diggerland have a minimum height restriction of 90 cm in place. But, toddlers will definitely love the colours and sounds of all the diggers, trucks and tractors at Diggerland. They can also experience some of the rides too.
Diggerland Kent – Medway Valley Leisure Park, Roman Way, Strood, Kent, ME2 2NU
Diggerland Devon – Verbeer Manor, Cullompton, Devon, EX15 2PE
Diggerland Durham – Langley Park, Co. Durham, DH7 9TT
Diggerland Yorkshire – Willowbridge Lane, Castleford, West Yorkshire, WF10 5NW
Which Theme Park UK is Best for a 2 year old?
All of the above are good for children of all ages but the ones below are specifically good for 2 year olds.
Paultons Park – Peppa Pig World
Alton Towers Resort – Cbeebies Land
Gulliver's Theme Park
Drayton Manor, Staffordshire
Blackpool Pleasure Beach
Does London have a Theme Park?
London doesn't have a specific theme park but the two closest ones are Thorpe Park in Chertsey, just 20 minutes from central London, Thorpe Park consists of 27 different rides including the mega Colossus, the gravity-defying Nemesis, the horror inducing Saw – The Ride, and the silent destroyer Stealth. Thorpe Park is more geared up for families with older children and thrill-seekers. The other closest theme park to central London is Chessington World of Adventures, which is around half an hour from London. Chessington has a zoo, as well as plenty of fun rides and themed hotels to stay in too.
READ MORE: Things to do in London with a Toddler
More Toddler Reading
If you are thinking of theme parks for toddlers outside of the UK, then the Disney Theme Park and Efteling are two not to miss one not to be missed because there are so many gentle rides for toddlers and the Animal Kingdom in the Walt Disney World Resort is very special too and great for the whole family with a fab mix of rides and interactive show!
Many these theme parks for toddlers also have Santa's Events so keep an eye out for their Christmas events!
READ MORE: